Meadows talks Rays' best gift-giver and more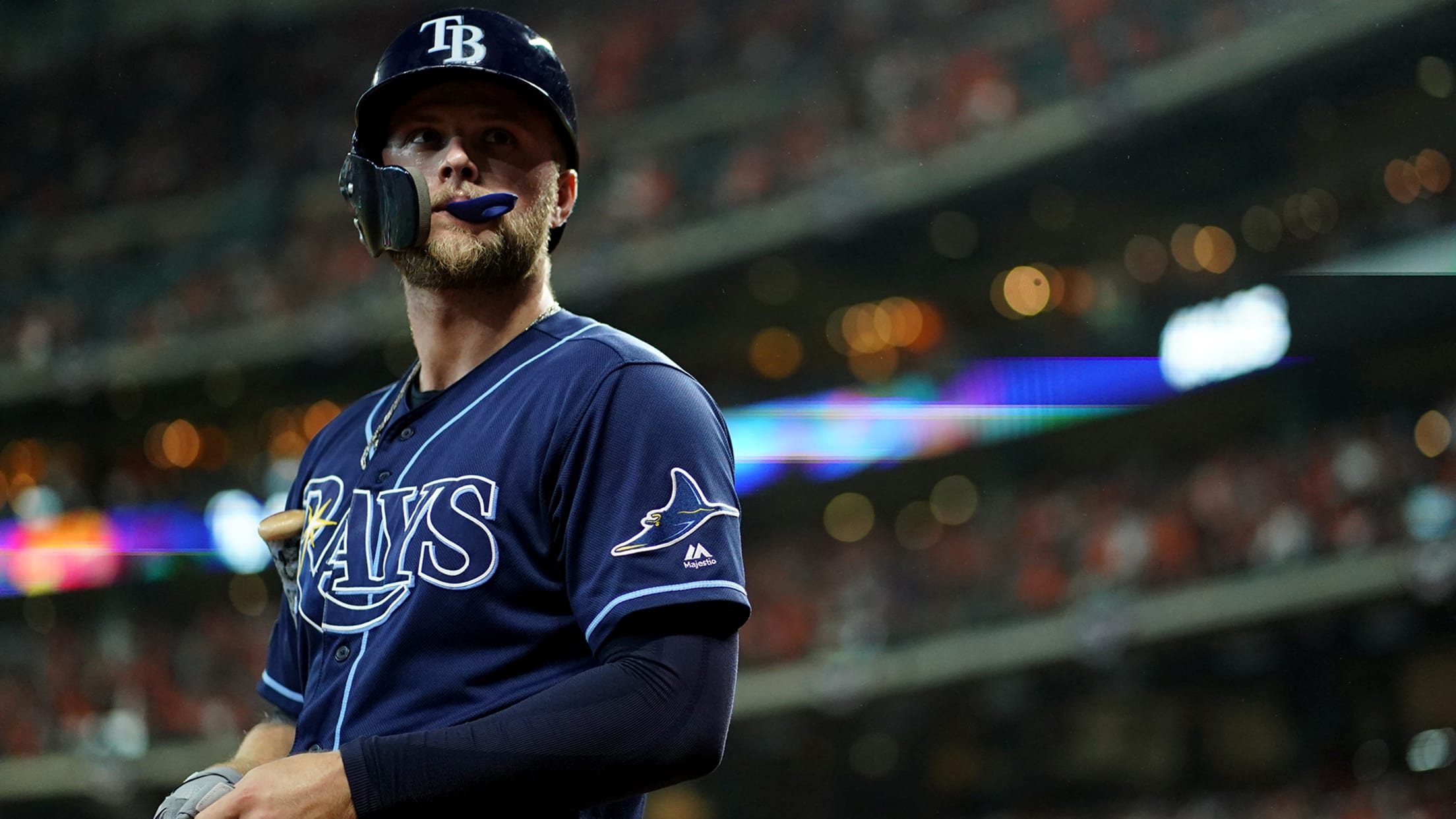 ST. PETERSBURG -- Austin Meadows enjoyed a successful first full season with the Rays in 2019. The outfielder made the All-Star team for the first time, slugged 33 home runs and experienced his first postseason. But before Meadows tries to add to his impressive 2019 campaign, the All-Star took time
ST. PETERSBURG -- Austin Meadows enjoyed a successful first full season with the Rays in 2019. The outfielder made the All-Star team for the first time, slugged 33 home runs and experienced his first postseason.
But before Meadows tries to add to his impressive 2019 campaign, the All-Star took time to chat with MLB.com about his favorite holiday traditions, his favorite gift and his favorite Christmas movie.
MLB.com: Growing up, what was your favorite holiday tradition?
Meadows: Every year, we go to church. We have a pretty big family, so about 25-30 people go to church on Christmas Eve. Then we usually go to the local Waffle House or IHOP as a family and kind of just spend time together. Obviously you'll go home and spend Christmas the next day. It's always good to spend time with family, especially around the holidays. That tradition is really special, because that's something we've always done ever since we were little.
MLB.com: What did you usually do on Christmas Day?
Meadows: Obviously now that I'm married, we're not at home with my parents anymore. But when I was living with my parents, we would get up super early -- around 7 or 8. My grandparents from my mom and my dad's side would come over and then me and my brother [Parker Meadows] would go into the room. We would usually sleep in my mom's bed the night before and we would read Christmas books. I'm not saying we do that now, we've kind of outgrown that, but we used to read all that stuff, and then we would wake up in the morning and spend time with family and open the presents.
My mom would wrap the presents and they would all have numbers from 1-6, and that's the order that we would open them in. The small gifts would be first and then our big gifts would be last. It was just basically open the presents and then basically play with those presents all day around the house.
MLB.com: What was your favorite gift?
Meadows: I got a truck for Christmas a while ago, probably my freshman year of high school. I was probably 14 or 15 years old. It was something along the lines where my mom hid a key in one of the presents. It was like a fake truck, like a little truck, and I was like, "Oh, that's interesting." And it came with a set of keys and then I went outside and there was a truck up in the driveway. That was a pretty big deal for me. My mom and dad always did a good job of giving us pretty big gifts. That was a pretty special one.
MLB.com: What kind of truck was it?
Meadows: It was a 2008 Dodge RAM. It was all black and I had that all throughout high school.
MLB.com: When your family talks to you about your first full season in the big leagues, what do you think those conversations are going to be like?
Meadows: We talk about it all the time, especially me and my dad. Just kind of reminisce about where I'm at today and kind of what I've been through to get here with the injuries and the long stints in the Minor Leagues. But just appreciating the success that I had in my first full season and the things that I learned. We've definitely talked about it a lot, and my dad is very emotionally involved in it. My parents, both of them, they're my biggest supporters and we enjoy talking about that stuff. The offseason is more about spending time with them and being regular people, but yeah, we definitely mention that stuff a lot.
MLB.com: All right. Let's get to the good ones. Which one of your teammates do you think would give the best Christmas gift?
Meadows: I think Blake [Snell] would do a really good job. I think Blake has a good taste in like shoes and that kind of stuff. And he has the most money. Charlie [Morton], too.
MLB.com: Who would give the worst gift?
Meadows: Probably me. No, I would say the pitchers and position players are so different. They just worry about pitching and we just worry about hitting and stuff like that. Let's just say one of the pitchers. I don't even know who.
MLB.com: Favorite Christmas movie?
Meadows: "A Christmas Story." It's been that ever since I was a little kid. There are a bunch of good ones.
MLB.com: Last one. Do you prefer a fake or a real Christmas tree?
Meadows: If I had to choose, it would be a real tree. But we've always had a fake tree because it's super easy. We just put it in the basement, take the dust off of it, turn the lights on, and all you have to do is put the ornaments on it and that's it.
Juan Toribio covers the Rays for MLB.com. Follow him on Twitter @juanctoribio.