Here's why the Rays are made for 2020
The Rays are built for the 2020 season. If you have to face the unprecedented, you might as well be the team known for its constant experimentation and innovation, and one built on a seemingly endless chain of valuable, versatile players. Tampa Bay can throw a million different looks at
The Rays are built for the 2020 season. If you have to face the unprecedented, you might as well be the team known for its constant experimentation and innovation, and one built on a seemingly endless chain of valuable, versatile players.
Tampa Bay can throw a million different looks at you -- especially with its pitching staff. With the player pool format and the 60-game season, the Rays' deep stable of arms could come into play in a big way. With so many pitchers, each with his own brand of nastiness, how can an opponent possibly be ready for them all?
Every Rays pitcher can beat you in a signature way. Let's have some fun and watch how they do it.
Blake Snell -- Two untouchable breaking balls
Snell throws both a curveball and a slider, and good luck making contact with either. Hitters whiffed on over half their swings against both pitches last season -- 55% against Snell's curve, 51% against his slider, for a combined breaking ball whiff rate of 54% that was the best among starting pitchers (ahead of Patrick Corbin). If he gets you to chase -- and he does that a lot -- you're done. Hitters made contact an MLB-low 20% of the time when they swung at a Snell breaking ball outside the zone.
When hitters swung at any Blake Snell breaking pitch outside the strike zone last season, they whiffed over 80% of the time.

159 chases, 128 misses, 31 contact pic.twitter.com/NOZ8FclnkI

— David Adler (@_dadler) July 9, 2020
Tyler Glasnow -- Extreme extension
Glasnow is a prototypical power pitcher. Now consider that when he throws a 100 mph fastball and 3,000 rpm curve -- those are the elite velocity and spin rate levels Glasnow was reaching late last season -- it looks even more overpowering to the hitter. Glasnow is one of the tallest pitchers in the league at 6-foot-8, so he can release the ball really far downhill from the rubber. Glasnow averaged 7.6 feet of extension on his fastball and 6.9 feet on his curveball in 2019, ranking No. 1 in MLB for both pitch types.
Charlie Morton -- Lots of high-spin, high-movement curveballs
Morton spins you into submission. He threw 37% curveballs last season, making the curve his most-used pitch and making him the heaviest curveball user among starters. Morton's curve averaged 18.6 inches of horizontal movement in 2019, second most in MLB, thanks to his high 2,886 rpm spin rate. Fun fact: his two-seam fastball also averaged 18.6 inches of horizontal movement ... in the opposite direction.
Charlie Morton, 94mph Fastball and 80mph Curveball Spin, Overlay pic.twitter.com/ooI111DvAf

— Rob Friedman (@PitchingNinja) October 7, 2019
Morton got way more curveball strikeouts (136) and swinging strikes (207) than any other pitcher. When he dominated the Astros in the playoffs, his curveball averaged an elite 3,001 rpm, and his six curveball K's averaged 21.4 inches of break.
Ryan Yarbrough -- No hard contact allowed
It's really hard to hit the ball hard off Yarbrough, the Rays' jack of all trades who can start a game or be the Headliner who follows the Opener. Yarbrough held hitters to an average exit velocity of 84.1 mph last season, the lowest of the 152 pitchers who allowed 250-plus batted balls. Only 26% of the batted balls against him were hard-hit (95 mph or harder), giving Yarbrough the lowest hard-hit rate allowed, too.
Lowest avg. exit velocity allowed in 2019
1) Ryan Yarbrough: 84.1 mph
2) Kyle Hendricks: 85.2 mph
3) Hyun-Jin Ryu: 85.3 mph
4-T) Kenta Maeda: 85.4 mph
4-T). Martín Pérez: 85.4 mph
Minimum 250 batted balls allowed
Nick Anderson -- Rising fastballs, biting curves
Anderson put up insane strikeout numbers in 2019 -- when, keep in mind, he was a 28-year-old rookie who was dealt to the Rays at the Deadline. Anderson's 42% strikeout rate ended up a top-20 season ever. All those K's come via a two-pitch combo. Pitch No. 1 is a four-seamer with upper-90s velocity and elite rise -- 3.5 inches above average, third best in the Majors. Pitch No. 2 is a curve that looks a lot like the fastball because Anderson tunnels it well and throws it hard (in the mid-80s) with nearly no horizontal movement.
Diego Castillo -- Big-time velocity
Castillo has hit triple digits on the radar gun 73 times in the big leagues, including several 101s, which is just unfair when he's the Opener and firing that heat out of the gate. The funny thing is, Castillo's slider is actually his go-to pitch. He throws it over half the time and generates a near-45% swing-and-miss rate. Oh, and that slider routinely comes in in the 90s. That's right -- when you step in against Castillo, you're seeing 100 mph fastballs and 90 mph sliders.
Diego Castillo, 101mph Fastball and 91mph Slider, Overlay.

😳😂💀 pic.twitter.com/3hWSensSKz

— Rob Friedman (@PitchingNinja) September 15, 2018
José Alvarado -- The "El Diablo" fastball
Alvarado is right next to Castillo in the velo department. But his heater is a whole different animal because of the wicked lefty tail it catches. You remember the first Alvarado pitch that went viral? That one was 99.6 mph and broke 14.1 inches horizontally.
99 mph shouldn't move like that. 🤯 pic.twitter.com/MHx38w33TS

— MLB (@MLB) April 3, 2019
And it's not the only crazy pitch Alvarado has thrown. Here, enjoy some more El Diablo eye candy.
José "el Diablo" Alvarado, Demon 100mph Fastball (HP view/tail). 😯👿 pic.twitter.com/L8sTe0Wv9p

— Rob Friedman (@PitchingNinja) April 19, 2019
Chaz Roe -- A mind- and knee-bending slider
Roe's slider is a beauty. It has boomerang movement, and the numbers are cartoonish. Roe averaged 22.8 inches of horizontal break on his slider last season, three inches more than any other pitcher and 15 inches more than your average slider.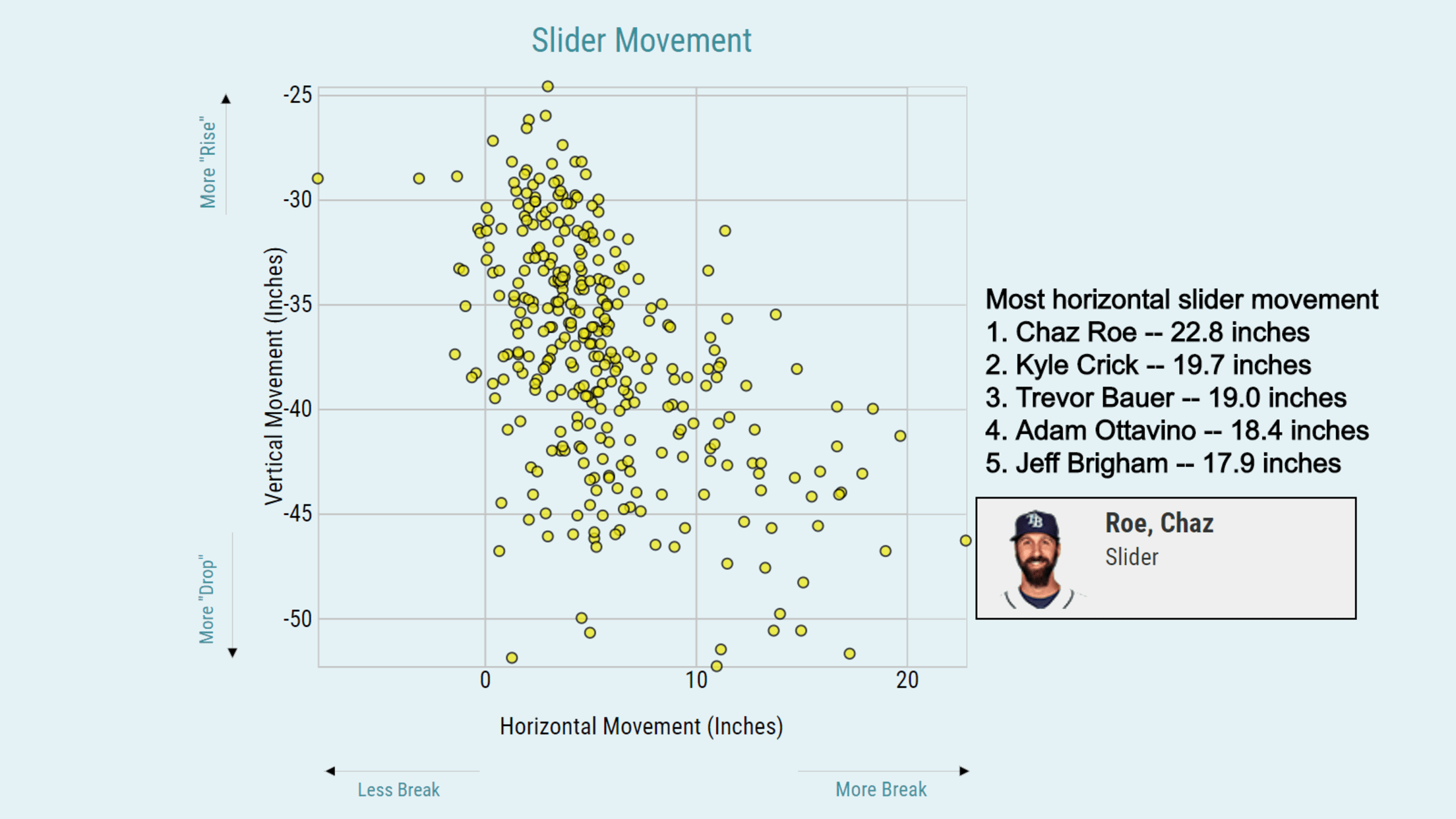 Thank goodness Roe throws his slider nearly two-thirds of the time -- we get to see it as much as we want.
Oliver Drake -- A lefty in a righty's body
To pitch for the Rays, you have to have at least one pitch go viral. Here's the Drake splitter that "broke physics."
This pitch might have broken physics. pic.twitter.com/9M62Y5gzRt

— MLB (@MLB) July 21, 2019
How does Drake's splitter drift across the plate like a Forrest Gump feather on the wind? The secret is where he releases it. Drake has such an extreme over-the-top delivery that he releases the ball from a left-hander's arm slot. When Drake, a righty, throws from a nearly identical point as Clayton Kershaw, it creates almost an optical illusion as the ball glides across your field of vision.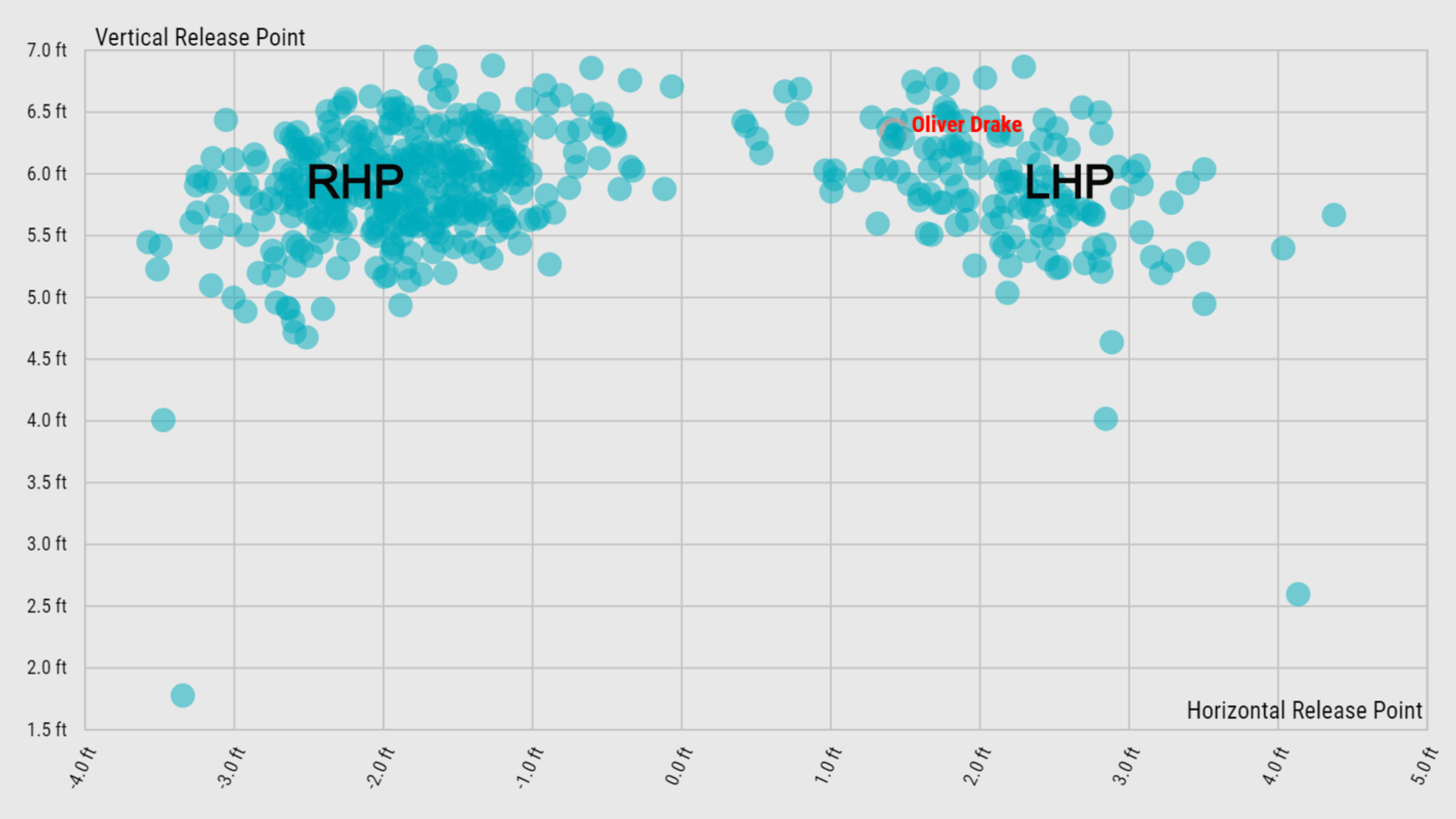 Colin Poche -- Fastballs only
Anderson had the third-highest fastball rise in baseball. Guess who ranked No. 1? Poche doesn't have crazy velocity, but his four-seamer gets 4.3 inches of rise above average. That's how the rookie lefty got away with throwing 89% fastballs.
Nine out of 10 pitches that came out of Poche's hand were four-seamers, and opponents still hit just .173 with 68 strikeouts against it.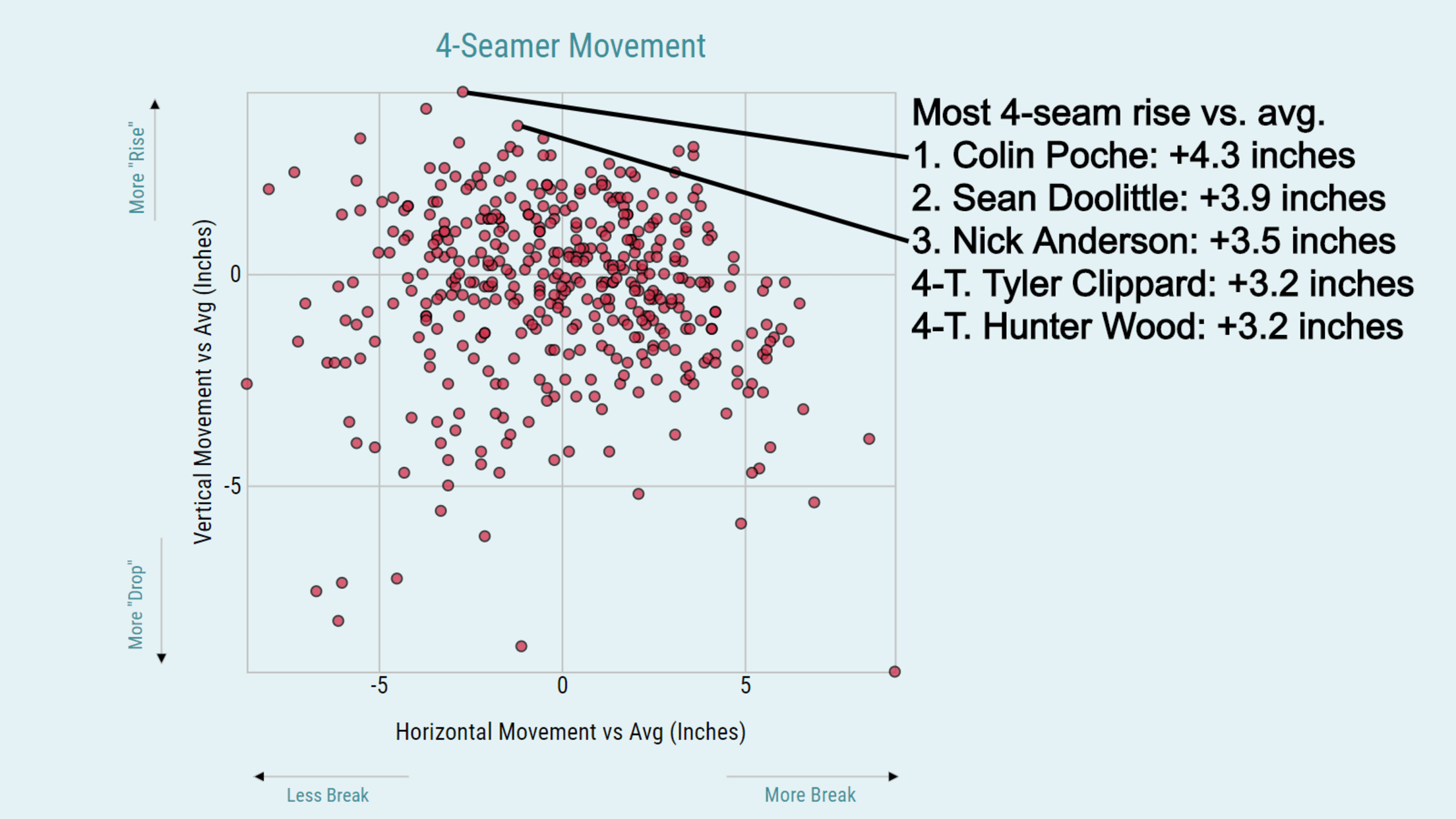 Trevor Richards -- A great change of pace
Most of the Rays spin the ball. Richards, who arrived in the same trade as Anderson, gives Tampa Bay a changeup look. He threw his change 39% of the time in 2019, making him the Majors' second-heaviest changeup user. Only Tommy Kahnle threw more among MLB regulars. Richards' 69 strikeouts on changeups were fourth most of any pitcher.
Trevor Richards, Disgusting 3 Pitch K Sequence (All Changeups). 😨 pic.twitter.com/T7BCjygbrw

— Rob Friedman (@PitchingNinja) March 30, 2019
Andrew Kittredge -- Two-seam/slider divergence
The Rays' stream of strikeouts never runs dry. Kittredge K'd 58 batters in 49 2/3 innings last year, relying on a combo of two pitches that snap in opposite directions.
Andrew Kittredge's Annihilation of the Blue Jays in the 1st Inning. 😮 pic.twitter.com/1xZ5kYkHKP

— Rob Friedman (@PitchingNinja) August 6, 2019
Kittredge's mid-90s two-seamer gets three inches of horizontal break above average, moving from left to right. His slider, which he can also throw upwards of 90 mph, gets four inches of horizontal break above average, but from left to right.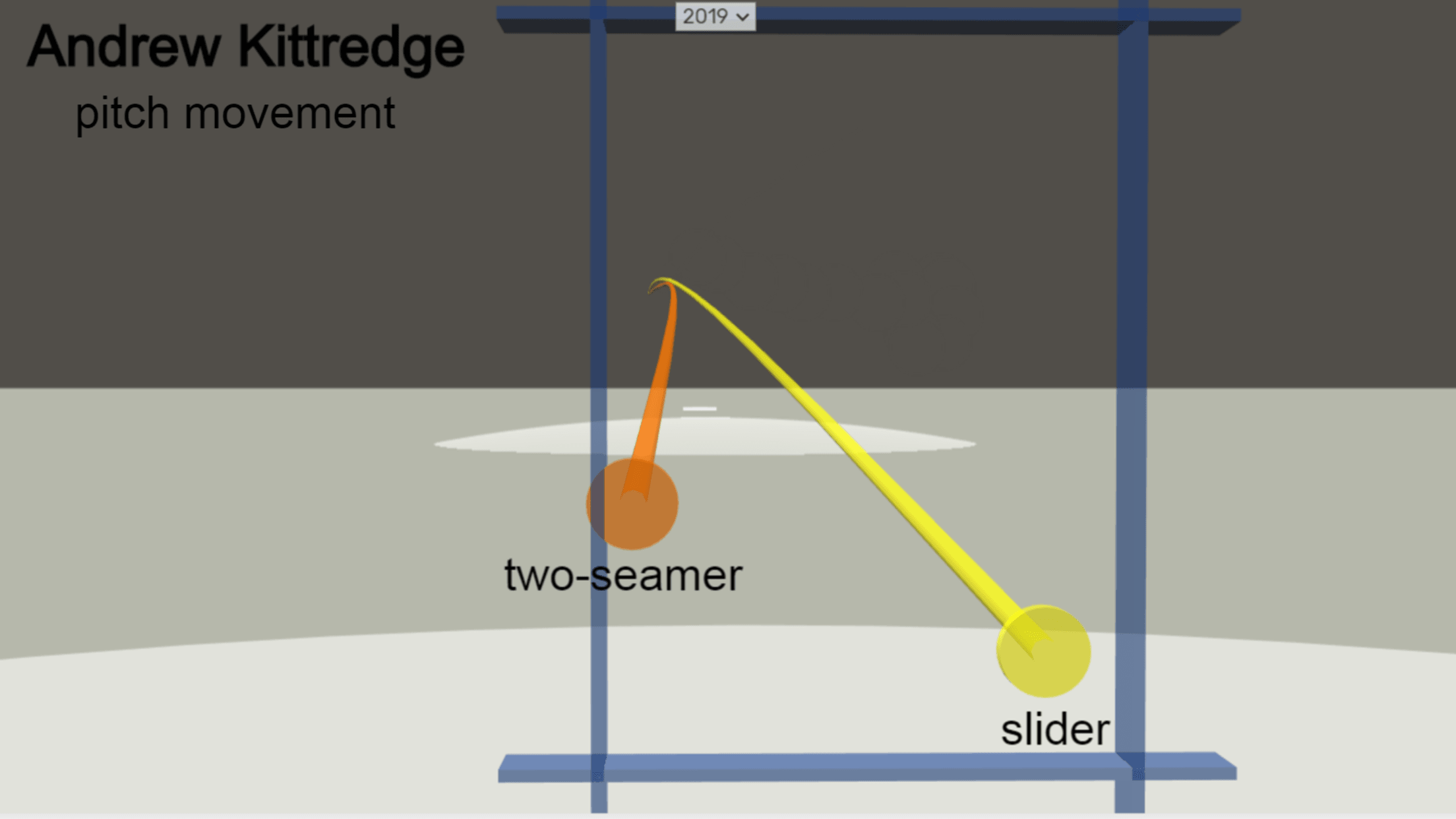 Yonny Chirinos -- Swing-and-miss splitter
Chirinos' splitter didn't break physics like Drake's, but it was a better swing-and-miss pitch. Hitters whiffed on 42% of their swings against his split, and Chirinos also recorded a 42% strikeout rate in plate appearances decided on splitters. His 49 splitter K's were fifth most in the Majors (Drake was ninth with 38).
Yonny Chirinos, Filthy 88mph Splitter...and current Ninja record holder for vertical jump after a K. 🐸 pic.twitter.com/bpk3O7RC7L

— Rob Friedman (@PitchingNinja) June 8, 2019
Brendan McKay -- He can hit, too
So McKay only drew one start at DH in his rookie season, primarily focusing on pitching. He's a two-way player at heart, and if there's ever a season when that's extra valuable, it'll be this one. McKay is the Rays' No. 2 prospect for a reason, and the time may come when they need both his arm and his bat.