Rays reduce roster to 40 players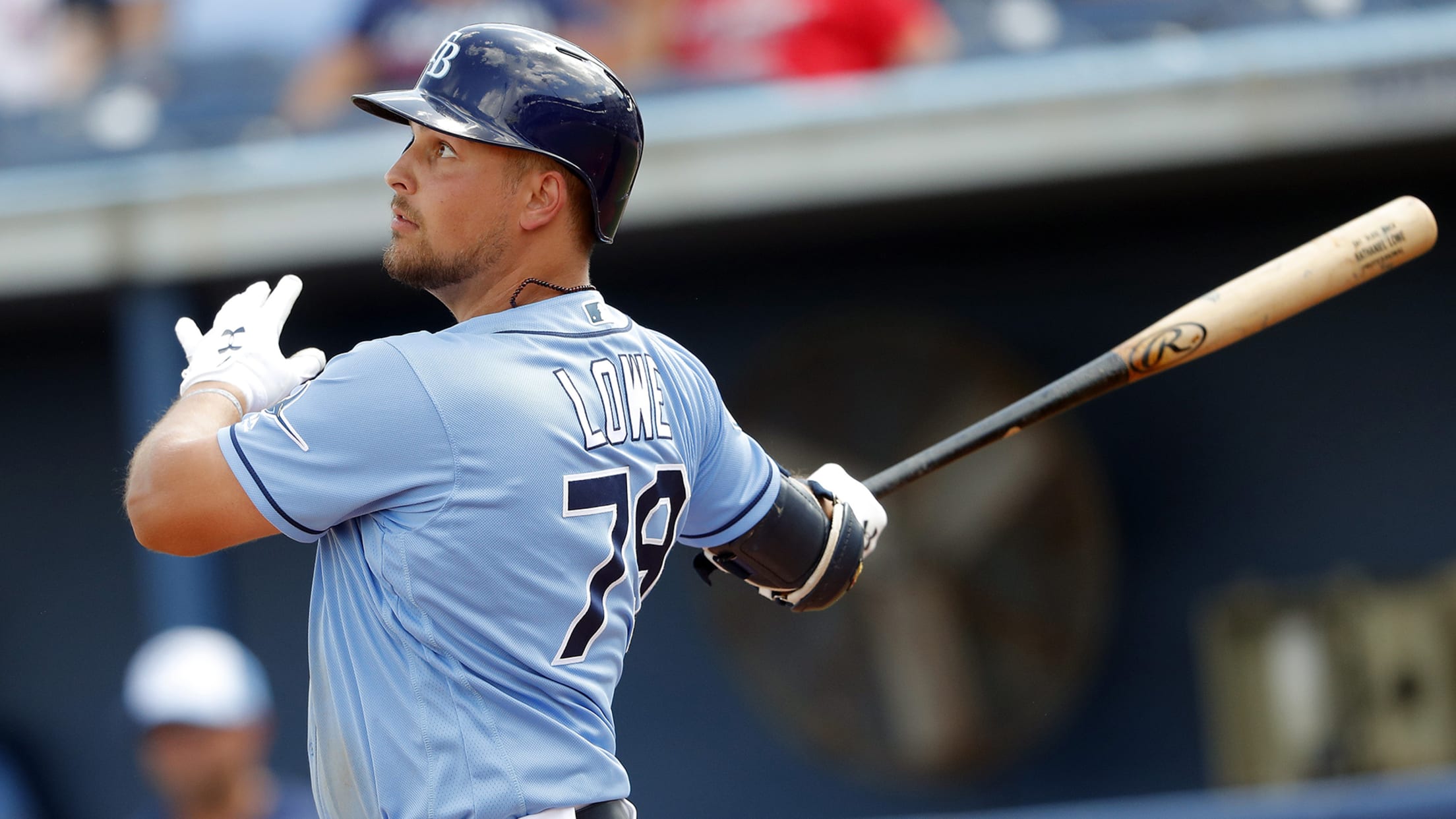 PORT CHARLOTTE, Fla. -- While Nate Lowe has a chance of playing at the big league level at some point in 2019, it won't come at the start of the season, as the team's No. 8 prospect was reassigned to Minor League camp Saturday. With less than two weeks until
PORT CHARLOTTE, Fla. -- While Nate Lowe has a chance of playing at the big league level at some point in 2019, it won't come at the start of the season, as the team's No. 8 prospect was reassigned to Minor League camp Saturday.
With less than two weeks until Opening Day, the Rays are starting to zero in on who will be taking the field when the team hosts the Astros on March 28. On Saturday, Tampa Bay continued that process by announcing that pitcher Austin Pruitt had been optioned to the Minors. Lowe, Mike Franco, Ryan Merritt, Colin Poche, Ricardo Pinto, Luis Santos, Anthony Bemboom and Michael Brosseau have all been reassigned to Minor League camp.
Lowe, who won the Rays' Minor League Player of the Year Award in 2018 after hitting 27 home runs with 102 RBIs, left a strong impression on the Rays with a 448-foot home run that landed on top of the building past the right center field boardwalk at Charlotte Sports Park. The 6-foot-4, 245-pound first baseman had just three hits in 34 at-bats this spring, with two of his hits resulting in home runs.
"Good impression," manager Kevin Cash said about Lowe. "I told him that he'll be the one that ultimately drives the decision. He came on so strongly last year. He did some good things. Obviously we saw enough of the power to really appreciate how far he can hit a baseball."
The plan for Lowe is to go back to Triple-A Durham to begin the season.
"Asked him to go down [to Durham] and continue to work," Cash said. "Value his defense as much as his offense. We know once guys get up [to the Majors], that's really important."
Pruitt and Poche are among some of the notable pitchers that won't make the Opening Day roster. Pruitt finished with a 4.65 ERA in 23 appearances with the Rays last season. He's expected to contribute at some point this season, likely in a long relief role. As for Poche, the left-hander couldn't find the consistency that propelled him to finishing with a 0.66 ERA in Triple-A last season. Poche could be another option for the Rays during the season, but his first Spring Training with the organization was a bit of a struggle. The 25-year old finished with a 9.00 ERA and had 10 walks in six innings this spring.
"That's going to happen at the big league level at some point," Cash said. "If it happens in Spring Training and you learn from it, you're better equipped when your opportunity comes at the big league level during the season."
Even after being reassigned Saturday, Merritt and Poche are still scheduled to pitch Sunday against the Red Sox in Fort Myers. Merritt will get stretched out in Triple-A Durham in case the team needs to add a bulk guy during the season.
With the moves, the Rays Spring Training roster is now at 40 players.
Snell's fourth Spring Training outing
Rays Opening Day starter Blake Snell was scheduled to pitch against an Orioles Minor League affiliate in his fourth appearance this spring. The reigning American League Cy Young Award winner was able to get one inning against the Orioles' Triple-A team before the game was canceled due to rain. Once the game was canceled, Snell, pitching coach Kyle Snyder and catcher Michael Perez went inside to the batting cages to complete Saturday's outing.
"I felt really good today. Really good," Snell said. "I'm where I need to be, if not ahead of it. Everything was great. I was very happy with everything."
After his one inning in the back field, Snell was able to get in 3 2/3 more innings of work in the cage. He said the rain didn't affect him as he threw about 54 pitches Saturday. Snell's last start of the spring will come Friday in Port Charlotte against the Pirates.
Chirinos, Yarbrough also get work in
Yonny Chirinos and Ryan Yarbrough were scheduled to pitch Saturday against the Twins, but were unable to due to the game being canceled. Despite the rain, Chirinos was still able to throw four innings in the cage, while Yarbrough returned to the mound after battling a sore groin, and pitched two innings.
Up next
The Rays will travel to Fort Myers, Fla. to face the Red Sox at 1:05 p.m. ET Sunday. Ryan Merritt is the scheduled starter for Tampa Bay, while former Rays ace David Price is set to be on the mound for Boston.
Juan Toribio covers the Rays for MLB.com. Follow him on Twitter @juanctoribio.