'Still having fun,' Kemp's role remains unclear
Veteran again out to prove himself as everyday player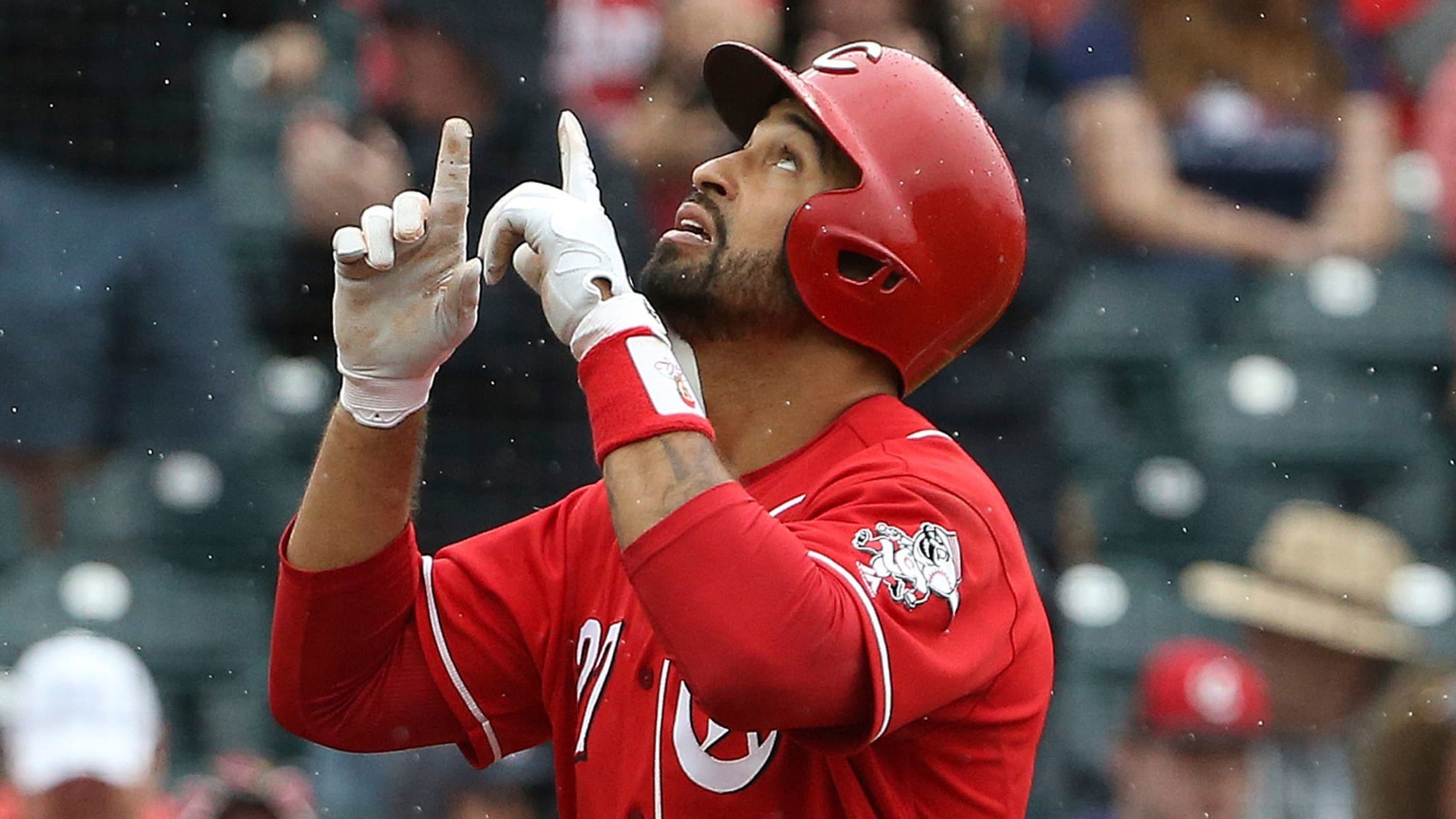 GOODYEAR, Ariz. -- It's like deja vu, sans Dodger blue. Here's Matt Kemp, freshly traded in a deal driven by economics. Again. Here's Kemp having to prove his viability as a big league regular. Again. And here's Kemp having a strong spring camp. Again. Remove the fond and fuzzy feelings
GOODYEAR, Ariz. -- It's like deja vu, sans Dodger blue. Here's Matt Kemp, freshly traded in a deal driven by economics. Again. Here's Kemp having to prove his viability as a big league regular. Again. And here's Kemp having a strong spring camp. Again.
Remove the fond and fuzzy feelings that accompanied his unlikely return to L.A. in 2018, and it's the same story written from the Cactus League one year ago.
"It's just part of the game," Kemp said before facing his former Dodger mates in the Reds' 8-1 loss at Goodyear Ballpark on Friday night. "I've been traded a couple times, but I've enjoyed the experience of new cities and cultures and all types of things. I'm still wearing a baseball jersey, still having fun playing the game of baseball."
An 0-for-3 against the Dodgers aside, Kemp has had a good camp, going 9-for-27 with three homers and three doubles. And while nobody knows exactly what they're watching down here, maybe this is an indication the 34-year-old Kemp has another productive season in him, just as he surprisingly showed in a fantastic first half with the Dodgers last year, when he entered the All-Star break (and was selected to the All-Star Game) with a .310/.352/.522 slash line.
If so, that's the equivalent of found money for the Reds, whose acquisition of Kemp was a partial means of offsetting the Homer Bailey salary they shipped to the Dodgers. They can either directly benefit from Kemp's contributions or, perhaps, move him to another club for prospect bodies and/or some salary relief.
But whereas a year ago at this time, it was becoming clear that a slimmed-down Kemp was winning the Dodgers' left-field job (he went on to appear in 92 of their first 96 games, starting 80 of them), it's still unclear if the opportunities and at-bats will be as plentiful in Cincinnati. The Reds are likely to have Yasiel Puig and Scott Schebler and/or Nick Senzel in center. Perhaps Kemp gets the regular reps in left, or perhaps he winds up in a timeshare with Jesse Winker. Kemp, as the right-handed batter facing lefties, would be on the short side of such a platoon.
Kemp, whose role was reduced as 2018's second half played out, was one of several members of a mixing-and-matching Dodgers squad who weren't always pleased with their playing time. It is easy, then, to imagine a scenario in which he's less-than-pleased with his Reds' role, too.
So this is a situation that will serve as an early test of the communication skills of rookie skipper David Bell, who acknowledged Friday -- not necessarily in relation to Kemp specifically, but with regard to platooning players in general -- that he has some difficult conversations coming.
How does Bell feel about platoons?
"I look at it two ways," he said. "I think every day, every game is so important, and you want to put your lineup that provides the best matchups against the opposition. That's the easy answer. The other part of it is just the mental part of it for the players. Players like to know their roles and what to expect. I think that's more of a challenge. ... I do have experiences to draw on. I've been in those situations where I thought I should be playing, and I wasn't. Sometimes I handled it well, sometimes I handled it poorly. I think I can use that experience to be able to relate and be good at the communication part of it, to help with that."
For now, Kemp communicates his intentions pretty plainly.
"I train to play every day," he said. "You can't do too much sitting on the bench. That's not something I'm good at. My job is to make an impact on this team and help this team win games. Sitting on the bench isn't the way to do that."