Puig overjoyed to play for 'friends' in Mexico
Reds star defected to country and is playing there for first time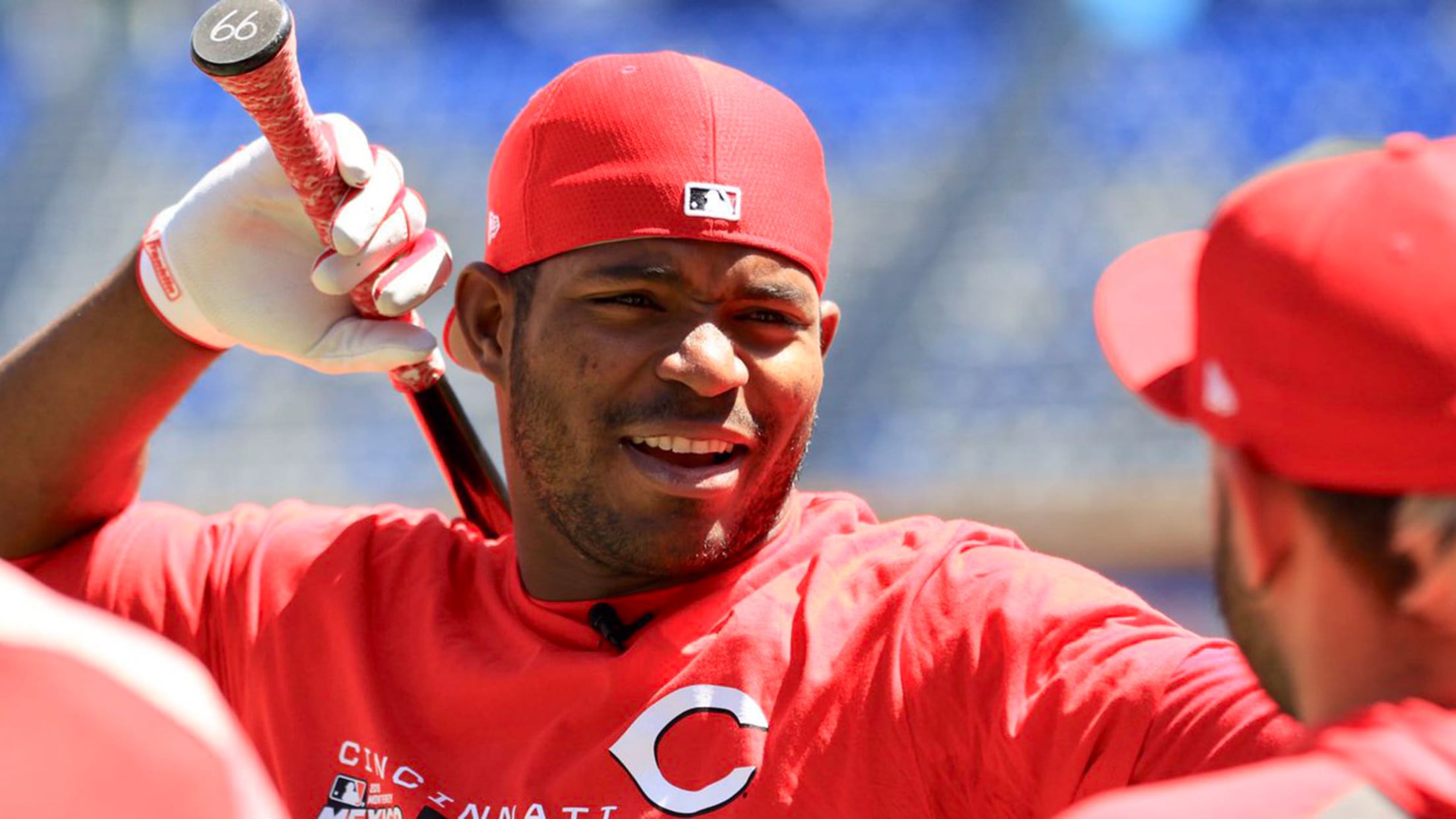 MONTERREY, Mexico -- Reds right fielder Yasiel Puig is a native of Cuba, but Mexico is in his heart. He made several attempts to defect from Cuba to Mexico before finally succeeding in 2012, following a harrowing ordeal that he doesn't discuss. Puig established Mexican residency and has a Mexican
MONTERREY, Mexico -- Reds right fielder Yasiel Puig is a native of Cuba, but Mexico is in his heart. He made several attempts to defect from Cuba to Mexico before finally succeeding in 2012, following a harrowing ordeal that he doesn't discuss.
Puig established Mexican residency and has a Mexican passport. Until this weekend's two-game Mexico Series between the Reds and Cardinals, Puig had never played in the country.
"I've been here in Monterrey before," Puig said on Saturday. "I have a lot of friends and I know a lot of people here in Monterrey. These beautiful people help me out a lot. I've got a lot of great people in Monterrey and Guadalajara. I want to say thank you to all my friends here, and thank you for taking me out to lunch and taking my teammates out for a good lunch."
Puig expected plenty of support and atmosphere during the games at Estadio de Beisbol Monterrey.
"Everybody in Spanish countries like the Dominican, Puerto Rico, my country Cuba, it's great to come back and bring the best baseball in the world," Puig said. "I'm excited to play here. Myself and all my teammates, the same players from [Latin] countries are going to do the best we can to have fun on the baseball field to show Mexican people the love and the appreciation to bring baseball here. We're going to play for Monterrey today and tomorrow."
Votto jokes in Spanish
A few years ago, in order to communicate with Latino teammates, Reds first baseman Joey Votto took it upon himself to learn how to speak Spanish. During a press conference on Saturday, Votto answered some questions in Spanish but mostly used a translator.
A Cincinnati television reporter asked Votto if he used his Spanish-speaking skills around town during Friday's off day.
"That's a personal question. Sin comentarios," Votto replied.
That was followed by a long, awkward pause.
"I just said 'no comment' in Spanish. So that's the joke. It's just ironic," Votto said.
"I think being able to navigate the city and interact with some of the people in Monterrey and be able to speak the language and learn, mostly, is not something I expected to be able to use along my baseball travels. I never expected to come to Monterrey, Mexico, but I'm so glad that I started that process and I have an opportunity to use it a little bit."
Votto was glad that the Reds got a chance to play an international series in Monterrey.
"It's a true honor to come here ... and represent the Cincinnati Reds and to play in front of people that, I hope, want us here. It's beautiful here, the people are beautiful. It's an amazing experience, and I truly feel grateful for it. ... I hope that we start making Reds fans for life here. We're sowing those seeds, so I think that would be a goal to reach."
Gray appears on track
Reds starting pitcher Sonny Gray, who suffered a left calf contusion during his start vs. the Marlins on Thursday, should be OK to make his next start on Wednesday vs. the Dodgers in Los Angeles.
"He's moving around great," Reds manager David Bell said. "I did talk to him, and he's moving well. That's a great sign. As of right now, he's on track."
Gray was struck by a Miguel Rojas comebacker in the second inning but still pitched four scoreless innings during a 5-0 Cincinnati victory.
Long time away
Including the series at Monterrey, where they were officially the "home" team, the Reds are on the road for 16 of their next 19 games -- with series coming up at Los Angeles, San Diego, St. Louis and New York. In the midst of that is one series at Great American Ball Park vs. the Braves from April 23-25.
"There are quite a few road games. You just don't think about it," Bell said. "It's there. It is what it is. But it all evens out.
"It's so important to play as well as we possibly can and do as well as we possibly can during this stretch. It's like here, making adjustments to a new ballpark. It's what we do, really. You're used to playing on the road. You're used to these long stretches and making adjustments. I really believe we will respond to this challenge."
Checking out the stadium
Bell and Reds players did not get their first look at Monterrey's stadium until arriving early for Saturday's game. Overall, the team came away more than satisfied with the ballpark.
"I think the one difference when you walk out there, it's an [artificial] turf field," Bell said. "There are not too many turf fields. Other than that, it looks just like any other Major League stadium. The facilities for the players are really outstanding. They did a really good job."
Mark Sheldon has covered the Reds for MLB.com since 2006, and previously covered the Twins from 2001-05. Follow him on Twitter @m_sheldon and Facebook.