2013: Boston Strong, Mo's sendoff, DR's dominance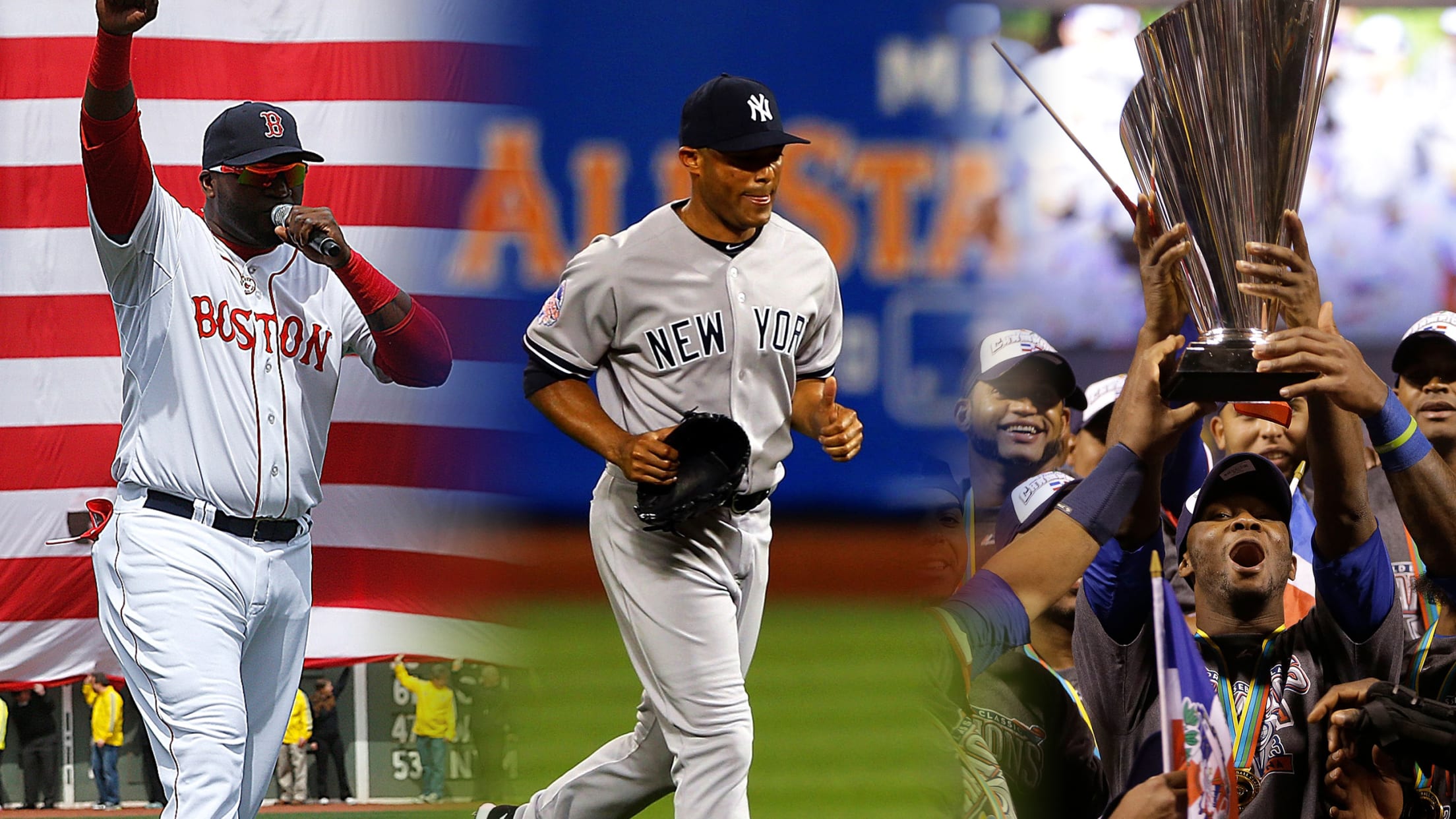 Throughout our hopefully short time without real live games, we'll be taking a weekly look back at a specific year in baseball history. What happened, why it mattered, what we'll remember most. Send us the years you'd most like us to talk about at [email protected]. So far: 1983 | 1984
Throughout our hopefully short time without real live games, we'll be taking a weekly look back at a specific year in baseball history. What happened, why it mattered, what we'll remember most. Send us the years you'd most like us to talk about at [email protected].
So far: 1983 | 1984 | 1987 | 1990 | 1991 | 1995 | 1998 | 2003 | 2006 | 2010
Year: 2013
Wild Card Games: Rays over Indians; Pirates over Reds
NLDS: Cardinals over Pirates in 5; Dodgers over Braves in 4
ALDS: Tigers over A's in 5; Red Sox over Rays in 4
LCS: Cardinals over Dodgers in 6; Red Sox over Tigers in 6
World Series: Red Sox over Cardinals in 6
MVPs: AL: Miguel Cabrera, Tigers; NL: Andrew McCutchen, Pirates
Cy Youngs: AL: Max Scherzer, Tigers; NL: Clayton Kershaw, Dodgers
Rookies of the Year: AL: Wil Myers, Rays; NL: José Fernández, Marlins
All-MLB Team (chosen by me, in 2020):
1B: Chris Davis, Orioles
2B: Robinson Canó, Yankees
SS: Troy Tulowitzki, Rockies
3B: Miguel Cabrera, Tigers
OF: Mike Trout, Angels
OF: Andrew McCutchen, Pirates
OF: Jacoby Ellsbury, Red Sox
C: Yadier Molina, Cardinals
DH: David Ortiz, Red Sox
SP: Clayton Kershaw, Dodgers
SP: Max Scherzer, Tigers
SP: Cliff Lee, Phillies
SP: Adam Wainwright, Cardinals
RP: Craig Kimbrel, Braves
RP: Greg Holland, Royals
Baseball doesn't have to mean anything more than baseball. A great season can exist entirely outside of the circumstances in the world that surrounds it. For example, 1927 is a year that doesn't have a lot of major significance in the country at large -- it was a good year for Charles Lindbergh, and both the Academy Awards and the Holland Tunnel became open for business -- but in baseball, 1927, and specifically the Yankees squad from that year, will live forever. Sometimes baseball is just baseball, and that is absolutely fine.
But sometimes baseball can be something more.
On Monday, April 15, 2013, the Boston Red Sox played their annual Patriots' Day game, beating the Blue Jays, 3-2, on a walk-off double from Mike Napoli, scoring Dustin Pedroia. It improved the Red Sox to an 8-4 record, a welcome change from the disastrous '12 season in which they finished in last place, parted ways with manager Bobby Valentine after one season and traded away their most expensive, unsatisfying veterans at the Trade Deadline. The fast start was desperately needed. The team was on a bus, about to head to the airport for a three-game series in Cleveland, when they heard news reports about an explosion at the Boston Marathon.
Then-Boston infielder Will Middlebrooks told The Athletic, in a terrific oral history of that 2013 Red Sox season, "A walk-off win in the big leagues is one of the most exhilarating feelings, especially in Fenway Park. And then less than an hour after that being overcome with fear, confusion and sadness was overwhelming."
The Boston Marathon bombing that Patriots' Day was a tragedy that shook one of our great American cities to its very core, and in many ways, the story in Boston was only beginning. And it is undeniable that the Red Sox, the central obsession of the city of Boston for more than a century, were core, and critical, to the city's attempt to heal. Ben Cherington, then the Red Sox general manager, said, "As a player in that situation, you don't have a choice as to whether to be the face of it. You don't have a choice of whether to opt in to being a part of the public story around this. Inevitably, you just will be. So you have to figure out how you want to do that collectively, individually."
The Red Sox stepped up. They put up a "BOSTON STRONG 617" jersey -- in honor of the city's area code -- in their dugout in Cleveland, then went out and swept the Indians. They flew home, expecting to play that Friday night, but the game was postponed because the bombers had been discovered in Boston and were the subjects of a region-wide manhunt, leading Boston Mayor Thomas Menino to utter words we all now know intimately: The citizens were to "shelter in place."
The second bomber was apprehended at sundown, and the next day, the city of Boston had a 25-minute pregame ceremony to honor the injured and dead before the game at Fenway Park. It was moving and sad and unforgettable, and that was before someone handed the microphone to David Ortiz, who did not make the trip to Cleveland, staying in Boston all week. You may remember his speech.
You will note that Ortiz was not in trouble for his profanity. The FCC didn't even mind!
David Ortiz spoke from the heart at today's Red Sox game. I stand with Big Papi and the people of Boston - Julius

— The FCC (@FCC) April 20, 2013
After that, the Red Sox and Boston were fused for the rest of that season. After the city actively jeered the 2012 squad -- and no city jeers a team like Boston -- the city locked in on its club like few in recent memory. And the team responded. It battled back and forth with the Rays for first place through July, taking over the top spot on July 31 and never letting go of it. They'd end up with a 97-65 record, tied for the best in baseball, and then they'd blitz the Rays in the ALDS and the Tigers in the ALCS, with a classic Ortiz grand slam in Game 2, with the happy police officer just past the wall, that was so incredible that, if you want, you can watch it on a four-hour loop on the Red Sox's official YouTube page.
In the World Series, against the St. Louis Cardinals it would be all Big Papi again. You really can't look at his stat line for that series long enough:
.688/.760/1.188.
Ortiz stepped to the plate 25 times in that series. The Cardinals got him out six times.
And in the end, in Game 6, the Red Sox did something that, despite all their success, they had not done since 1918: They clinched the World Series within the walls of Fenway Park. I was in the stands that night, and I'm not sure I've ever heard a louder roar. The fans screamed as if six months of fear and sorrow and courage and strength were all being released in one night.
The Red Sox won the World Series. But really, Boston did.
"That team recognized that we were an outlet at that point in time and just kept on winning," Red Sox reliever Andrew Bailey said. "We just fed off that energy."
The Red Sox have won four World Series in the last 16 years, and the 2004 one, the breakthrough that it was, will always be the one everyone remembers. But for many in Boston, the '13 was just as special, if not more so. It was the one that was theirs.
Baseball doesn't have to be more than baseball. But it can be. And when it is, it is truly glorious.
Here are 10 other notable facts from the 2013 baseball season.
1. The 2013 World Baseball Classic featured the single most dominant team in the tournament's history. The Dominican Republic squad destroyed everyone, going 8-0, culminating in a 3-0 win over Puerto Rico in the championship game. Managed by Tony Peña, the team featured Carlos Santana, Robinson Canó (who was the MVP), Edwin Encarnación, Hanley Ramirez, Miguel Tejada, José Reyes and Nelson Cruz. No other team has gone undefeated in a World Baseball Classic.
2. This season brought the last Major League realignment, with the Houston Astros moving from the National League Central to the American League West. Having an odd number of teams in each league meant that, for the first time, there would be an Interleague game every single day of the season.
3. The major new talent on the scene in 2013? Marlins phenom José Fernández, who, en route to an easy selection as NL Rookie of the Year, was absolutely incredible in his age-20 season. He put up a 2.19 ERA, had the lowest H/9 in all of baseball and finished third in the Cy Young Award voting. He was the second-youngest full-time player in baseball that year, older than only Bryce Harper, and inspired then-Rays manager Joe Maddon to say, "José Fernández might be the best young pitcher I've ever seen."
4. For all the talk of Fernández's brilliance, the rocket ship debut of 2013 had to be Yasiel Puig. Mere months after his tumultuous arrival from Cuba, Puig showed up and hit the baseball like he frankly never has since. Puig arrived on June 2 and proceeded to hit .436 for the month with seven homers, winning the NL Player of the Month Award. He also managed to irritate just about every team he played with his unbridled enthusiasm, showing a penchant for such theatrics that would follow him around the rest of his career.
5. Another extraordinary year in 2013? Chris Davis! Sure, Chris Davis these days is mostly thought of for his prodigious strikeout rates and his remarkable hitless streak to begin '19. But in '13, Davis was an absolute monster, hitting a whopping 53 homers and driving in 138 runs. He even hit .286 that year, easily his career high. (He has been more than 100 points lower each of the last two years.) He actually hit homers in all four of the Orioles' first four games that year, and he had 37 at the All-Star break.
6. Davis still wasn't the best home run hitter in the world in 2013. That would be … Wladimir Balentien. Four years after his final game in the big leagues, the former Mariner and Red hit 60 homers (in just 130 games!) for the Yakult Swallows of the Japanese Baseball League. That broke Sadaharu Oh's 49-year-old record, and it's a mark still belonging to Balentien. In fact, Balentien was still playing in the Japanese league last year, still for the Swallows; he hit 34 homers in '19 as a 34-year-old. He signed as a free agent with the Fukuoka SoftBank Hawks in December.
7. The biggest breakthrough team of 2013 was Pittsburgh. The Pirates ended a 20-year stretch of losing seasons and ended up finishing second in the NL Central and hosting the Wild Card Game. That contest featured a Pirates crowd that was so loud and rowdy that it rattled Reds pitcher Johnny Cueto into dropping the ball on the mound. The Pirates would end up coming this close to beating the Cardinals in the NLDS, but this would end up being it for their boomlet: The Pirates haven't won a playoff game since Game 3 of that NLDS.
8. The big nefarious subplot of 2013 was the Biogenesis scandal, which would lead to suspensions for Cruz, Ryan Braun, Everth Cabrera, Jhonny Peralta and Alex Rodriguez, who would end up missing not only the rest of that season but all of the '14 season as well.
9. We of course have to talk about Mike Trout. Trout, in his second full season, was even better than he was in his first, though he still didn't win the MVP. Off the only 30-30 season of his career in 2012 (actually 30-49), Trout led the AL in '13 in walks and runs alongside some superb marks: .432 OBP, .988 OPS, 179 OPS+ and 8.9 bWAR -- all but the last of which surpassed his '12 tallies. He also became the youngest AL player to ever hit for the cycle, because of course he did. Like every other Mike Trout season, though, this one ended without any playoff victories.
10. Stan Musial died in 2013, but on the field, we said goodbye to Mariano Rivera, both at the All-Star Game at Citi Field in New York and also at Yankee Stadium, with Metallica in attendance. Rivera was 43 in '13 and still brilliant, with 44 saves and a 2.11 ERA. And the entire game stopped to see him off.
Send me the year you'd love to have me write about at [email protected].