Devers has 'toolset,' but 3B issues persist
23-year-old leads Majors with 13 errors; Roenicke on his future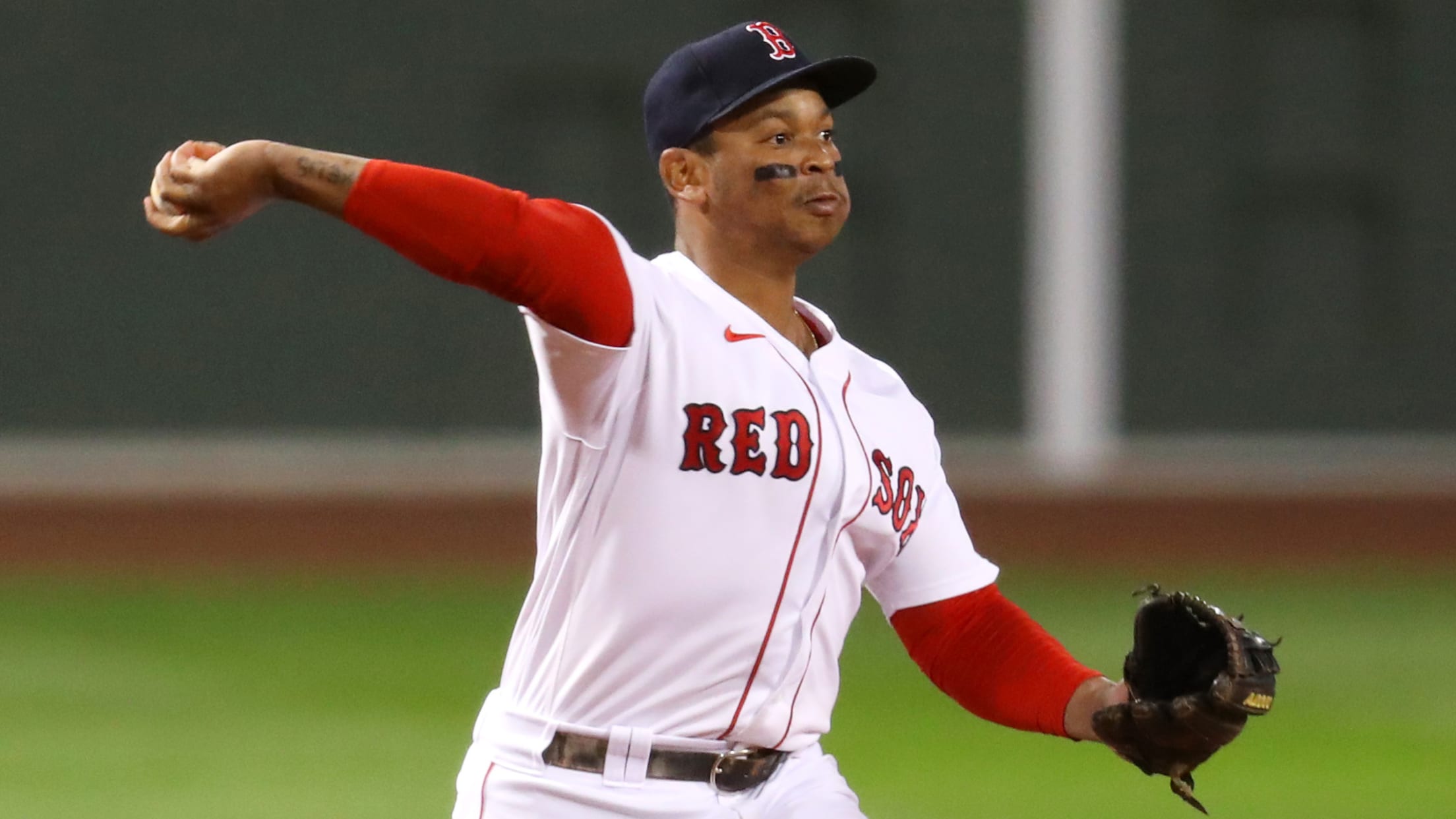 BOSTON -- After making a strong improvement on defense last season, Red Sox third baseman Rafael Devers has regressed to the level he was at two years ago, and perhaps even below it. Devers entered Wednesday night's game against the Orioles leading MLB with 13 errors in 437 innings and
BOSTON -- After making a strong improvement on defense last season, Red Sox third baseman Rafael Devers has regressed to the level he was at two years ago, and perhaps even below it.
Devers entered Wednesday night's game against the Orioles leading MLB with 13 errors in 437 innings and 115 total chances. His fielding percentage is .887.
Though the 23-year-old has recovered nicely from a slow start for an overall strong offensive season, it's concerning that his defense has slipped again.
What is the issue?
Red Sox manager Ron Roenicke thinks there is a mental aspect to it, and that when Devers makes an error, he allows it to snowball into more misplays.
"Once you have one error, you're trying not to make another, and that's the wrong way to think about it," said Roenicke. "You have to think about making plays, and really, the good ones think about taking away hits from guys."
Roenicke thinks Devers has the skill set to at least play the position adequately.
"Raffy's got the toolset to be a good third baseman," said Roenicke. "If he can be even an average third baseman defensively, with the way he swings the bat it's a huge value for a team. But at times, there are some lapses. He knows it. He's really hard on himself when he makes an error. He doesn't like it. He works at it. And I think he'll just continue to get better and better."
Bobby Dalbec, who was an above-average third baseman in college and the Minor Leagues, is playing first base in his first stint with the Red Sox.
If Devers continues to be shaky at third, you wonder if the Red Sox could contemplate swapping their corner infielders at some point down the road.
Arroyo making a statement
Is Christian Arroyo, based on a strong small sample size, ready to take over at second base next season? He has at least put himself in the conversation.
"Well, I mean, if you look at what Arroyo has done so far, this guy has done everything we've asked him to do," said Roenicke. "We wanted to see what he's all about. This guy, he's got really good instincts. He's got good hands. He's got a good arm. And he swings the bat. He swings it with authority. I've been really impressed with him.
"For a short sample, watching the guy, he's impressed not just me but all the coaches, and upstairs also. We like what he's doing. I don't know what that means for next year. I think that depends on what happens and who's available and what we decide to do. I think he's done everything that he could to impress us with what he does."
Will Roenicke be back?
Roenicke has talked about the Red Sox a lot of late in the context of how they are set up for the future.
In the coming days, the organization will decide if Roenicke will be part of that future as its manager. Due to the timing of Roenicke being hired in Spring Training, after the Red Sox parted ways with Alex Cora, he signed a one-year contract to manage.
Has Roenicke spoken about his future yet with chief baseball officer Chaim Bloom?
"I haven't talked to him yet about it," said Roenicke. "I know he's going to Atlanta [for the final series of the season]. I'm sure we'll have a conversation somewhere before I leave. Not sure where that will take place."