Every Red Sox Players' Weekend nickname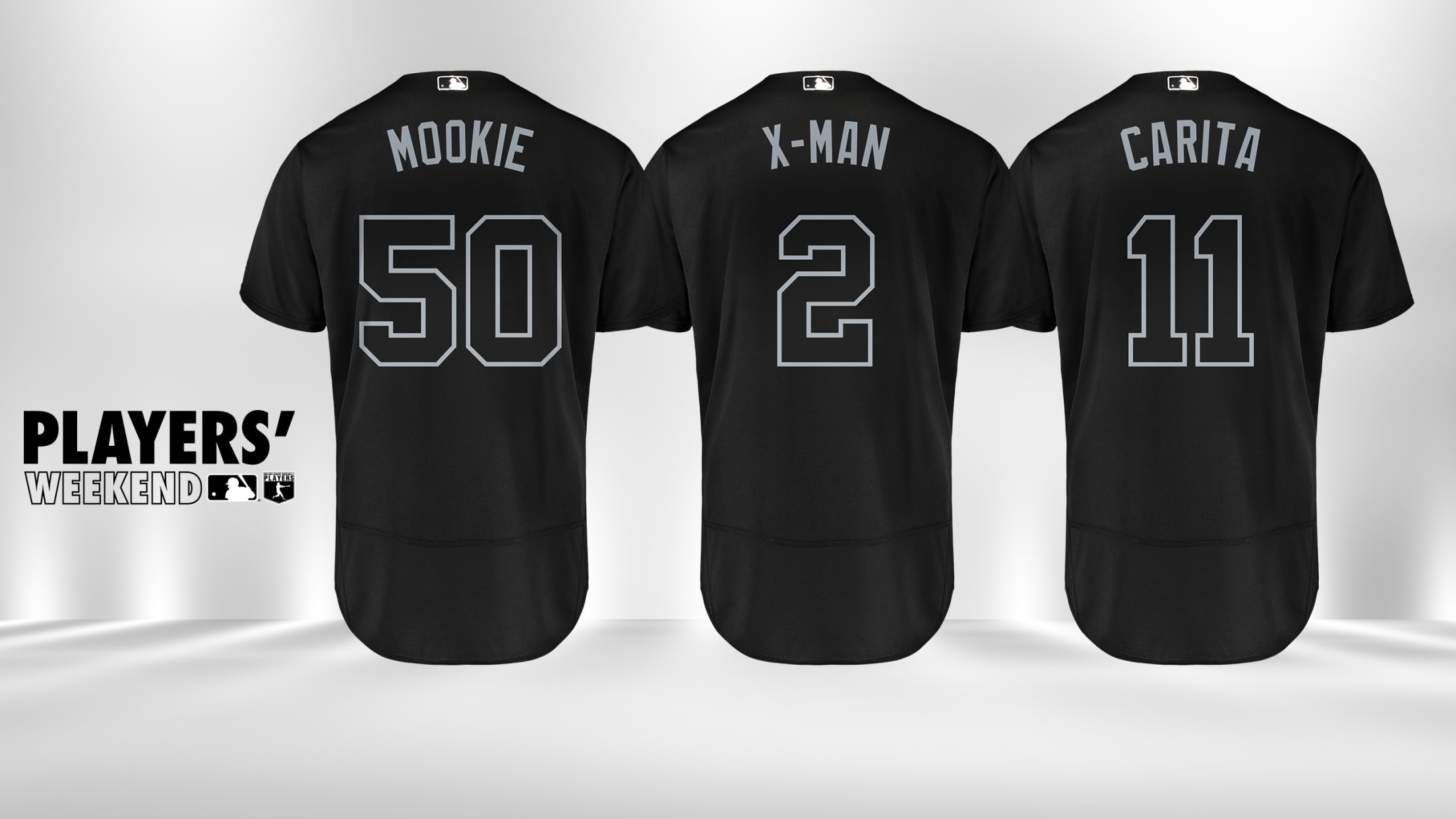 Players' Weekend returns for the third straight season on Aug. 23-25. The Red Sox will wear their specialized uniforms and gear with their nicknames while they play the Padres in San Diego. Some of the players stuck with their favorite nicknames from seasons past, many gave shoutouts to their last
Players' Weekend returns for the third straight season on Aug. 23-25. The Red Sox will wear their specialized uniforms and gear with their nicknames while they play the Padres in San Diego. Some of the players stuck with their favorite nicknames from seasons past, many gave shoutouts to their last names, while others chose names with unique backstories.
• Every team's Players' Weekend nicknames
Matt Barnes: "BARNESY"
Andrew Benintendi: "BENNY"
Mookie Betts: "MOOKIE"
Xander Bogaerts: "X-MAN"
After choosing "X" and "Bogie" in the past, Bogaerts continues with a variation of his name.
Jackie Bradley Jr.: "JBJ"
Andrew Cashner: "CASH"
Michael Chavis: "CHIEF"
Chavis has the nickname "Chief" because of his father's Cherokee heritage. He also plans to incorporate a new nickname he gained during this season: "Ice Horse." The moniker was created after Barstool Sports. Follow along to connect the dots.
"It's kind of a chain of events where they were trying to find stuff," Chavis said. "I think it started with, 'Chavis rhymes with shaved ice.' Kind of a stretch there. So then they took the ice and with my 11:11 thing, they wanted something that's lucky and that could be like the 'Ice Leprechaun' or the 'Ice Rainbow.' Apparently white horses are lucky."
Rafael Devers: "CARITA"
Devers was given the nickname "Carita," which means "baby face," because he was so happy and smiling as a child.
Nathan Eovaldi: "NITRO"
Eovaldi's high school coach Mike Rogers dubbed the pitcher "Nitro" because of his speedy fastball.
"It was given to me a long time ago and I've just kind of kept it with the fastball and how hard I throw," said Eovaldi. "I threw hard in high school. I wasn't as consistent as I am now, but I could still get it up there. I had a couple of nicknames throughout the years."
• Shop for Players' Weekend gear
Darwinzon Hernandez: "HERNANDEZ"
Brock Holt: "BH"
Holt changed from his well-known moniker "Brockstar" to his initials this season.
Brian Johnson: "BJ"
Sandy Leon: "NOAH"
"I don't have any nicknames, so I did my first born, my first son," Leon said. "He's always with me in my heart. So having him on my jersey made me feel good, too, because I play for him, for my family."
J.D. Martinez: "FLACO"
Why did the home-run belting designated hitter choose "Flaco," which translates from Spanish into English as "skinny?" The story goes back to when Martinez was 12 years old. His hitting instructor, former Major Leaguer Paul Casanova, quickly came up with the name.
"He played with Hank Aaron on the Braves," Martinez explained last season, when he also wore the name. "He was kind of like my mentor growing up as far as hitting. The first time I walked in there, I was really skinny, so he started calling me 'Flaco.'"
Mitch Moreland: "2 - BAGS"
Steve Pearce: "PEARCE"
Rick Porcello: "PORCELLO"
David Price: "X"
Like Leon, Price chose the name of his son, Xavier. Price also changed his uniform number to 10 this season, representing the roman numeral X.
Eduardo Rodriguez: "EL GUALO"
Chris Sale: "THE CONDUCTOR"
Sale was given his nickname by Dustin Pedroia, who pointed out train conductors punch tickets. Sale specializes in strikeouts, also known as punchouts.
Josh Taylor: "TAYLOR"
Sam Travis: "DR. CHILL"
Davis was given the nickname from Minor League teammate Danny Mars because of how often Travis used the word "chill."
"I changed my Twitter name and Instagram name, and it kind of stuck," Travis said. "It's kind of a lot bigger than I ever thought it would be. It's kind of funny."
Travis believes the nickname fits his personality, too.
"I just think I'm a pretty low-key guy," he said. "I'm always chillin.'"
Christian Vazquez: "COLO"
Also his Instagram nickname, Vazquez is called "Colo" during winter ball in Puerto Rico.
Marcus Walden: "WALDO"
Ryan Weber: "WEB"
Brandon Workman: "WORK"