Fenway Park is hosting pickleball from July 12 through 16, featuring professional and amateur tournaments as well as open play for fans. Twelve temporary courts will be set up in the outfield over the five-day period. Pickleball at Fenway Park is in collaboration with Pickle4, a newly formed organization partnered with the US Open Pickleball Championships focused on developing America's fastest growing sport.
Court Rentals
Pickleball court rentals are sold out.
Shared Court Rentals
Bringing a smaller group? Rent a court of either 2 or 4 people. Pairs will be matched with other groups.
Full Court Rentals
Court times are available for rent in 80-minute increments for up to 10 people. All skill levels are welcome. Additional activities with access to concessions and live music will also be available.
Exclusive Offer
With your exclusive code, take advantage of the special offer to book your court rental. Bring up to 10 people to enjoy 80 minutes of action.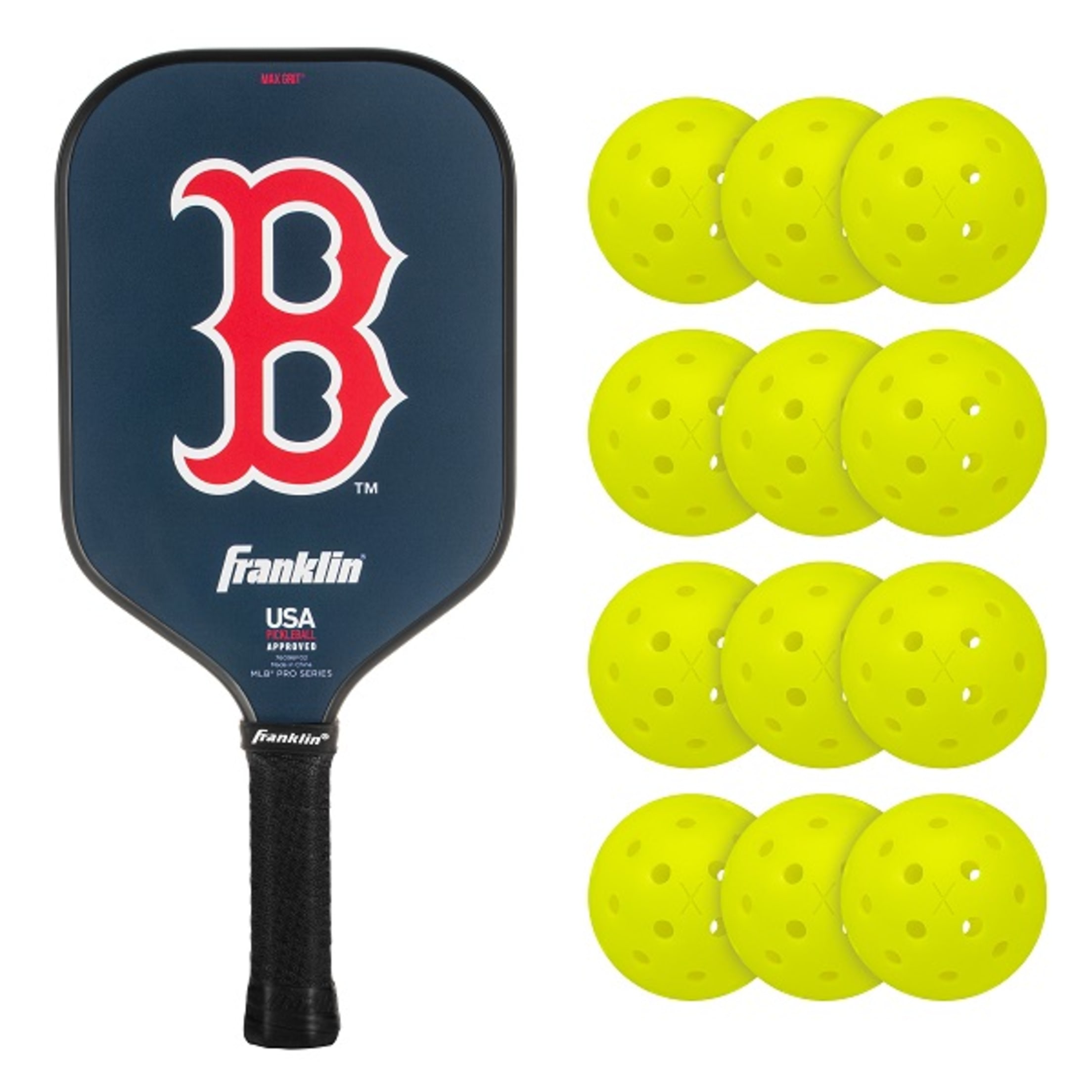 Participants will receive commemorative pickleball paddles and pickleballs included with each court rental, courtesy of Franklin Sports.
Spectator Tickets
Spectator tickets are available for all 5 days of pickleball at Fenway Park. Watch the Pro Showcase on Friday and Sunday, the amateur tournament on Wednesday and Friday, or watch your friends taking part in court rentals.
The general admission tickets will allow attendees to watch all of the action from specified areas in the seating bowl and enjoy the concessions and other activities in the concourse.
Pickleball Kids Clinic
Saturday, July 15: 11 a.m. - 1 p.m.
Learn from the pros! The Pickleball Kids Clinic - hosted by some of the professional players taking part in the Pickle4 Ballpark Series - is FREE to all participants. Sign up now!
Amateur Tournament
The amateur tournament will include men's, women's, and mixed doubles teams across a variety of ages and skill levels.
Registration for the amateur tournament is now closed.
Frequently Asked Questions
Are coolers permitted?
Large and/or hard-sided coolers will not be allowed.
Athletes are allowed to bring large, filled water bottles, 2-3 sealed water bottles and small, soft-sided coolers - all subject to search.
What information is there about water and beverages?
Fenway will have free water filling stations for your personal water bottles on field as well as in the entry areas for easy access when you're not on the courts.
Athletes are allowed to bring large, filled water bottles, 2-3 sealed water bottles and small, soft-sided coolers - all subject to search.
You may, and are encouraged, to also bring powdered hydration drink mix to add to your water bottles.
There will be other beverages available in the stadium for purchase.
Can I bring chairs?
Chairs are not permitted inside Fenway Park.
Who are the pros?
What concessions are available? Can I bring my own food?
Beverages including Smartwater, Coca-Cola products, Truly Hard Seltzers, and craft and domestic beer, as well as Fenway favorites including hot dogs, chicken tenders, burgers, pretzels, and pre-packaged snacks will be available to purchase. Outside food and beverage is not permitted inside Fenway Park, except for a sealed bottle of water.
Where do I get in?
Gate B at the corner of Van Ness Street and Ipswich Street
What time can I arrive?
You should arrive 30 minutes before your scheduled competition time. You may, however, arrive as early as you like with doors opening July 12 at 7 a.m., July 13-14 at 7:15 a.m., July 15-16 at 8:15 a.m.
Can I stay all day if I'm competing in the amateur competition?
Yes, you are welcome to stay the entire day of your amateur competition. Amateur competition participants only may leave the ballpark and re-enter the ballpark the same day as your competition using Pickleball Den. Re-entering through security is required. Re-entry is not available to non-amateur competition participants or spectators.
Can I bring family/friends?
Family/Friends may purchase spectator tickets. Children 2 and under are admitted free.
What do I need to bring with me to get into the ballpark?
Amateur Competition Athletes
Mobile device with Pickleball Den loaded and make sure you know your login
Mobile Amateur Competition Entry Ticket
Personal ID (Driver's License)
Court Rental Participants
MLB Ballpark App Entry Ticket
Spectators
MLB Ballpark App Entry Ticket
Do I need equipment?
If you are competing in the amateur competition, you need to bring your pickleball paddle and wear athletic clothing.
If you are joining as part of a court rental, you will receive a Franklin Signature Series Red Sox paddle as part of your rental.
Pickleballs will be supplied
Can I change clothes somewhere?
Men's, Women's, and Family Restrooms are available for use, but do not include locker room facilities.
What are the start times for the amateur competition and professional showcase exhibition?
As an amateur competition participant, how do I get my free tickets for professional showcase exhibition?
Tickets will be emailed to you, and you will access them through the MLB Ballpark app.