Hundley seeks to get most out of A's staff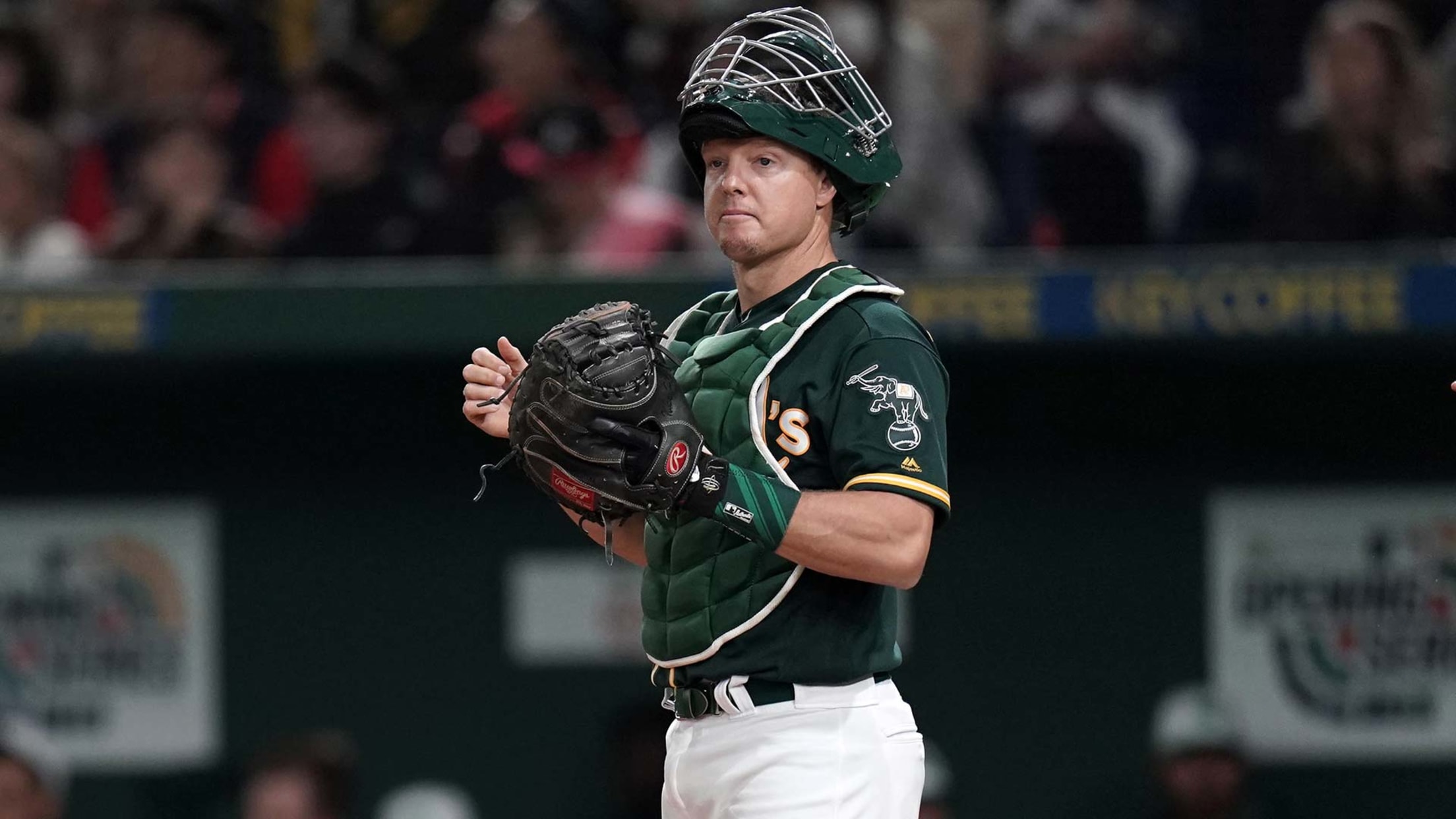 SAN FRANCISCO -- Nick Hundley is joining his fifth team in five years as he begins this season with the A's. That means he has collaborated with approximately 100 pitchers, perhaps more, in the ongoing effort to record outs. Hundley, 35, relishes the variety involved in working with a new
SAN FRANCISCO -- Nick Hundley is joining his fifth team in five years as he begins this season with the A's. That means he has collaborated with approximately 100 pitchers, perhaps more, in the ongoing effort to record outs.
Hundley, 35, relishes the variety involved in working with a new staff, and savors the challenge of coaxing as much skill as possible from each pitcher. He articulated his constant search for excellence, whether it's his own or a pitcher's, by citing a favorite saying repeated by former Major League first baseman Tony Muser, who was the Padres' Minor League hitting coordinator when Hundley ascended through that organization: "The road to success is always under construction."
"I loved that," said Hundley. "You're always working. You're always growing. There's always something more to learn about a guy, how you can push him more."
The A's have yet to determine whether Hundley or Josh Phegley will be their primary catcher. Manager Bob Melvin has hinted that he might pair Phegley, who has a quick-throwing motion, with pitchers whose deliveries are more deliberate. Hundley possesses the edge in experience, having appeared in 945 Major League games to Phegley's 272.
Immediately after signing with the A's last month, Hundley requested videos of the team's top pitchers taken during Major League performances so he could familiarize himself with them.
"Having that servant mentality from a catcher's side is really important," said Hundley, a .248 career hitter with 91 home runs for the Padres, Orioles, Rockies and Giants. "I think these guys need to know I want the best for them more than I want the best for me. Put them in the best possible position to be successful. I think that makes it a little bit easier when you come from that address."
Familiarizing himself by watching the pitching videos helped him break the ice with different pitchers, Hundley said. "So when I'm having those conversations I'm not starting at zero," he added.
Giants catcher Buster Posey, who Hundley backed up the previous two seasons, admires his former teammate's helpful nature.
As Posey relayed, "He has no problem with a 23-year-old coming to him and saying, 'Nick, could you give me a little different target?' He could say, 'It's not the target that's your problem.' Instead, he'll say, 'Sure, I'll adjust for you.' Whereas I think some guys in his position might snap at that young guy and not be receptive. I think it's important to make the staff feel like you're accessible."
Hundley's hungry to join forces with Oakland's hurlers, calling the staff "deep."
Said Hundley, "The arms here are second to none, especially in the bullpen. If we get a lead, it's going to be tough to beat them."
Chris Haft has covered the Major Leagues since 1991 and has worked for MLB.com since 2007. Follow him on Twitter at @goodforball.