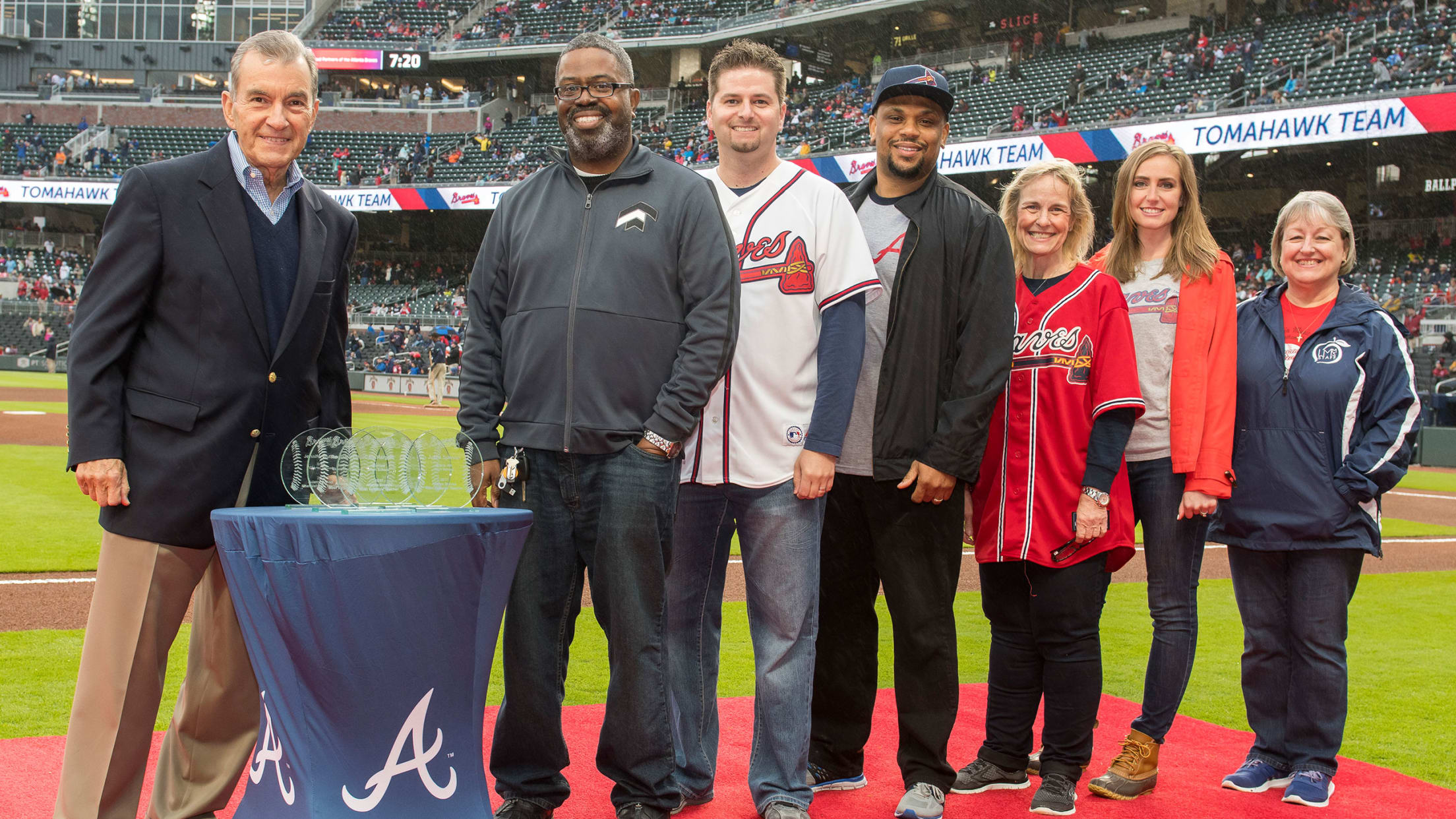 The Atlanta Braves celebrate teachers throughout Braves Country through a variety of initiatives including the Atlanta Braves Foundation Teacher Impact Grant Program, classroom surprises, and the Most Valuable Teacher Awards recognition.
The Atlanta Braves Foundation funded 8 teachers' innovative educational projects focusing on STEM, healthy living and literacy through the Teacher Impact Grant Program in 2019. The Braves Foundation's $10,000 contribution is making a difference in the Braves Country community. See the list of schools and projects below:
| School | Project Title | Teacher |
| --- | --- | --- |
| Bryant Elementary School | Reading for Success in Read 180 | Kathy O'Rourke |
| Campbell Middle School | GET GROWING! | Cinde Valencia |
| Dowell Elementary | STEM/Coding Buddies | Wendy Astin |
| East Side Elementary | The Culture of Kindness | Maria Larsson |
| Floyd Middle | School Sustainable Organic Garden Project | Christine Gay |
| King Springs Elementary | Coding Across the Curriculum | Chelsea Whitesell |
| Lewis Elementary School | Stem & Sensory Centers for Special Needs | Kimberly Pair |
| McCall Primary | Change Your Words Change Your Mind Part Two | Melissa Usrey |
In honor of Teacher Appreciation Day, we awarded our Braves Country Most Valuable Teachers on-field. These inspirational educators go above and beyond inside their classrooms and in the community and were selected for their outstanding stories of dedication to their students.
2019 Atlanta Braves Most Valuable Teachers
Becky Busby - Frank Long Elementary School
Hinesville, GA
Becky strives to bring STEM education to the Hinesville area through her partnership with NASA and Johnson Space Center. She recently hosted a downlink where more than 20,000 members of her community interacted with Astronaut Ricky Arnold live aboard the International Space Station. The event received national coverage and showcased the school's dedication to learning.
Mrs. Busby works with teachers in her community to spread resources and best practices that empower her students to embrace STEM. She has facilitated workshops throughout Georgia, Texas, and Florida to help teachers transform their classrooms.
As the School Climate Coach, Mrs. Busby works hard to recognize the academics and behavior of every student. Her efforts with Parent Engagement helps keep families connected with the school. She has hosted mini Space Camps throughout the region to get students and teachers excited about Space Education. Her leadership and innovative teaching practices prove every day that she strives to go above and beyond to bring the very best to our school and to students in Georgia.
Keisha Crawford - Hollydale Elementary School
Douglasville, GA
Keisha teaches a social and emotional learning class called "Step it Up!" at Hollydale Elementary School. She teaches students to use social skills needed to be a responsible and contributing member of their school, community, and ultimately for the future!
Earlier this year, a family of 18 from Hollydale lost their home in a house fire. Mrs. Crawford jumped in and not only started collecting supplies for them, but recruited her husband, a realtor, to help them find a house. But she didn't stop there--she contacted TV and Radio stations to get the word out that a family was in need.
You will never find Mrs. Crawford upset or disappointed in anything--instead she is a cheerleader and champion for kids. Among the staff, Mrs. Crawford assumes the leader for the hospitality committee and is known for her elaborate decorations & spreads for staff appreciation lunches. Mrs. Crawford doesn't just teach--she continually works to ensure students needs in and out of school.
Lynn Paxton - Batesburg-Leesville Elementary School
Lexington, SC
Her love for her students is unparalleled. Her desire to see them succeed goes beyond the classroom & actual class work. Being a Special Education teacher, which she has such a big heart for, for 26 years, she takes notice of what some may call "the little things." She started a few years ago getting volunteers to be pen pals for each of her students, sending them notes of encouragement and treats on birthdays and holidays, etc.
This year, knowing that most of her kids come from low income and underprivileged homes, she noticed many of them had worn out shoes or ones that didn't fit. She reached out to those pen pals and the community with her Christmas Wish, and the response was overwhelming. She was able to provide each of her students in need with a new pair of tennis shoes for Christmas.
Caring is her middle name and it shows daily. Not only is she a great teacher, but also a great servant leader as well as a wonderful role model, setting a positive example for each of her students!
Travis Struchtmeyer - Woodstock Middle School
Woodstock, GA
Besides being an incredible math teacher, Mr. Struchtemeyer has partnered with our high school to build a food bank pantry to serve our students.
He started a school-wide campaign this school year to stock the shelves of the Woodstock Middle School food pantry. This campaign flourished and extended out into the community. Now local businesses, churches, and centers have donated items so that our students can go home not worrying about when their next meal is coming. Early in the morning, Mr. Struchtemeyer arrives at school to pack individual bags of food for students to take home to their families. He makes sure that they go home with food every Friday before we have a week-long break with penalty of non-perishable items.
This is an incredible saving grace for many in the Woodstock community. Part of his school's mission is to educate, motivate, and nurture their students, and because of Mr. Struchtemeyer's efforts, they can provide nourishment to the families. This has also helped Woodstock High School's special education students. They take inventory, shop, and help organize the food pantry. This allows them to develop those important life skills that will help them be successful in their communities once they leave high school.
Thanks to Mr. Struchtemeyer's efforts, those students have that opportunity to serve as well!
Samantha Spratling - The Fair Oaks Elementary School
Marietta, GA
Sam Spratling created the Fair Oaks Fresh Market, which provides food and toiletries on a biweekly basis to the families in the community.
The market she created is not your typical run of the mill "food pantry." She designed the market in one of the empty learning labs that provides a grocery store shopping experience, along with shopping carts. She works with the Atlanta Community Food Bank, MUST Ministries, and Mt. Bethel every week to make sure the market is fully stocked and ready to provide much-needed food to the community.
Currently, she is creating a clothing market to go along with the fresh market. All of the food and clothing are provided to families at no cost. Samantha Spratling is more than an incredible teacher; she is a silent leader that never wants any recognition for what she believes is just part of her commitment to our school community. She truly puts the needs of all others before her needs, day in and day out.