Q&A: Caray on family legacy, broadcasting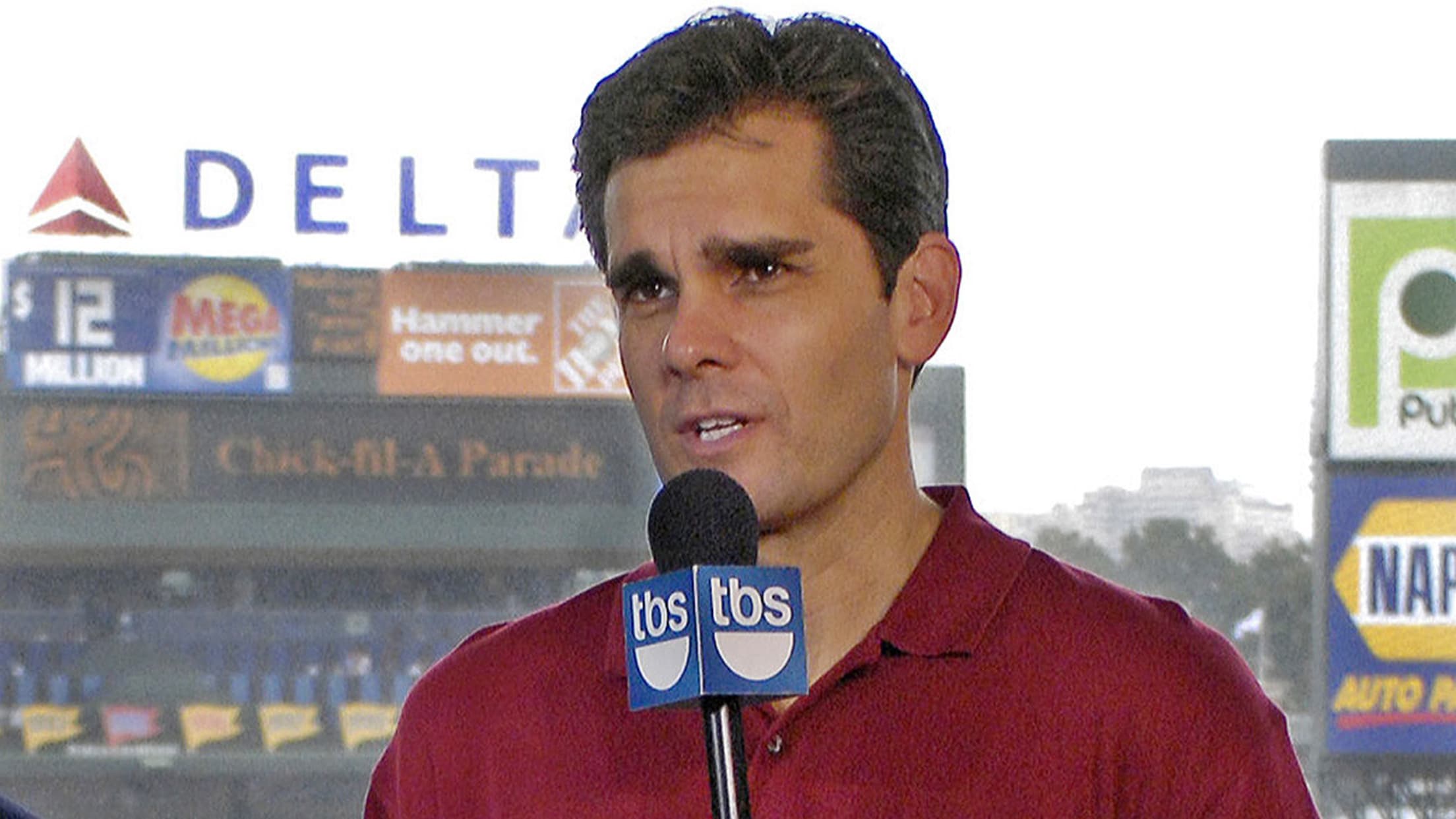 Chip Caray, seen here working for TBS in 2007, didn't know his father, Skip, or grandfather, Harry, particularly well until adulthood. (AP)
Chip Caray is a third-generation broadcaster. He is following in the footsteps of his grandfather, Harry, and his father, Skip. However, this is not a story of a kid who grew up hanging around the ballpark with his grandfather and his father.Just the opposite. Skip Caray divorced Chip's mother when
Chip Caray is a third-generation broadcaster. He is following in the footsteps of his grandfather, Harry, and his father, Skip. However, this is not a story of a kid who grew up hanging around the ballpark with his grandfather and his father.
Just the opposite. Skip Caray divorced Chip's mother when Chip was 4, and while Chip grew up in St. Louis, his father moved to Atlanta to be the voice of the NBA's Hawks and the Braves. Their interaction was minimal. And he barely knew his grandfather. But Caray isn't complaining.
Caray ended up working in Atlanta alongside his father, and filling in voids from his childhood that made the time special.
Caray talked about his family and his career in this week's Q&A:
MLB.com: Is it pretty special to be the third generation in your profession?
Caray: It was great, but it was also really hard. All of us who start out in this business want to do it their way. You want to be your own person. When I started my career, you still had my grandfather on WGN. You had my dad on TBS, national broadcast, essentially. I'm trying to feel my way through and figure things out on my own. The immediate reaction is, "You don't sound like your dad," and "You don't really sound like your grandfather." It wasn't in any way a burden, but for someone who was trying to figure out how to do it on their own and be recognized for being myself, to be compared to my dad and grandfather, at times, is kind of tough. I wasn't trying to copy them. If I sound like them or have mannerisms, a lot of that is genetic.
MLB.com: Is a fourth-generation announcer in the wings?
Caray: I have teenage sons, and one of them thinks he might want to get in the business. Yes, he's Harry IV. I think back to the three-generation game we did at Wrigley Field and how special that was, and how that was probably -- certainly for our family -- a one-time thing, and certainly might not happen again in the game.
MLB.com: When did you go from a kid who wanted to be a player to a kid who wanted to be an announcer?
Caray: Like everybody else, once that ball started to curve, I figured out I wasn't meant to play. I grew up in St. Louis. Ted Simmons was my favorite player. I desperately wanted to be a St. Louis Cardinal, like everybody who grew up in that town.
MLB.com: Was there a lot of influence from your elders in the broadcast world?
Caray: I didn't know my dad and grandfather very well. My parents divorced when I was a real little kid, and my grandparents divorced before I was born. The way that I got to connect with them was by watching them on TV. I'd see my dad in St. Louis when the Braves would come to town once a year. I never saw my grandfather.
MLB.com: So, what was your motivation to broadcast?
Caray: I figured the best way to stay involved in the game that I really loved and was passionate about was to do what they did. I didn't have them every summer sitting in the booth and handing them ticker tapes all the time. I kind of had to get to know them as fans, and as people, and then later as family when I got in the business.
MLB.com: That's probably not the route most people think you followed.
Caray: I did not have the silver microphone upbringing, no question about it. I got to know my dad when I graduated from high school and went to the University of Georgia and became an intern at TBS. That's when I did get to have a broadcast behind-the-scenes experience.
MLB.com: And Harry?
Caray: I never really got to know my grandfather particularly well. I probably had three meetings with him my whole life. And the great tragedy for our family was I was supposed to go work with him in Chicago. I was hired to do the Cubs games -- middle three innings -- in the 1998 season. And he died shortly after Valentine's Day that year, so he and I never got to work together.
From a baseball standpoint, it was a horrible loss for the game. From a personal standpoint, it was an incredible loss, because I never got to spend any meaningful time with him. And I really, really wonder how that Chicago experience would have been if I'd had my grandfather telling me where the minefields were, telling me what it was like to watch Stan Musial play, what the train rides were like, seeing Jackie Robinson play for the first time. All those things are a part of my baseball encyclopedia that's kind of blank. From a family perspective, it was really a chance for our family to close a big circle that's still wide open and gaping, and I'm really, really disappointed about that.
MLB.com: Where did the broadcasting career begin?
Caray: I started as a TV guy. I was a graduate from Georgia, went to work in Panama City, Fla. I was a TV news/sports guy, 113th market out of 117. I went from there to Greensboro, [N.C.], and then my first real break came in 1988. Pat Williams was at the NBA meetings and was talking to Bob Neil. The Magic was coming into play, and they were looking for an announcer. Bob Neil said, "Well, there's another Caray out there," and Pat said, "Oh my God, no." And Pat called me. I sent a fake basketball tape, went down to Orlando, auditioned at 10 basketball games over a weekend, and they hired me. I was 24 years old, doing the NBA. A couple years later, the Magic got [Shaquille O'Neal] and Penny Hardaway and became like the Rolling Stones of the NBA.
From there, I applied to do Braves games. I was doing Double-A baseball in Orlando and sent a couple tapes to the Braves. They were looking for someone to work with Ernie Johnson, and they hired me. That's how it took off.
MLB.com: Did you think of creating your own path and staying in basketball?
Caray: Even then, I was stuck. My dad did the St. Louis Hawks before they moved to Atlanta, and became very popular down there. He was sarcastic and funny, and made the game entertaining. And then Ted Turner knew my dad, so in 1976, he bought the Braves, put them on the Superstation and hired my dad. The rest is history.
MLB.com: So, you go from Orlando to Seattle, where you work on the Mariners' broadcast, then to Chicago, which was a pretty visible position, but you left for Atlanta.
Caray: It was closer to home. Spring Training is in Orlando near where I live. And I didn't want to have another link on the family chain left open. It sounds so strange. I really knew my dad as a fan would. I knew him from the way he would broadcast the games. To see that firsthand was really amazing. As he got a little later in life, to be his kid was incredibly rewarding. The games were fun. He and I could just talk and do a game, and not even step on each other. We knew our cadences and stuff. It was almost like being a twin. But, the happiest times I had with my dad were driving to and from ballparks. He didn't like to drive. He didn't like the traffic. I'd pick up his dry cleaning, take him to lunch, take his bags up to his room at the hotel. Little things that I would've done as a 13-year-old living under his roof, like taking out the trash.
MLB.com: I get a feeling that was an emotional time?
Caray: We really had a chance to bond as adults, and I think he woke up one day and realized, "Wait a minute, this little kid I knew when he was 4 or 5 and I left all of a sudden is a 35-year-old man with kids of his own. The happiest day of my life was when I had my daughter. In those days, everybody could go to the gate at the airport. He came to see her in November of '97. She was two weeks old. He gets off the plane, and I don't even say a word. I've got her, and I hand her to him. She was like this little china doll. He couldn't believe it. He's got her in his arms, and I'm bawling because I didn't have that. I didn't have any of that. To see her get just a little glimmer of that was really cool. And I really miss him.
MLB.com: So, there wasn't a bitterness?
Caray: No, no. He pulled me aside one day, and said, "You know, I really feel bad, because you didn't have the things that the rest of your siblings had." Because I stayed in St. Louis, and my sister went to Atlanta to live with him. He felt really guilty about that. I finally said to him, "Do you like me? Are you proud of me?" He said, "Yeah." I said, "If I had been with you, I might not have turned out how I am, and I'm far from perfect. But, if you're happy with who I am, I'm good." Things happen for a reason. When you get older, you think about the time you missed. I'm trying to focus on the time I had with him, because it really was fun.
MLB.com: And you did follow in the family footsteps. Did you ever think of a different career?
Caray: Yeah. My maternal grandfather was a dentist in St. Louis. He was a dentist for 50 years, and he was kind of like a surrogate dad for me -- the kindest, gentlest man I ever have known or will know. I thought about becoming a pediatrician. I thought about going into communications law.
I had a very influential professor at UGA named Bill Lee, who was one of the smartest people I ever knew, and he has become a dear friend to me and my kids as well. I took his class. It was the only B [grade] I got in my last two years at Georgia. I'm proud of that B. He challenged everybody, and he made me think about things that I hadn't thought about. He pushed me to the ultimate mental limit in a way that I'd never done before. I was really, really honored to have taken his class. He almost lured me into the courtroom and not the ballpark.
MLB.com: So, what steered you to the media?
Caray: Thinking of about four years of law-school loans and seven years of college. Thinking of medical-school bills. And dad, to his credit, kind of encouraged me, to be honest with you. But being a broadcaster, it's just what I do. I figured it's no heavy lifting. Someone pays you to cross the country. You make a great living, hang out with dad and granddad. ... Talk about what guys do.
Tracy Ringolsby is a columnist for MLB.com.