Fifth starter, DH pose intrigue for D-backs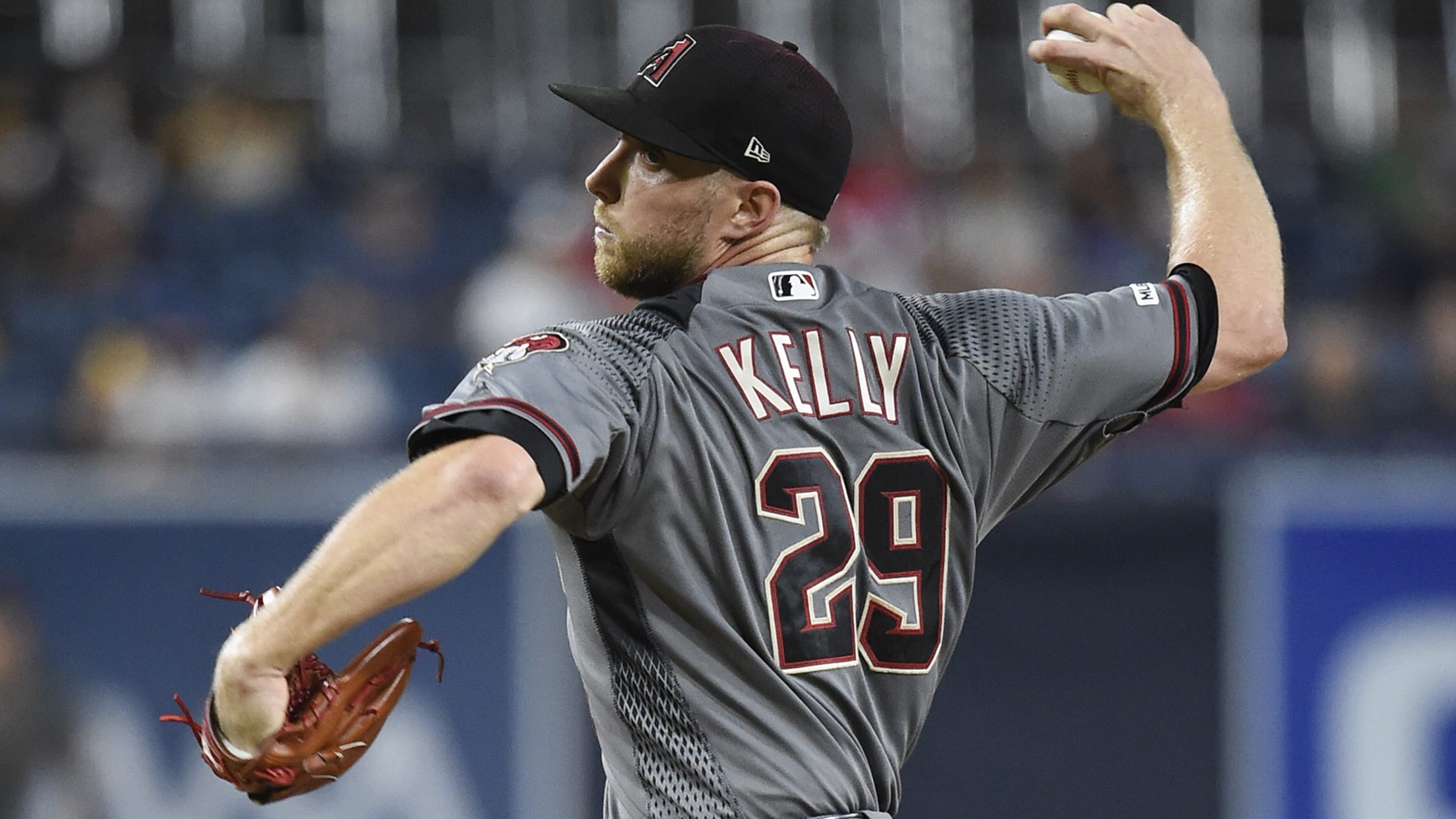 PHOENIX -- It's been more than three months since Spring Training was postponed due to the COVID-19 pandemic, and with Summer Camp opening up later this week for the D-backs we thought it would be a good time to take a look at some of the storylines to follow over
PHOENIX -- It's been more than three months since Spring Training was postponed due to the COVID-19 pandemic, and with Summer Camp opening up later this week for the D-backs we thought it would be a good time to take a look at some of the storylines to follow over the next few weeks:
1. Who is the No. 5 starter?
The D-backs' rotation looked all but set coming into Spring Training with Madison Bumgarner, Robbie Ray, Luke Weaver, Mike Leake and Zac Gallen.
Now, with Leake electing not to play in 2020, the D-backs suddenly have an opening.
Merrill Kelly, who led the team with 32 starts last year, and Alex Young, who made 17 appearances and 15 starts in 2019, should be the leading candidates.
Both had good enough seasons last year to earn spots had the D-backs not signed Bumgarner as a free agent in the offseason.
Jon Duplantier and Taylor Clarke could also figure into the competition. Duplantier had pitched well during Spring Training.
"I still believe we're going to have good starting pitching depth," D-backs GM Mike Hazen said. "I believe we had seven legitimate Major League starters going into the season to begin with. That's now six. I still think we're in a very good position, but minus one now."
2. Who is going to be the DH?
As Spring Training progressed, D-backs manager Torey Lovullo knew that he was going to be challenged in trying to find enough at-bats for Jake Lamb, given that Christian Walker was entrenched at first and Eduardo Escobar at third.
Lamb, meanwhile, was having a good spring and the team wanted to find ways to get his bat in the lineup. That will be much easier now with the universal DH.
Lovullo could use Lamb at DH but also give him time at third and first while putting Walker or Escobar at DH to give them partial days off. It could also mean that slugger Kevin Cron makes the roster to be paired as a right-handed complement to Lamb in the DH role.
In addition, it could be an opportunity to get second baseman Ketel Marte off his feet on defense to make sure he doesn't wear down. With the season a 60-game sprint, having Marte's bat in there as often as possible is going to be even more important.
"Each week the season could be changing and there's going to be so many moving parts to what will be available to me," Lovullo said. "Instead of putting myself into a little bit of a corner by saying who [the DH] is going to be exactly, all I know is we have some really good players who weren't going to be possibly playing every single day that now could be playing every day."
3. How will Lovullo adjust his managerial style with the short season?
Lovullo's communication with his players is off-the-charts good. They love playing for him because of that, as well as the fact that he has shown a willingness to let players work through a rough patch at the plate or on the mound without having too quick of a hook.
But again, with a 60-game sprint, there is less margin for error, and it could mean that Lovullo will need to shorten the leash a bit.
"I think that might be emphasized a little bit," Lovullo said. "If a guy is 0-for-15, I'm willing to let him go 0-for-19 ... in the traditional setting. This one, you know, maybe, 0-for-12 or 0-for-15, I might sit somebody down and say, 'Hey, look, we need to get somebody in there to give you a blow.'"