After 33 years at Veterans Stadium, the Phillies moved into their new state-of-the-art facility, Citizens Bank Park in 2004. The world-class ballpark - rated one of the best in the country - opened on April 3, 2004, with an exhibition game against the Cleveland Indians. Since that time, the Phillies have captured a World Series championship title, two National League pennants, and five consecutive NL East titles, while countless records have been broken both on and off the field.
Accessibility
Excellent regional highway access for vehicles and Broad Street Subway Line for public transportation.
Acres
21-acre site, north side of Pattison Avenue between Citizens Bank Way and Darien Street.
ADA-focused Design
With the help of an Americans with Disabilities Act (ADA) consultant, the park was designed to be universally accessible and comfortable for all fans with disabilities.
Architects/Design Team
EwingCole and HOK Sport+Venue+Event (HOK SVE).
Ballpark Destination Areas and Fan Features

Ashburn Alley: Festive outfield entertainment area named after Phillies Hall of Famer and former broadcaster Richie "Whitey" Ashburn; 625 feet in length covering 50,000 square feet. Area opens two hours before the start of each home game so fans can watch batting practice. A 10-foot tall bronze statue of Ashburn running the bases is located in center field. Highlights include:
Right Field: The Yard, a 13,000-square-foot interactive kids' baseball experience complete with Citizens Bank Phan Field (a 70-foot Astroturf-covered field), a Hatfield Franks Hot Dog Launcher, a 30-foot Phanatic Climbing Wall, Bullpen pitching area, and ice cream bar. Also located in this area is the Ballpark app check-in desk.
New for 2020: Yuengling Party Pavilion, a new gathering area near Sections 106-108 offering Yuengling Traditional Lager and other ice-cold Yuengling beverages. The perfect place to hang out near right field.
Other Alley highlights: Phillies All-Star Walk, bi-level bullpens, Rooftop Bleacher seats, the '47 Alley Store, and more food options.
Left Field Plaza – Photo Opportunities & Boardwalk-Style Concessions:
Features oversized World Series trophies, as well as statues featuring Phillies retired numbers.
Phillies championship banners are also on display, as well as the Phillies Wall of Fame presented by Toyota.
New for 2020: Leinenkugel's Left Field near Sections 140-141, offering Leinenkugel's and other ice-cold beverages. An ideal location to enjoy the game.
New for 2020: Miller Lite Liberty Landing bar area behind Sections 142-145 offering Miller Lite, food and a variety of beer, wine and spirits. Open to the public, this is another great spot to watch the game.
Other highlights: Boardwalk Eats, a concession area with boardwalk-style concessions, the popular Bull's BBQ, and Harry the K's.
Third Base Plaza – Pass and Stow, Shake Shack & Liberty Bell:
In 2019, the Phillies and Aramark transformed 24,500 square feet of space into Pass and Stow, featuring an outdoor beer garden and bar, Foundry Pizza serving brick-oven pizza, a family-friendly sports pub, 44 TVs to catch game action, and more. This popular area opens two hours before the start of each home game.
Other highlights include the iconic 19-foot-high Liberty Bell that was once located atop Veterans Stadium, which is prominently displayed as fans approach the ballpark.
Pass and Stow is an historic nod to the Liberty Bell, which has been part of the Phillies brand and logo for many years. The name is derived from the two Philadelphia foundry workers, John Pass and John Stow, who recast the original bell in 1753, and whose names are inscribed on this important piece of American history.
Adjacent to Pass and Stow is the 6,000 square-foot Shake Shack, which for the first time brought its sit-down restaurant experience to a sports venue, with seating for 120 fans. This popular modern-day "roadside" burger stand serves its classic burgers, crinkle-cut fries, hand-spun shakes and more.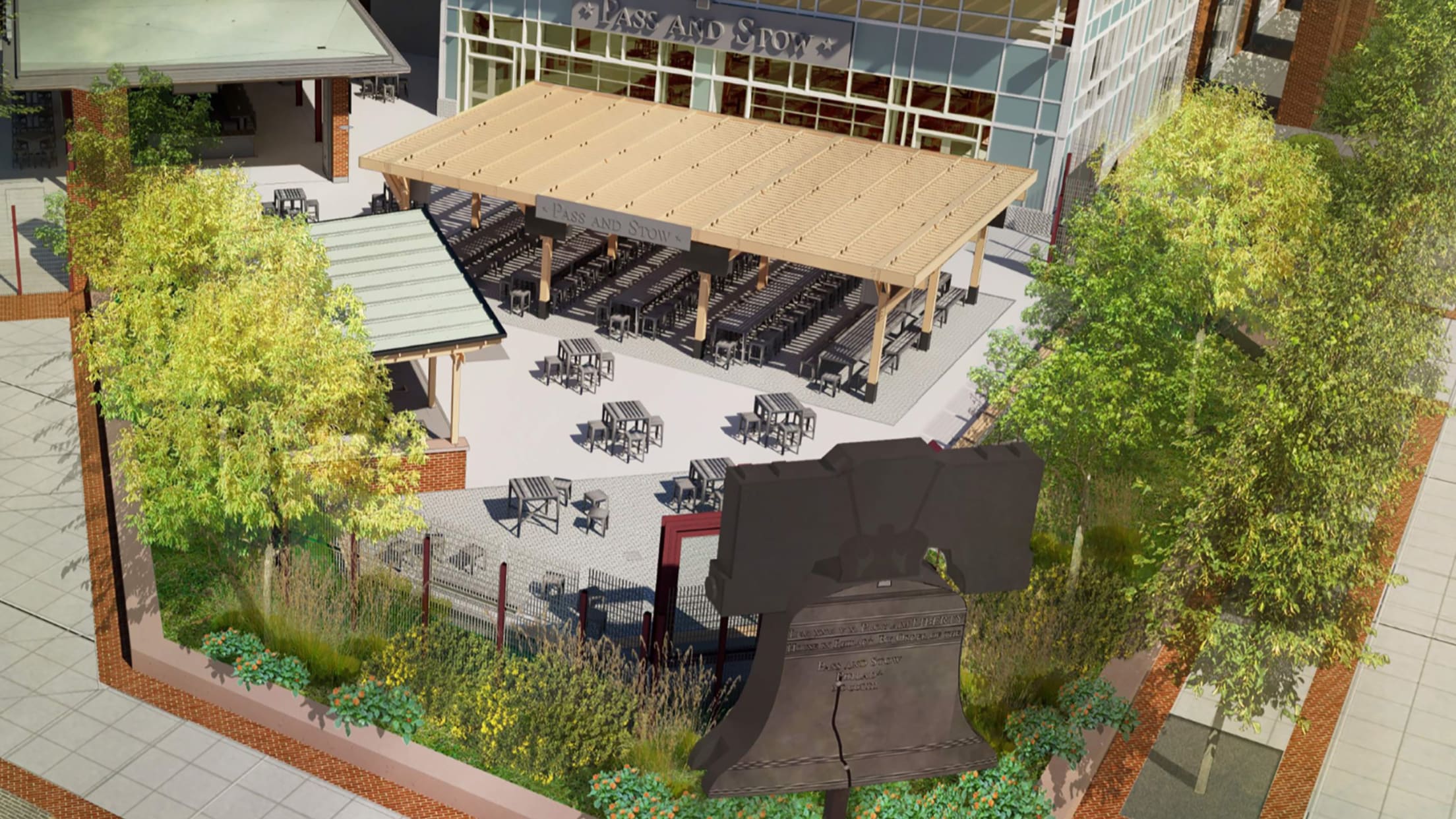 By The Numbers
Playing field: 23' below street level
Main concourse: street level
Suite level: 36' above field; 13' above main concourse
Club concourse: 61' above field
Terrace concourse: 81' above field
Roof: 134' above field
Concerts
Going into 2020, Citizens Bank Park has hosted 24 concerts. This season's concerts feature Guns N Roses (July 8), Motley Crue, Def Leppard, Poison and Joan Jett (August 15), Green Day, Fall Out Boy and Weezer (August 29), and Tim McGraw and Luke Combs (September 12). On August 25, 2005, Jimmy Buffett & The Coral Reefer Band had the honor of being the first to perform at the ballpark.
In addition, there have been eight on-field postgame concerts held at the ballpark since 2016. This season, Brothers Osborne is scheduled to perform a postgame concert after that night's game against the New York Mets (July 25).
Concessions
Joint venture between the Phillies, Aramark and World Wide Concessions. A wide variety of food and beverages, from traditional ballpark fare to foods with Philadelphia flavor, is available throughout the park at permanent locations and portable stands. The ballpark also features healthier and gluten-free food, and is rated among the top vegetarian ballparks in the country.
Construction Management Team
L. F. Driscoll Co. and Hunt Construction Group in association with Synterra, Ltd. and Don Todd Associates, Inc.
Construction Materials
Aluminum curtainwall: 83,000 square feet
Architectural precast panels: 97,000 square feet
Bricks in architectural precast panels: 475,000
CMU (concrete masonry unit): 320,000 square feet
Foundation concrete: Approximately 52,000 cubic yards
Gallons of paint: 11,602 (primer, intermediate and top coats)
Hand laid brick: 450,000 bricks
Playing field: 440,000 cubic yards (594,000 tons) of soil was excavated to 23' below street level
Playing surface: Kentucky Bluegrass on the infield (7,000 sq. ft.), Riviera Bermuda grass in the outfield and foul territory (94,000 sq. ft.). Bermuda grass is overseeded in the fall for spring play with perennial ryegrass. All grass is provided by Collins Wharf Sod Farm, Eden, MD.
Steel H piles: Over 4,600 were driven; depths of 70 to 110 feet; 354,000 lineal feet; Highest piece of steel: scoreboard, 212' high; light towers, 165' high.
Structural steel: 11,800 pieces of steel; approximately 11,500 tons; 252,000 bolts.
Cooperstown Gallery

Hall of Famers (Phillies and Philadelphia Athletics) are honored in this area of the Hall of Fame Club.
Diamond Club

Premium seating area located behind home plate on Field Level; 1,281 wide, padded seats that include in-seat wait service. Guests also have use of the Diamond Clubhouse Lounge.
Dimensions
| Area | Distances | Heights |
| --- | --- | --- |
| Right field foul pole | 330' | 13'3" |
| Right field power alley | 369' | 13'3" |
| Center field, straight away | 401' | 6' |
| The Angle (left of CF to LCF) | 409'-387'-385' | 19'-12'8" |
| Left field foul pole | 329' | 10'6" |
| Left field power alley | 374' | 10'6" |
| Home plate to backstop | 49'5" | |
| 1st and 3rd bases to stands | 51' | |
Elevators
15, 11 of which serve guests in the seating bowl.
Escalators
Escalators are located near Sections 114, 126 and 140 to assist guests in reaching the Hall of Fame Club/Pavilion/Arcade and Terrace Levels.
Fine Art

Original artwork by four local artists, Dick Perez, Dane Tilghman, Max Mason and Jonathan Mandell, is on display throughout the ballpark. Also featured: "Phillies Dream Scene," a classic oil painting by Australian artist Jamie Cooper, on display in the Suite and Club Entrance Lobby.
Firsts
From April 12, 2004
Pitch: Phillies LHP Randy Wolf, 1:32 p.m.
Batter: Reds 2B D'Angelo Jimenez
Hit: Jimenez (double, 1st inning)
Single: Reds 3B Ryan Freel, CIN (2nd)
Single by a Phillie: Wolf (3rd)
Double by a Phillie: 1B Jim Thome (1st)
Triple: Reds RF Austin Kearns (9th)
Home run: Phillies RF Bobby Abreu (1st)
Walk: Reds C Jason LaRue (2nd)
Walk by a Phillie: CF Marlon Byrd (3rd)
Sacrifice bunt: Reds RHP Paul Wilson (2nd)
Stolen base: Byrd (3rd)
Run: Jimenez (1st)
Run by a Phillie: Abreu (1st)
RBI: Abreu (1st)
Strikeout: Reds CF Ken Griffey Jr. by Wolf (1st)
Wild pitch: Wolf (1st)
Win: Wilson
Loss: Wolf
Save: Reds RHP Danny Graves
Other Firsts (in chronological order)
Postponement: 4/14/04, Phillies vs. Reds, due to rain
Win by a Phillie: LHP Rheal Cormier, 4/15/04 vs. Cincinnati
Save by a Phillie: LHP Billy Wagner, 4/15/04 vs. Cincinnati
Night game: 4/16/04, Phillies 4, Expos 2
Four-hit game: Thome, 4/16/04 vs. Montreal
Triple by a Phillie: SS Jimmy Rollins, 4/18/04 vs. Montreal
Walk-off HR: Phillies CF Doug Glanville, 4/18/04 vs. Montreal
Error: Thome, 4/20/04 vs. Florida
Extra-inning game: 4/21/04 - Marlins 8, Phillies 7, 12 innings
Multi-homer game: Marlins 3B Mike Lowell (3), 4/21/04
Shutout: 4/30/04, Wolf and Cormier, Phillies 4, Diamondbacks 0
CG Shutout: 5/20/04, RHP Brett Myers, Phillies 4, Dodgers 0
Grand slam: Braves CF Andruw Jones, 5/27/04
Day-night DH: 6/17/04 vs. Detroit (6-2 W/5-4 L)
Inside-the-park HR: Rollins, 6/20/04 vs. Kansas City
Cycle: David Bell, 6/28/04 vs. Montreal
Triple play: 8/19/04 - Todd Pratt vs. HOU (Ensberg to Kent to Lamb)
Grand slam by a Phillie: Byrd, 8/29/04 vs. Milwaukee
Twi-night DH: 9/29/04 vs. Pittsburgh (8-4 W/8-3 W)
No-hitter: 10/6/10, RHP Roy Halladay, Phillies 4, Reds 0 (DS Game 1)
Walk-off grand slam: RF John Mayberry Jr., 6/4/13 vs. Miami
Hall of Fame Club
A 2,500-seat premium seating area that includes access to climate-controlled lounges with full-service bars, multiple HD TVs and upscale food options.
Key Features
Open Main Concourse (360 degrees) that allows fans to constantly connect with the game. State-of-the-art HD videoboard. Open outfield that allows a scenic view of Center City Skyline. Views of the field from street level.
Landscaping
There are over 1,000 trees, thousands of shrubs, perennials, ornamental grasses and up to three seasonal changes of annuals located around the ballpark.
Liberty Bell Home Run Spectacular

Neon Liberty Bell swings and rings after Phillies home runs; the 50' high by 35' wide Bell is suspended 100' above street level. It was produced by Capitol Manufacturing.
Merchandise
Official Phillies merchandise is available at the New Era Phillies Team Store located adjacent to the Third Base Gate. The second level of the store features The Player's Clubhouse, dedicated to on-field apparel from MLB's Authentic Collection as well as player jerseys and T-shirts for men, women and youth. Fans may also personalize jerseys with their own name and number. The store is open daily from 10:00 a.m. to 6:00 p.m. On 1:05 p.m. or 1:35 p.m. game days, the store can only be accessed with a game ticket. The store is closed on major holidays. For off-season hours please call 267-570-2333. Souvenirs are also available in-game at the '47 Alley Store in Ashburn Alley, Memorabilia Store from Hunt Auctions, the Phillies Authentics shop featuring game-used and autographed memorabilia, The Cap Shop, The Yard, and Home Stands throughout the ballpark.
Milestones
November 13, 2000 - Former Mayor John F. Street announced new Phillies ballpark and Eagles stadium will be located in the Sports Complex.
June 28, 2001 - Phillies officially unveiled the architectural design plan for their new park.
March 26, 2002 - Workers began pouring concrete to create the foundation.
October 17, 2002 - The first piece of red steel was installed in the scoreboard structure.
June 17, 2003 - Citizens Bank entered 25-year naming rights partnership with the Phillies.
September 5, 2003 - Installation of seats began.
October 31, 2003 - Installation of natural grass playing field started.
April 3, 2004 - Phillies vs. Cleveland Indians On-Deck Series game provided first glimpse of the park.
April 12, 2004 - Cincinnati defeated Phillies, 4-1, before 41,626 in inaugural opener.
Naming Rights
Citizens Bank, $95 million over 25 years; $57.5 million for naming rights and $37.5 million for the Phillies broadcast media package.
Netting
Starting in 2020, the protective netting will now extend most of the way down each baseline to Section 109 (right field line) and Section 138 (left field line). The netting behind the dugouts and down the baselines will also be raised from 12 feet to approximately 25 feet and will be state-of-the-art "field green" material to blend in with the playing field and minimize obstruction of views.
Parking

21,000 spaces in the Sports Complex.
Pass and Stow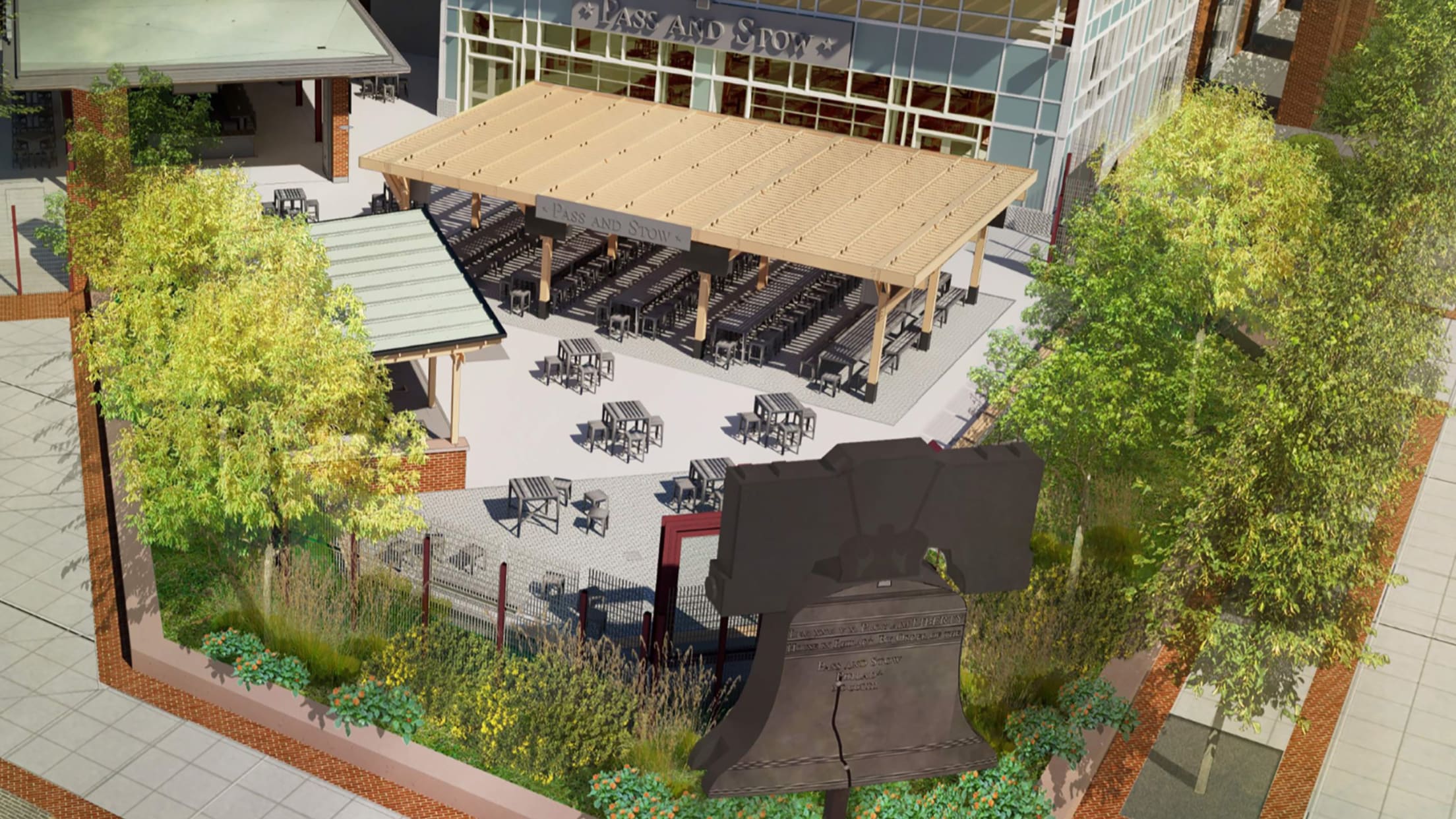 A new area adjacent to the Third Base Plaza that features an outdoor beer garden and Goose Island at the Park bar, Foundry Pizza serving brick-oven pizza, a family-friendly sports pub, 44 TVs to catch game action, and more. Opens two hours before the start of each home game, and remains open until post-game.
Other highlights include the iconic 19-foot high Liberty Bell that was once located atop Veterans Stadium. The newly refurbished bell is prominently displayed as fans approach the ballpark, providing yet another photo opportunity.
Pass and Stow is an historic nod to the Liberty Bell, which has been part of the Phillies brand and logo for many years. The name is derived from the two Philadelphia foundry workers, John Pass and John Stow, who recast the original bell in 1753, and whose names are inscribed on this important piece of American history.
Public Restroom Facilities
Total of 61; 24 women; 24 men; 13 family. All restrooms have a baby-changing table.
Phillie Phanatic

Part of a permanent exhibit at the National Baseball Hall of Fame and recognized by Forbes magazine and other media outlets as the most popular mascot in sports, the Phillie Phanatic has grown to become a recognizable symbol of the Phillies across the country and around the world. The Phanatic is a fixture at Phillies games and throughout the Delaware Valley, entertaining young and old, with over 700 community appearances annually.
Red Goes Green

The Phillies' Red Goes Green program at Citizens Bank Park is in partnership with Aramark and Spectra Venue Management.
To offset the carbon footprint created by the team's utility power usage at Citizens Bank Park, the Phillies have purchased over 20 million kilowatt-hours of Renewable Energy Credits (RECs) each season, matching 100% of electricity usage with wind generation. 2020 is the 13th straight calendar year that the Phillies have purchased 100% renewable energy.
The Phillies' Red Goes Green Team, presented by Waste Management, is led by the Phillies Ballgirls and consists of volunteers from local organizations who collect cans and bottles throughout the seating bowl during home games.
Along with Waste Management, representatives from the Phillies front office participate in an annual Earth Day cleanup at a local park.
There are over 100 recyclable containers placed throughout the ballpark for fans to utilize in recycling efforts. Aluminum can separation also takes place after each game. In addition, all lights, carpet tiles, batteries and construction debris are recycled. There is also a compactor dedicated to recycling cardboard.
Food waste from all Phillies kitchens is composted through W.B. Saul High School's "Henry Got Compost" student composting initiative.
For each home run hit by a Phillies player during the season, a tree is planted as part of Home Runs for Trees, a partnership with PGW and the Pennsylvania Horticultural Society. Over 1,200 trees have been planted in the Delaware Valley since the inception of this program.
Seating Capacity
Capacity: 42,792; Color of seats: Sapphire blue; Hussey Seating Co. Seats are angled toward the infield and equipped with cup holders.
Scoreboard System

The Phillies massive Daktronics HD-15 video display features Sony HD production technology and includes a dedicated closed captioning display to assist hearing impaired fans.
The display could feature 49 life-size Phillie Phanatics standing next to and on top of each other
Overall size: 76 feet high and 97 feet wide. Weight: approximately 84,420 lbs. (42.2 tons)
Resolution: The HD-15 display exceeds 1080p HD standard with 1512 lines of resolution
Super-wide viewing angles offer improved visibility for more fans
Takes approximately 1,380 flat-panel televisions (at 42" each) to fill the area of the display
If it were a consumer television, the Phillies display would be considered a 1,478" screen
Uses state-of-the-art LED technology providing superior brightness in direct sunlight, with the capability to show up to 144 quadrillion shades of color
Approximately 32,363 feet (6.1 miles) of wiring delivers power and data to the display
In addition, there is an auxiliary LED video display known as "PhanaVision II" in the right field grandstand area. This display is approximately 13 feet high by 47 feet wide and mirrors much of what is shown on the larger video display, including video replays.
Smoke-Free Facility
Smoking is not permitted inside Citizens Bank Park.
Statues

Richie Ashburn (Ashburn Alley); Steve Carlton (Left Field Gate); Mike Schmidt (Third Base Gate); Robin Roberts (First Base Gate); 10' high; sculptor, Zenos Frudakis. Harry Kalas (Main Concourse behind Section 141, near Harry the K's restaurant); 7 1/2' high; sculptor Lawrence J. Nowlan.
Sports Lighting System
A system of 539 LED fixtures featuring Total Light Control technology, installed by Musco Lighting. The system features instant on/off/dimming capabilities that helps the ballpark reduce its environmental footprint. It also includes Ball Tracker™ technology, which optimizes visibility of the ball, and unmatched light control that virtually eliminates glare from impacting players and fans.
Suites
70; all located between the foul poles. The luxurious suites are located directly above field level and afford spectacular views of the action.
Veterans Memorial
To commemorate the site of Veterans Stadium, the Phillies built a monument as an everlasting memorial to veterans. Located on Pattison Avenue, the monument includes bronze plaques representing the Army, Marine Corps, Navy, Air Force, Coast Guard and POW/MIA. Surrounding the memorial are seven poles that display the American, army, Marine Corps, Navy, Air Force, Coast Guard and POW/MIA flags, which fly year-round.
Venue Management
Spectra Venue Management.
Water Fountains
13 drinking locations with two fountains at each location (total of 26 water fountains); each drinking location has one standard and one accessible fountain.