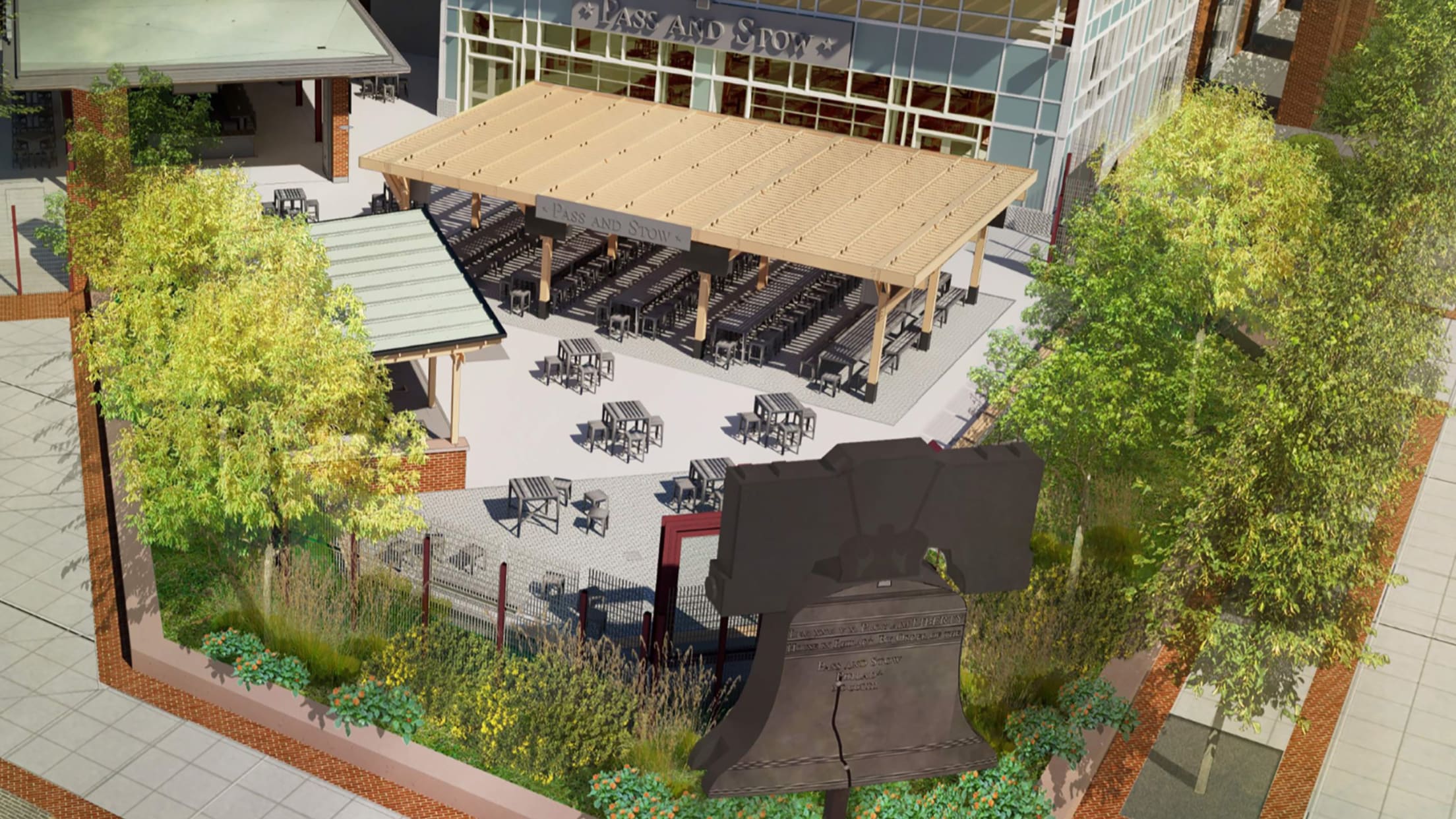 New fan destination areas for 2019
The Phillies and Aramark, Citizens Bank Park's exclusive food and beverage provider, have transformed 24,500 square feet of space adjacent to the Third Base Plaza into Pass and Stow, a new area that features an outdoor beer garden and Goose Island Bar at the Park, Foundry Pizza serving brick-oven pizza, a family-friendly sports pub, 44 TVs to catch game action, and more. The offseason upgrades also include a 120-seat Shake Shack.
Pass and Stow is an historic nod to the Liberty Bell, which has been part of the Phillies brand and logo for many years. The name is derived from the two Philadelphia foundry workers, John Pass and John Stow, who recast the original bell in 1753, and whose names are inscribed on this important piece of American history.
Features

Immediately upon entering the Third Base Gate,fans will experience the outdoor beer garden, Goose Island Bar at the Park featuring a variety of beers, wine and spirits, and Foundry Pizza of Pass and Stow. The first of its kind at Citizens Bank Park, this open-air, food and drink destination will span 11,500 square feet, seat 250 fans, and have ample standing room. Additional features include fire pits, picnic tables, a 30' x 50' pergola adorned with lights, and a Phillies-etched water feature.
Pass and Stow also includes a 7,000-square foot, family-friendly sports pub with seating for 150 fans. Other highlights: garage doors that open and a split-flap board (similar to the former Amtrak's board at 30th Street Station) that shows game updates.
Continuing with the Liberty Bell theme, the Phillies have brought back the iconic 19-foot high Liberty Bell that was once located atop Veterans Stadium. The newly refurbished bell will be prominently displayed as fans approach the ballpark, providing yet another photo opportunity.
For the first time, Shake Shack has brought its sit-down restaurant experience to a sports venue, with seating for 120 fans. This popular modern-day "roadside" burger stand will serve its classic burgers, crinkle-cut fries, hand-spun shakes and more at the ballpark. More than 6,000 square feet, Shake Shack is adjacent to Pass and Stow.

Additional Details
All of these new attractions are ready for fans to enjoy, starting with the home opener against the Atlanta Braves on Thursday, March 28. Pass and Stow will be open two hours before the start of each home game, and will remain open until post-game. Shake Shack will be open during normal home game hours.