The Center City skyline received a major league makeover in August, 2015.
The City of Philadelphia Mural Arts Program and the Phillies joined forces on a Center City mural celebrating the history of the Philadelphia Phillies - the oldest, continuous, one-name, one-city franchise in all of professional sports.
In a dedication ceremony on August 1, 2015, The Phillies Mural was revealed. It towers over eight stories high and faces the Schuylkill River and I-76 Schuylkill Expressway. Located on a 24th & Walnut Street building, the 3,750 square-foot mural features more than 30 prominent players depicting historical moments from the team's record-long history - including the 1980 and 2008 World Series championships.
The Phillies Mural was created by award-winning Mural Arts Program artist and lifetime Phillies fan, David McShane, who also created baseball-themed murals Tribute to Jackie Robinson in North Philadelphia, and Philadelphia Stars: A Tribute to Negro League Baseball in West Philadelphia.
Related Coverage
Phillies Mural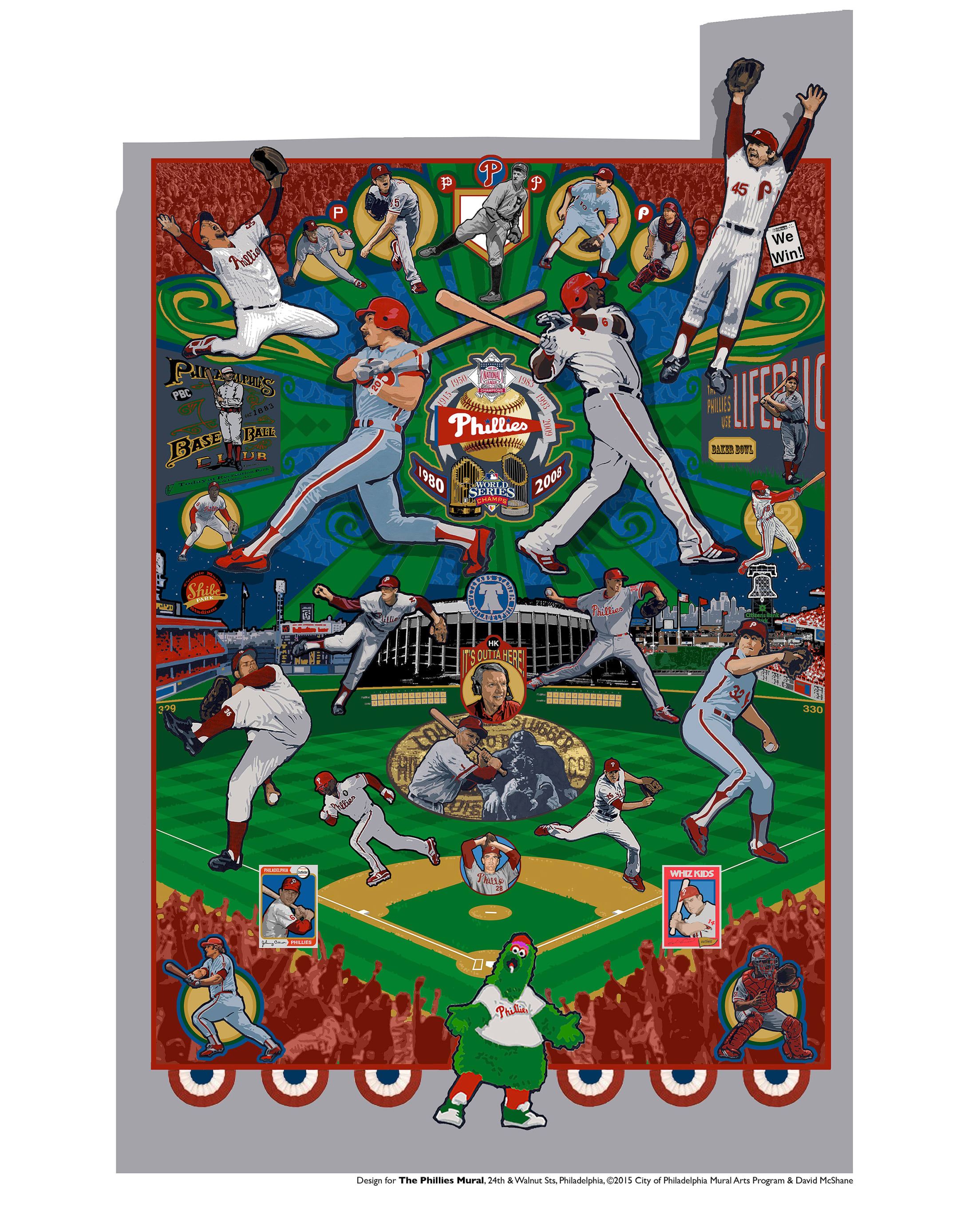 Mural Key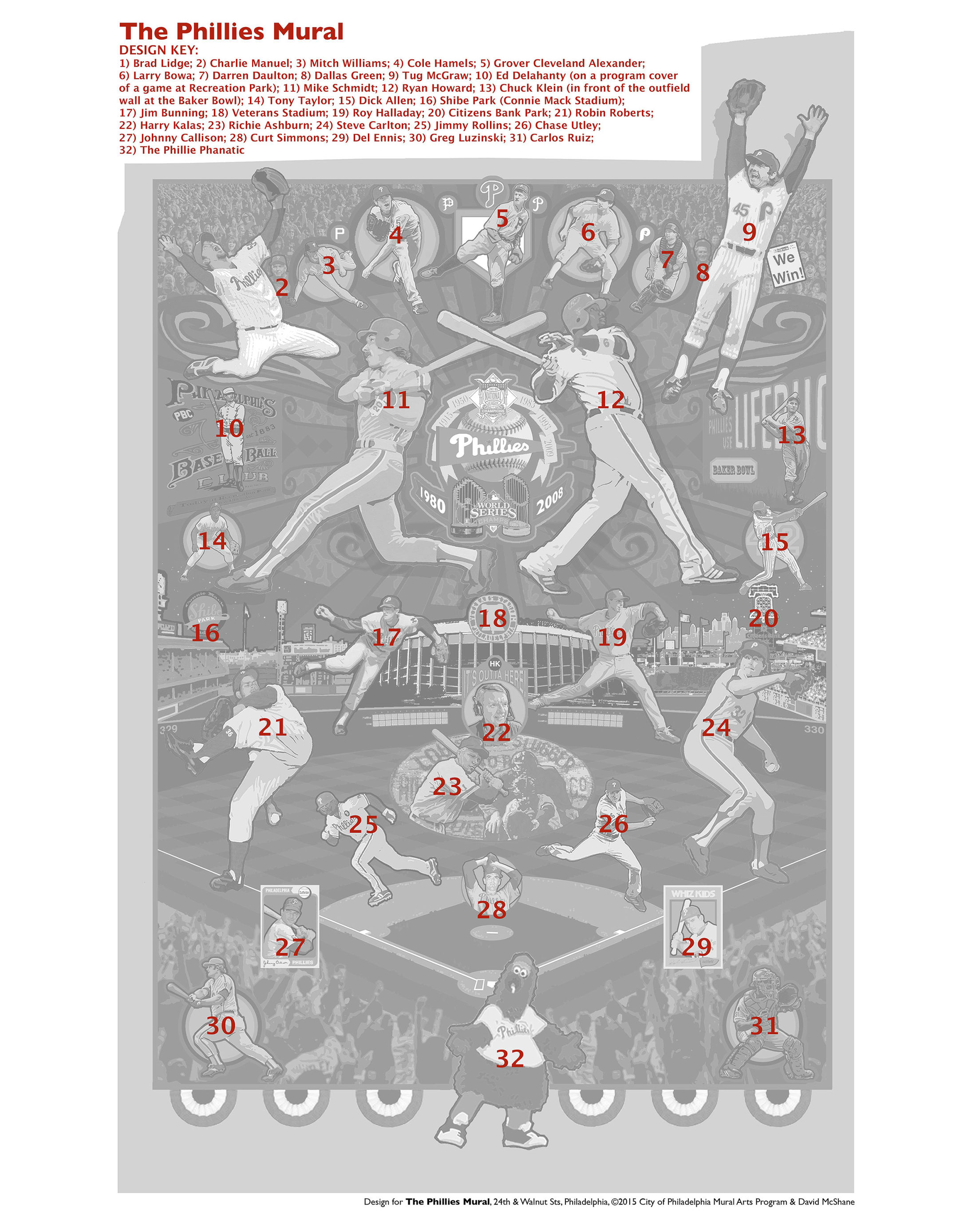 Design Key
1) Brad Lidge; 2) Charlie Manuel; 3) Mitch Williams; 4) Cole Hamels; 5) Grover Cleveland Alexander; 6) Larry Bowa; 7) Darren Daulton; 8) Dallas Green; 9) Tug McGraw; 10) Ed Delahanty (on a program cover of a game at Recreation Park); 11) Mike Schmidt; 12) Ryan Howard; 13) Chuck Klein (in front of the outfield all at the Baker Bowl); 14) Tony Taylor; 15) Dick Allen; 16) Shibe Park (Connie Mack Stadium); 17) Jim Bunning; 18) Veterans Stadium; 19) Roy Halladay; 20) Citizens Bank Park; 21) Robin Roberts; 22) Harry Kalas; 23) Richie Ashburn; 24) Steve Carlton; 25) Jimmy Rollins; 26) Chase Utley; 27) Johnny Callison; 28) Curt Simmons; 29) Del Ennis; 30) Greg Luzinksi; 31) Carlos Ruiz; 32) The Phillie Phanatic
Artist Biography: David McShane
David McShane received a bachelor's degree in biology (with a concentration in pre-med) from LaSalle University in Philadelphia, but decided to enroll in art school instead of medical school.
He studied at the Samuel S. Fleisher Art Memorial and then at the Pennsylvania Academy of the Fine Arts (P.A.F.A.), where he received his M.F.A. in 1995. From 1991-1999 he served as the director of the P.A.F.A. School Gallery.
David has been painting for the Philadelphia Mural Arts Program since 1996, and has completed over 75 murals in the Philadelphia area. Most of these murals are large outdoor community-based murals, which were painted as collaborations between specific neighborhoods and David. Besides offering input of ideas for themes and subjects for the murals, community members (and especially neighborhood children) also participated in community paint days and assisted with painting many of the murals.
David also has served on the board of the Mural Arts Advocates, where he helped raise funds for the community projects and youth education programs that are such a vital part of the Mural Arts Program. He also teaches mural painting to potential mural artists for the Mural Arts Program. In addition, he teaches drawing at LaSalle University, and has taught drawing and mural painting at P.A.F.A.
Outside of Philadelphia, David has received grants to create community murals in Coatesville, PA; Middletown Township, PA; Dublin, Ireland; and in the suburbs of Paris, France. David also stays active in his studio, creating paintings on a smaller scale. In Philadelphia, David has shown his work at the P.A.F.A. Museum, the LaSalle University Art Museum, Artists' House Gallery, Temple Gallery of the Tyler School of Art, the University City Arts League, the Samuel S. Fleisher Art Memorial, the Philadelphia Office of Arts and Culture, Nexus Gallery, the Woodmere Art Museum, and in City Hall.
In Florida, he has shown at the Maitland Art Center, and in Missouri, he has shown at the Studio Gallery of the Springfield Program for Public Art. Other baseball-themed murals created by McShane for the Mural Arts Program include Tribute to Jackie Robinson in North Philadelphia, and Philadelphia Stars: A Tribute to Negro League Baseball in West Philadelphia.