Phillies 2022 National League Championship Ring Details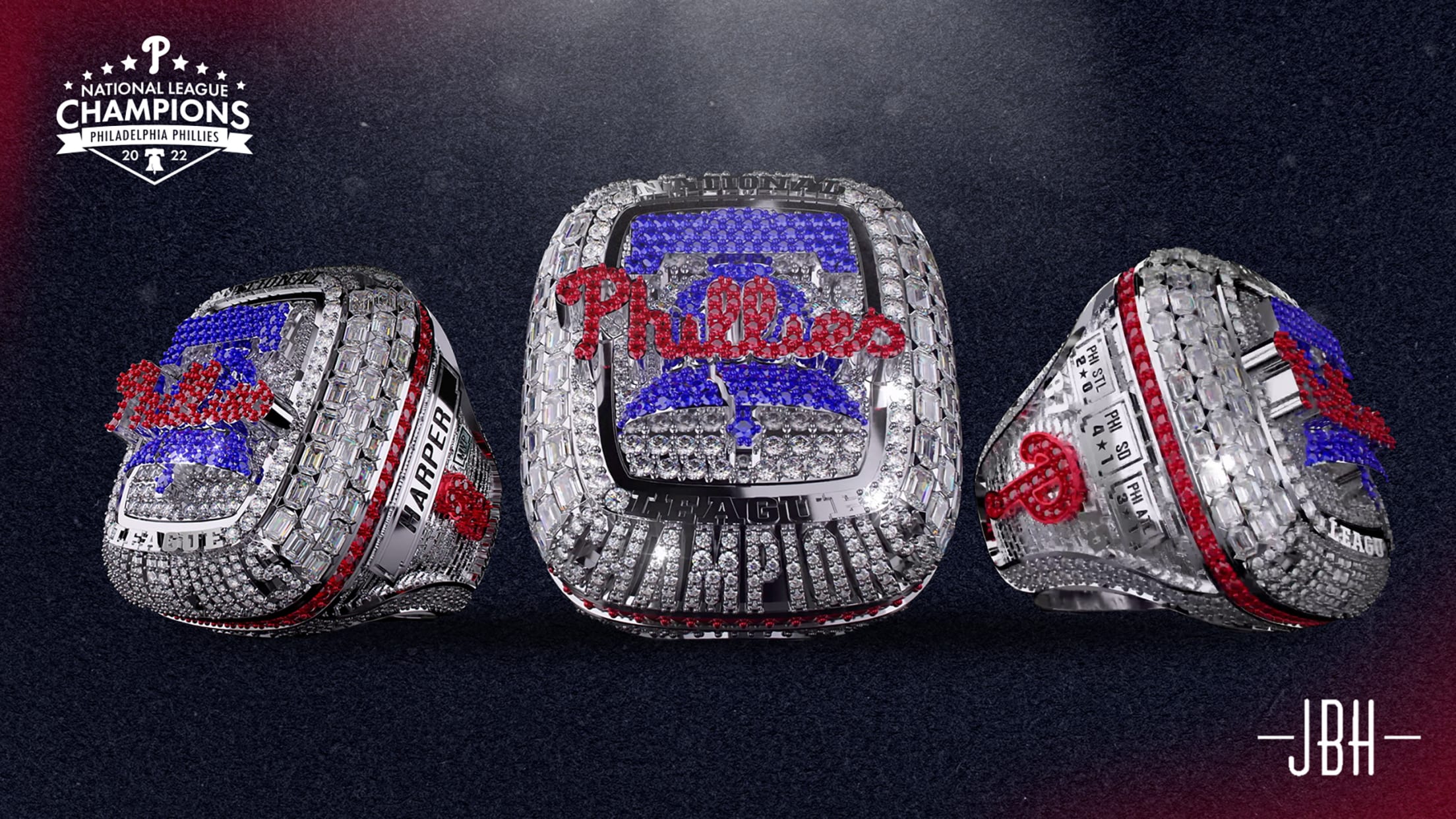 Players and coaches of the 2022 National League Championship team received their rings during an on-field ceremony presided by Phillies Managing Partner and CEO John Middleton and President of Baseball Operations David Dombrowski before the April 9 game against the Cincinnati Reds.
TOP OF RING

Phillies Liberty Bell logo. There are .82 carats of sapphires in the Liberty Bell to represent the 82 Phillies hits through the NLCS.
Emerald cut white diamonds are set in a brick pattern to pay homage to the architectural elements of Citizens Bank Park.
96 diamonds in CHAMPIONS represent the 96 total wins through the NLCS.
A row of 63 rubies circling the side of the ring to represent the total number of players receiving a National League Championship ring.
INSIDE OF RING

A piece of leather from a game-used baseball from Game 5 of the NLCS is inlaid with the National League Championship trophy under the ring top.
INSIDE OF THE CAP

BEDLAM AT THE BANK - The phrase used by Phillies radio broadcaster Scott Franzke to describe the scene at Citizens Bank Park after Bryce Harper's homerun that sent the Phillies to the World Series.
Total sellout crowd of 45,485 for Game 5 of the NLCS.
Inside of the Citizens Bank Park seating bowl along with Philadelphia's iconic skyline and Independence Hall.
PLAYER SIDE
Name of player framed inside a silhouette of signage found throughout Citizens Bank Park.
Player's number in rubies is set on a background of a brick pattern to pay homage to architectural elements inside Citizens Bank Park.
Team's postseason theme song "DANCING ON MY OWN."
TEAM SIDE

The iconic Phillies P encrusted in rubies is accompanied by the regular season and postseason records.
UNDERSIDE OF RING
Years that the Phillies have been crowned National League Champions.
GEMS SUMMARY
13.50 total carats set in white gold
419 diamonds
152 red rubies
97 blue sapphires
668 total stones