Notes: Nola eyes opener; Hoskins: 'We're here'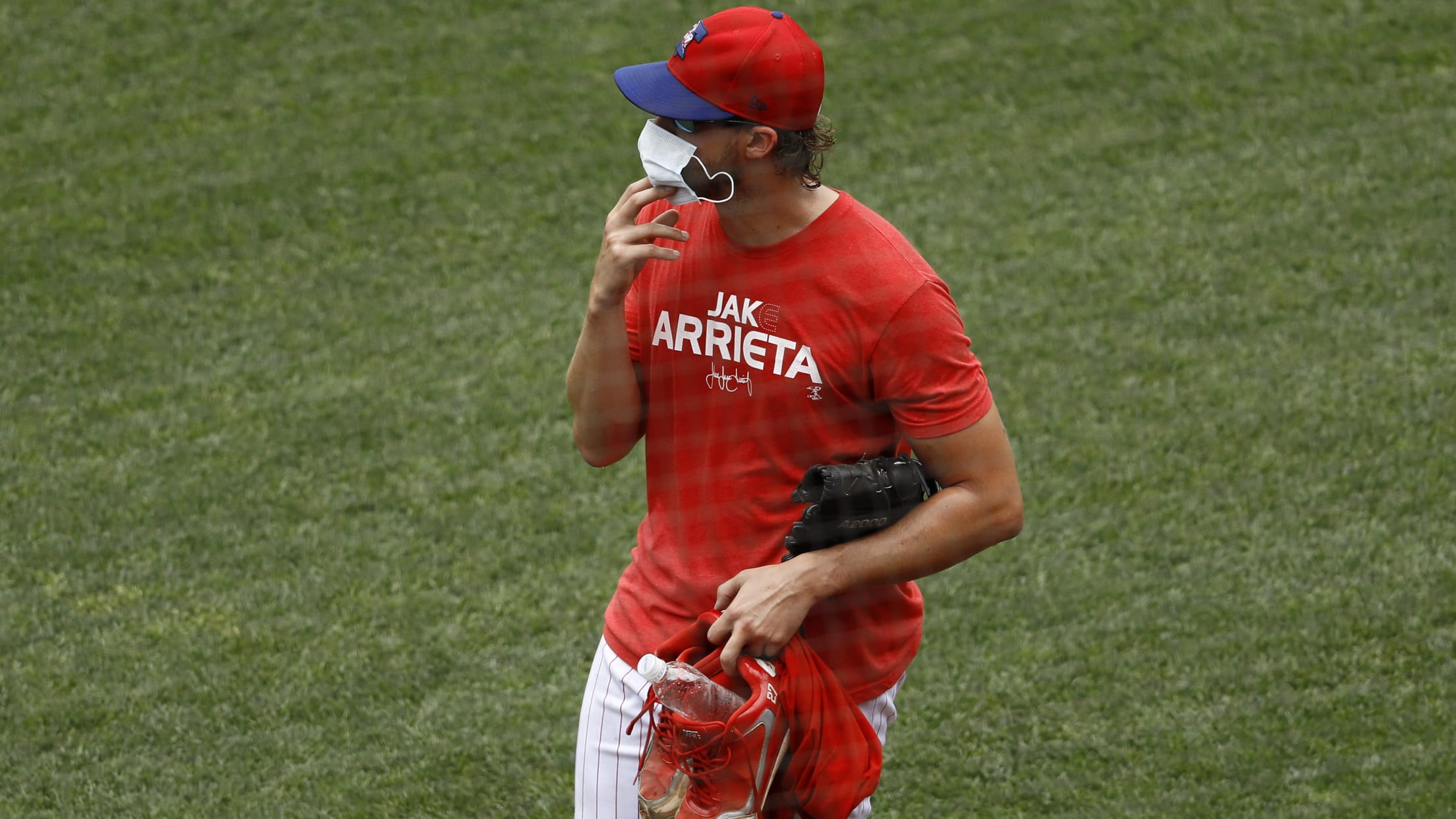 PHILADELPHIA -- Phillies ace Aaron Nola made a positive impression Wednesday at Citizens Bank Park. Following impressive bullpen and live batting practice sessions, Nola is on schedule to start Opening Day on July 24 against Miami. "He looked really good," said manager Joe Girardi. "I think it's definitely possible that
PHILADELPHIA -- Phillies ace Aaron Nola made a positive impression Wednesday at Citizens Bank Park.
Following impressive bullpen and live batting practice sessions, Nola is on schedule to start Opening Day on July 24 against Miami.
"He looked really good," said manager Joe Girardi. "I think it's definitely possible that he could be our Opening Day starter. Had our season started in March after a normal Spring Training, he was our Opening Day starter."
Girardi pumped the brakes on that possibility recently when Nola missed a few days of camp after coming in contact with somebody who tested positive for COVID-19. Nola tested negative for the virus.
"I think to be fair to him, because he wasn't here for that week, we've got to see where he's at," Girardi said. "I'm pretty pleased with where he's at. But I want him to feel pleased, and I want him to feel comfortable. [Whether he starts] the first game or the third or fourth game [of the season], he's still going to get 12 or so starts. We can manipulate with that one period in time where there's three off-days in eight days [Aug. 17-24], so that I'm not so concerned about. But if he feels comfortable, he will make the start."
If Nola does not start Opening Day, right-hander Zack Wheeler likely will get the nod, though his wife is due with their first child around that time, which could be a consideration.
Early pitch counts
Before Summer Camp opened, Girardi said that he hoped his starters could throw 60 pitches the first time through the rotation.
"I think we could possibly go more," he said. "I don't want to limit to 60, because it might be an easy 60 pitches during the course of the game, where there's not a lot of traffic, there's no baserunners, you might push it further. I'm pretty happy with where our starters are at and the amount of work that they did during this downtime."
Busy quarantine
Besides trying to stay in shape and growing a solid mustache, Phillies first baseman Rhys Hoskins found himself in the thick of negotiations between the league and the union about restarting the 2020 season. He is the club's union representative.
"I think the easiest way to put it is it could have been handled better," Hoskins said. "But at the end of the day, we're here, and [I] think that's really what matters most. We were able to get through the health and safety protocols, see eye-to-eye on those things to make sure that not only we're safe, but you guys are safe, all the clubhouse staff is safe, and of course our families as well. It was a lot. It was very enlightening, I think, from my point of view. Like I said, I think the biggest thing is that we're here."
Extra bases
• The Phillies are planning a six-inning scrimmage on both Thursday and Friday. Wheeler and Vince Velasquez will be among Thursday's pitchers.
"This is kind of trial and error," Girardi said. "When playing intrasquads every day, guys don't ever get a day off, and that's not normal. So eventually I'm going to have to give guys a day off. Don't be surprised if you see a coach in the field because we don't have enough players, because I have to give guys days off. And I'm not volunteering to catch, I can tell you that."
• Francisco Liriano threw a bullpen session. He left the team for a couple days while he decided whether or not to play this season.