Phils ready to pay the price for right free agents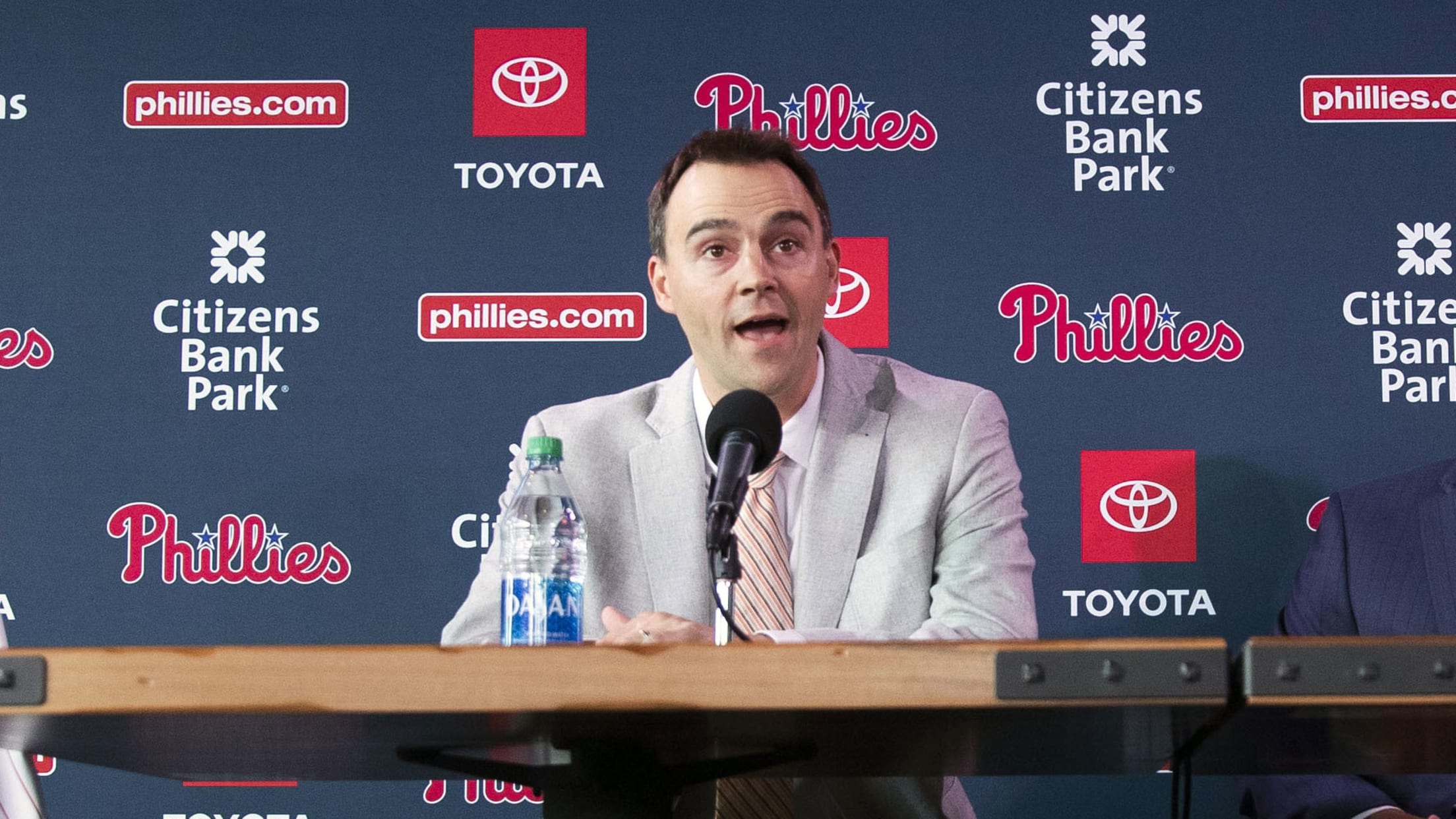 PHILADELPHIA -- It depends on the player, but the Phillies are willing to forfeit a Draft pick to sign a big-time free agent this offseason. Adding an impact player seems like a must, if they want to get to the postseason in 2020. GM Matt Klentak told reporters at the
PHILADELPHIA -- It depends on the player, but the Phillies are willing to forfeit a Draft pick to sign a big-time free agent this offseason.
Adding an impact player seems like a must, if they want to get to the postseason in 2020.
GM Matt Klentak told reporters at the General Managers Meetings on Tuesday that the Phillies will "operate case by case" regarding the players they would forfeit a second-round pick and $500,000 in international bonus pool money to sign. That is the cost of signing players who received a qualifying offer from their 2019 club before choosing free agency.
Players on that list who might interest the Phillies include starting pitchers Gerrit Cole, Stephen Strasburg, Zack Wheeler, Madison Bumgarner and Jake Odorizzi; third basemen Anthony Rendon and Josh Donaldson; and relief pitcher Will Smith.
• Latest Hot Stove news and rumors
The Phillies would have to forfeit their second-highest selection in the 2020 Draft to sign one of those players. If they sign two players on that list, they would also forfeit their third-highest remaining pick.
"Draft picks have a certain value, and sometimes you might be willing to forfeit that value," Klentak said. "And sometimes you may not."
Cole, Rendon and Strasburg seem like the players the Phillies unquestionably would sacrifice a Draft pick to sign. It becomes less certain with players like Odorizzi and Smith. The Phillies already have expressed interest in Donaldson, according to MLB.com's Mark Feinsand. But if push came to shove and the Phillies could sign somebody like Mike Moustakas at a lower cost without forfeiting a Draft pick, it might make more sense to move in that direction, especially if they know they need to acquire at least one premium starting pitcher this offseason.
• Offseason checklist: Phillies' needs and moves
Phillies top pitching prospect Spencer Howard is worth watching, but it would be an upset to see him make the team out of Spring Training. Klentak pointed out that Howard still has not thrown with the Major League baseball, which is different than the balls used from Double-A and below. But Klentak said if everything breaks right for Howard, it would not be a stretch to see him pitching for the Phillies at some point next season.
"It is very reasonable," Klentak said.
It means the Phillies likely need to acquire two starters to accompany Aaron Nola, Jake Arrieta and most likely Zach Eflin. Free agent Cole Hamels told MLB.com last week that he is interested in returning to Philly. He also said he is willing to sign a one-year contract to play for a contender.
Klentak touched on a number of other topics with reporters:
Realmuto extension: Klentak said the Phillies have not approached catcher J.T. Realmuto about a contract extension, but "at some point in this offseason, we will likely talk to him about trying to keep him in the fold beyond his control years and hopefully we'll line up on something."
• Breaking down Realmuto's first year with Phils
Second base: Klentak did not commit to tendering a contract to second baseman Cesar Hernandez before the Dec. 2 deadline. Hernandez has a combined 93 OPS+ the past two seasons, with 100 considered league average.
"We're kind of addressing that now as we connect with different teams and see what's available on the free-agent market," Klentak said. "Yeah, it's something that we're constantly going to evaluate, but I think he's a bona fide Major League second baseman and he's proven that for many years now."
The Phillies have options, which is why it is not a lock they tender Hernandez. Klentak mentioned that Scott Kingery's best position is second base and that Jean Segura also can play there. If the Phillies think they can acquire another shortstop, they could move Segura to second base and play Kingery at third base or in center field.
"It opens up a lot of doors for us," Klentak said about the roster's versatility.
• 5 questions facing the Phillies this offseason
Outfielder: Odúbel Herrera is back on the 40-man roster after serving his suspension for violating MLB's domestic abuse policy. If the Phillies do not trade him before Spring Training, his future with the team is uncertain at best.
"I think the most important thing to recognize with Odúbel is the situation that he left in the spring when he was suspended and the thing he's walking back to are not the same," Klentak said.
Klentak then mentioned Kingery, Adam Haseley and oft-injured Roman Quinn's ability to play center field on a regular basis. Andrew McCutchen can play there, but the Phillies prefer he play left field.
"The landscape has changed," Klentak said. "[Herrera] is going to have to earn whatever he gets. He doesn't walk back in as the Opening Day center fielder. Right now he's on the 40-man roster and under contract. What happens between now and February, I don't know."
Free-agent outfielder Corey Dickerson performed well for the Phillies following a trade with Pittsburgh in July, but he seems unlikely to return with Bryce Harper, McCutchen and Jay Bruce expected to play the corner-outfield positions.
• Predicting the Phillies' 2020 Opening Day roster
Bullpen: The Phillies know they must do something to improve their bullpen, which suffered a rash of injuries last season. But how they do that remains to be seen. Klentak did not say whether they planned to be aggressive early in the free-agent market.
"I think it's reasonable for us to explore reinforcements to the bullpen," he said.
Klentak said right-hander Seranthony Domínguez was "pain free" throwing at the end of the season.
"Right now he's on track to have a normal offseason, report to Clearwater and be ready to go," Klentak said.
Hitting coach: Sources echoed a report in The Philadelphia Inquirer that the Phillies are interviewing at least Nationals assistant hitting coach Joe Dillon, former Phillies hitting coach Matt Stairs and Mets hitting coach Chili Davis.
"We're just looking for the best possible candidate," Klentak said, according to a tweet from The Athletic's Meghan Montemurro. "We're not going in with a specific resume that someone has to have."
• Phillies name Juan Castro infield coach