Carson Wentz AO1 Foundation Charity Softball Game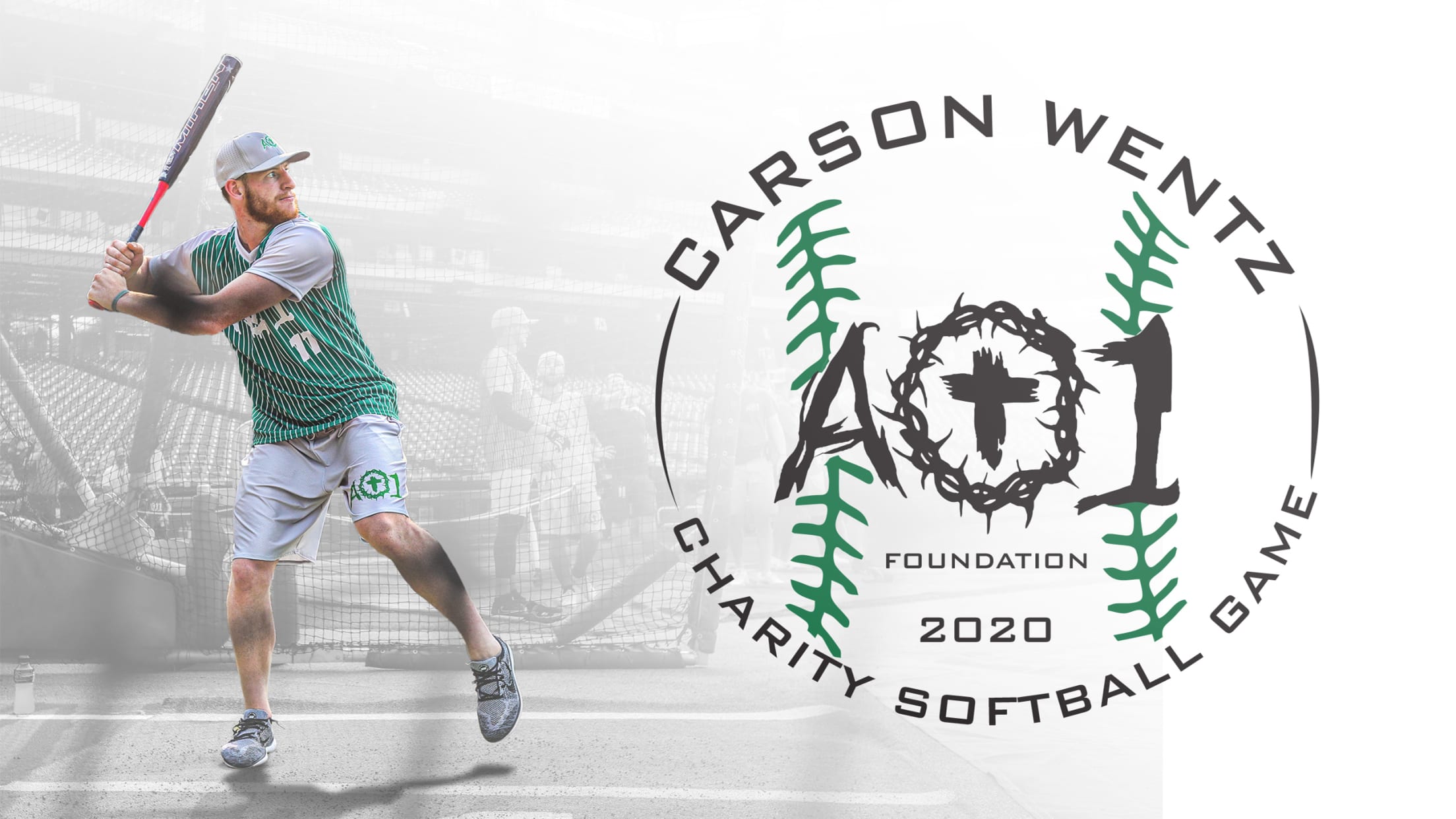 Come out to Citizens Bank Park on Friday, May 8, 2020, to watch some of your favorite Philadelphia Eagles players compete in the third annual Carson Wentz AO1 Foundation Charity Softball Game.
The evening will feature a home run derby, Carson and some of your favorite Eagles players on the baseball diamond to play softball, a silent auction and fireworks display. Merchandise from the Carson Wentz AO1 Foundation will be for sale.
Proceeds from the event will benefit the foundation's mission of "uplifting individuals and communities around the world by demonstrating God's love for His people." Learn more about the foundation and event at ao1foundation.org.
Event Details
Game Date - Friday, May, 8, 2020
5:00 p.m. - Left field gate, Ashburn Alley opens
5:30 p.m. - All gates open
6:30 p.m. - Home run derby
7:30 p.m. - Softball game*
*Fireworks to follow (subject to weather)
In case of inclement weather, the rain date is scheduled for Saturday, May 9, 2020 .
Frequently Asked Questions
Where should I park?
There is free parking available at Citizens Bank Park for this event. For general parking information, including a parking map of Citizens Bank Park, please see the Ballpark Parking page.
What time do the ballpark gates open?
The left field gate, Ashburn Alley - located on the corner of Citizens Bank Way and Phillies Drive - will open at 5 p.m. All ballpark gates will open at 5:30 p.m.
What am I allowed to bring in?
In accordance with MLB and Phillies security policies, all fans are subject to metal detection procedures and a bag search before entering the ballpark. Fans who are not comfortable with metal detectors will be subject to a pat-down. Items that are not permitted in the ballpark and are surrendered to security will not be stored or returned. To ensure fan safety, we reserve the right to deny admittance of any item deemed hazardous, suspicious or offensive. Fans are reminded that the following items will NOT be permitted inside Citizens Bank Park:
Cans, glass bottles and open containers;
Bags or backpacks larger than 16″ x 16″ x 8″;
Alcohol or illegal substances;
Hard-sided or Styrofoam coolers or thermoses;
Firearms, knives or other weapons;
Balloons, beach balls, noisemakers, nets or laser pointers;
Brooms, poles or tripods; or any other device that may interfere with and/or distract the players, fans or telecast of the game.
Do babies need their own ticket?
Per ballpark policy, children ages 3 and under who will be sitting on a parent's lap do not require a paid ticket. If an individual seat is needed, then the full price is applicable.
What types of merchandise will be available for purchase?
There will be AO1 Foundation merchandise that will be available for purchase.
Will there be a silent auction?
Yes! We will have a fantastic silent auction filled with autographed items, one-of-a-kind items and experiences. The silent auction will be online giving you the ability to bid from your phone anywhere in the stadium.
What types of payment do you accept for merchandise, raffle tickets and silent auction?
Cash and most major debit/credit cards are accepted for merchandise, silent auction purchases, and raffle tickets.
Will concessions be available for purchase?
Yes, concession stands will be open throughout the game.
Will there be any opportunities to meet or receive autographs from any of the players?
There will be several autographed items, as well as experience and meet and greet opportunities up for bid in the silent auction. Though no other formal opportunities are planned for the public, many of the players take time throughout the game to sign autographs, pose for pictures, and toss autographed balls and shirts into the crowd.
Are fans allowed to go down on the field to watch the post-game fireworks?
No. For the safety of fans, players, ballpark staff, and foundation volunteers, it is imperative that fans remain in their assigned seats not only during the game but also during the fireworks.