'75 Big Red Machine off to Bracket quarterfinals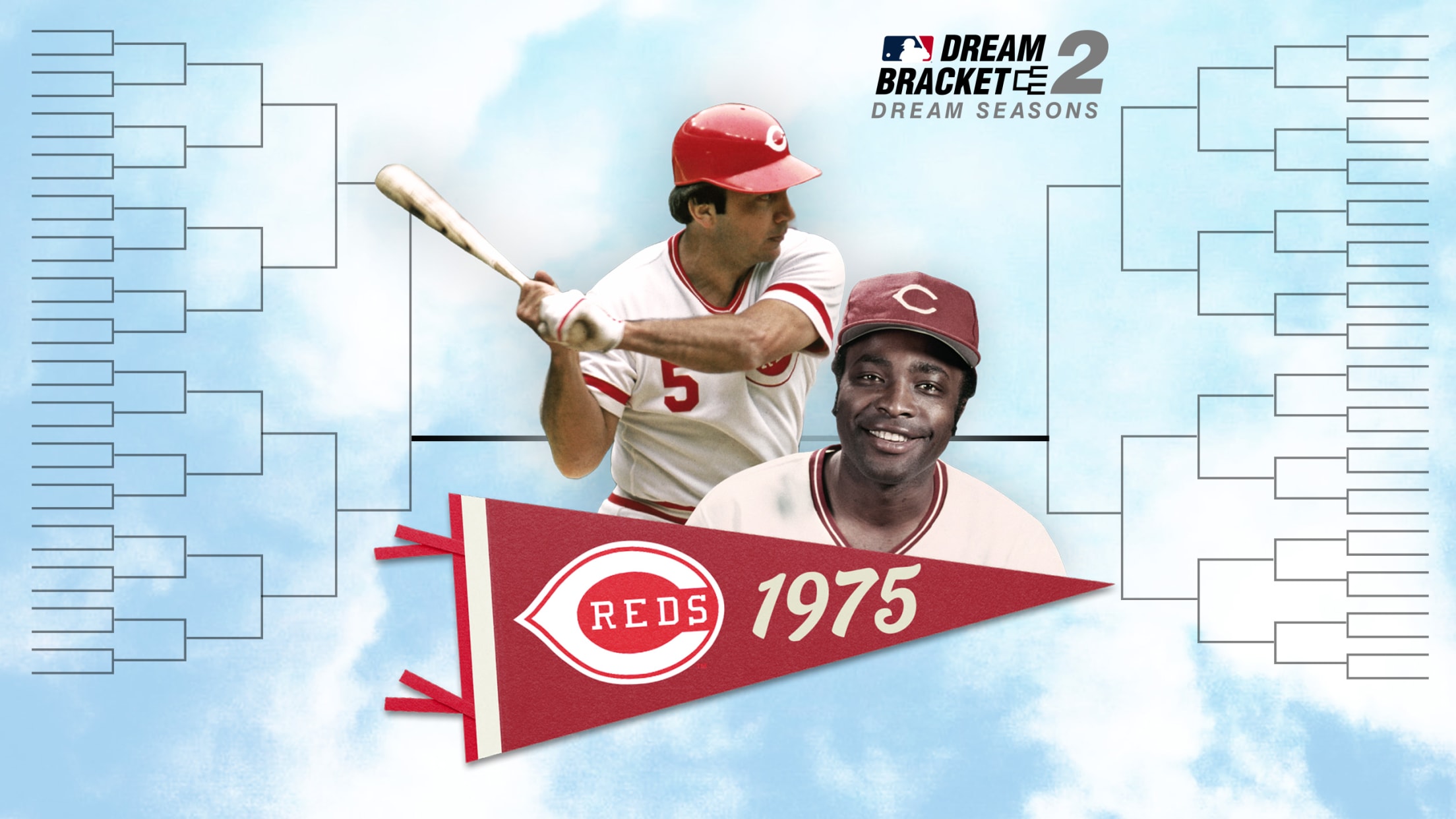 CINCINNATI -- The Big Red Machine continued to roll -- even in simulated form -- as the 1975 Reds advanced to the quarterfinals of Dream Bracket 2: Dream Seasons. They defeated the '57 Milwaukee Braves in six games to earn a matchup against the '60 Pirates, who beat the '97
CINCINNATI -- The Big Red Machine continued to roll -- even in simulated form -- as the 1975 Reds advanced to the quarterfinals of Dream Bracket 2: Dream Seasons. They defeated the '57 Milwaukee Braves in six games to earn a matchup against the '60 Pirates, who beat the '97 Marlins with a three-run, walk-off home run by Roberto Clemente in the bottom of the 10th inning of their Game 7.
Ken Griffey led the team in the series vs. Milwaukee while batting .450 (9-for-20) with two doubles and five RBIs. It was another strong series for Pete Rose, who batted .370 (10-for-27) with one homer, three doubles and four RBIs. Johnny Bench hit two homers with a team-leading seven RBIs while batting .276 (8-for-29).
From the mound, starting pitcher Gary Nolan delivered while going 2-0 with a 1.32 ERA in two starts as he allowed two earned runs, 12 hits and four walks with four strikeouts.
• Box scores and game summaries | Full bracket and info | Complete Dream Bracket 2 rosters
A 64-team, best-of-seven simulation tournament, Dream Bracket 2: Dream Seasons features two of the best post-World War II teams from each of the 30 Major League franchises, as well as three Negro Leagues teams and the 1994 Montreal Expos. The bracket is divided into the American League and the National League, with two "regions" for each league. The '90 Reds were eliminated by the '94 Expos in the first round.
The simulated competition, featuring many of the greatest teams in baseball history, is being produced by Out of the Park Baseball 21, MLB's most realistic strategy game (PC and Mac).
Here is a breakdown of how each game went between the Reds and Braves:
Game 1: Braves 7, Reds 4
Red Schoendienst opened the three-run bottom of the first with a leadoff homer, and a four-run sixth inning provided the rest of the Braves' runs. The Reds mustered just one extra base hit against Warren Spahn, a fifth-inning RBI double by opposing pitcher Jack Billingham. Over 5 2/3 innings, Billingham allowed seven earned runs and nine hits. Spahn gave up three earned runs over six innings.
Game 2: Reds 7, Braves 0
Cincinnati bounced back nicely as Nolan gave up only three hits over 7 2/3 innings. Most of the scoring came late against Milwaukee's bullpen. It was a 1-0 game in the top of the seventh inning when Rose slugged a two-run homer against reliever Bob Trowbridge. The game was put away in the four-run eighth. With the bases loaded and one out, Cesar Geronimo hit a three-run double and scored when Rose reached on an error.
Game 3: Reds 4, Braves 3 (11 innings)
It was a 1-1 game after seven innings and 2-2 after nine, with pinch-hitter Bill Bruton's leadoff homer off Reds starter Don Gullett in the top of the frame forcing extra innings. In the top of the 11th, against reliever Clay Carroll, Felix Mantilla hit a leadoff triple and scored on Frank Torre's RBI single to put the Braves ahead. But in the bottom of the 11th, after late substitution Doug Flynn was ejected for arguing balls and strikes, a Geronimo solo homer off Dave Jolly re-tied the game. Bench provided the walk-off winner with an RBI single that scored Bill Plummer.
Game 4: Braves 9, Reds 5
Reds starter Fred Norman was rocked for six earned runs over 2 2/3 innings, and Eddie Mathews' two-run homer in the seventh against Pat Darcy made it an 8-0 deficit for Cincinnati. Following a Joe Morgan RBI single, Bench tightened the game with a grand slam against Jolly to cut Milwaukee's lead to three. It got no closer, however, and Hank Aaron added an RBI double in the top of the ninth.
Game 5: Reds 7, Braves 5
The Reds had a 5-2 deficit as Billingham struggled again before a four-run rally in the bottom of the seventh inning. Morgan got it started with a leadoff homer. A George Foster groundout scored Bench from third base and Davey Concepcion hit an RBI double that brought home Tony Perez. Merv Rettenmund's sacrifice fly added the fourth run. Perez's two-out solo homer in the eighth inning added an insurance run.
Game 6: Reds 9, Braves 4
A rally in the top of the second inning against Braves starter Lew Burdette gave the Reds an early 5-0 lead. Griffey hit a two-run double with one out and Nolan delivered a two-out RBI triple. Rose extended the frame with an RBI double and Morgan followed suit with one of his own. Bench hit a solo homer in the eighth inning and Perez slugged another solo homer in the ninth to finish the Braves.
Mark Sheldon has covered the Reds for MLB.com since 2006, and previously covered the Twins from 2001-05. Follow him on Twitter @m_sheldon and Facebook.