Reds' momentum stalled by series loss to Tribe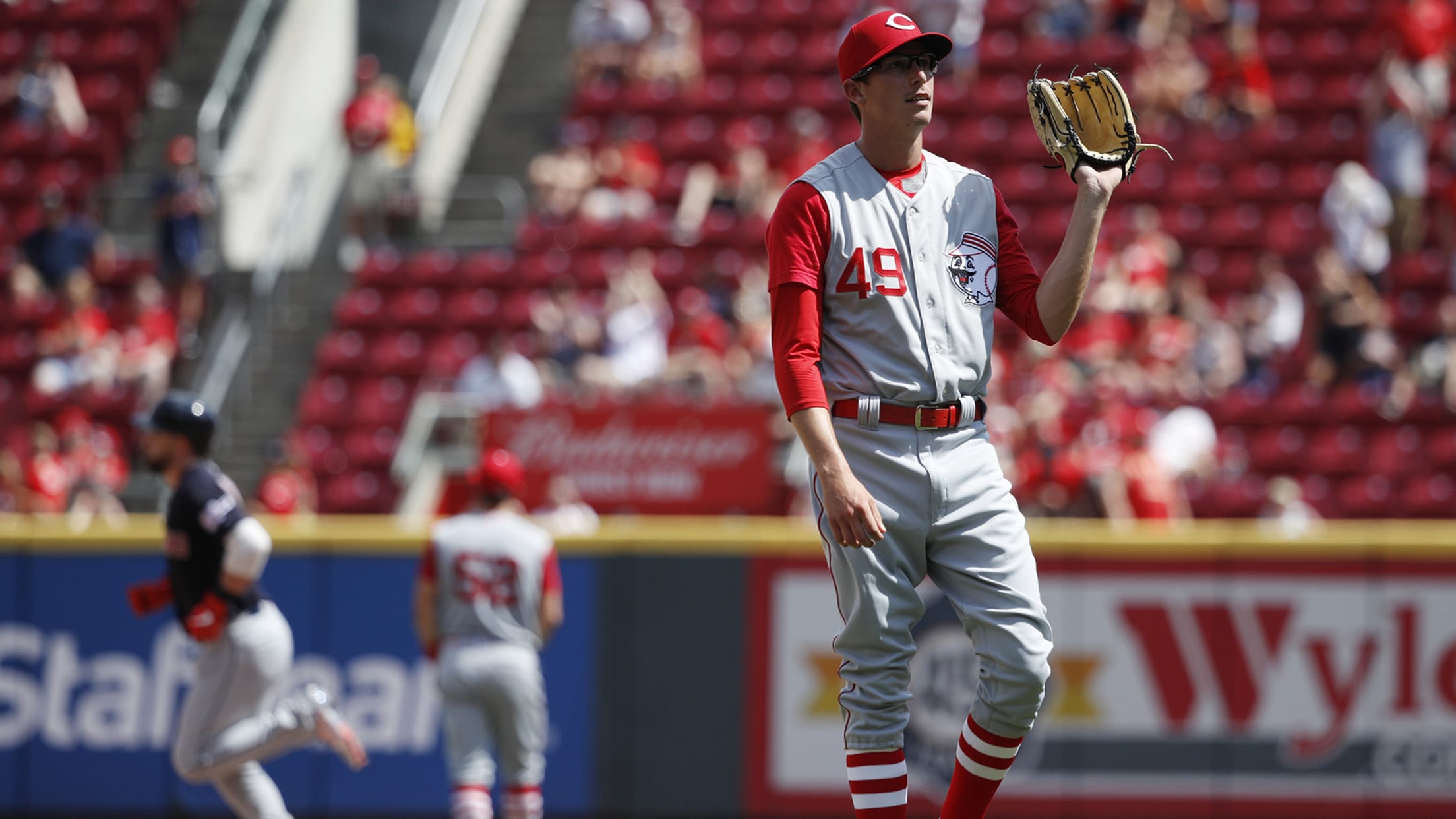 CINCINNATI -- This weekend was a missed opportunity for the Reds. Even though the Indians are on a roll in early July, the Reds were too heading into the two-game series. That's why back-to-back losses to Cleveland going into the All-Star break, including Sunday's 11-1 defeat at Great American Ball
CINCINNATI -- This weekend was a missed opportunity for the Reds.
Even though the Indians are on a roll in early July, the Reds were too heading into the two-game series. That's why back-to-back losses to Cleveland going into the All-Star break, including Sunday's 11-1 defeat at Great American Ball Park, felt every bit of lackluster. The 10-run deficit was their largest in a loss this season.
"One thing that has allowed us to be in the position we're in, which has allowed us to have a chance in the division is when we bounce back," Reds manager David Bell said. "I think we've talked about it as a team. The team that succeeds in this division is the team that does that the best, the team that bounces back and just stays relentless with doing it."
At some point, in order to prove that they can contend in the second half of the National League Central race, the Reds will have to break on through to the other side of .500. Each time they've flirted with getting over that obstacle, they've been turned back.
On Thursday after winning three in a row over the Brewers to take a four-game series, Cincinnati was 3 1/2 games out of first place and three games under .500. Now the last-place club is 41-46, five games under. The Reds had the good fortune of the first-place Cubs and second-place Brewers both losing on Sunday. That means only 4 1/2 games separate the top and bottom of the division.
The Reds scored three runs combined in the series vs. Cleveland while the pitching staff with the second-best ERA in the NL coming in gave up 18 runs. The 18 hits allowed on Sunday were a season-high, and the 11 runs allowed tied a season-worst for a nine-inning game.
Tyler Mahle started but lasted only four-plus innings and 84 pitches for the Reds, giving up three earned runs, six hits and three walks while striking out seven. Indians ace Trevor Bauer turned in seven innings with one run and four hits allowed. Bauer, who walked three and struck out nine, took a shutout into the fifth inning before pinch-hitter Josh VanMeter hit an RBI double that scored Jose Peraza.
Mahle's first three innings were scoreless, but he needed 30 pitches to get through the third inning and escape with the bases loaded.
"Usually when you battle out a lot of jams, eventually they're going to get you. That third inning cost me even though I was able to battle out of it," said Mahle, who is 2-9 with a 4.47 ERA in 17 starts.
Tyler Naquin hit a two-out solo home run to right field off Mahle in the fourth inning. The fifth inning opened with Greg Allen's leadoff single and a Carlos Santana walk before Mahle was lifted. Against reliever Jared Hughes, Jose Ramirez drove in a run with a sacrifice fly and Jake Bauers hit a two-run homer on a first-pitch sinker.
"Absolutely, a missed opportunity," Hughes said of the series. "But there's nothing we can do now other than learn from it. Each and every one of us has a lesson we can learn from this series. Me, keep the ball out of the middle of the plate. Focus on those lessons and get better."
The wheels came off during a six-run top of the eighth inning with David Hernandez and Jimmy Herget on the mound. Herget, who made his Major League debut, gave up three runs on five hits. He also surrendered two home runs, including one to his first batter -- Allen. That left the bullpen with a 10.30 ERA over the just-completed nine-game homestand.
In one game, the Reds' run differential for the season dropped from plus-37 to 27. But the team, which has lost 90 or more games in each of the last four seasons, has made it to the break still with a fighting chance. At this point in 2018, the club was 10 games under .500 and 13 1/2 games out of first place.
"I know guys will be anxious to get back to playing, because two games doesn't take away from what we've been able to do," Bell said. "Really, what we've been able to do is give ourselves a chance here going into the second half."
The Reds will regroup and resume play on Friday with a three-game series opener at Colorado, followed by another three-game series vs. the Cubs.
"Right now, we're in the hunt. There's no doubt about that. But we'd rather be leading the hunt," Hughes said. "If we can continue to go out there every day and work hard and get after it, we will."
Mark Sheldon has covered the Reds for MLB.com since 2006, and previously covered the Twins from 2001-05. Follow him on Twitter @m_sheldon and Facebook.