Notes: Casali vs. Barnhart; Schebler DFA'd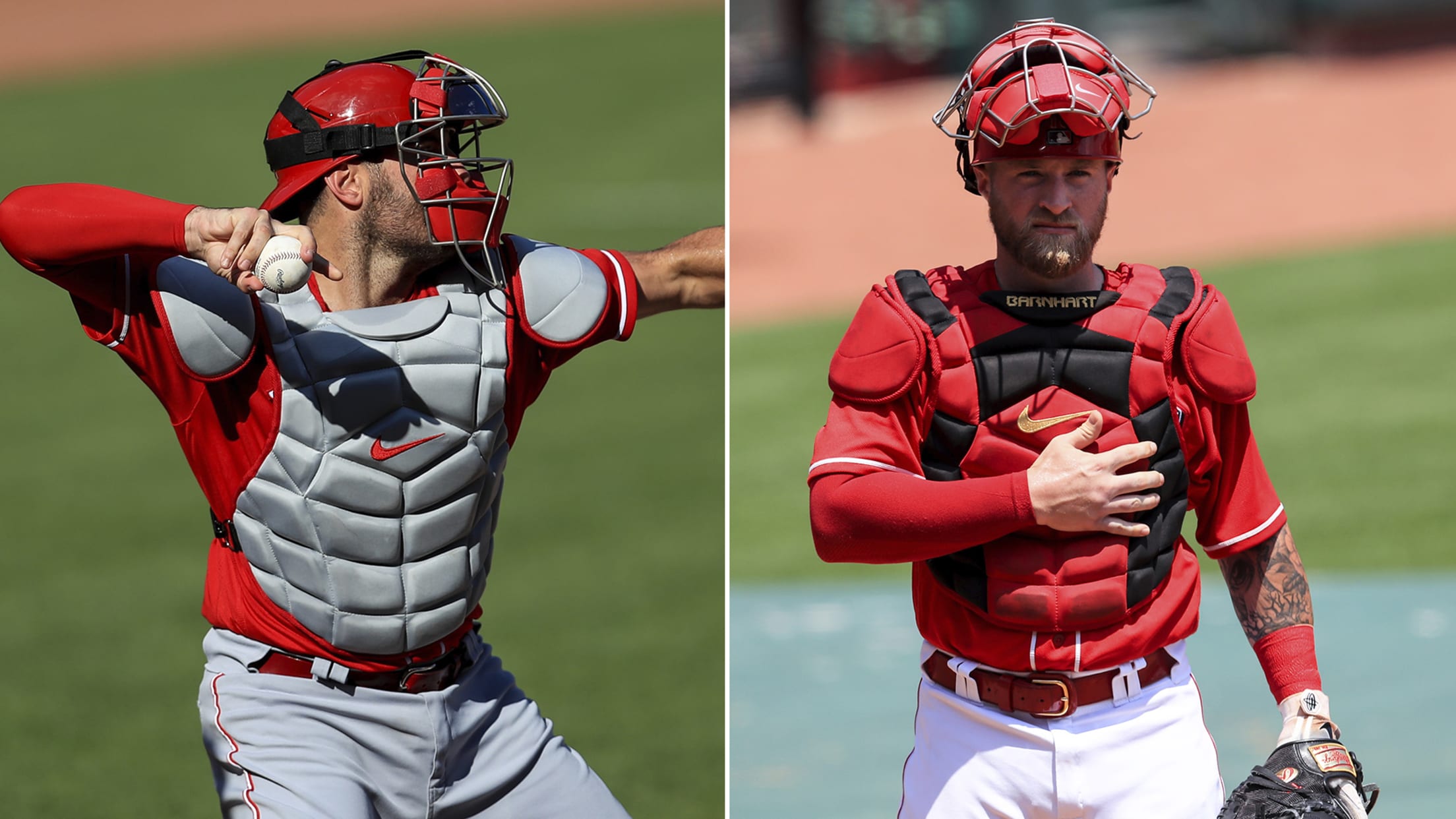 CINCINNATI -- Reds Opening Day starting pitcher Sonny Gray and catcher Curt Casali played college baseball together at Vanderbilt, both live in Nashville, Tenn., and they worked out together during baseball's pandemic-induced shutdown. But that doesn't necessarily mean the two will form the pitcher-catcher battery regularly -- or even in
CINCINNATI -- Reds Opening Day starting pitcher Sonny Gray and catcher Curt Casali played college baseball together at Vanderbilt, both live in Nashville, Tenn., and they worked out together during baseball's pandemic-induced shutdown. But that doesn't necessarily mean the two will form the pitcher-catcher battery regularly -- or even in Friday's season opener vs. the Tigers.
Reds manager David Bell has yet to determine if Casali or Tucker Barnhart will catch for Gray against Detroit.
"If there is a preference at some point, I can factor that in. Going into the season, I don't think we need to be limited by that," Bell said on Sunday. "I believe in both of our catchers' ability to catch all of our pitchers, and the familiarity between all combinations is really good. It's strong right now. That would not be the first priority when making the lineup out."
As Gray went 11-8 with a 2.87 ERA in 31 starts during his first season in Cincinnati, Barnhart started behind the plate in 16 games, Casali in 13 and former catcher Juan Graterol in two games.
Over his career, the right-handed-hitting Casali is a .261 hitter vs. lefties and a .215 hitter against righties. A switch-hitter his entire career, Barnhart will be batting exclusively left-handed for the first time in 2020. Detroit announced Sunday that lefty Matthew Boyd would start opposite Gray on Opening Day.
"With the catching, it has a lot to do with day-night and the opposing starting pitcher and properly resting them," Bell said. "All three of those are ahead of matching any of our combinations up consistently."
Raley in, Schebler out
Following Sunday's scrimmage, the Reds selected the contract of left-handed reliever Brooks Raley, a possible signal that he has made the Opening Day roster. To make room on the 40-man roster for Raley, outfielder Scott Schebler was designated for assignment.
This is a feel-good moment for Raley, who last pitched in the Major Leagues for the Cubs in 2013 and spent the last five seasons as a starter for Lotte in South Korea's KBO. From 2015-19, he was ranked third in WAR (19.45) among all KBO pitchers.
Raley gave up three runs (two earned) and four hits on Sunday but has pitched well during Summer Camp overall.
Schebler was the Opening Day center fielder for Cincinnati last season and on the roster the last four seasons. But he struggled while batting .123/.253/.222 in 30 games before being demoted to Triple-A Louisville. Schebler hit a career-high 30 homers for the Reds in 2017.
Casali feels ready
During the quarantine, Casali, Gray and Reds outfielder Phillip Ervin were among a group of Major Leaguers who worked out together in Nashville. For Casali, that experience helped him prepare for the three-week Summer Camp and the upcoming 60-game regular season.
"I was really lucky to be able to work out with Sonny," Casali said on Sunday. "I caught him at least seven or eight times over the course of quarantine, and one of my best friends, Mike Yastrzemski with the Giants, I got to hit with him a few times a week. I think it definitely helped shorten the curve coming back into camp here, but it's been going pretty well. I'm healthy: hips feel good, legs feel good, arm feels good. I'm ready to go."
During camp, Casali has also been able to see Reds pitchers from a different perspective by facing them as a hitter.
"It's been pretty miserable because they're really good," he said. "It has been helpful to see, from my perspective as a right-hander, where I think their pitch should start, where it should finish, to see how much life it actually has on it. I faced [Luis] Castillo last week and I think he did me a favor by just throwing me two fastballs. I was so late on the first one; I think he just grooved one in for me because we're boys."
Injury report
• Right fielder Nick Castellanos was out again from Sunday's scrimmage after he suffered a bruise on his upper back when hit by a Tyler Mahle pitch on Friday.
"It's definitely day to day, but it's just a bad spot that he got hit in," Bell said "He's having trouble getting it loose. It hit him right on the neck and spine area. We're being cautious because of the area it's in, but it's just a bruise and a matter of getting that swelling and soreness out of there."
• Reliever Michael Lorenzen has been missing from the last three scrimmages because of a sore right forearm.
"It's not in any concerning areas. It's just a muscle in his forearm that came from working -- or maybe overworking -- a certain pitch he was throwing," Bell said. "He's developing a new grip on a pitch. He'll be fine. We just want to make sure that soreness is out of there so it doesn't lead to anything that would be long term."
• Outfielder Travis Jankowski was scratched from Saturday's scrimmage because of a sore left hamstring -- the same muscle he injured during Spring Training.
"He went in and got readjusted. It was more of an alignment thing," Bell said. "As soon as he had that worked on, it released. We could have played him today, but we wanted to be sure it wasn't the hamstring issue from Spring Training."
Barnhart vs. Casali
Because the Cincy Ballers took the first two games of the three-game "Summer Series" to earn a day off Monday, the teams were adjusted for Sunday. This time it was Tuck's Claws vs. Team Turnup. Barnhart and Casali served as player-managers and selected their coaching staffs and lineups.
In the seven-inning contest, Casali's squad combined for a no-hitter and a 4-0 victory. Gray pitched four hitless innings in the victory.
Mark Sheldon has covered the Reds for MLB.com since 2006, and previously covered the Twins from 2001-05. Follow him on Twitter @m_sheldon and Facebook.