Reds in new territory heading into Deadline
Club in contention in tight NL Central race, seeking to add talent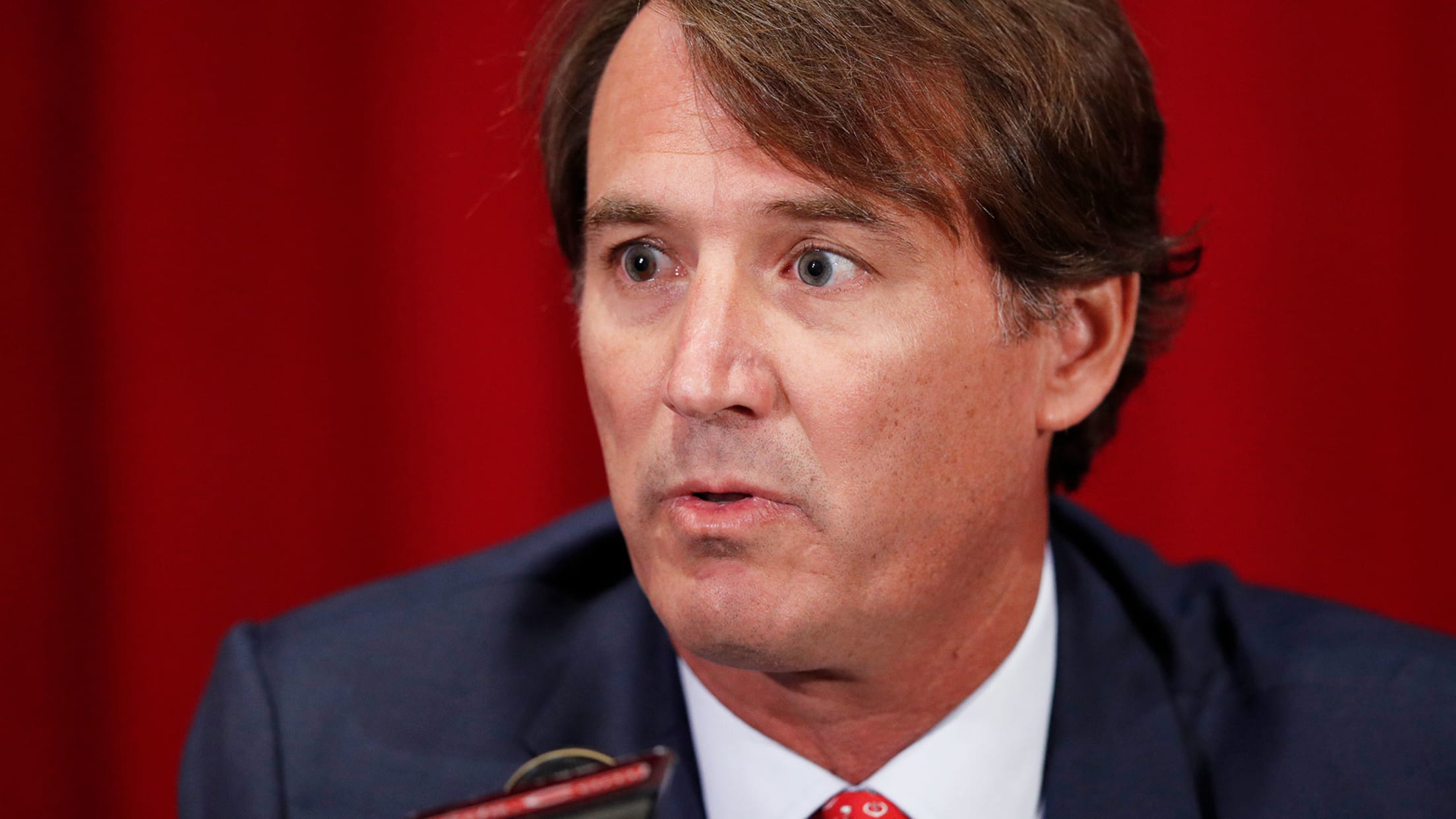 DENVER -- For the first time since he became the head of baseball operations for the Reds, Dick Williams and the club are in a position to add players before the July 31 Trade Deadline. Despite being at the bottom of the National League Central, Cincinnati entered Saturday just 5
DENVER -- For the first time since he became the head of baseball operations for the Reds, Dick Williams and the club are in a position to add players before the July 31 Trade Deadline.
Despite being at the bottom of the National League Central, Cincinnati entered Saturday just 5 1/2 games behind the first-place Cubs. It lost over 90 games each of the past four seasons and was out of contention each July.
"I think we'll be really busy looking and trying to find the right fits," Williams told MLB.com. "Our hope is to improve the club. We're in a position where we want to improve in the areas where we can do so. Our focus is on this year and the next couple of years. We would place a priority on players that would help us in a window, not just this year. The rental players aren't as much of the focus as the ones that we would have more control."
There is the added dimension to deal-making this year because of a new rule in place. July 31 is now the only Trade Deadline; August waiver deals are no longer allowed.
The Reds appear to have some clear needs for Williams and general manager Nick Krall to address in the next couple of weeks. The bullpen was one of the best in the Majors until recently, but appears to be fading. Ranked fifth in the NL entering the day with a 4.10 ERA, Reds relievers allowed 35 earned runs over 29 innings in the previous 11 games for a 10.86 ERA).
Offensive struggles have been season-long issue, but bats have come more into focus of late. Cincinnati is ranked 14th in the NL in batting average and 13th in OPS. During the previous three losses, the lineup produced just four runs. It scored 36 runs over the previous 12 games for an average of three runs per game, while posting a .656 OPS.
"I would say we want to get the offense jump-started. We think we have the internal pieces to do that, but would have to be open there," Williams said. "I would say the bullpen over starting pitching because if we're going to stay competitive, we'll be putting a lot more and more [workload] on the bullpen. In the past few years when we weren't as competitive, we could rest guys. When you're in games, close games, night after night, that usage starts to build up on the 'pen. We've got to be prepared to try and supplement there, if that's an area we think will need it."
By trying to steer clear of adding rental players on expiring contracts, the cost for making trades for players under club control should be much higher.
"But if they're going to be here for a few years of our competitive window, then that's what we have to find," Williams said.
Another issue Williams and Krall are aware of is the risk of potentially dealing players already established on the team. There are several players that will be free agents after the season including Yasiel Puig, Tanner Roark,
Scooter Gennett and José Iglesias.
"We certainly haven't ruled out making good baseball trades with any of the guys, especially the pending free agents," Williams said. "But we wouldn't want to do it in a way that would harm the chemistry or our short-term chances."
The hope for the Reds front office is that trades can help continue the positive momentum the team has started to build. There has been more energy at the ballpark and a majority of games have been close to the end.
"We were definitely looking at this as a year we would be a lot more competitive than the last couple of seasons," Williams said. "A lot of teams would look to sell their pending free agents if they were in a rebuilding mode. The fact that we're planning on trying to do the best we can, and even add, says something about where we are."
Gennett out another day
After being a late scratch from Friday's starting lineup because of an illness, Gennett did not make the start again on Saturday. Jose Peraza started at second base.
"I was sweating, I was cold the next minute, light-headed and other stuff," Gennett said on Saturday. "It was just very odd. I never experienced that before. I don't know if it was altitude or what it is."
Gennett reported feeling much better and was able to do exercises before the game and was ready from the bench. He has played just five games since returning June 28 from a right groin strain that kept him out three months. A tight left groin has limited him to one pinch-hitting appearance since July 3.
"Scooter is going to play every day when he gets back," Reds manager David Bell said. "The problem is on the days he's played, it's all been against lefties. Then he missed a bunch of time. I didn't want his first game back to be against a lefty again [Kyle Freeland]. I would think he's available tonight. The altitude definitely got him."
Wood progressing
In his second rehab assignment start for Triple-A Louisville, lefty Alex Wood threw 51 pitches over two innings with three runs (two earned), four hits, no walks and two strikeouts. Wood hasn't pitched for the Reds all season because of lower back spasms.
"The reports were that he felt good," Bell said. "He actually pitched better than the results. The next step is another start in Triple-A."
Mark Sheldon has covered the Reds for MLB.com since 2006, and previously covered the Twins from 2001-05. Follow him on Twitter @m_sheldon and Facebook.