Confident Peralta earning manager's trust
Lefty reliever is leaning on video, data and teammates' advice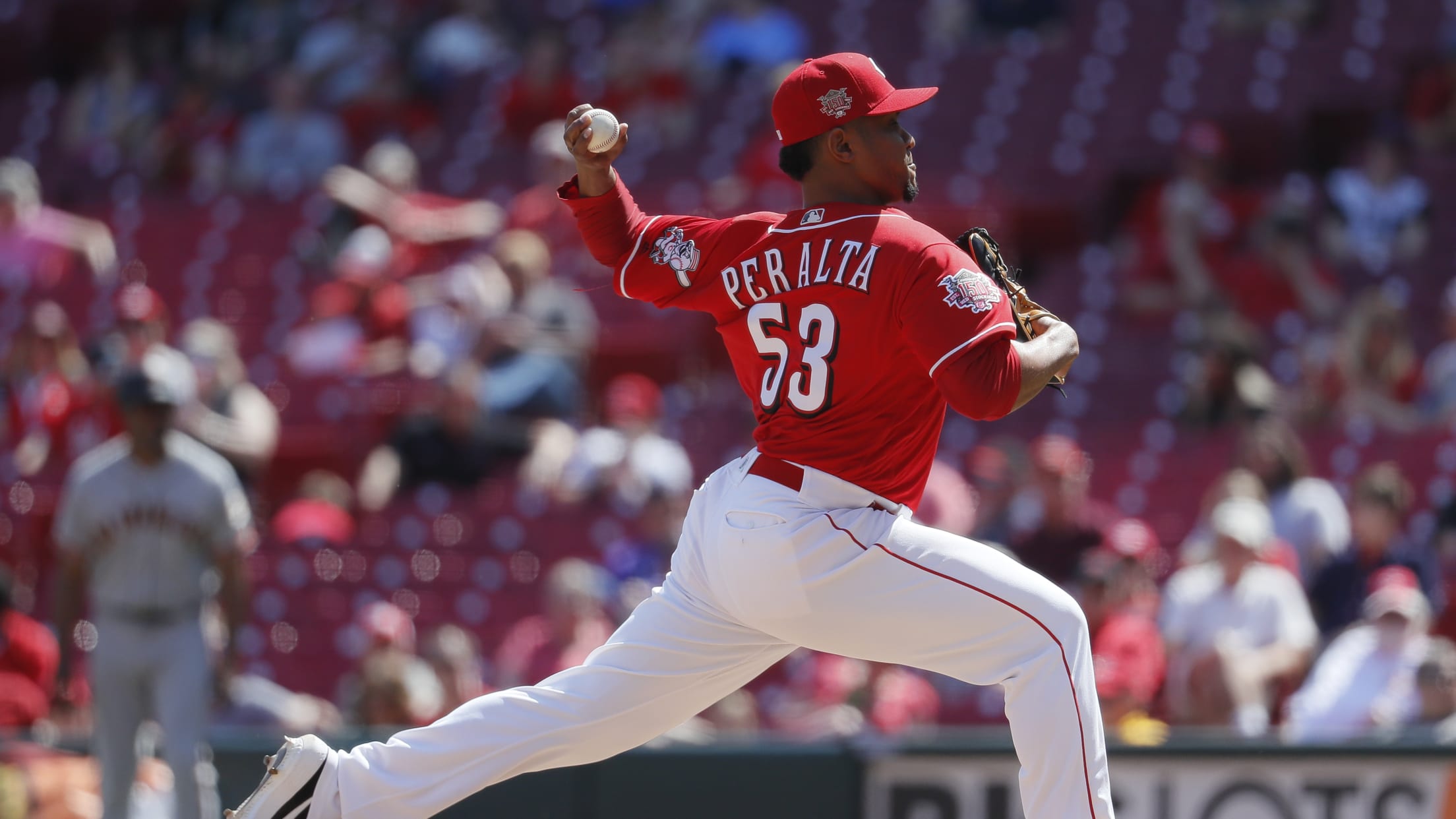 CINCINNATI -- Reds manager David Bell has shown increasing confidence in lefty reliever Wandy Peralta for higher leverage situations. That has, in turn, given Peralta more confidence on the mound and more often than not, success. Peralta, who endured command issues last season and spent a month at Triple-A Louisville
CINCINNATI -- Reds manager David Bell has shown increasing confidence in lefty reliever Wandy Peralta for higher leverage situations. That has, in turn, given Peralta more confidence on the mound and more often than not, success.
Peralta, who endured command issues last season and spent a month at Triple-A Louisville to work things out, has not allowed a hit in any of his previous four games entering Wednesday since he gave up four earned runs and four hits over an inning on May 3 vs. the Giants. Over those 3 1/3 innings, he walked one with five strikeouts.
"He's confident in his fastball. He has a really good fastball. He uses it and trusts it, it sets up his secondary pitches, which are really good, too," Bell said. "His command of the ball, I think that comes from confidence, too, not being afraid to attack the strike zone. When he does that, he has as good of stuff as anyone."
Statcast shows that while Peralta throws his fastball just 19.8 percent of the time, hitters have yet to hit a ball safely after he throws it. The velocity averages 95.8 mph and has a whiff rate of 31.3 percent. The pitch he throws the most -- his slider (35 percent) has a whiff rate of 52.8 percent and has gotten him 40 percent of his strikeouts.
Peralta has been a student of video and has used it to keep trying to improve.
"After I pitch, I watch the video and ask people who saw me pitch -- the pitching coaches and video guys -- about what I was doing," Peralta said via translator Julio Morillo. "Then it's about putting it into practice the day after. I've figured out what works. I ask pitching coaches and other guys what I was doing wrong in the moments that weren't good. Then I fix it for the next day."
Peralta also seeks out teammates in the bullpen, like Raisel Iglesias, for advice.
"Sometimes I've tried to extend or jump with my lower half or sometimes I open my left shoulder really quick, and he's been telling me to stay calm and pitch and work on my extension," Peralta said.
Working hand-in-hand with the video has been the data that's been collected by assistant pitching coach Caleb Cotham, who breaks down the advanced metrics into easier to digest information.
"I have a better idea of how to attack the hitters," Peralta said. "It's important for me to understand what kind of pitcher I am, and he's done a really good job of explaining that. I have a better picture of how I should attack the hitters."
When the Reds broke from Spring Training, Peralta was the last pitcher to make the team as a third lefty reliever behind Amir Garrett and Zach Duke. But as Duke struggled for much of the first month, Peralta has been more dependable. He hasn't given up a run in 16 of his 18 appearances for a 3.14 ERA and 1.12 WHIP -- including his first nine games of the season (7 2/3 innings).
"I really appreciate that David has given me the confidence to come in those situations and have the opportunity to pitch," Peralta said. "I've been working really hard for that. I'm happy I can help the team that way, too."
Wood could resume throwing next week
Reds starting pitcher Alex Wood, who has been on the injured list all season because of lower back spasms, could begin another throwing program next week. Wood has endured multiple setbacks since the last time he pitched in a Cactus League game on Feb. 25.
The most recent setback had the medical staff shut down Wood from all throwing for two weeks.
"We'll see how he does between now and Monday. If everything goes well, then he'll begin a throwing program early next week," Bell said. "If he continues to feel like he is this week, then he'll begin that program, as long as there [are] no setbacks."
Originally expected back in mid-April, Wood doesn't have a targeted return date to make his Reds season debut.
"I've tried not to look at that," Bell said. "Maybe once he starts his throwing program, there will be time to look at that. … I don't have a timetable, even a guess, really."
Mark Sheldon has covered the Reds for MLB.com since 2006, and previously covered the Twins from 2001-05. Follow him on Twitter @m_sheldon and Facebook.