Gennett entering final stages of rehab stint
Wood set to open rehab assignment with Triple-A Louisville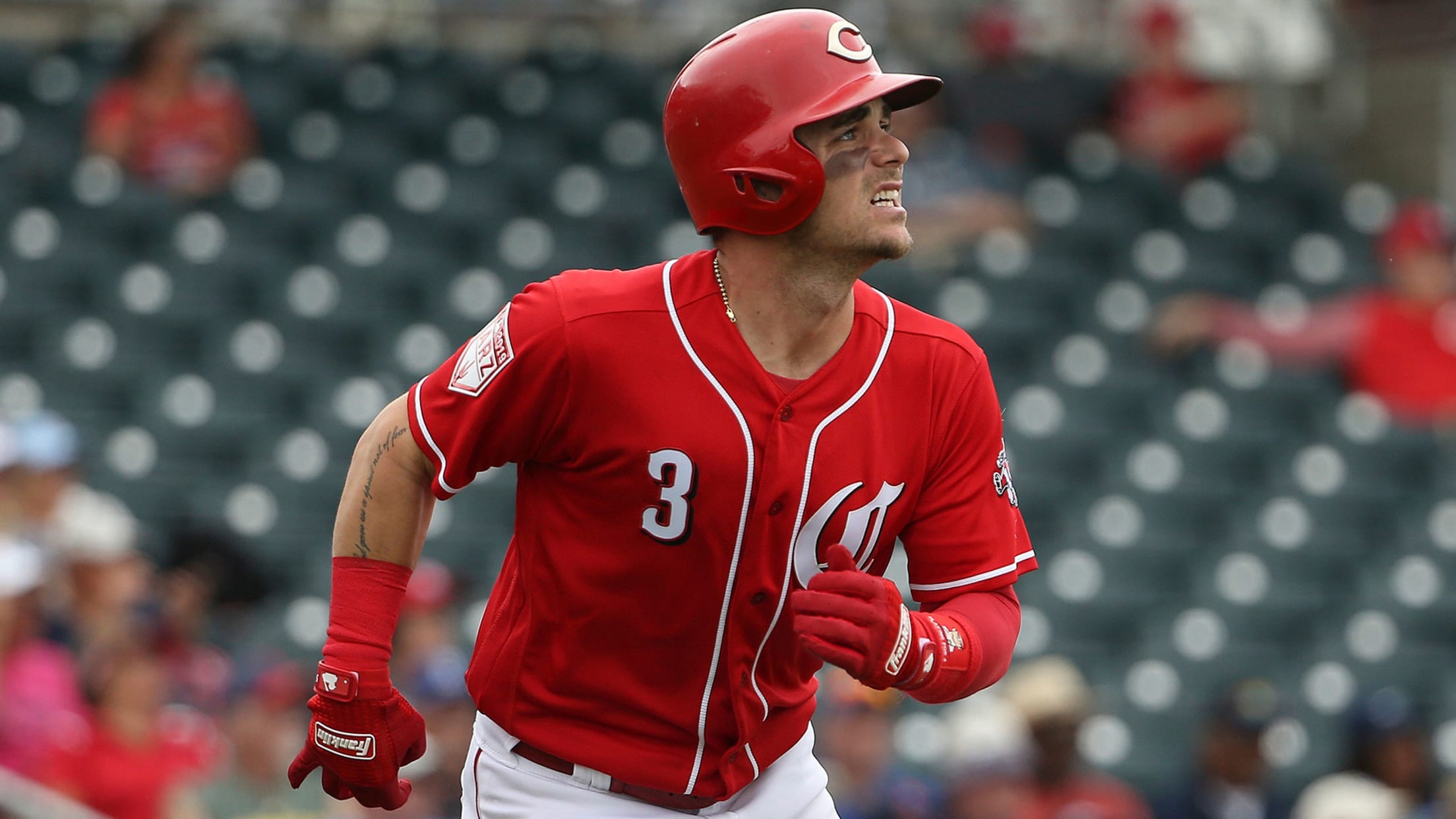 MILWAUKEE -- The long rehab process from a severe right groin strain is near the finish line for Reds second baseman Scooter Gennett. It's possible that Gennett could rejoin the team for the start of its next homestand Friday vs. the Cubs. Gennett's rehab assignment moved from Class A Advanced
MILWAUKEE -- The long rehab process from a severe right groin strain is near the finish line for Reds second baseman Scooter Gennett. It's possible that Gennett could rejoin the team for the start of its next homestand Friday vs. the Cubs.
Gennett's rehab assignment moved from Class A Advanced Daytona to Triple-A Louisville on Sunday as he traveled to meet that affiliate in Indianapolis. He is expected to play for Louisville on Monday and Tuesday.
"Nothing has been determined yet on the next step," Reds manager David Bell said. "From a health standpoint, he's good. Everything has checked out so far."
The Reds have been without Gennett since he was injured during a Spring Training game on March 22. He was 2-for-14 with a double and a walk in four games for Daytona.
Following a two-game road series vs. the Angels and an off-day Thursday, the Reds begin an important three-game series vs. the National League Central-leading Cubs beginning Friday at Great American Ball Park. Gennett hasn't been ruled out of the lineup.
"There's a chance, but at the same time, if he needs another day or two or three or four, we wouldn't want to rush it just to be able to get him for the first day [of the series]," Bell said.
Wood to begin rehab assignment
For at least one day, Gennett and left-handed pitcher Alex Wood will be together in Louisville. Wood, who has been out all season with lower back spasms, is scheduled to join Louisville on Tuesday to throw a bullpen session. On Thursday, his rehab assignment will begin with a start against Toledo.
On Saturday, Wood threw 42 pitches over two simulated innings of live batting practice against teammates Kyle Farmer and Phillip Ervin. There were no lingering effects Sunday.
"[I] felt good. Felt better the first day, just my stuff-wise, but my breaking ball was pretty good yesterday," Wood said. "Command got a little bit better. Overall, pretty good."
Facing hitters again has been a key test for Wood, who last pitched in a game on Feb. 25.
"Even though it was a live BP, it's similar to game action," he said. "You're facing hitters. Anytime you can do that, it's always much different than just throwing a bullpen. It was good to do an up-down, get out there and compete a little bit and kind of take the next step forward."
Rehab assignments for pitchers can last up to 30 days. It wasn't clear yet how many starts Wood would need to be ready.
"I think it will be somewhere in the middle," Bell said. "We can't rush it, and he hasn't had a Spring Training. We have to build him up. I know he's anxious and we're anxious to get him back, so we'll just have to find a happy medium of making sure he's ready, but getting him back as soon as we can."
Mark Sheldon has covered the Reds for MLB.com since 2006, and previously covered the Twins from 2001-05. Follow him on Twitter @m_sheldon and Facebook.