Gray takes no-hitter into seventh inning
Start marks righty's 31st straight allowing six hits or fewer
SEATTLE -- Instead of channeling frustration after losing a no-hitter in the seventh inning, then serving up a game-winning home run, Sonny Gray spoke of perspective and context. Armed with what he deemed one of his worst fastballs of the season Wednesday night, the All-Star righty persisted his way to
SEATTLE -- Instead of channeling frustration after losing a no-hitter in the seventh inning, then serving up a game-winning home run, Sonny Gray spoke of perspective and context.
Armed with what he deemed one of his worst fastballs of the season Wednesday night, the All-Star righty persisted his way to 18 outs without allowing a Mariners hit, while his pitch count climbed to 94 when he marched back to the mound in the seventh.
Gray then plunked the first batter of the inning and walked the second, which set up a fatigued matchup with touted Mariners prospect Kyle Lewis, who turned on a first-pitch two-seamer that hung in the middle of the plate. Lewis turned on it for a three-run shot that made the difference in the Reds' 5-3 loss at T-Mobile Park.
"Solo homers won't hurt you as much, but three-run homers, they'll tend to come back and hurt you in the end," Gray said. "He put a good swing on it and hit a homer. He's a very talented player, you can tell. You could feel the momentum swing after that. It was a big play."
The 383-foot homer handed Gray his seventh loss on a night that he was otherwise superb -- historic, even. Gray's start marked his 31st straight in which he allowed six hits or fewer, tying Hall of Famer Nolan Ryan's Major League record (excluding openers), according to Elias. In his past 14 outings dating back to June 28, Gray has posted a 1.75 ERA, which trails only the Cardinals' Jack Flaherty (1.19) in Major League Baseball in that span.
Gray knew he'd never go the distance to complete a no-hitter, given his pitch count, but Reds manager David Bell and pitching coach Derek Johnson opted to leave their best pitcher in since their offense had mustered just two runs of support, before losing for the 10th time in 14 games.
"I didn't think that was a realistic option," Gray said of completing a no-hitter. "Obviously, I'm not an idiot. I knew what was going on. But I wasn't thinking of that as a realistic option. I was just, more or less, just trying to get us through a game and win and put up another zero there. Even with first and third and one out, my mindset was attack and maybe give up one [hit]. But just attack. That was it. I wasn't thinking of [a no-hitter] as a realistic thing, no."
Gray also racked up nine strikeouts, and in the process, set a career high with 190 for the season. In a redemption tour of sorts, following a trying season with the Yankees and after battling through right elbow stiffness in Spring Training, Gray is marching his way to the finish of a career year.
The Reds point to more balance in his repertoire, more conviction with his pitches and more confidence with each passing start.
"He believes he's the best pitcher out there and that he can get every hitter out," Bell said. "Combine that with his stuff and experience, he's just continuing to get better. It'll be exciting to watch how far he can take it. ... As he gains confidence, as he gains experience, with the stuff that he has, it's exciting. We're glad to have him at least for a couple more years."
After serving up the homer, Gray gave up a single to Daniel Vogelbach before being pulled for Kevin Gausman, who gave up two more runs on two hits over the final 1 2/3 innings.
Both hits against Gray were against his fastball. He registered 11 of his 18 outs on breaking and offspeed pitches, which has been par for the course for the season. He's turning to his secondary pitches more, with those offerings accounting for more than half of his total usage, according to Statcast. And it's correlated into more outs.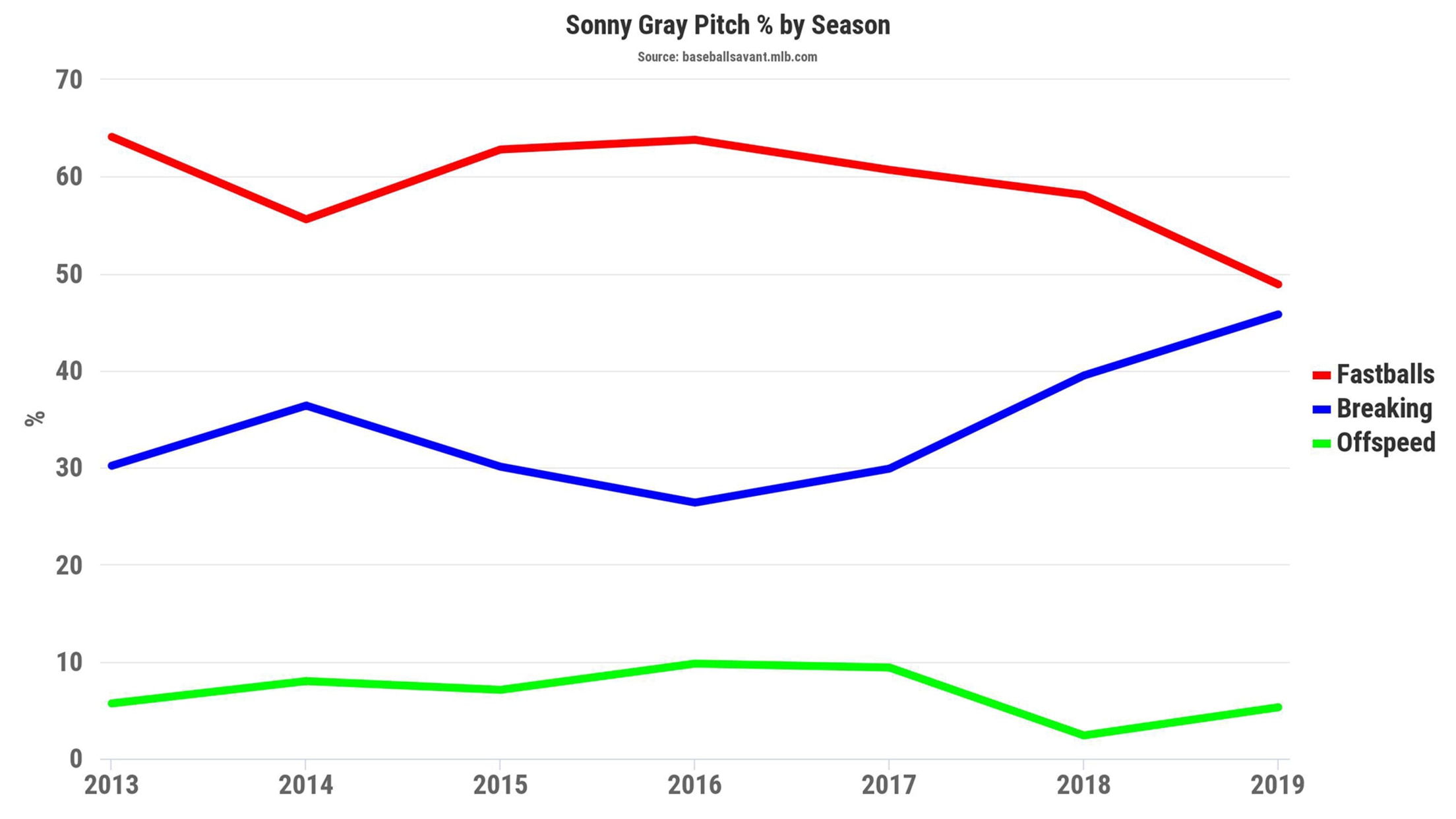 Lowest BA allowed on breaking/offspeed pitches entering Wednesday_
Min. 100 AB ending on breaking/offspeed (151 SP_)
1) Dinelson Lamet (SD): .117
2) Sonny Gray (CIN): .132
3) Justin Verlander (HOU): .133
4) Luis Castillo (CIN): .136
5) Elieser Hernandez (MIA): .138
Breaking: Curveballs, sliders, knuckleballs
Offspeed: Changeups, splitters
"He has the great breaking ball," Bell said. "I mean, it's a great weapon. But he threw some great fastballs. That sets it up. Those two pitches work off each other."
Gray has always possessed above average spin, and as such, been able to manipulate pitches into exhibiting different behaviors. This season, he's seeing the most concrete results.