Bauer shows positive signs in 8-strikeout effort
SEATTLE -- It was the seventh slider that Amir Garrett threw that he wanted back, and it spoiled a night in which Trevor Bauer was in line for his first win since Aug. 9 and rookie Brian O'Grady was shaping up to be the comeback hero. Garrett's breaking ball hung
SEATTLE -- It was the seventh slider that Amir Garrett threw that he wanted back, and it spoiled a night in which Trevor Bauer was in line for his first win since Aug. 9 and rookie Brian O'Grady was shaping up to be the comeback hero.
Garrett's breaking ball hung middle-middle in a full count, and Kyle Seager dispensed it 361 feet into the right-field bleachers to hand the Reds a tough-luck, 4-3 loss Tuesday at T-Mobile Park.
The two-run shot to Seager was just the second that Garrett had given up to a lefty all season, and it was the third allowed by Cincinnati after Bauer served up solo shots to right fielder Kyle Lewis and shortstop Dylan Moore, extending his career high to 32 this season.
Bauer's homer-to-flyball ratio entering Wednesday had ballooned to 15.1 percent from 6.2 from last season, but the homers on Tuesday weren't necessarily indicative of poor location, he said, and there were moments that signaled he's progressing in a positive direction after a trying first month with the Reds.
The two homers were among just three hits that he gave up, and he said his confidence in his fastball was as high as it's been in an up-and-down season.
"At one point, I had given up two hits and both were homers. That's just the nature of the game today," Bauer said. "I didn't think either of them were bad pitches, honestly. It's just on a night where I have probably my best fastball all year and really good command of it, two of them leave the yard."
Bauer's 116 pitches were the most that he's thrown in eight mostly trying starts since being acquired by the Reds on the July 31 Trade Deadline, and his pitch mix was reflective of the most prominent reasons that Cincinnati traded for 2018 All-Star. Bauer generated eight punchouts on Tuesday from five different offerings, while generating 19 swings and misses -- his most since that lone win last month.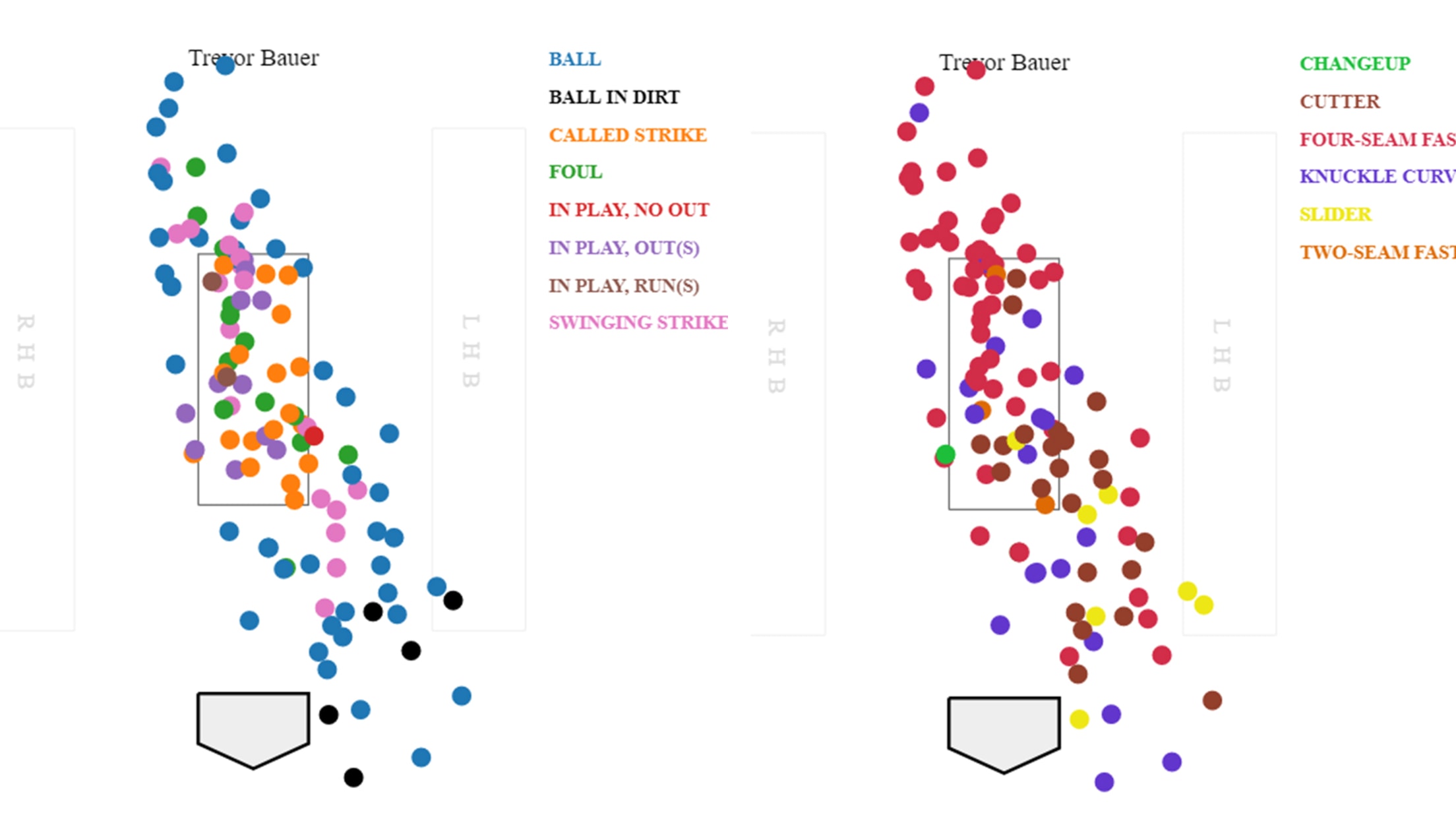 "The fastball was really solid," Reds manager David Bell said. "He had his other pitches working too, but really, from my standpoint, it looked like his fastball was a good pitch for him tonight. I know he's been looking forward to having a chance to go deep into games. … It was really a big day for Trevor. A really good start."
But Bauer also had to overcome a trifecta of three-ball counts in the first inning -- and eight total -- that led to three walks, including to his last batter, which precluded him from finishing the seventh inning. Including his 24 starts with Cleveland, Bauer's 9.5 percent walk rate is his highest since he gave up an American League-worst 79 in 2015.
The root of the issue? "Waste pitches," he said, which have become increasingly more prevalent since joining the Reds. Since he came over, entering Wednesday, the righty was pitching behind in the count 29.8 percent of the time, which was the 17th-highest rate among 109 qualified pitchers.
"I thought my stuff was really good overall," Bauer said. "I was fortunate that I did miss with pitches and they mishit them. And when I executed pitches, [the Mariners] for the most part didn't hit them or were out. That hasn't really been the case for me recently. Hopefully it's an indication that some of my luck the last month and a half will start changing."
The club liked what it saw on Wednesday as a step in the right direction. Bauer's offense backed him for just three runs of support against a Seattle pitching staff that had surrendered 52 over a six-game losing streak that it snapped.
That also left the bullpen with a narrow safety net. Two-way reliever Michael Lorenzen, pitching on three days' rest, generated an inning-ending double play to get out of Bauer's jam in the seventh, but he also walked his final batter, and as such, was credited with the runner on first that scored on Seager's homer.
Garrett was then brought on for a favorable lefty-lefty matchup -- opposing hitters had just two extra-base hits on him in such situations -- but his fateful seventh offering bled back over the plate for Seager after he worked a 1-2 count full.
"He looked fresh. He was throwing hard, and then he lost that last hitter," Bell said of Garrett. "And their hitter, Seager, he's a guy that you hope you don't let him beat you, and he did tonight. ... We had Amir ready for him. We thought that was our best matchup, best opportunity, and tonight, Seager won it."