Bell: Issue with Mahle 'absolutely over'
Manager says he understands pitcher's frustration over quick hook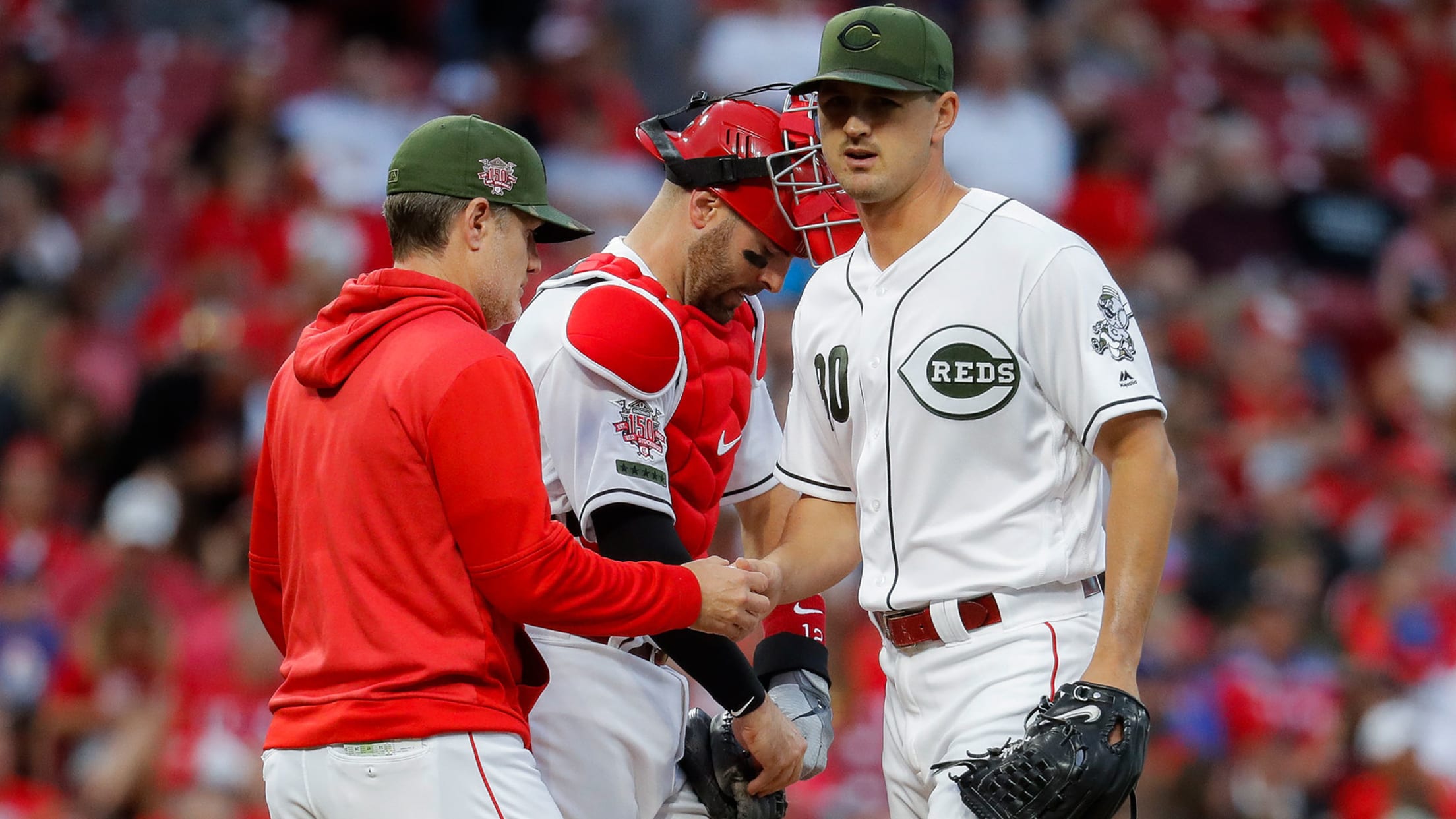 CINCINNATI -- Following the Reds' 7-1 loss to the Rangers on Friday night, starting pitcher Tyler Mahle voiced that he was none too pleased with manager David Bell for taking him out after 4 1/3 innings and 96 pitches. After hearing about the comments from his starter, Bell handled the
CINCINNATI -- Following the Reds' 7-1 loss to the Rangers on Friday night, starting pitcher Tyler Mahle voiced that he was none too pleased with manager David Bell for taking him out after 4 1/3 innings and 96 pitches.
After hearing about the comments from his starter, Bell handled the issue with Mahle.
"It's absolutely over," Bell said on Saturday. "We had a brief conversation. We're going to talk again later today. I expect these things to happen just because of what it takes to play this game. Tyler Mahle is a great teammate. He's super competitive. He's tough. He's a big part of our staff. I don't want to change Tyler one bit.
"At the same time, I do want to do my part to talk through things and listen. For that, I'm actually grateful that it happened, to have that opportunity and probably extend that opportunity later today. As far as I'm concerned, I'm glad it happened. It's absolutely in the past, but something we may reference in the future to continue to learn on both sides."
The Reds were trailing, 2-0, in the fifth inning with two on when Mahle got Elvis Andrus to pop out to first base for the first out. Bell emerged from the dugout and replaced Mahle with lefty Wandy Peralta, who struck out his first batter, walked his second and then allowed Rougned Odor's grand slam.
"I think I've gotten yanked out of some games where I'm having a really good game, or just a decent game, and haven't really got the chance to battle through the game, battle through six innings or whatever," was some of what Mahle said. "It's getting pretty ridiculous at this point."
In his previous start at Philadelphia on June 7, Mahle was lifted for a pinch-hitter in the sixth inning when he had 73 pitches and Cincinnati was behind, 3-1. In the past, rotation mate Tanner Roark, who started Saturday's game against the Rangers, has also voiced frustration about early exits.
"There's such a high level of intensity and emotion. Sometimes you're caught at a moment that's high stress," Bell said.
"I want guys to be competitive. I don't want them to come out of games. It also creates opportunity to have a conversation, and we've already done that and we're going to continue to do that later today. All in all, I see it as a positive. It takes everything you have to be good at this game. It doesn't surprise me when things like that are said."
Peralta to IL, Ervin recalled
Peralta was placed on the 10-day injured list Saturday with a right hip flexor strain. The Reds recalled outfielder Phillip Ervin from Triple-A Louisville.
After the grand slam, Peralta got the third out and returned for the top of the sixth. He gave up a single and a walk.
"It happened at some point while he was pitching last night," Bell said. "When I went out to make the double switch, on my way to the umpire, I saw [Eugenio Suarez] kind of motion toward him. I know on that last pitch he threw, it must have gotten to the point where it was affecting him. At what point during his first or second inning, I don't know when he started feeling it. But that was the first I had heard of it on that last pitch."
This marks Ervin's fourth call-up this season. Since returning to Louisville on May 27, he batted .396 with a 1.249 OPS, five home runs and 16 RBIs. He won the International League's Player of the Week Award during his first week back -- when he slugged all five homers.
"I ran into a couple of balls down there," Ervin said. "When I get sent down, it's like a little speed bump. I'll get over it and keep it moving."
Pitch Hit & Run winners
Major League Baseball and the Reds hosted the 2019 edition of the MLB Pitch Hit & Run competition at Great American Ball Park and honored several kids who won their divisions.
Pitch Hit & Run is MLB's official youth skills competition. The top 12 baseball and top 12 softball qualifiers from Ohio, Kentucky and Indiana competed with hopes of advancing to the National Finals during 2019 MLB All-Star Week, July 5-9 in Cleveland.
Here are the winners:
• The 7- and 8-year-old Softball Division: Liana Hartman from Evansville, Ind.
• The 7- and 8-year-old Baseball Division: Andrew Elam III from Georgetown, Ky.
• The 9- and 10-year-old Softball Division: Kennedy Rowlett from Madison, Ind.
• The 9- and 10-year-old Baseball Division: Max Brunkel from Hebron, Ky.
• The 11- and 12-year-old Softball Division: Destiny Gaines from Shelburn, Ind.
• The 11- and 12-year-old Baseball Division: Trey Schabel from Speedway, Ind.
• The 13- and 14-year-old Softball Division: Emma Bolding from Greenfield, Ind.
• The 13- and 14-year-old Baseball Division: Justin Hermann from Cincinnati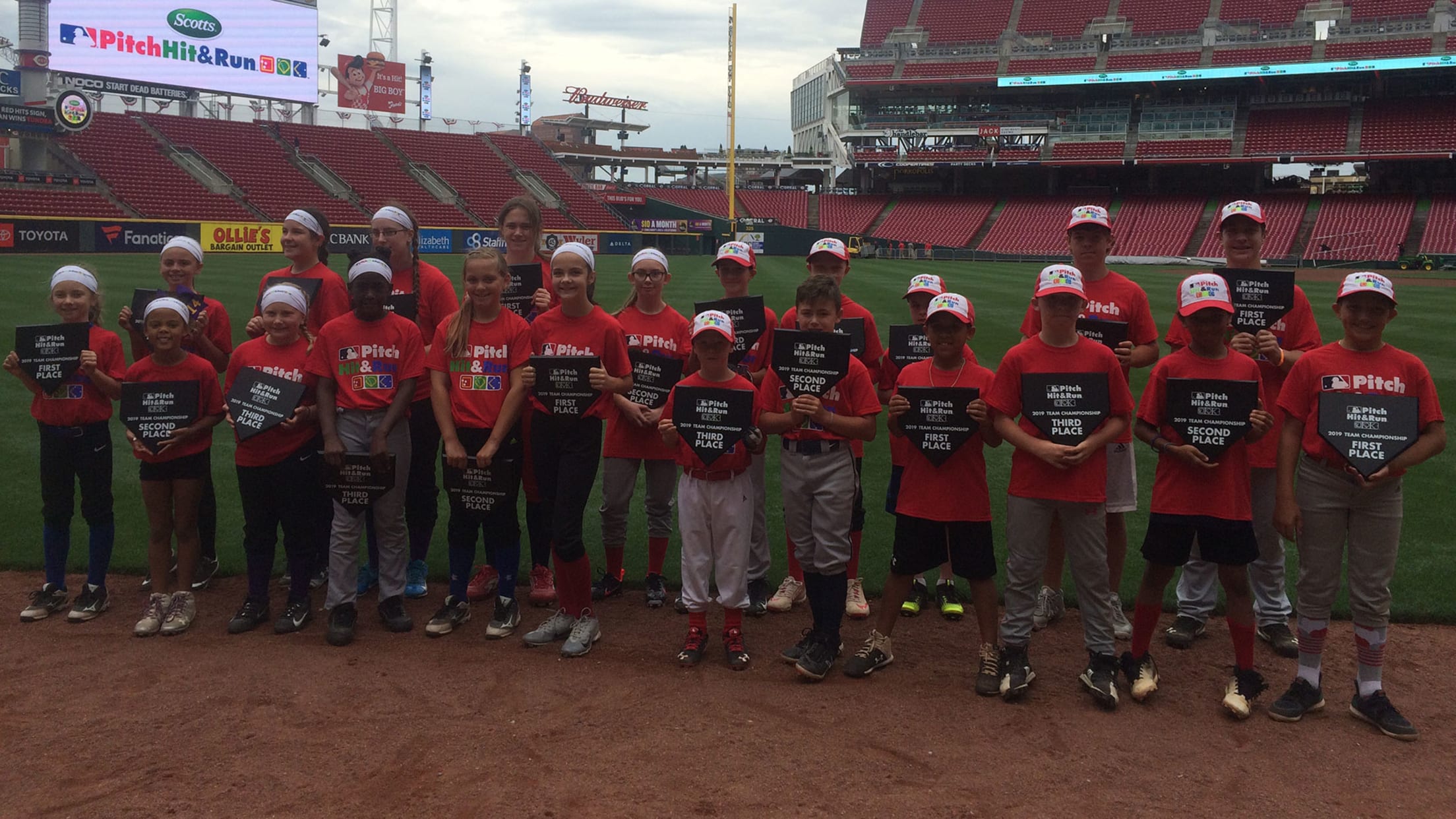 Mark Sheldon has covered the Reds for MLB.com since 2006, and previously covered the Twins from 2001-05. Follow him on Twitter @m_sheldon and Facebook.