Projecting Sox's 2020 Opening Day roster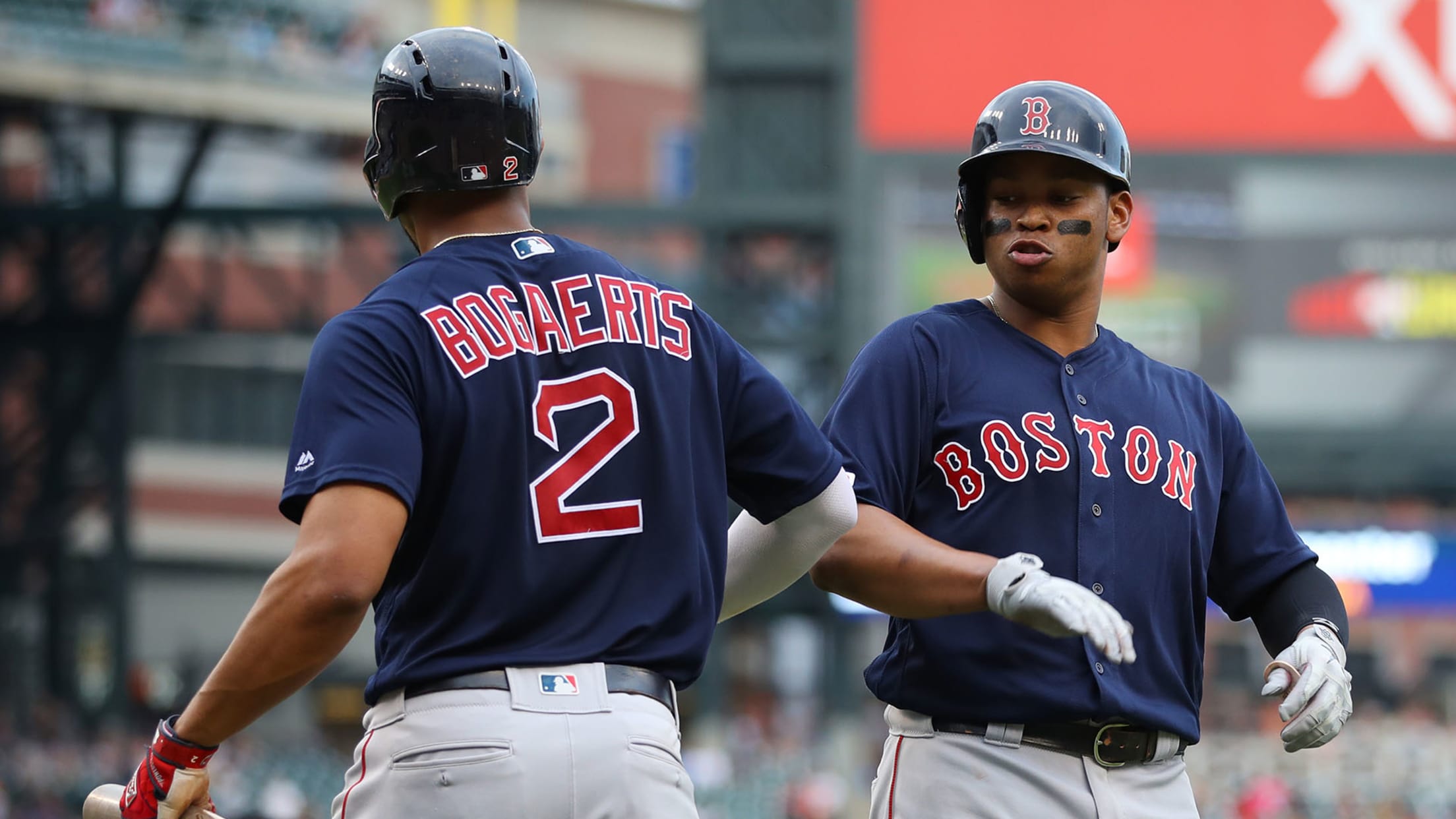 FORT MYERS, Fla. -- In less than a month, the Red Sox will be in Toronto ready to kick off their 2020 season.
FORT MYERS, Fla. -- In less than a month, the Red Sox will be in Toronto ready to kick off their 2020 season.
Until then, the battle will be waged for roster spots as the team tries to rebound from a disappointing 84-win season.
• Forecasting all 30 teams: Lineups, rotations, closers
Here's an attempt at imagining what the 26-man roster will look like on Opening Day against the Blue Jays.
Catcher (2): Christian Vázquez, Kevin Plawecki
There is no question who owns the No. 1 spot. That would be Vázquez, who had a breakout season at the plate last year while improving his rapport with the pitching staff and displaying his cannon arm once again behind the plate. Plawecki, who was signed as a free agent in the offseason after the Indians non-tendered him, has the inside track on the backup spot.
But a new wrinkle has been added thanks to the Sox agreeing to terms on a Minor League deal with veteran Jonathan Lucroy that includes an invite to Spring Training. The right-handed hitter belted 26 homers in 2016, but he hasn't been nearly the same offensive player in the last three years. If he can prove his bat still has life in it, defensive specialist Plawecki will have a battle on his hands. With a 26-player roster, there's also a chance Boston could carry all three catchers.
First base (2): Mitch Moreland, Michael Chavis
Look for gritty veteran Moreland to get the bulk of starts against right-handers, especially early in the season. But Chavis will have a chance to earn himself more playing time if he hits like he did in the early weeks of his debut last season. Chavis will also bounce over to second base at times, and there's even talk of him learning the outfield at some point in camp.
Second base (1): José Peraza
The Red Sox signed the 25-year-old with the idea he could provide stability at second base -- a position that has been a revolving door for the last couple of years thanks to Dustin Pedroia's chronic left knee woes. If Peraza can hit like he did two years ago, the Sox have themselves a bargain at one year and $3 million. Peraza's ability to play shortstop will give interim manager Ron Roenicke the chance to work in some days off for Xander Bogaerts. Chavis can slide over to second as well.
Shortstop (1): Xander Bogaerts
With Mookie Betts gone, the case can be made that Bogaerts is now the best all-around player on the Red Sox. If 2018 seemed like his breakout season, Bogaerts proved that wrong by having an even better '19. He is also an emerging leader in the clubhouse. Roenicke will try not to run him into the ground, and Peraza and Jonathan Arauz can spell him at times.
Third base (1): Rafael Devers
Much like shortstop, the Red Sox don't anticipate any competition at this spot for many years. Devers, at the age of 23, is already a monster at the plate. If he can gain a little more plate discipline, he will truly be a devastating force. Chavis and Arauz can back him up on those rare days he is not in the lineup. But if Dalbec can make the team, he would be the top choice to spot Devers.
Utility (2): Jonathan Arauz, Tzu-Wei Lin
It was unusual for the Red Sox to take a pick in the Rule 5 Draft, which shows you how much they like Arauz. The athletic switch-hitter made 281 starts at short, 86 at second and 32 at third in his Minor League career with the Astros. It will be interesting to see if Boston adds outfield to his resume as well. With Lin out of options, look for the versatile left-handed hitter from Taiwan to win the final spot on the roster. In addition to moving around the infield, Lin can also play center.
Outfield (3): Andrew Benintendi, Jackie Bradley Jr., Kevin Pillar
It is strange to type a starting Boston outfield trio that doesn't include Mookie Betts. At least for the start of the season, the trio won't include the main acquisition piece in that trade: Alex Verdugo, who is recovering from a stress fracture in his back. Fortunately, the Red Sox signed a proven replacement in Pillar. J.D. Martinez will play the outfield at times, but the Red Sox would prefer to limit that to keep him as healthy as possible. This is where it could be beneficial for Chavis to learn the ropes in the outfield -- so he can spot the starters when necessary.
Designated hitter (1): J.D. Martinez
The Red Sox are a rare team these days that has a set DH -- and one who mashes. Expect Martinez to once again put up monster at-bats in this spot for Boston.
Starting rotation (4): Eduardo Rodriguez, Nathan Eovaldi, Martin Pérez, Ryan Weber
The Red Sox will be without Sale as the lefty opens the season on the 15-day injured list while working back to full strength after missing the start of the camp with the flu and pneumonia. Sale should return around April 7. There's a chance the Sox go with two openers until Sale gets back. If not, Weber might be the leading candidate to win a starting spot. He doesn't wow anyone on the radar gun, but he knows how to pitch and Boston thinks he can make a leap with some minor adjustments.
Bullpen (9): Brandon Workman, Matt Barnes, Ryan Brasier, Heath Hembree, Darwinzon Hernandez, Josh Taylor, Marcus Walden, Chris Mazza, Austin Brice
A nine-man bullpen? Yes, given the possibility of an opener. Unlike this time a year ago, the Sox have a set closer in Workman, who became a dominant reliever in the second half of 2019. Barnes was over-used early last season -- especially in high-leverage situations -- and it affected his consistency. Look for the righty to return to being a consistent force in the eighth inning.
Taylor was the most underrated reliever the Red Sox had last year as a rookie, and he could figure into an opener situation. The same goes with Hernandez, who has an electric arm and could still revert to becoming a starter down the line. Weber doesn't wow anyone on the radar gun, but he knows how to pitch and the Sox think he can make a leap with some minor adjustments. A return to the 2018 version of Brasier would be huge. Brice was one of the many depth pitchers Bloom acquired in the offseason, and he put up solid numbers for the Marlins (3.43 ERA) in 43 appearances last season. The final two to three spots could be wide open. Josh Osich, Brian Johnson, Colten Brewer, Hector Velazquez, Jeff Springs and Matt Hall are others who could pitch themselves on to the team.