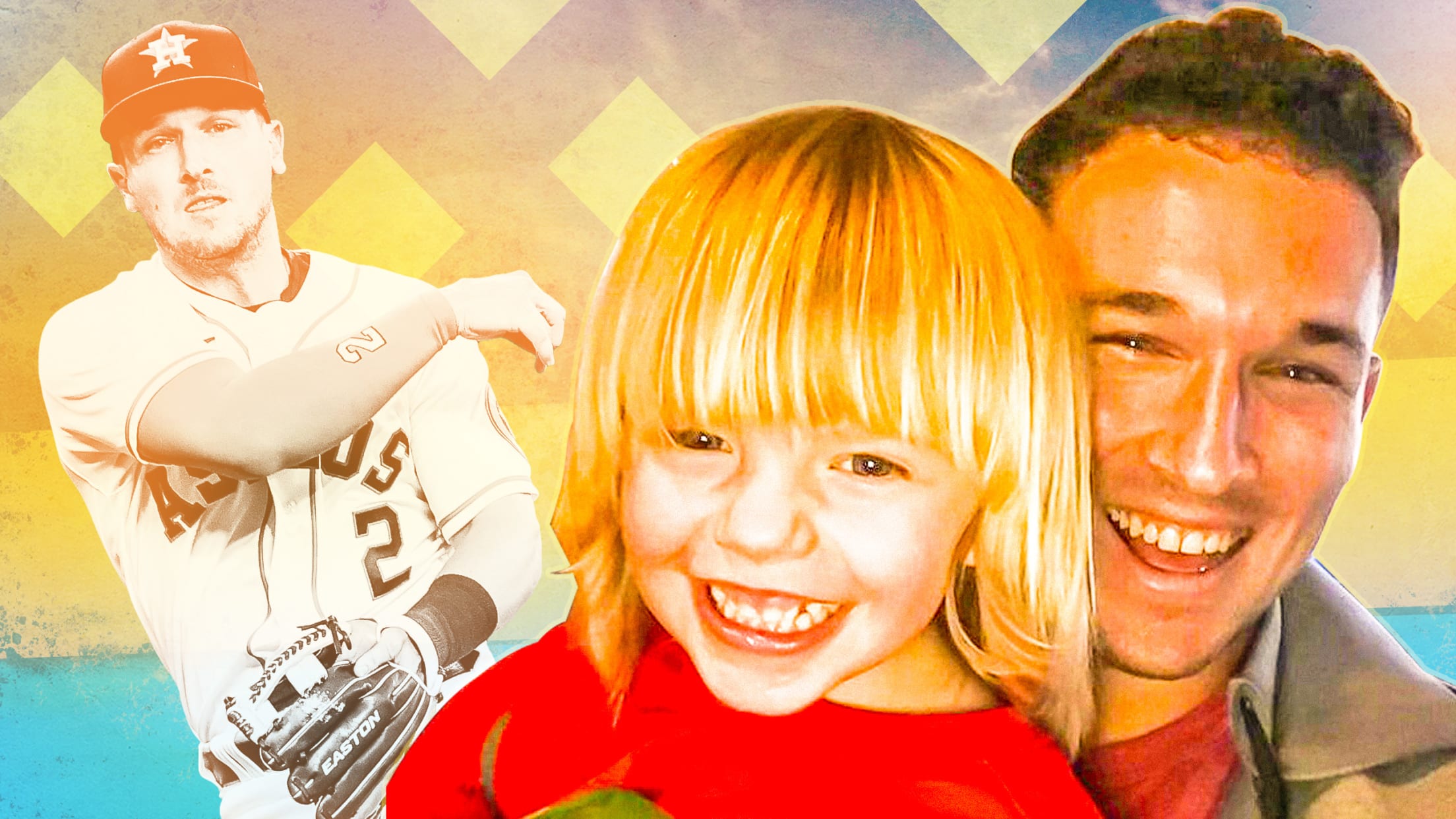 Scroll
Alex Bregman wants to help 
Nothing else matters to 8-year-old Brady Columbus when it's Alex Bregman's turn to bat. The toys he's playing with can wait. The puzzles can be put together later. The world comes to a stop when Bregman steps into the batter's box, which is when Brady darts in front of the television and plops down with his father on the couch to watch.
Bregman, the Astros' 27-year-old star third baseman, could hit a home run or strike out and Brady is going to cheer for him just the same. The results of the at-bat are of no consequence to him, though his father certainly has a bit more of a vested interest (more on that later). But once Bregman disappears from the TV screen, so does Brady.
"He will come with me every time I tell him Alex is up and cheer," said Brady's father, Jason Columbus. "And then, once Alex isn't up, he's kind of like, 'Alright, I'm going back to building something or learning something,' but every time Alex comes up to bat, he'll watch Alex bat and he'll sit there and cheer. That's the cool thing."
Brady is the middle of Jason and Tish Columbus' three boys and the godson to Bregman. The couple also has a 21-year-old son, Bailey, and 5-year-old son, Bryant, whose middle name – Alexander – is a tribute to Bregman. The Columbus family is so close to Alex they consider him family, and Alex considers Brady an inspiration. So much so he wrote "Thank you, Brady" on the patch he wore on the shoulder of his uniform during Players' Weekend in 2017-18.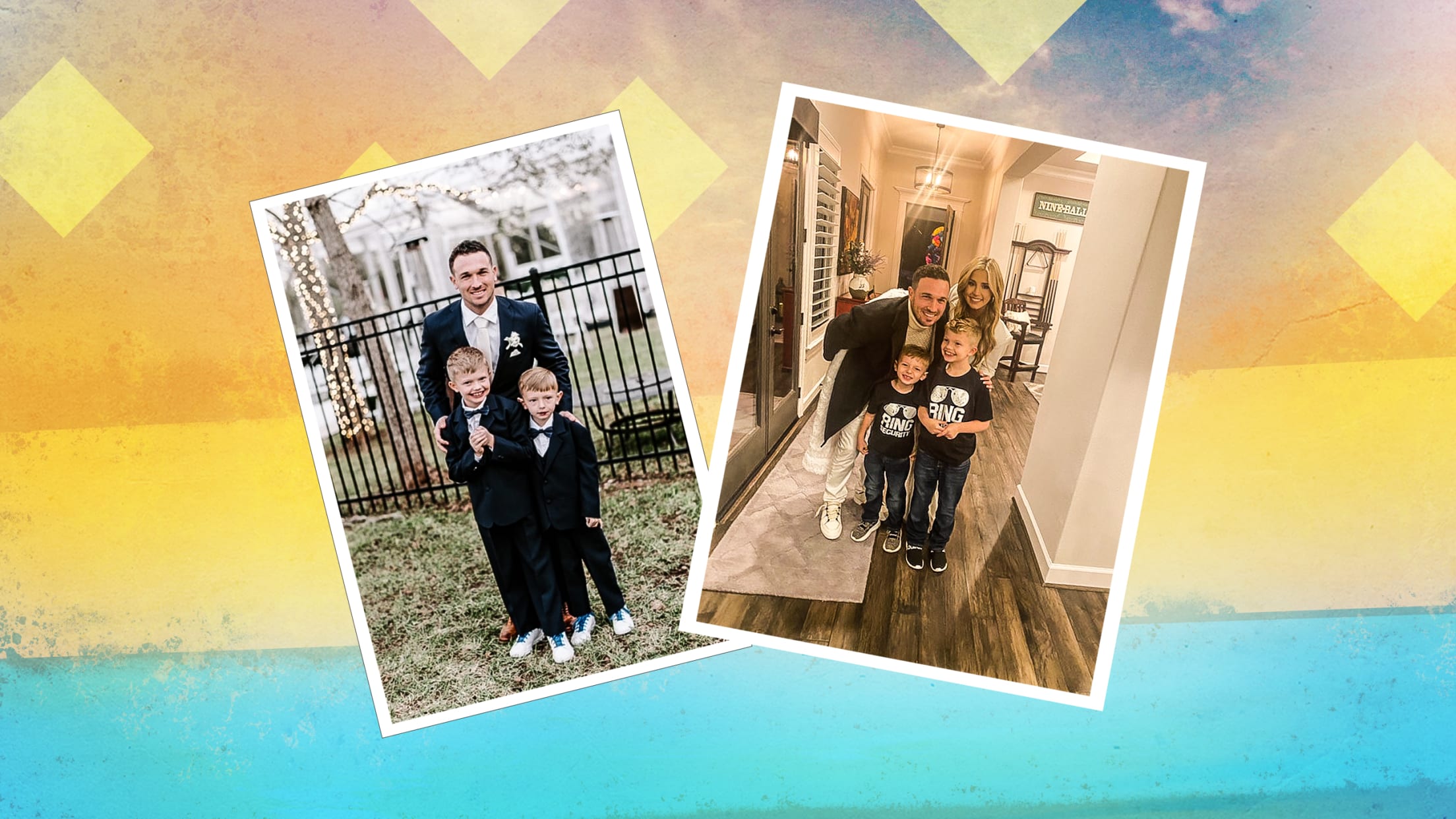 Brady was born when Bregman was a freshman at LSU, but it wasn't until he was 3 years old that Brady was diagnosed with autism. That was after Jason and Tish realized something wasn't right. They were having trouble getting Brady's attention and he wasn't talking as early as other kids his age.
"Everybody just kind of kept saying, 'Oh, you know, my son didn't talk 'til he's 4 and he's like a genius now,'" Jason said. "But my wife just said, 'I don't know; there's just something not right.' And so she just was bound and determined to figure out what was going on."
An ADOS test (Autism Diagnostic Observation Schedule) revealed Brady was on the spectrum. In 2020, the CDC reported that approximately 1 in 54 children in the U.S. is diagnosed with an autism spectrum disorder, and boys are four times more likely to be diagnosed with autism than girls. April is autism awareness month.
I know when you're around Brady, you can't be upset for too long. He'll put a smile on your face in no time and make you realize that no matter how tough this game gets, it's still a game. There are bigger things in life that are way more challenging.

Jason Columbus
Brady didn't start talking until he was about 5 years old, but these days he's a fully functioning second grader with a passion for learning.
"He's super smart," Bregman said. "He knows so many things that just honestly amazes me. He knows all the different states and the capitals, dinosaurs and the solar system."
And now he's working on learning the human body – the organs and vascular system.
"He'll tell you anything and everything," Jason said.
"He's a little chatterbox," Bregman said.
When Brady makes a dinosaur or a house with his Legos, he'll proudly ask to share his creation with Bregman via FaceTime. And if Bregman has a bad game, he'll FaceTime with Brady that night and soon feels better.
"I know when you're around Brady, you can't be upset for too long," Jason said. "He'll put a smile on your face in no time and make you realize that no matter how tough this game gets, it's still a game. There are bigger things in life that are way more challenging."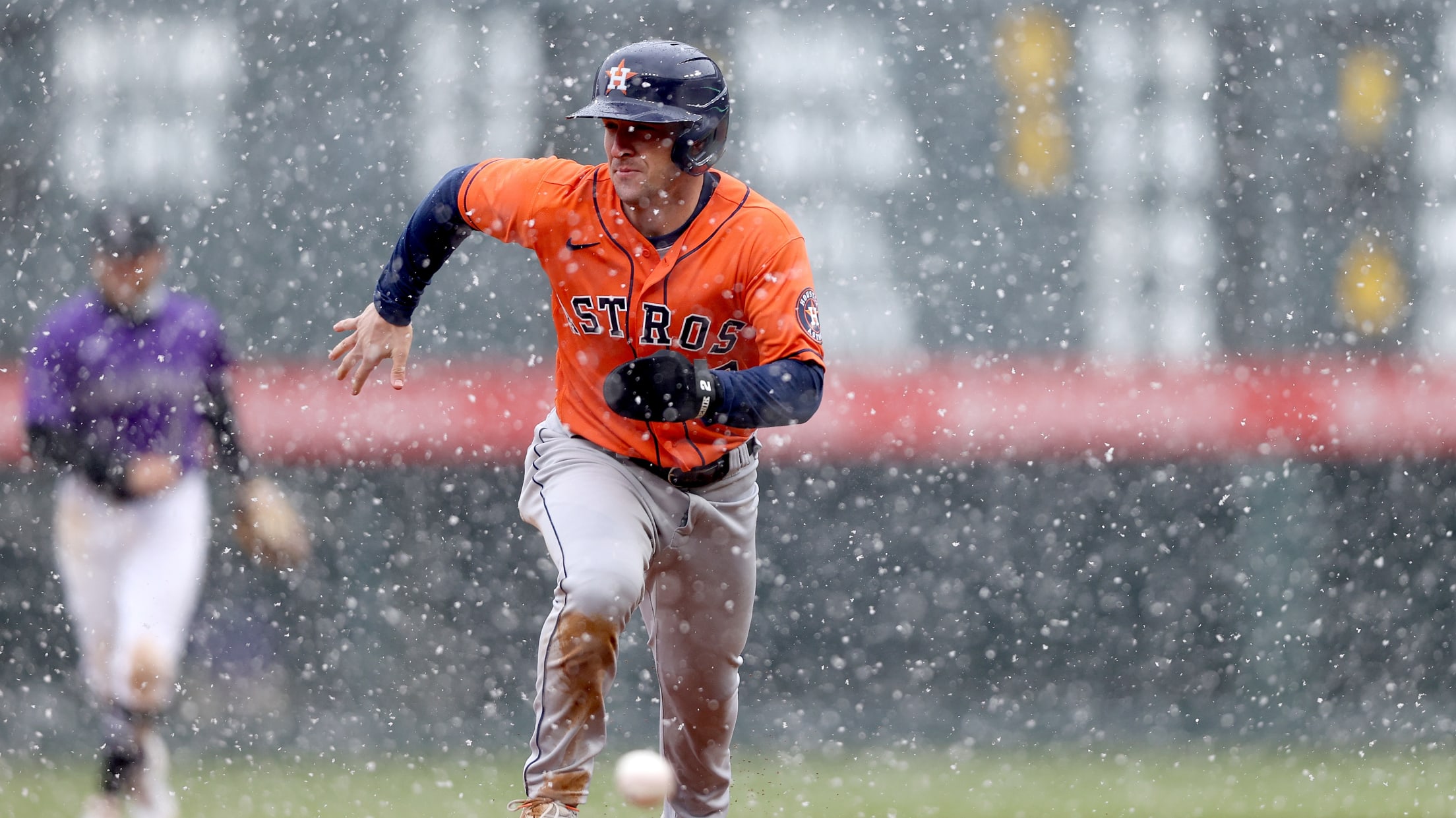 Raising money for technology to help kids with autism
The strides Brady made learning to communicate with the help of an iPad while in school were eye-opening to his parents. The Proloquo2Go app provides images and symbols to depict common emotions, requests and responses and users can manually enter text to be read aloud. It's an invaluable tool for non-verbal kids with autism like Brady was.
There were only two iPads in Brady's pre-K class to be shared among 12 kids, which gave Bregman and Columbus an idea. Why not raise enough money to be able to deliver iPads to classrooms in Albuquerque – the hometown of Bregman and Columbus – and the Houston area? They organized golf outings, raffles and baseball tournaments to raise money.
"This year, I think we put 200 iPads in schools and programs around Houston," said Bregman, who has created Bregman Cares charity to help several local causes.
Among the schools to get iPads was Griffin Elementary in Katy, Texas, which received 17 last fall. The devices, which went into the autism awareness program, are used primarily for social and emotional skills – the fundamental skills children need for life. Kids with autism often struggle with reading comprehension and writing and the iPads can help them overcome those challenges.
The COVID-19 pandemic has been especially difficult on kids with autism, who rely on personal interactions and structure.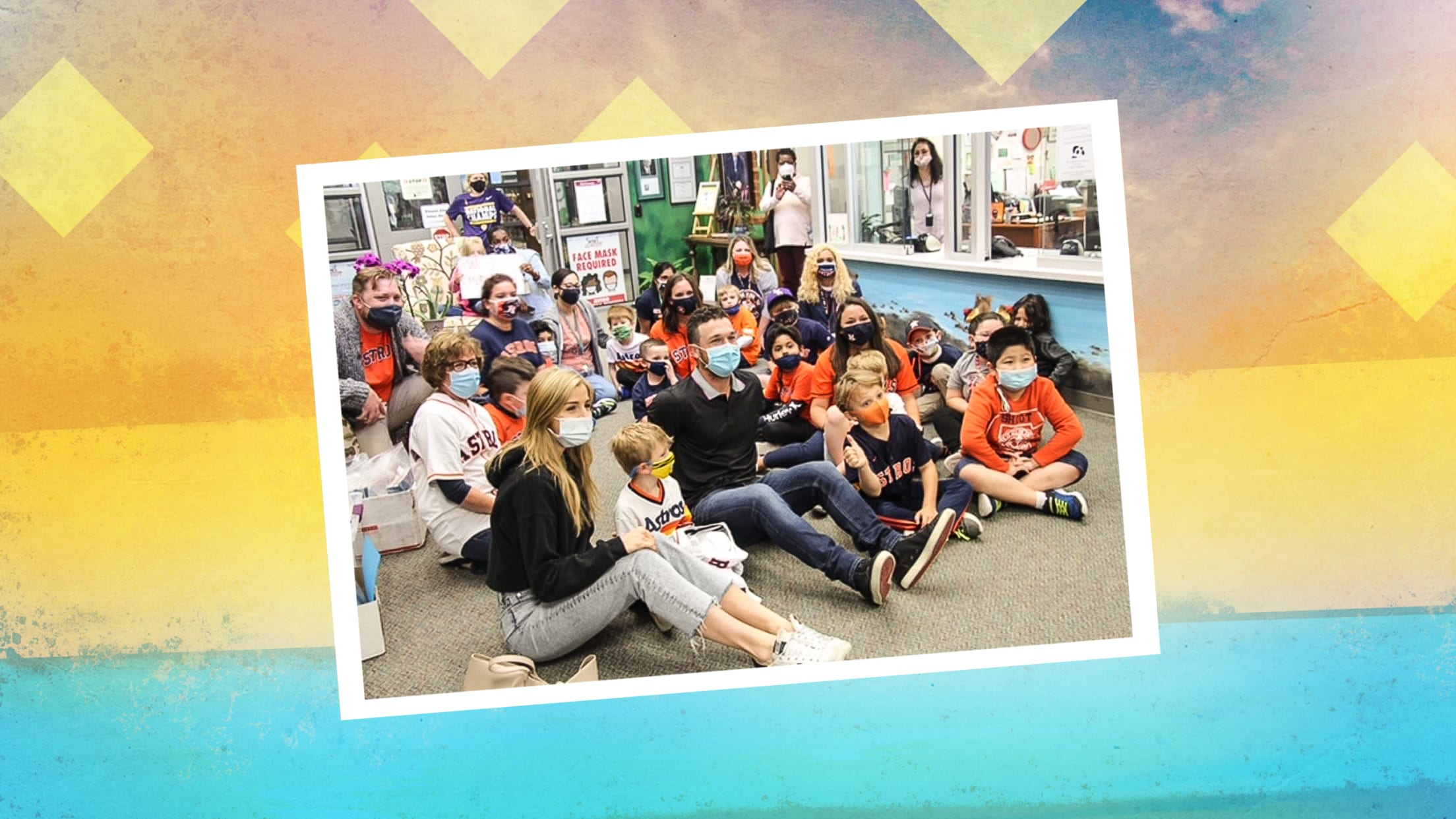 "It definitely helped with our tech-to-student ratio and we thank the Bregman foundation so much for the dedication and kindness to improving education and the lives of the kids we love the most," said Kimberly Park, an autism support and intervention program teacher at Griffin.
Park said the students were thrilled to meet Bregman when he dropped off the iPads late last year, but they were just as excited about the brightly colored cases and straps that came with them. Some of the devices also went to students learning from home.
"It's been a huge blessing to our kids and our classroom," she said.
In February, Bregman and Columbus testified before the Texas Senate's finance committee via Zoom to advocate for a fair rate for ABA therapy (applied behavior analysis) for families on Medicaid, like Columbus once was. They're hoping to open a free assessment center for parents to take their children to get the ADOS test to help with quicker diagnosis.
Bregman is also trying to open a sensory room at Minute Maid Park, which will allow families who have children with autism and other disabilities to have a safe place to go during games. The Indians, Pirates, White Sox, A's and Reds are among the teams that have sensory rooms, which are equipped with noise-cancelling headphones, fidget tools and verbal cue cards.
The bright lights and sudden noise bursts of a ballpark can trigger adverse reactions in kids with autism. That's why Brady has yet to see Bregman play in person.
Hopefully one day we'll be able to open up a school for kids with autism in Houston and be able to make the biggest impact we can.

Alex Bregman
"Not having kind of a safe haven to take him into I think scares a lot of parents," Columbus said. "It scares me because nobody wants their kid just rolling around on the ground screaming. They'll bang their head on something because they're just overwhelmed. They can't control it."
Columbus said the goal this year is to get Brady to Minute Maid Park through ABA therapy, which reduces behaviors that are harmful or affect learning.
"That's one of his goals is to be able to handle and work through those situations so that we can get him to go watch his godfather play," he said.
Meanwhile, in Albuquerque, Bregman, Columbus and mutual friend John Santoro raised money to buy iPad robots, which kids who are homebound – often with terminal illnesses – can utilize to control in their classroom. They eventually purchased three iPad robots for $7,000 each and placed them in Albuquerque public schools in autism programs.
"They can communicate face to face with the teachers and things like that," said Santoro, who runs an IT company in Albuquerque. "Pretty much, they control the robot and the robot moves around the classroom to get the look and feel like they're in the classroom."
Bregman has even bigger plans.
"Hopefully one day we'll be able to open up a school for kids with autism in Houston and be able to make the biggest impact we can," he said.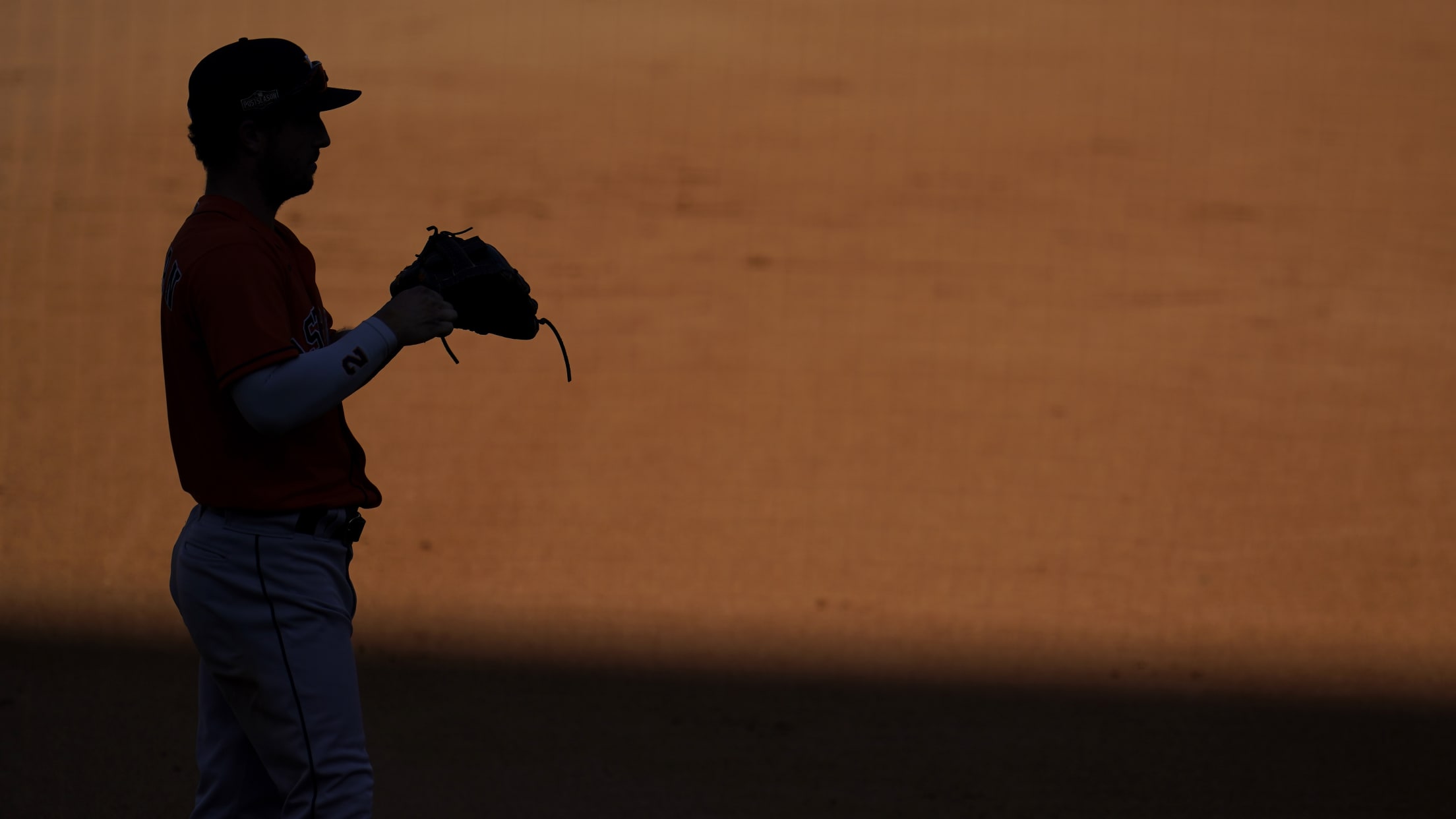 'Everybody kept telling me about this kid'
Jason Columbus had just moved to Albuquerque when 13-year-old Alex Bregman came into the Albuquerque Baseball Academy for a hitting lesson. Columbus had heard about Bregman's abilities through the Albuquerque baseball circles and was about to find out firsthand what the hotshot teen was all about.
"Everybody kept telling me about this kid," he said. "They'd say, 'Man, he's undersized, but he can just play. He's got it.'"
Bregman was set to face a pitcher who throws sidearm for the first time and wanted a game plan to hit off him. Columbus said it's rare for a player that young to have that kind of attention to detail, and he started to buy into the Bregman hype. When Bregman homered off the sidearm pitcher the next day, a relationship was born.
"He's legit," Bregman said. "He's the man."
Columbus, 41, played baseball at Alamogordo High School in New Mexico and New Mexico Junior College for two seasons. From there, he played one year at LSU and was signed as a free agent by the Giants. Columbus, a 6-foot-6 first baseman, played four seasons in the Minor Leagues before hanging up the spikes.
After a brief stint coaching junior college baseball in Maryland, Columbus found his way back to New Mexico to be closer to his family and took a job at the Albuquerque Baseball Academy as an instructor. When Bregman was at LSU, Columbus would fly to Baton Rouge and help Bregman when he was struggling. And when Bregman was called up by the Astros to the big leagues in 2016, he hired Columbus to be his full-time hitting coach.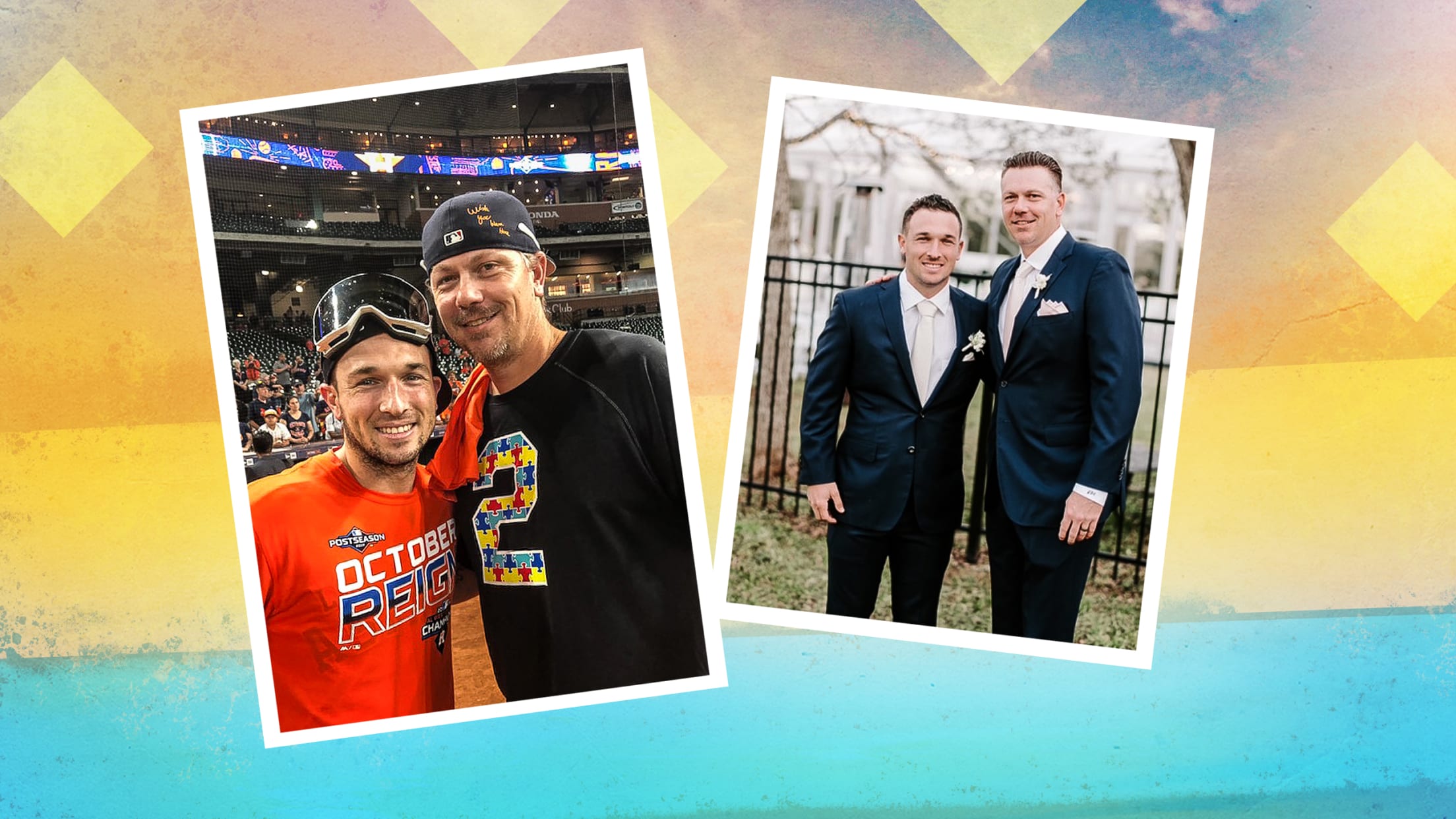 "I would fly in for every home series and be at every game and stay with him," he said. "We'd go over everything right after the game to get ready for the next game."
In 2019, Jason and Tish decided to move to Houston to live year-round to make it easier on the family and allow Bregman round-the-clock access to Jason's expertise. Jason considers Bregman a little brother.
"We're best friends," Bregman said. "We're around each other, literally all the time."
Literally. Being Bregman's hitting coach means getting phone calls in the middle of the night about hitting. Some nights, it means working in the batting cage instead of sleeping. Bregman is a perfectionist and won't rest until he figures out his swing. That means Columbus won't rest, either.
"It's the greatest job in the world and I'm thankful that he believes in me," he said.
Charity begins at home
Growing up in Albuquerque, the Bregman house had a black-and-white photo of Jackie Robinson sliding into home plate with the inscription: "A life is not important except in the impact it has on other lives" written below it. Robinson, of course, broke baseball's color barrier in 1947, and the words didn't go unnoticed by young Alex.
"He's seen it since he was able to realize what it meant," said Sam Bregman, Alex's father.
And he's taken it to heart. Bregman was named as the Astros' 2020 nominee for the Roberto Clemente Award, which is given annually to the Major Leaguer who best represents the game of baseball through extraordinary character, community involvement, philanthropy and positive contributions
Bregman's charitable efforts around the city of Houston began almost immediately after he was drafted by the Astros out of LSU in 2015 and have continued throughout his career. He's become one of the city's most giving professional athletes, following in the same footsteps as former Houston Texans defensive end J.J. Watt, who raised millions following Hurricane Harvey in 2017.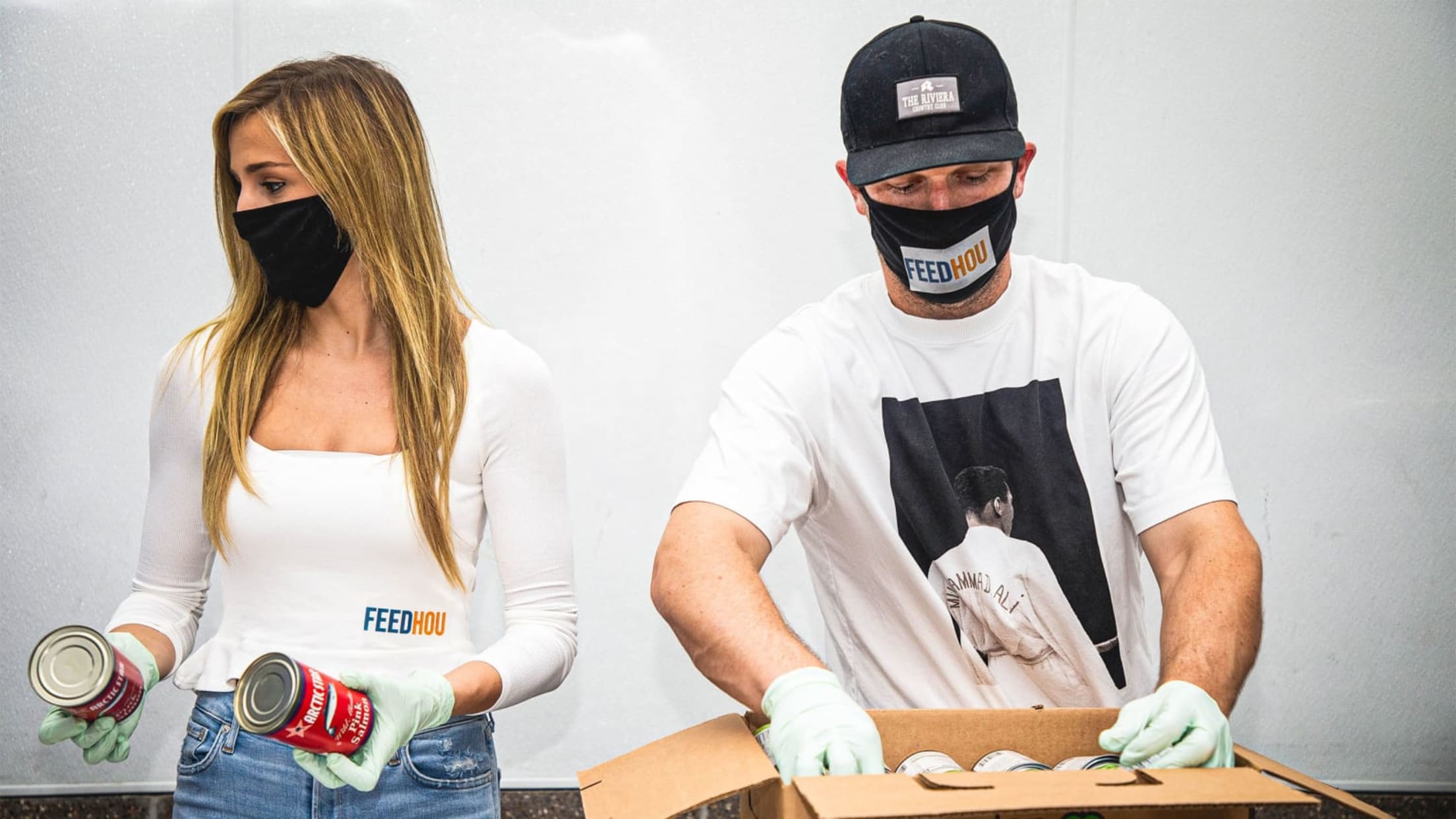 "I think J.J. did an amazing job for Houston in everything that he did, not only on the field but off the field," Bregman said. "He's so loved and it's been an honor to talk to him a little bit. He's just a great guy. We're just trying to do our little part and help as many people as we can."
Since his first venture into philanthropy with "AB for Autism," which provided the iPads and raised more than $150,000, Bregman, along with his new wife, Reagan, have since expanded those charitable efforts with amazing success:
-- What began as an initial donation of 1,000 quarantine food kits equating to 28,000 meals to the Houston Food Bank after the COVID-19 pandemic hit last March snowballed into the #FEEDHOU campaign, which raised $1.9 million for the Houston Food Bank to help struggling families. That's the equivalent to 5,780,000 meals.
-- With so many kids stuck at home last spring and playing video games, Bregman held a 24-hour live stream event last May, where more than 40 professional athletes, including Pete Alonso of the Mets and Christian Yelich of the Brewers, engaged with fans and donated autographed items. The event reached more than 1 million people and raised $57,000 for #FEEDHOU.
-- When a series of devastating storms tore through southern Louisiana last summer, Bregman went to work. He teamed with Brothers Produce to help send trucks of food to the area that were dealing with widespread power outages and food shortages, including Baton Rouge, the home to LSU.
--Alex and Reagan joined forces with the Astros and Brothers Produce to distribute bottled water to Houstonians in need in February after an unprecedented winter storm knocked out power and interrupted water supplies, leaving millions of people without drinkable water for days and weeks.
Baseball, at the end of the day, is great and I love it and I want to be the best I can possibly be every single day. Baseball will come to an end at some point, and this stuff won't.

Alex Bregman
So much of what Bregman does in the community isn't planned. It happens away from the cameras and microphones. In February, Bregman was helping Houston businessman and philanthropist Jim "Mattress Mack" McIngvale deliver refurbished laptops and new printers to families in need.
One by one, cars drove by and Bregman placed the electronics in a trunk or backseat, occasionally taking a picture if someone recognized him with his mask on his face. When the laptops and printers were gone, Bregman went inside the store with McIngvale to buy some furniture. A young salesman stopped Bregman on the floor and told him he liked his sneakers.
"Alex gave him his shoes and he walked across the parking lot in his bare feet," McIngvale said. "I thought it was pretty outstanding. Not only does he put his money where his mouth is, but his effort and time."
Just seeing the smiles on faces, whether it's a young salesman in a furniture store or Brady's infectious grin on the other end of his telephone, are the only reminders Bregman needs that his legacy is about more than what he does on the baseball field. Making a positive impact in the community brings real fulfillment.
"Baseball, at the end of the day, is great and I love it and I want to be the best I can possibly be every single day," Bregman said. "Baseball will come to an end at some point, and this stuff won't."
credits:
Brian McTaggart has covered the Astros since 2004, and for MLB.com since 2009. Follow @brianmctaggart on Twitter. Design by Tom Forget.