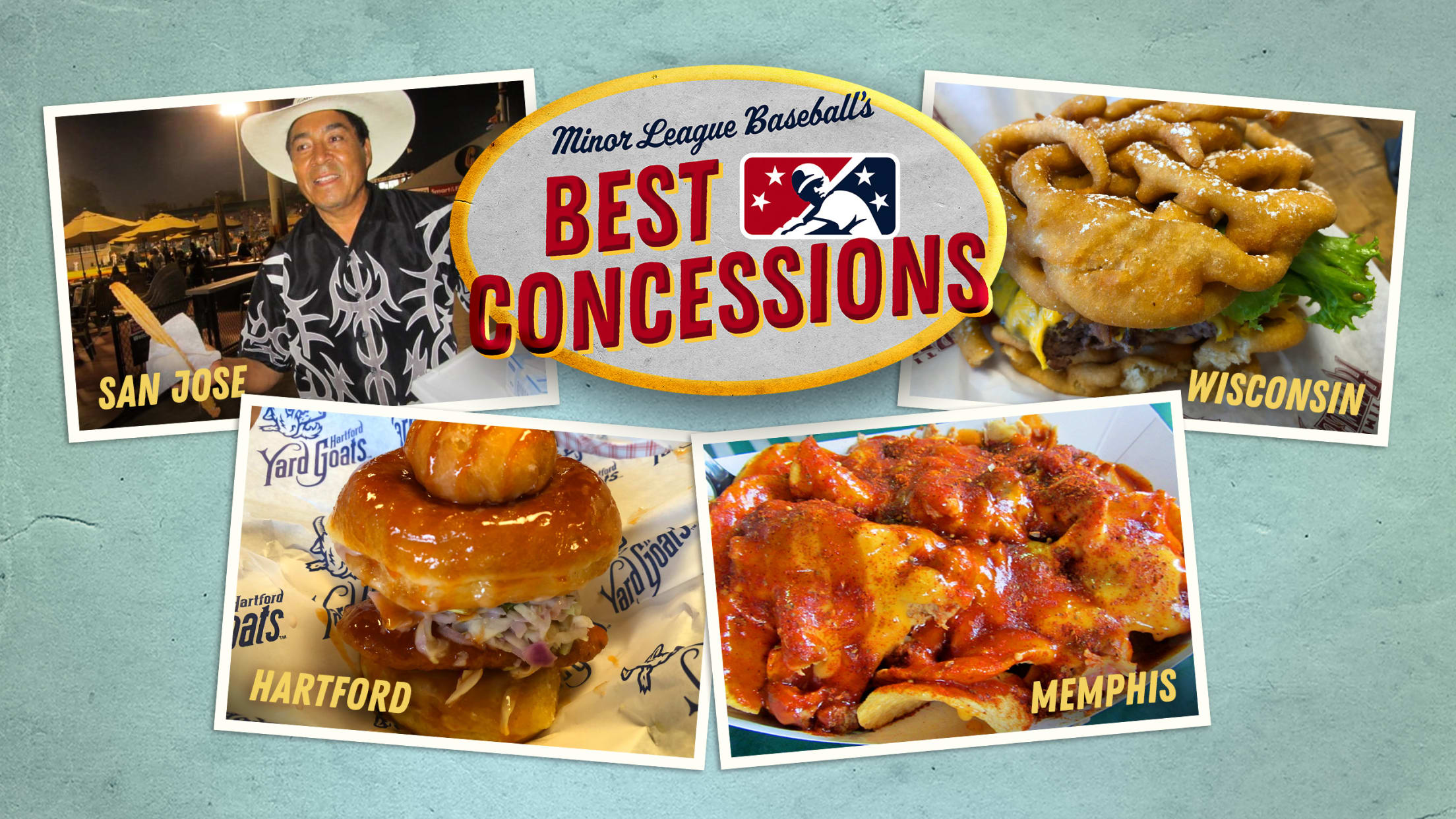 Scroll
Just a taste: The Minor Leagues' best ballpark food 
What are the best concession items in Minor League Baseball? It's all a matter of taste.
Some fans never deviate from the time-honored combination of a hot dog and a beer, while others go out of their way to sample regional delicacies or eminently Instagram-able oversized novelty items. As a writer who has visited 186 Minor League ballparks, I try to split the difference but inevitably lean toward highlighting food that is unique to the ballpark and team in question.
Ballpark Guides for EVERY Minor League team »
This article could be written in dozens of different ways, as the Minor League Baseball landscape provides seemingly infinite avenues for culinary exploration. Below, you'll find one standout item within each level of Minor League Baseball. For every team that's mentioned, you'll find a link to their corresponding Minor League Ballpark Guide. Plan your Minor League road trip today and remember to arrive hungry.
Triple-A
BBQ Nachos (AutoZone Park, home of the Memphis Redbirds)
Whether it's just chips and processed cheese product or a dedicated stand featuring a customizable toppings bar, nearly every Minor League team serves nachos. But the Minors' most iconic nachos can be found at the Memphis Redbirds' home of AutoZone Park. The Triple-A Cardinals affiliate's BBQ Nachos -- topped with cheese, pork, barbecue sauce and dry rub -- initially came about via a partnership with Charlie Vergos' Rendezvous (a famous downtown barbecue joint located in close proximity to the ballpark). Baseball and hot dogs have long been synonymous, but in Memphis, the BBQ Nachos are king.
Honorable mentions: City Barbecue Ribs (Columbus Clippers); Dog Bowl Nachos (El Paso Chihuahuas); Plates (Rochester Red Wings)
Double-A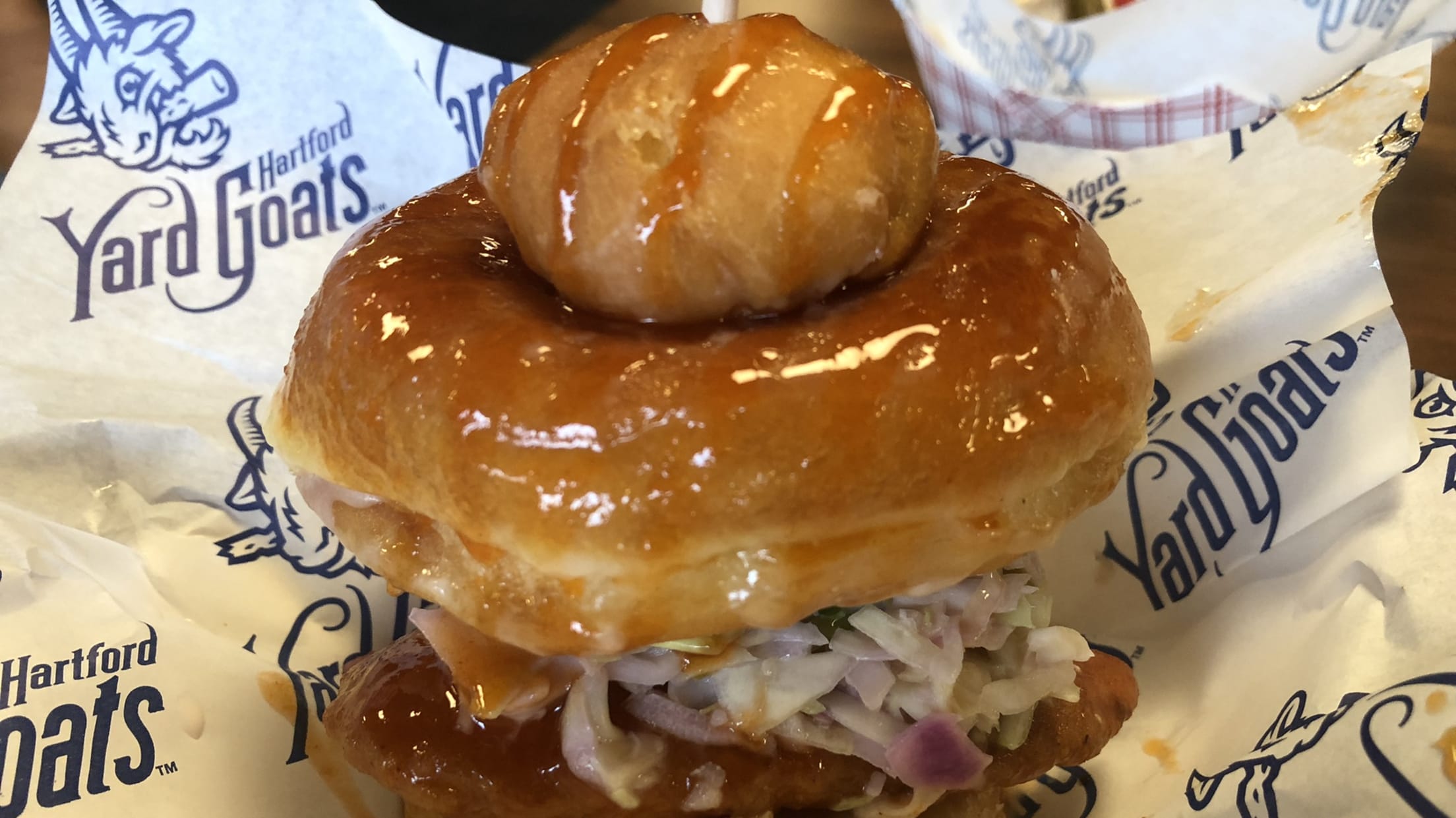 Spicy Chicken Donut Sandwich (Dunkin' Park, home of the Hartford Yard Goats)
The Yard Goats, the Double-A affiliate of the Colorado Rockies, play at Dunkin' Park. Fans can get coffee and donuts from a Dunkin' concession stand at the ballpark, and the team has often incorporated the company's products into its own sweet and savory concession items. Case in point: The Spicy Chicken Donut Sandwich, featuring honey Sriracha fried chicken on a glazed Dunkin' donut bun, and a Munchkin on top for good measure. It's dinner, it's dessert, it's anything you want it to be. Just remember to grab some napkins before making your way back to your seat, as it's a guarantee you'll need them.
Honorable mentions: Dreamland Bar-B-Que (Birmingham Barons); Biscuits (Montgomery Biscuits, of course); The Crabzilla (Pensacola Blue Wahoos)
High-A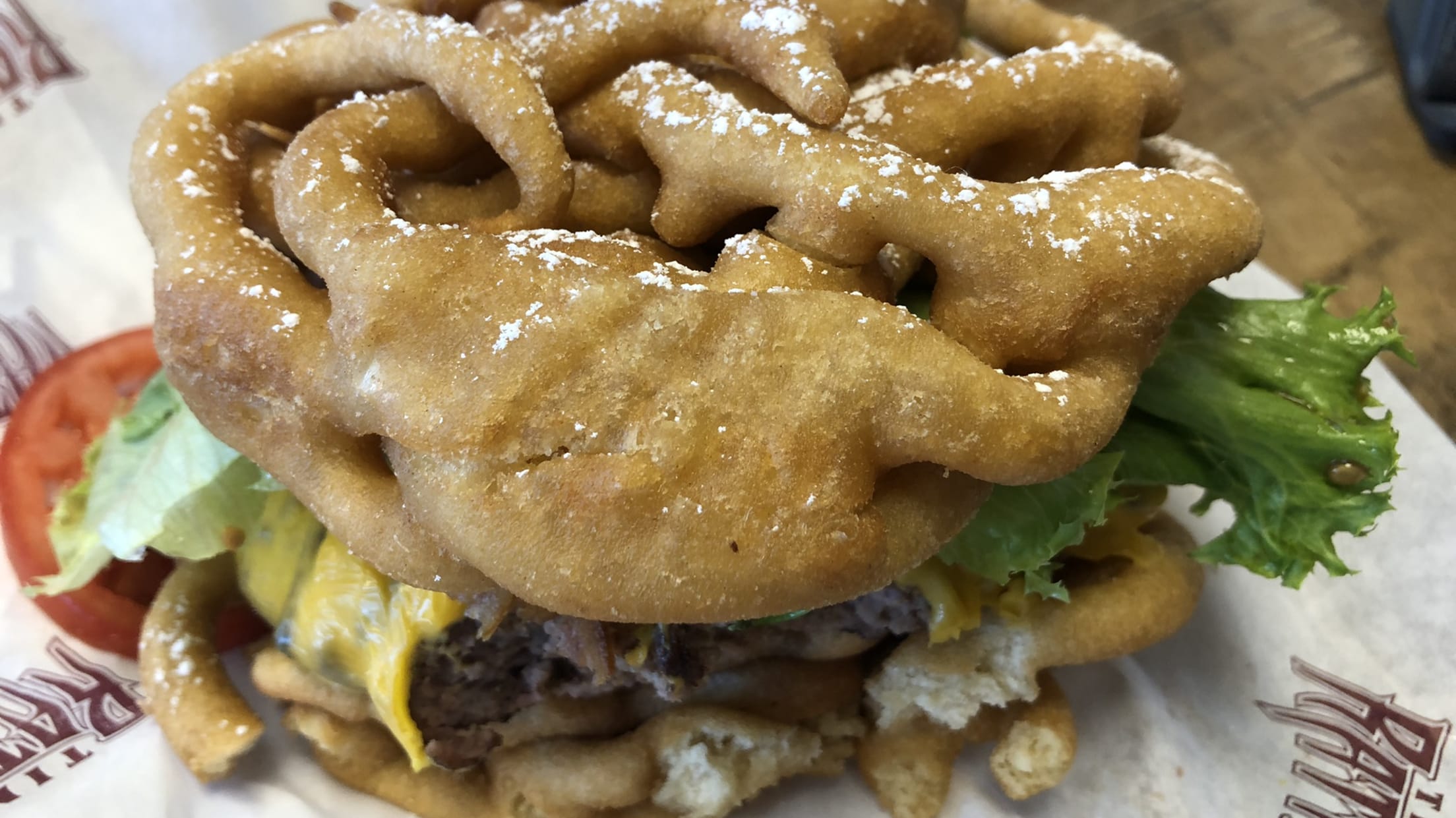 Big Mother Funnel Burger (Fox Cities Stadium, home of the Wisconsin Timber Rattlers)
Fans of the Timber Rattlers, the High-A affiliate of the Milwaukee Brewers, are serious about food. The parking lot at Fox Cities Stadium is filled with pregame tailgaters, who nonetheless still have their appetites once the gates open. The Big Mother Funnel Mother Burger, the first iteration of which debuted in 2015, will satisfy any appetite and then some. It consists of a one-pound burger, lettuce, tomato, cheese and bacon, all of which are put between a massive funnel cake "bun." This is the ultimate post-tailgate treat, and best not eaten alone.
Honorable Mentions: The Moby Dick (Lake County Captains); Pork Tenderloin Sandwich (Cedar Rapids Kernels); Apple Dumplings (Fort Wayne TinCaps)
Single-A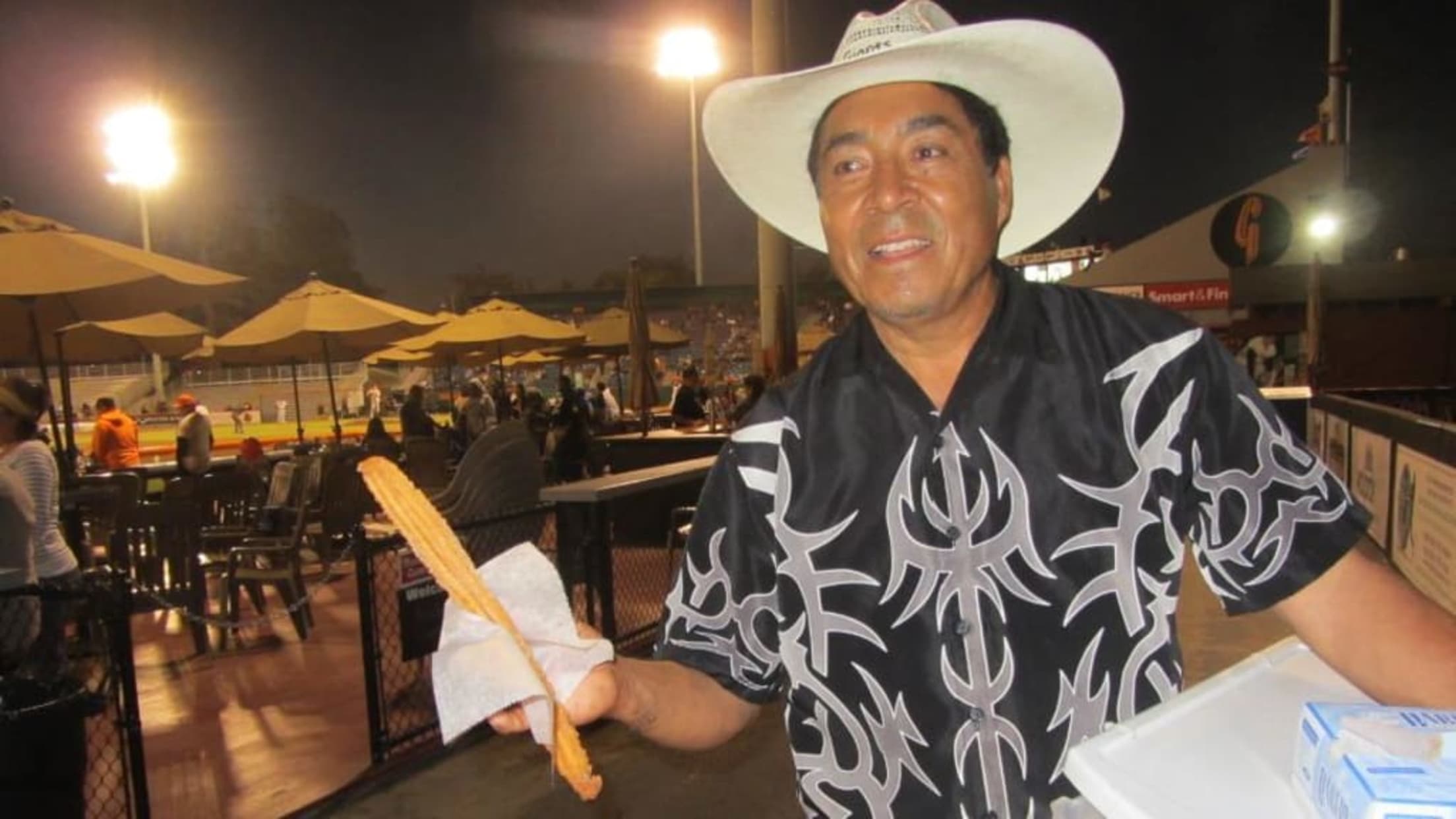 Churros (Excite Ballpark, home of the San Jose Giants)
"Churro, churro, churro time, best churros!" If you hear those words ringing through San Jose's Excite Ballpark, then, well, it's time for dessert. Hippolito "Super Churros Man" Cerda, the vendor responsible for these fried dough treats, is a ballpark icon. The Single-A Giants sell T-shirts that say, "I'm just here for the churros," and the players represent as well via San Jose's "Churros" Copa de la Diversión identity. And to think, all of this came about just because Cerda's churros were so good. The recipe's a secret, though, so the only way to get one is to show up at the ballpark.
Honorable mentions: Asparagus Dog (Stockton Ports); Tacos (Fresno Grizzlies); Catfish Po' Boy (Carolina Mudcats)
credits:
Benjamin Hill, who covers the business and culture of Minor League Baseball, has visited 186 Minor League ballparks.