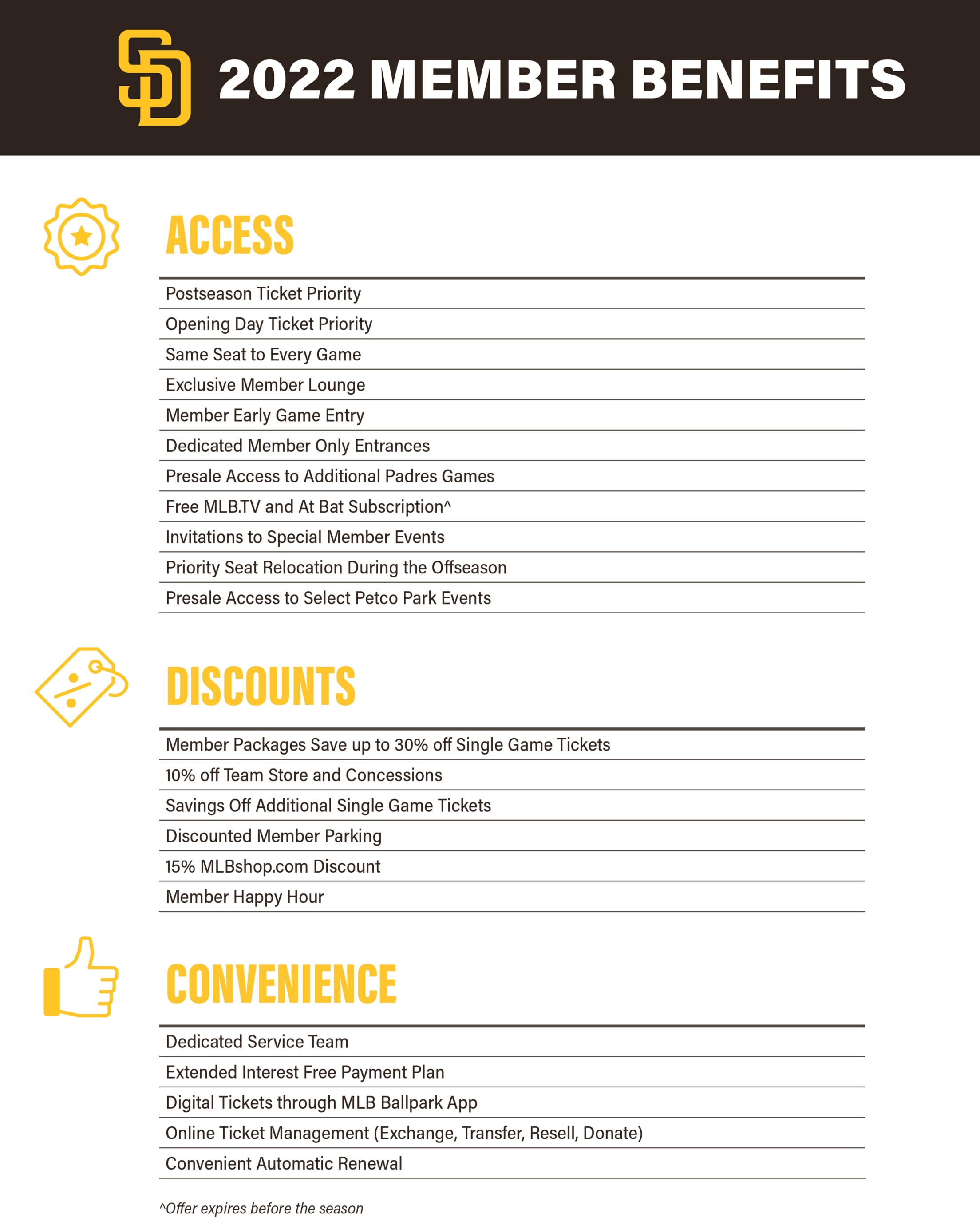 StubHub Resale Policy
StubHub is an official MLB partner. Members can sell a maximum of 50% of their tickets cumulatively over the course of the season via the secondary market, as well a maximum of 50% of their tickets at one time via the secondary market. Additional tickets purchased at the discounted Member rate cannot be resold. Members who exceed these thresholds are subject to ticket revocation. A direct link to StubHub will be available in your Account Manager when accessing your account on a computer. Parking is subject to the same guidelines as tickets with a maximum of 50% of parking eligible for resale cumulatively over the course of the season.
Padres employees cannot access StubHub accounts nor offer advice on resale pricing.
Exchange Policy
Exchanges through Account Manager must be completed a minimum of 48 hours in advance of the game you wish to exchange. If you utilize the online exchange request form, a minimum of five days in advance of the game you are exchanging out of is required. Padres Members may exchange a maximum of 50% of their season tickets.

Exchanges are based upon availability and Membership level and some locations are not eligible to be exchanged into, including group and suite areas, premium seating locations and Field VIP and Premier Club sections (unless you are a Field VIP or Premier Club Member).

Members can exchange Single and Double tiered games for other Single or Double games. Triple and Home Run tiered games are exchangeable within the specific tier or lower. Grand Slam tiered games are not eligible for exchanges.

If the game tier or seating location is priced higher than your original seats, you will pay the difference during the checkout process. If you are exchanging into a lower tiered game or less expensive seating location, you will not receive credit for the difference in price.

Only tickets that are fully paid can be exchanged. If you wish to exchange a game later in the season that is not paid in full, you may pay the money owed for that game only to complete your exchange. Any payments made will be reflected in the amount due each remaining month of your payment plan.

Exchanges can be completed via your Account Manager or by clicking here to submit an exchange request form. We are unable to accommodate requests for specific seat locations through this form as all exchanges are based on which tickets are available at the time of the exchange. If you prefer to select your exact seats, please complete your exchange in your online Account Manager.

We require your exchange requests in writing and will not accept exchange requests over text, phone or at the box office windows.

Single seats cannot be stranded. If you are trying to exchange your two tickets into a location of three open seats, the exchange cannot be completed because one seat would be left by itself.

Parking plans are eligible to be exchanged via your Account Manager in the same manner as your tickets with a maximum of 50% eligible to exchange.