I Love the 90s Postgame Concert featuring Vanilla Ice, Tone Loc, Rob Base and DJ Jazzy Jeff
presented by Jim Beam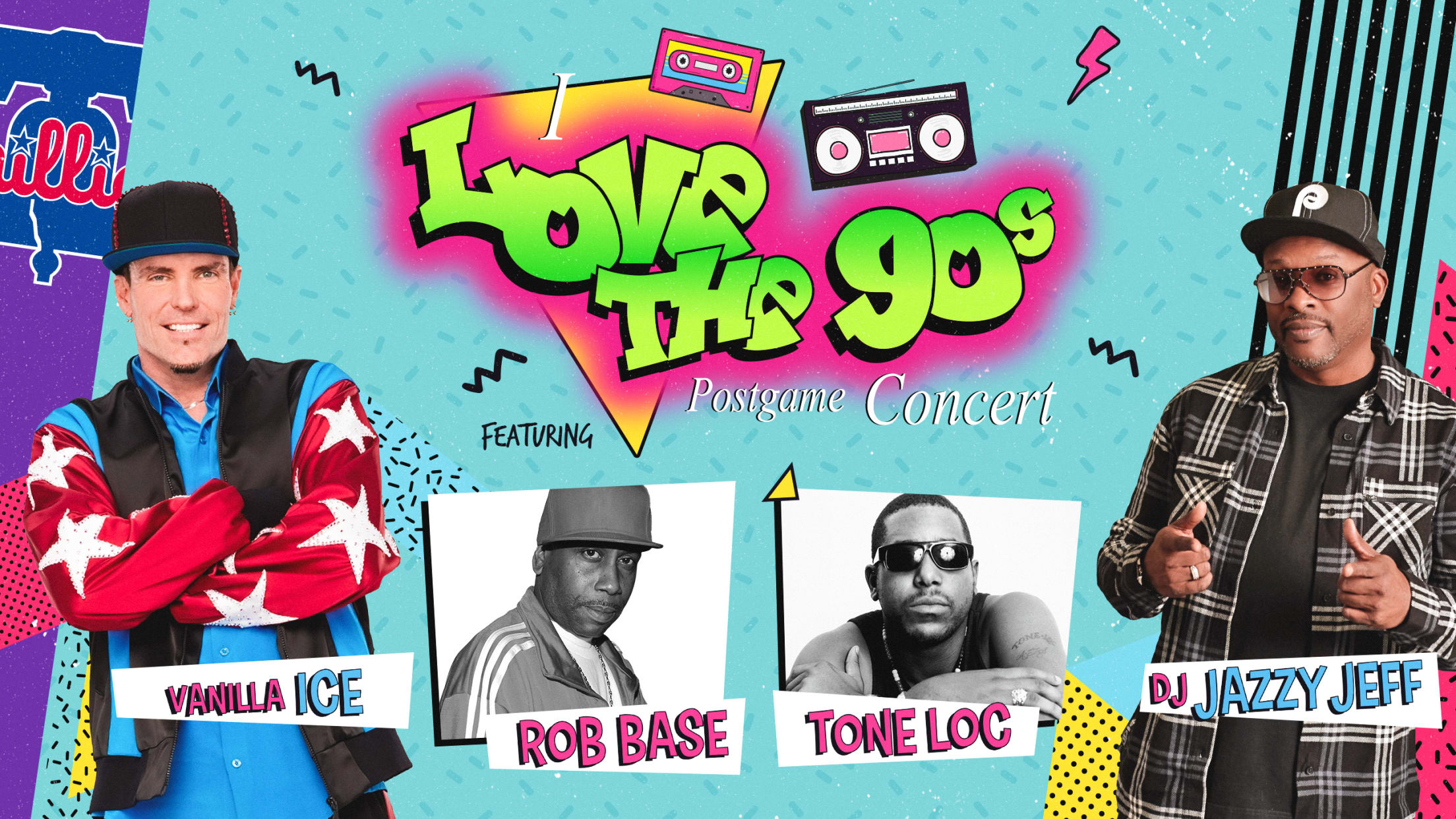 The Phillies will throw it back with a special on-field performance for the I Love the 90s Postgame Concert featuring Vanilla Ice, Tone Loc, Rob Base and DJ Jazzy Jeff presented by Jim Beam at Citizens Bank Park on Friday, August 19 after the Phillies host the New York Mets.
Game time is 7:05 p.m. and the concert will begin at the conclusion of the game. Your game ticket is also your concert ticket - no additional purchase is required!
Concert Field Pass Package
Enhance your experience by purchasing a field pass to enjoy the concert from the infield. There are a limited number of field passes available at a cost of $40 each, in addition to the price of your game ticket.
To purchase the Concert Field Pass Package, please click on the "Buy Now" button below.
Additional Details
To obtain the field pass, Theme Night ticket(s) must be purchased directly from the link above or through expressly stating your interest at the time of purchase through a Ticket Services representative at 215-463-1000. Third-party purchases will not include the field pass, and this is not a ballpark-wide promotion.
Limit of 8 passes, per person or entity. For questions or additional information, please contact Caroline Coyne in the Group Sales Office at 215-463-5000, ext. 5101.
Sales/payments may not be cancelled by purchaser. Game date and time subject to change. The team reserves the right to cancel any individual game order in its discretion, without notification. All cancelled orders will be refunded in full. By purchasing tickets, buyer is agreeing to the following Group Ticket Sales & Theme Night Policies & Procedures.
Please note: Theme Night tickets are subject to dynamic pricing and discounts are subject to change.