Winker continues treatment: 'It's been slow'
Suarez puts on a show in Miami; Arizona Fall League rosters set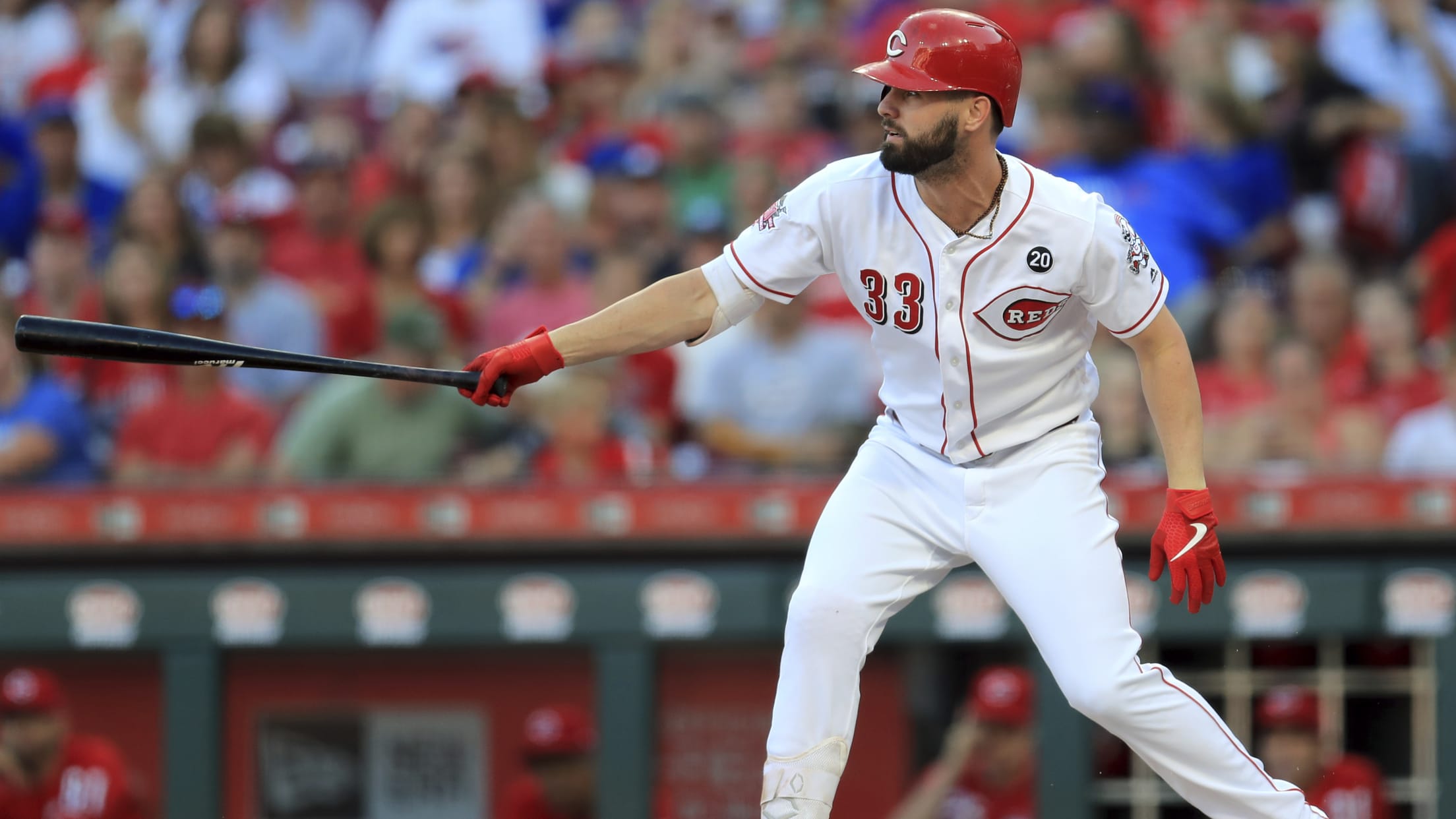 MIAMI -- The Reds once thought that outfielder Jesse Winker's upper back spasms would keep him out for only a few days back on Aug. 16. Then he was placed on the 10-day injured list on Aug. 22. Wednesday's latest development strongly indicated that Winker won't be back soon. Manager
MIAMI -- The Reds once thought that outfielder Jesse Winker's upper back spasms would keep him out for only a few days back on Aug. 16. Then he was placed on the 10-day injured list on Aug. 22. Wednesday's latest development strongly indicated that Winker won't be back soon.
Manager David Bell revealed that Winker departed the team to receive more treatment with the Reds' head physical therapist, Andrew Habash.
"It's been slow, so he just went back to get more work done with Andrew back in Cincinnati under a more controlled environment there where he could do more work," Bell said. "Definitely nothing before Sept. 1 now."
This wasn't so much of a setback for Winker, but it was still not optimal.
"He wasn't responding to the treatment as fast as we thought," Bell said.
Suarez's performance special in Miami
When third baseman Eugenio Suárez slugged his 37th home run of the season during the first inning of Tuesday's 8-5 win over the Marlins, it also set a new club record. It was Suarez's 13th first-inning homer, breaking the mark previously held by George Foster in 1977.
"I didn't even know about that," Suarez said when informed of his record. "I don't go up there to try to hit home runs. I go up there to try to help my team win games. It's good for me to have a lot of homers in the first inning."
During the eighth inning of Wednesday's 5-0 win, Suarez punctuated the game with a solo homer to left field that gave him No. 38. It was also his fourth consecutive game with a home run. He is ranked fourth in the National League in homers this season behind co-leaders Pete Alonso and Cody Bellinger and third place's Christian Yelich. Overall, Suarez is fifth in the Majors with Mike Trout leading at 43 homers. Unlike the other players, Suarez hasn't received close to as much attention nationally throughout 2019.
"Geno just flies under the radar, but I swear he hits two home runs every series," center fielder Nick Senzel said. "It's like we expect that, but I don't think anybody else outside of our team expects that. You see Geno up there [fourth] in homers and it's like, 'Yeah, we know that.' But everyone else is, 'What's going on here?' I'm not surprised he does that. He's had success in the big leagues. It's great to see it."
Suarez's previous career high in homers was 34, set last season. He has an excellent shot at becoming the Reds' first 40-homer hitter since Adam Dunn in 2007.
"It's sneaky probably because Cincinnati is not the hugest market," catcher Curt Casali said. "I don't know why because I think he is very marketable, especially with the blond hair."
Suarez, who also hit a homer during Monday's win, was thrilled to do well in front of his family. The native of Venezuela lives in Miami during the offseason.
"To me, that's more special playing in front of my people, my family, my dad, my mom, my wife, my beautiful daughter," Suarez said. "A lot of Latin people are here in Miami. It's special because they never watched me play in Venezuela. Now, they're here and enjoy [watching] me play in the big leagues. I try to do my best. They are proud of me, so I feel great. It makes me happy playing in front of my family."
Casali happy he's contributing
Casali missed five weeks on the IL, first with a sprained medial collateral ligament in his right knee and then a left hamstring strain. But he has produced since he was activated on Saturday, going 3-for-8 entering Wednesday.
On Tuesday, Casali had two important hits in the win. He tied the game with a fourth-inning home run and provided the go-ahead run in the fifth with a two-run single
"To be able to contribute at the big-league level is hard enough. Missing over a month, which I did, was absolutely miserable for me," Casali said. "But I had a really good rehab assignment. I felt good at the plate immediately. That was awesome. That's usually the thing that takes the longest, your timing and everything. I feel good at the plate right now, and to be able to contribute is really awesome."
Reds prospects headed to Arizona Fall League
The rosters for the 2019 Arizona Fall League were announced Wednesday and will include eight members of the Reds organization to play for the Glendale Desert Dogs. They are: infielder Jonathan India (Reds' No. 3 and Major League Baseball's No. 92 prospect, according to MLB Pipeline), catcher Tyler Stephenson (No. 7), infielder Jose Israel Garcia (No. 9), outfielder Stuart Fairchild (No. 16), and right-handed pitchers Jordan Johnson, Diomar Lopez, Dauri Moreta and Cory Thompson.
The AFL begins its schedule of games on Sept. 18. Two of the Reds participating are former first-round selections. India, the fifth overall pick in 2018, is playing at Class A Advanced Daytona this season. Stephenson, who was taken 11th in '15, spent the '19 season with Double-A Chattanooga.
Mark Sheldon has covered the Reds for MLB.com since 2006, and previously covered the Twins from 2001-05. Follow him on Twitter @m_sheldon and Facebook.