World Series favorites, ranked from 1 to 30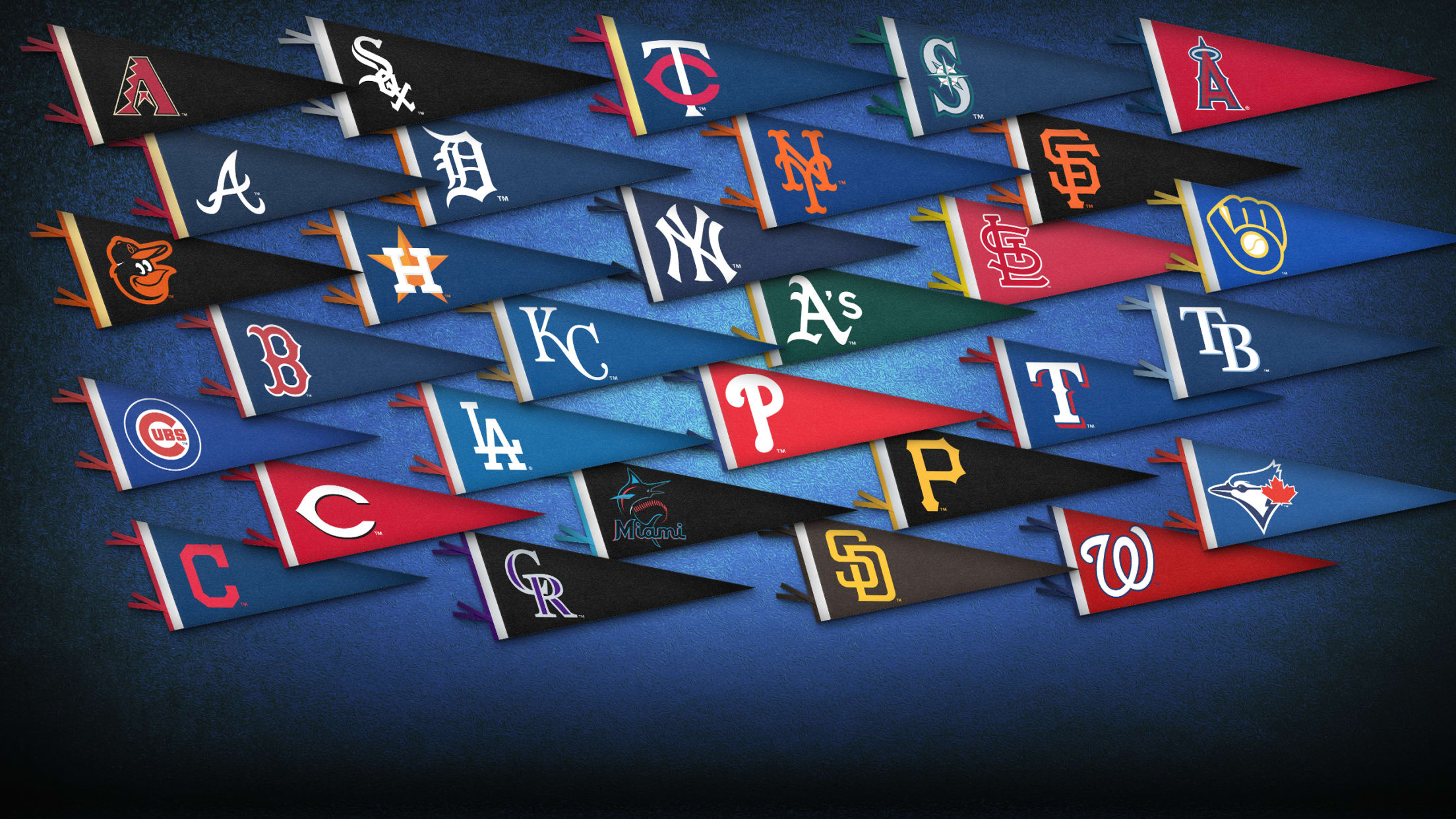 We've finally heard the sweetest words of the spring -- pitchers and catchers report -- and that brings with it the end of what's been something of a wild and crazy offseason. (To say the least.) That means the 30 teams have their rosters more or less set, barring a
We've finally heard the sweetest words of the spring -- pitchers and catchers report -- and that brings with it the end of what's been something of a wild and crazy offseason. (To say the least.) That means the 30 teams have their rosters more or less set, barring a non-roster invite here or a Kris Bryant trade there, and so we can look ahead at who's best positioned to do the only thing that matters: win the World Series.
So, as we've done in the past for World Series rosters and 2019-20 free agents, MLB.com's Will Leitch and Mike Petriello got together to draft the 30 teams based on one simple question: Who would you pick to win the World Series in 2020? Will gets the first pick, because Mike is so magnanimous. No snake drafts this time, just a straight one-through-30. This starts out pretty fun. Then it gets through all 30 teams.
1. New York Yankees
Leitch: I'm not going to overcomplicate this. They've got that incredible lineup -- is Luke Voit really going to bat ninth? -- that billion-dollar bullpen and, now, at last, the ace they've been missing. (Importantly so, since James Paxton will miss the start of the season and Luis Severino needs Tommy John surgery and is done for the season. The Yankees famously didn't make a World Series for the whole last decade. With the Red Sox apparently taking a step back, the Astros in limbo and the Twins (maybe the second-best team in the AL right now?) forever getting kicked around in The Bronx come October, it has been a long, long time since they were more primed to win one than in 2020.
2. Los Angeles Dodgers
Petriello: Remember when we spent all winter talking about how the Dodgers had done just about nothing -- one-year deals for pitching projects Blake Treinen, Jimmy Nelson and Alex Wood aside -- and that the team was content to sit on their laurels and ride that streak of seven straight division titles without actually getting that ring and ...
... now they have Mookie Betts. (And David Price, who deserves to be noted as more than a throw-in.)
Betts doesn't fix the bullpen, or replace the swingman depth they lost in Kenta Maeda, or even really improve their already-excellent chances of winning the division. He's still literally Mookie Betts. If the Dodgers don't win it all in 2020, it might never happen.
3. Houston Astros
Leitch: Well, this one's going to make me popular.
It has, uh, obviously been a bit of a tumultuous offseason. But there is still a ton of talent here. I suppose it is possible that the Houston Astros players had no idea how to play baseball and only succeeded because of a series of bangs on various trash cans, and maybe that'll all be revealed this year. But to me: It looks like they're going to win their division and be a terrifying out in October. It will also be amusing to see an ALCS in which America is rooting for the Yankees.
4. Minnesota Twins
Petriello: Look, if you didn't pick the Astros, I was probably going to. They're unpopular, to say the least, but they're still so good. (Very much looking forward to Baseball Twitter tearing itself apart over "go Dusty!" vs. "boo Astros!") With the Big Three above, you might say this is the start of the "second tier," but that's also pretty unfair to the Twins, who just set the all-time record for home runs and then went out and added Josh Donaldson, who just popped 37 and should help on defense, too. Oh, and the Mitch Garver breakout seems terrifyingly legitimate. This team is going to mash.
No, they didn't get the top-end starter they really needed, but Kenta Maeda is super useful, they brought back Michael Pineda and Jake Odorizzi, and the idea of Rich Hill coming back in the second half of the season to be the "I'm only throwing 50 innings, but they're going to be great" guy is a lot of fun to think about. If not? Well, that's what July trades are for.
5. New York Mets
Leitch: No, Mike: This is the start of the second tier. I know it seems crazy to pick the Mets -- the Mets! -- this high. But, hear me out:
1) I think they're the best team in the NL East. This is where I plug my big NL East preview that recently went up. (Mike interrupts to say: you're not alone on this, Will.)
2) You've got to pick a division champ before you start grabbing any Wild Cards, and the first four teams picked look like solid chalk for division champs. But the NL East and NL Central? Who knows?
3) Mets fans deserve this. Darn it, Mike, they need it.
You gotta have a team every year that you're higher on than everyone else. For me, that team this year is the Mets. (We can make all these articles disappear after six months, can't we? I'll check with our editor. There has to be a way.)
6. Tampa Bay Rays
Petriello: OK, let's get weird, and who's weirder than the Rays? They've won 90 and 96 games over the past two years, respectively, and while it's difficult to see them taking down the Yankees in the East, that also undersells just how good their pitching is. It's not at all hard to see a rotation trio of Blake Snell, Charlie Morton and Tyler Glasnow being literally the best rotation trio in the game, and somehow not enough people know what a monster Nick Anderson is out of the bullpen. (Not to mention: Diego Castillo, José Alvarado, Colin Poche, etc.)
They can pitch. They can definitely field, especially in the outfield. They might not have the bats they need, but they've finally added longtime favorite José Martínez, and that's good enough for me.
7. Atlanta Braves
Leitch: So here's my hedge against the Mets. This offseason really does feel like a missed opportunity for the Braves, who look a little bit worse than they did last year. The good news is that they were excellent last year, and they have some room for growth this year, particularly with all those young arms hovering in and around the rotation. I also think this could be a Ronald Acuña Jr. explosion year.
8. Oakland Athletics
Petriello: Did anyone notice the A's won 97 games in 2018, then won 97 again in '19? Probably not, because they lost the Wild Card Game in both seasons. This all starts with the Matts -- Olson and Chapman -- obviously, plus Marcus Semien, but the really exciting part about this group to me is the young pitching. Did you see what A.J. Puk and Jesus Luzardo can do? Did you see Frankie Montas before he got suspended? What about young Sean Murphy behind the plate? This team was already good, and there's so much ready-now talent ready, well, now.
9. Chicago Cubs
Leitch: Yes, they might trade Kris Bryant. Yes, they've sat idle all winter. Yes, there was some bad mojo with this team down the stretch. But who else in this division took any sort of step forward? The Reds, sure, but they were pretty far back already. The Cardinals and Brewers acted as if they just blew past those past-their-prime Cubs last year, but I'd argue that was more the train just going off the rails in Chicago in the short term than the team being somehow broken.
10. Washington Nationals
Petriello: It feels like maybe I should be higher on the Nationals than I am, because there's still a ton of star power here, Juan Soto might actually be the greatest young player to ever live (kidding, but only a little) and they did just, you know, win the World Series. And yet: Anthony Rendon is gone, and the "look at all us old guys winning the title" thing seems a lot less charming now that those old guys are a year older.
Still, though: Soto. Scherzer. Strasburg. If the big bold-face names are what win you titles, they certainly have that.
11. Boston Red Sox
Leitch: This is where I give a shout-out to you and Matt Meyers' excellent Statcast podcast, which I listened to while eating lunch and got me sold on the idea that the Red Sox shouldn't just be written off -- though you did say that before the Betts trade. They still have studs like Rafael Devers, Xander Bogaerts and J.D. Martinez, the rotation has a stud of its own, and they're, you know, still the Red Sox.
12. Cleveland Indians
Petriello: Speaking of "teams who have spent the winter deliberating about whether they'll trade their star player," I am simultaneously very in and very out on Cleveland. The latter part is obvious; the outfield is weak, the Indians haven't done much to help it, they have to deal with the Twins and the White Sox now, and no one liked the Corey Kluber trade. But the "in" part starts on the mound, where the rotation is still excellent and the bullpen is sneaky good: James Karinchak is the next relief ace that people don't know yet (dig the not-a-typo 22 strikeouts per nine [!!!] at four levels of pro ball last year), Emmanuel Clase throws a 100-mph cutter, Brad Hand is still great and Shane Bieber and Mike Clevinger may be two of baseball's top 10 starters. Oh, and Francisco Lindor is still there, and I'm very in on the idea that José Ramírez's huge second half (.327/.365/.739) was a rebound born from giving up on the idea of "beating the shift."
On the other hand, Clevinger is already down with knee surgery. Carrasco has a leg issue of his own. They're not expected to miss much time, but ... it's not the start you want when you've given yourself no margin for error, is it?
13. St. Louis Cardinals
Leitch: All right, FINE. Uncle. The Cardinals' stasis this offseason has been incredibly frustrating, to say the least. I'm not saying they needed to go out and trade for Arenado, but an outfielder who is an upgrade on, oh, Tommy Edman (who BY THE WAY isn't an outfielder even if you do think he's not a fluke, and I think he's a fluke), could have come in handy. Fine, so they're high on Dylan Carlson. But unless he's Christian Yelich right out of the box, this offense is going to be worse than it was last year, and it was pretty underwhelming last year.
14. Cincinnati Reds
Petriello: The Reds have had a huge offseason. They have "won the winter," or at least are right there with the White Sox, and they should absolutely be better than last year's team. But is that enough? It's very hard to get from 75 wins to the playoffs, the roster still feels a little misshapen, a lot of the positive vibes have to depend upon Sonny Gray and Trevor Bauer pitching like the best versions of themselves -- each has been up and down the past few years -- and now they have to worry about Eugenio Suárez's shoulder surgery.
What the Reds do have going for them is an NL Central full of teams that have stood pat or stepped backwards. I'm not sure if the Reds are a good team. I am sure they have a chance to win their division, and that's a lot better than a year ago, when I thought they were the fourth-best team after another good winter. (They finished fourth.) We're halfway through the list here, and I'll happily take a potential division winner.
15. Arizona Diamondbacks
Leitch: The Starling Marte trade not only gives them two Martes atop the lineup -- can we get Damaso as a pitching coach somewhere? -- but it frees up Ketel Marte to play second base like he should have been doing in the first place. Suddenly the top of that lineup looks scary. I don't know if what the D-backs are doing will work, but you have to love that they are doing it: Rather than starting over, tearing down and waiting for competitive windows, they are all, "We're going to just pedal real fast and see if we can win right now."
16. Los Angeles Angels
Petriello: You'd like to think that a team with Mike Trout -- literally Mike Trout! -- and Andrelton Simmons, that has Jo Adell coming and Rendon arriving and Shohei Ohtani recovering, would rate more highly than this. I can say that I want them to rate more highly than this; there is very little I want more in this baseball life than for Trout and Ohtani to be playing baseball in October on national television. It's just ... is there enough pitching? Are they better than the third-best team in their own division?
It's been well-reported that the 2019 Angels were the first team in an entire century to not have a single pitcher make 20 starts, and Julio Teheran and Dylan Bundy are back-end depth pieces, not difference-makers. They'll at least have Ohtani back. The lineup could be fearsome. Trout, right?
This all would have looked better if they'd actually ended up with Ross Stripling and Joc Pederson.
17. Chicago White Sox
Leitch: I felt a lot better about the White Sox being my "maybe this team will go nuts and win the division!" before the Twins got Donaldson, but you don't have to squint that hard to see Tremendous Upside Potential here. I'm not sure about the Nomar Mazara addition, but if Luis Robert is even halfway ready on Opening Day, this lineup is stacked top to bottom. (I firmly believe Eloy Jiménez is hitting 50 homers this year.) The rotation still feels a guy or two short, and it feels a year early to get too excited, but this team is going to be irresistible to watch.
18. Philadelphia Phillies
Petriello: There's a version of this that goes extremely well for the 2020 Phillies. That's the version where Bryce Harper is the MVP we saw in 2015, where Zack Wheeler makes good on all the love that advanced metrics have given him by taking that final step into acehood, where Aaron Nola and Rhys Hoskins bounce back from disappointing years, where Jake Arrieta, Andrew McCutchen and Didi Gregorius are healthy and productive, where some of the young players like Scott Kingery or Alec Bohm break through.
It's not that hard to see some of this, really. It's just hard to see a lot of that happening at the same time, and more importantly, the NL East is a pretty tough division to play in.
19. Milwaukee Brewers
Leitch: The Cardinals aren't the only team in the NL Central whose offseason I don't understand. The Brewers added a little more than the Cardinals did, and they didn't trade Josh Hader (yet), but for a team with a mega-MVP at his absolute peak, there's an odd lack of urgency here, no? They still stubbornly refuse to address the rotation outside of absolute bargain-basement deals, and without Yasmani Grandal, their lineup looks like Yelich and a whole lot of wishcasting.
20. San Diego Padres
Petriello: They have Fernando Tatis Jr. and Manny Machado, they added Tommy Pham and Drew Pomeranz -- who we're super in on -- and there's just a ton of interesting prospects on their way up. There's a decent argument that they have baseball's best bullpen. (Plus, they're going to be doing it all in that gorgeous brown.)
So why don't I feel better about them? Partially, it's the presence of the Dodgers -- who not only added Betts, but ensured San Diego did not -- and the moves that Arizona has made this winter, but it's also the big questions about their starting rotation, that Eric Hosmer hasn't done much in San Diego and that the Padres haven't had a winning season since 2010.
21. Texas Rangers
Leitch: I think this might be the last team remaining that I'd consider a legitimate contender. Mike Minor, Lance Lynn, Corey Kluber and Kyle Gibson form a legitimately strong rotation, but the problem is that so few of their young and up-and-comers have reached their potential. Rougned Odor's consistent regression has to be absolutely exasperating to Rangers fans, and Joey Gallo hasn't been able to put together a full season of dominance.
22. Toronto Blue Jays
Petriello: The Blue Jays have a bunch of young stars in the making, to the point that Vladimir Guerrero Jr., Bo Bichette, Cavan Biggio and Lourdes Gurriel Jr. might not just be "the sons of Vlad Sr., Dante and Craig, plus Yuli's brother" for much longer. They rebuilt their decimated rotation, adding an ace-if-healthy-which-he-rarely-is in Hyun-Jin Ryu and some badly needed mid-rotation competence in Chase Anderson, Tanner Roark and potentially Shun Yamaguchi, depending on what role he ends up with. They still have Ken Giles, who was great in 2019.
This isn't a bad team. But it's probably not a playoff team, either.
23. Colorado Rockies
Leitch: There is a "glass half-full" scenario here where the rotation is at its absolute healthiest from start to finish, Nolan Arenado and Trevor Story continue their dominance, David Dahl finally breaks out and the Wade Davis-led bullpen magically turns it around. It's certainly possible that everything falls right for them like it did a couple of years ago. But if I'm Arenado, trade or not, I've got an itchy trigger-finger on that opt-out after 2021.
24. Miami Marlins
Petriello: I can say this for the Marlins -- they saw a 29th-ranked offense in 2019, and they've made some interesting moves to push that group back toward respectability. There's not really a star performer among Jesús Aguilar, Corey Dickerson, Jonathan Villar, Matt Joyce or Francisco Cervelli, but those are perfectly cromulent veteran bats in a group that badly needed it. Pair those guys with Brian Anderson, pray that Isan Díaz or Jorge Alfaro or Lewis Brinson figure something out, and then realize the rotation is full of interesting young arms?
25. Pittsburgh Pirates
Leitch: I'm not certain how the Pirates could get to the World Series, but then again, they're not that much worse than they were two years ago, when they were outscored on the season and still talked themselves into trading their two best trade chips for Chris Archer, so, hey, you never know.
The scenario here? The Cardinals finally collapse from age, the Cubs trade away all their key pieces, the Reds' makeover doesn't work and Christian Yelich lines another foul ball off his knee. And Archer finally figures it out, Josh Bell hits 50 homers and Bryan Reynolds adds 20 homers but doesn't lose anything else.
26. Kansas City Royals
Petriello: Hear me out. The Twins didn't add top-shelf pitching and are relying a lot on the offense to repeat itself. The Indians didn't add, well, much of anything at all, and basically require Mike Clevinger and Shane Bieber to throw 400-plus elite innings. The White Sox could have just gotten better, or they could just look like they got better. We haven't even named the Tigers yet on this list!
In this scenario, the Royals were right to not trade Whit Merrifield! Salvador Perez is back! Remember when Danny Duffy looked like an ace? Alex Gordon has a World Series ring, you know. So, technically, does Adalberto Mondesi. Mike Matheny is here now! You saw what Patrick Mahomes just did, right?
27. San Francisco Giants
Leitch: Maybe the ideal scenario for the Giants this year, and probably next year, is modeling themselves after their division rivals in Arizona. Not dismantling, but not flooring it either: Just finding little pieces here or there, Little Yaz-style, who move the needle just a little bit until it adds up to something greater than its parts. I actually trust this staff to be able to do something like that, not that it's necessarily the priority at this point. Frankly, after the first half of the last decade, if they can just sneak into the playoffs with 86 wins, I'll be convinced they'll find a way to win the World Series.
28. Seattle Mariners
Petriello: It's been an oddly quiet winter for Jerry Dipoto, though I guess that's to be expected after the last two years of "trading everything that wasn't nailed down, and then also the nails, too." At a certain point, there's only so much left to move, and this is already going to be the first season since 2000 that a Mariners team won't have either Ichiro Suzuki or Félix Hernández. That club won 91 games, and featured Rickey Henderson, John Olerud and a 24-year-old Alex Rodriguez. Jamie Moyer was 37 years old and still had 11 more seasons ahead of him. Man, that team was fun.
Oh, sorry, where were we? Ah, yes. Should be fun to watch Jarred Kelenic tear up Double-A, at least.
29. Baltimore Orioles
Leitch: Look, while you and I both know that the Orioles and Tigers are likely going to finish in fifth in their respective divisions again, we've gotta pick one of them. And I'll take the Orioles, for three reasons.
1) The Orioles won more games than the Tigers last year.
2) The Orioles actually improved last year! By seven games! Seven games is a lot! Put it this way: If the Pirates had improved by seven games last year, they would have made the playoffs
3) I think I trust the O's staff more than the Tigers.
Also: Wouldn't it be hilarious if Chris Davis just hit 40 homers out of nowhere?
30. Detroit Tigers
Petriello: Team 30. The ultimate underdog. Let's do it this way: Matt Manning and Casey Mize are two of the 10 best right-handed pitching prospects in the game, and maybe if you squint hard enough, they're getting some Major League time with Detroit in 2020, and their sheer presence reinvigorates Miguel Cabrera, who must be nearing the end of his contact -- wow, four years and $130 million left, really? -- and Good Baseball Man Ron Gardenhire "Major Leagues" himself to a Lou Brown kind of motivational speech and … well, probably not.
Mike Petriello is an analyst for MLB.com and the host of the Statcast podcast.