Voter Up!
Your Voice. Your Vote.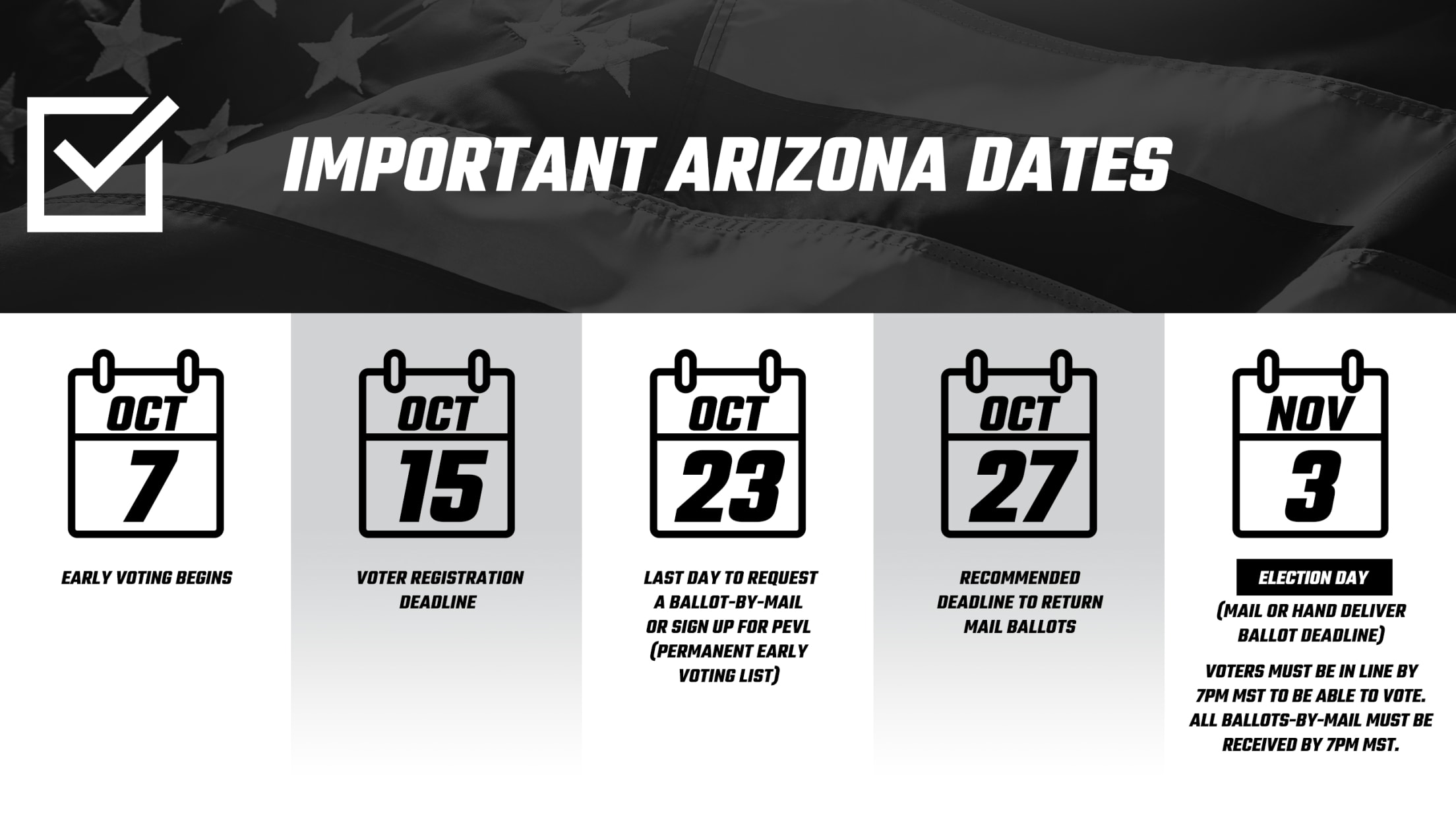 Register to Vote
Did you know it only takes an average of 2 minutes to register? Eligible individuals can register to vote online, by mail or in-person. The deadline to register in order to participate in an upcoming election is October 15, 2020.
To be eligible to register in Arizona, you must:
Be a United States citizen
Be a resident of Arizona and the county listed on your registration
Be 18 years of age or older on or before the day of the next regular General Election
Where to Vote
Maricopa County
If you are a Maricopa County voter, click here for more information or call 602-506-1511.
Downtown Phoenix Polling Location - Pilgrim Rest (October 28 - November 3)
Our neighbors at Pilgrim Rest Baptist Church have converted their Wellness Center into a polling location for all registered Maricopa County residents. If you reside anywhere in Maricopa County, you may cast your vote at Pilgrim Rest.
Pilgrim Rest Baptist Church
Wellness Center
1401 E. Jefferson St.
Phoenix, AZ 85034
Pilgrim Rest Polling Location Hours:
October 28 - October 31, 2020: 9:00AM – 7:00PM
November 1, 2020: CLOSED
November 2, 2020: 9:00AM – 5:00PM
November 3, 2020: 6:00AM – 7:00PM
Pima County
If you are a Pima County voter, click here for more information or call 520-724-4330.
Become a Poll Worker
The need for poll workers is especially critical this year. If you are willing and able, volunteer to be a poll worker this election season. Learn about the measures that will be taken to ensure your safety, and do your part to help America vote.
Resources & Contact Information
Resources
Contact Information
Call 1-877-THE-VOTE or 602-542-8683. Please note there may be a delay in responding to calls. Email for a faster response.
Election Day Problems
Report an election issue by calling:
1-866-OUR-VOTE (866-687-8683)
1-888-VE-Y-VOTA (en Español)
1-888-API-VOTE (Asian multilingual assistance)
1-844-YALLA-US (Arabic)
Office of the Secretary of State
Office of the Secretary of State:
Elections Division
1700 W Washington St Fl 7
Phoenix, AZ 85007-2808
FAQ
Where is my polling location?
See Arizona polling locations here.
What are the important dates if you vote by mail?
October 23 - Last Day to Request a Ballot-by-Mail or Sign Up for PEVL (Permanent Early Voting List)
October 27 - Recommended Deadline to Mail Back Ballots
November 3 - Election Day (in person and hand deliver ballot deadline)
Voters must be in line by 7PM MST to be able to vote.
What's on the ballot?
See a sample of your voting ballot and more info here.
What if I'm a Voter with Disabilities?
See accessible polling places, voting systems, curbside voting and more information here.
I recently moved and haven't updated my voter registration. Where do I vote?
See Arizona polling locations here.
There is a polling location near my work, can I just vote there?
No. Unless you live in a county that is using vote centers for the election, you must vote at your assigned polling location for your ballot to be valid and counted. More Information »
I still have my early ballot; will I have to wait in line at a polling location just to drop it off?
No. Skip the line and turn it in at any polling location within your county. More Information »
What do I need to bring with me on Election Day?
Every qualified elector is required to show proof of identity at the polling place before receiving a ballot. See acceptable form of identification in Arizona here.
I'm 17, can I be a poll worker for the general election?
Yes, individuals as young as 16 years old may register as poll workers for the general election? A paid position! More Information »
What if I'm an overseas and/or military voter?
To get registered and vote, you can utilize Overseas Vote Foundation.