Shaw brings veteran arm to Seattle's 'pen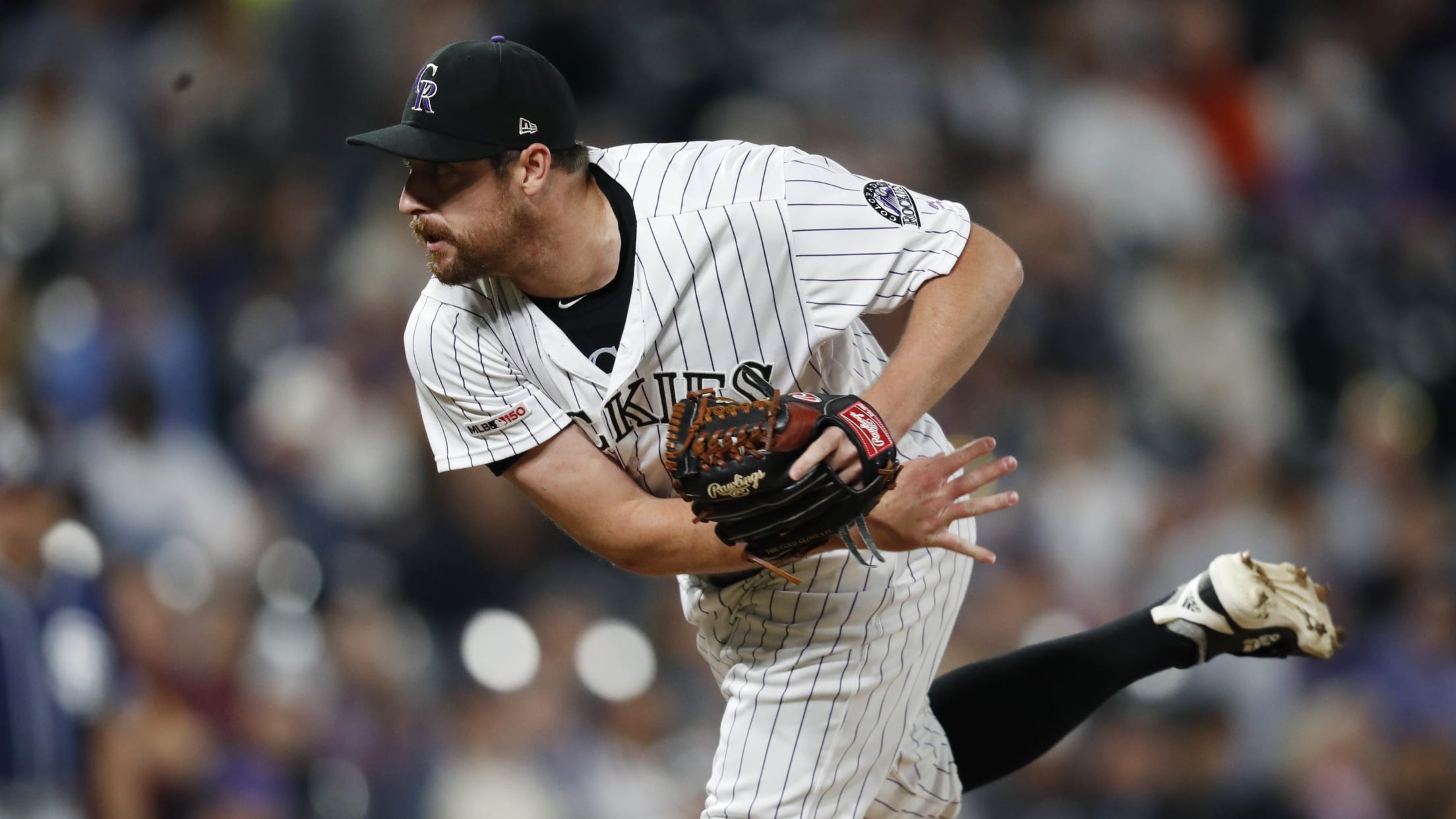 Bryan Shaw admits he doesn't know many of his Mariners teammates by name yet and finds himself apologizing frequently for reintroducing himself to people he'd already met, given the unfamiliar faces covered by masks in these unique times. But the 32-year-old right-hander will have an opportunity to make a name
Bryan Shaw admits he doesn't know many of his Mariners teammates by name yet and finds himself apologizing frequently for reintroducing himself to people he'd already met, given the unfamiliar faces covered by masks in these unique times.
But the 32-year-old right-hander will have an opportunity to make a name for himself soon, as the Mariners signed Shaw on Thursday and got him on the plane to Houston in time to join a young Mariners bullpen that could benefit from his presence.
Shaw has been one of the most durable relievers in the Majors over the past eight years, and he was a big part of some strong Cleveland teams from 2013-17 when he posted a 3.11 ERA and nine saves in 378 outings. Shaw has the most relief appearances in the Majors since 2012 at 573 and has made 60-plus appearances in eight of his nine MLB seasons.
But things didn't go nearly as smoothly the past two years after signing with the Rockies, as his normally potent slider didn't fare well in the thin air at Coors Field and his ERA jumped to 5.61 in 131 games.
The Rockies waived both Shaw and veteran lefty Jake McGee last week in apparent cost-cutting moves. McGee was snapped up by the Dodgers, and the Mariners jumped at the chance to land Shaw, whom they tried to sign two years ago when he opted for a longer-term offer from the Rockies.
Shaw said he's eager for a fresh start in Seattle.
"Extremely," he said via an online interview from Houston. "Just being here with these guys, knowing they want me and getting out of that air in Denver and at sea level. Everybody says a change of scenery can be good for certain guys throughout their careers. This should hopefully be that time for me."
With Austin Adams still not quite ready to go after left knee surgery in October and Yoshihisa Hirano on the injured list as he recovers from COVID-19, manager Scott Servais said Shaw will be used in late-inning situations.
"The great thing about Bryan is he's got experience," Servais said. "We don't have a ton of experience in our bullpen. I'm hoping we can get him going right again because he was one of the more reliable relievers in the American League just a few years ago. There's a ton of opportunity for him to pitch in higher leverage spots at the end of games."
Right time, right place for Marmolejos
José Marmolejos not only made the Mariners' 30-man roster, Servais had him starting on Opening Day in left field in his first MLB game. The 27-year-old has spent the past nine years in the Minors in the Nationals' organization, and he will likely platoon in left with Tim Lopes and Dee Gordon after impressing the club with his left-handed bat.
"The smile on his face when I told him he was on the club was as big as anybody's I've seen in a long time," Servais said. "He and his wife just had a baby, and he has a lot going on. But getting the opportunity make this ballclub and be in the lineup on Opening Night, he couldn't be any happier. It is a grind. A lot of these guys, they're not all first-round Draft picks or just fly through the Minor Leagues. But that's the beauty of our game. It's a great spot for him with us right now."
That moment won't soon be forgotten by the Dominican Republic native who was raised in Miami.
"When he approached me, I was already shaking," Marmolejos said. "But when he told me the words, I felt so amazing and thankful. I said thanks for the opportunity and let's go get 'em."
Marmolejos was a two-time Minor League Player of the Year for the Nats but had not been promoted to the big leagues until now. What changed after signing with Seattle as a Minor League free agent last offseason?
"As soon as I came to the Mariners, everybody was on the same page, just trying to get better," he said. "There were a lot of opportunities. They were throwing me in games and giving me the confidence to show what I can do. From there, every single game, believing in me, I needed that and everything clicked from there."
Worth noting
• Ten Mariners are on an Opening Day roster for the first time in their careers -- Justin Dunn, Kyle Lewis, Shed Long Jr., Lopes, Matt Magill, Anthony Misiewicz, Marmolejos, Austin Nola, Yohan Ramirez, Justus Sheffield and Evan White.
• Lewis got the start in center field in the opener, with Mallex Smith in right field. Servais said he was impressed with Lewis' play in center during Summer Camp but will likely interchange the two players in those two spots in coming games. Both are comfortable in either center or right.
• Servais said he has no timetable on Tom Murphy's return from his fractured left foot, but said the catcher doesn't have to wear a boot and is only uncomfortable when he gets down in a catcher's squat and puts added pressure on his instep.