2001 Mariners stun '15 Royals in Bracket 2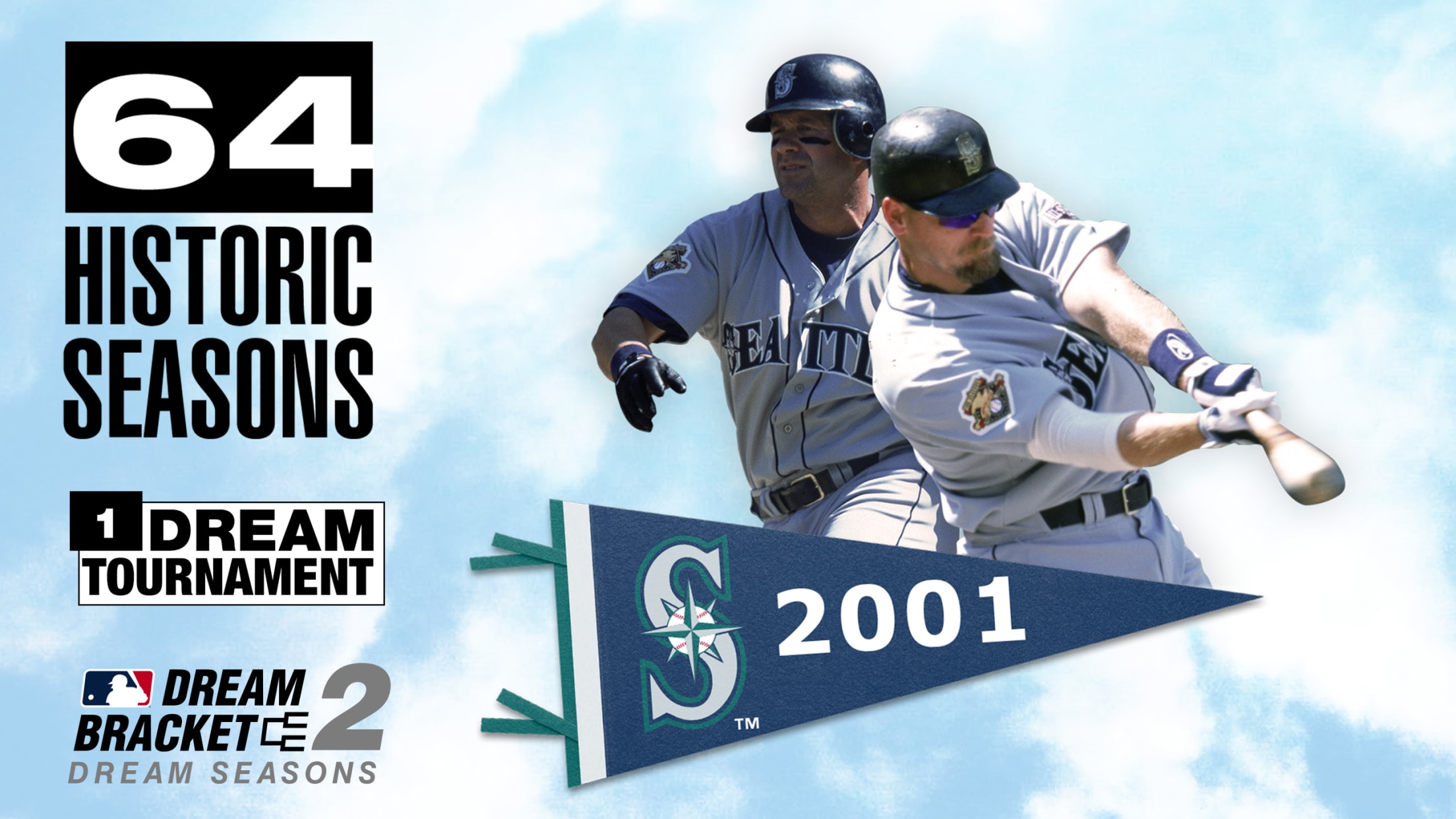 SEATTLE -- With Edgar Martinez and Mark McLemore leading the offensive attack and staff ace Freddy Garcia winning a pair of games, the 2001 Mariners knocked off the '15 World Series champion Royals on Friday in the first round of the simulated 64-team MLB Dream Bracket 2 tournament. The '01
SEATTLE -- With Edgar Martinez and Mark McLemore leading the offensive attack and staff ace Freddy Garcia winning a pair of games, the 2001 Mariners knocked off the '15 World Series champion Royals on Friday in the first round of the simulated 64-team MLB Dream Bracket 2 tournament.
The '01 Mariners, who tied an MLB record with 116 wins, present a balanced and formidable roster, and that group beat the '15 Royals, 4-2, in their best-of-seven opening series. The Mariners now advance to face the 1988 Athletics, who upset the '84 Tigers in their first-round series behind the slugging of Bash Brothers Jose Canseco and Mark McGwire.
• Box scores and game summaries | Full bracket and info | Complete Dream Bracket 2 rosters
The simulated competition, featuring many of the greatest teams in baseball history, is being produced by Out of the Park Baseball 21, MLB's most realistic strategy game (PC and Mac).
Each MLB franchise has two of its best all-time teams in the tournament. The Mariners' second representative, their 1995 squad, lost its first-round series, 4-2, to the 1970 World Series champion Orioles on Thursday.
Here's how the 2001 Mariners series against the 2015 Royals played out:
Game 1: Mariners 6, Royals 2
Garcia dominated the opening game in Seattle with eight innings of one-run ball and center fielder Mike Cameron provided plenty of help by going 3-for-4 with a double, triple and three RBIs. Seattle jumped on Royals starter Edinson Vólquez for a pair of runs in the first on RBI doubles by Martinez and John Olerud. Cameron then broke the game open with a bases-loaded triple in Seattle's four-run fifth inning.
Game 2: Royals 12, Mariners 7
Mike Moustakas hit a pair of home runs and drove in five as the Royals knocked around Seattle's Jamie Moyer to even the series. Moyer lasted just 2 1/3 innings while allowing seven runs on six hits, including Moustakas' solo shot in the second and Salvador Perez's third-inning grand slam. Moustakas went 4-for-4 and added his second homer off reliever Norm Charlton in the sixth as the Mariners needed six pitchers to get through the game. Catcher Dan Wilson went 3-for-4 for Seattle and Martinez was 2-for-3 with two RBIs and hit a solo homer in the fifth off Yordano Ventura.
Game 3: Mariners 6, Royals 0
Seattle's pitching re-emerged as the series shifted to Kauffman Stadium, with Aaron Sele scattering seven hits over eight scoreless innings in a 104-pitch gem. The Mariners' balanced offense proved potent as Seattle didn't hit any home runs but racked up 13 hits and six walks off Johnny Cueto and six Royals relievers. Brett Boone went 2-for-5 with a double and an RBI, Cameron was 2-for-5 with two RBIs and McLemore and Olerud also had a pair of hits.
Game 4: Royals 1, Mariners 0
Alex Gordon's leadoff homer off rookie Joel Piñeiro in the first inning stood as the only run as the Royals tied the series back up in a pitching duel at Kauffman Stadium. Piñeiro allowed just the one run on five hits over 6 1/3 innings and Jeff Nelson and Arthur Rhodes didn't allow a baserunner in relief, but the Mariners managed just five hits off Royals starter Chris Young and five relievers out of Kansas City's own strong bullpen. Martinez doubled in the first for Seattle and Olerud doubled in the fourth, but Seattle stranded 10 runners in the game. Royals closer Wade Davis got Ichiro Suzuki to fly out with runners on second and third in the ninth to pick up the save.
Game 5: Mariners 11, Royals 3
The Mariners broke open a 3-3 tie -- and turned the tide of the series -- with an eight-run eighth inning that featured nine hits, including a two-run triple by McLemore and two-run double by Wilson. Stan Javier had two singles in the frame, including an RBI base hit to cap the rally, and Cameron had a single and a sacrifice fly. The Mariners ripped off eight consecutive hits to open the inning off three relievers as the rally made a winner out of Garcia, who notched his second victory of the series by allowing three runs over seven innings. McLemore tripled twice and was 3-for-5 with a walk and two runs. All 10 Mariners who played had hits and Seattle finished with 18, including three each from Martinez and Javier.
Game 6: Mariners 2, Royals 0
Moyer bounced back to be the series-clinching hero as the veteran lefty fired 8 2/3 scoreless innings on five hits with no walks and five strikeouts. The Mariners wrapped up the first-round victory in front of their hometown fans as closer Kazuhiro Sasaki came on to strike out Kendrys Morales for the final out and his second save of the series. Ichiro's bat finally awakened with a three-hit game, but it was McLemore who manufactured Seattle's first run in the fourth when he walked, stole second and scored on an error by Ben Zobrist on a grounder by Olerud. Cameron added an insurance run in the seventh as he reached on a fielder's choice, stole second and scored on Javier's RBI single.
Series summary
While McLemore was slated to serve in a platoon split with David Bell at third base, he wound up starting all six games as the Royals used only right-handed starters. The valuable utilityman came through with a huge series, hitting .429 (9-for-21) with seven walks, two doubles, two triples, two RBIs and six runs scored. Martinez batted .391 (9-for-23) with four RBIs and a home run and Cameron hit .304 (7-for-23) and led the club with eight RBIs and three stolen bases.
Interestingly, the Mariners advanced despite subpar series from two of their biggest bats, with Ichiro hitting .222 (6-for-27) and Boone .192 (5-for-26), with two doubles and just two RBIs. Seattle's balanced lineup loomed large as the Mariners hit only one home run but batted .300, drew 26 walks and stole seven bases while holding Kansas City to a .231 average and four homers, with 14 walks and no stolen bases.