Strickland on track for season opener in Tokyo
Closer throws strong 'pen after back issue; Swarzak also takes step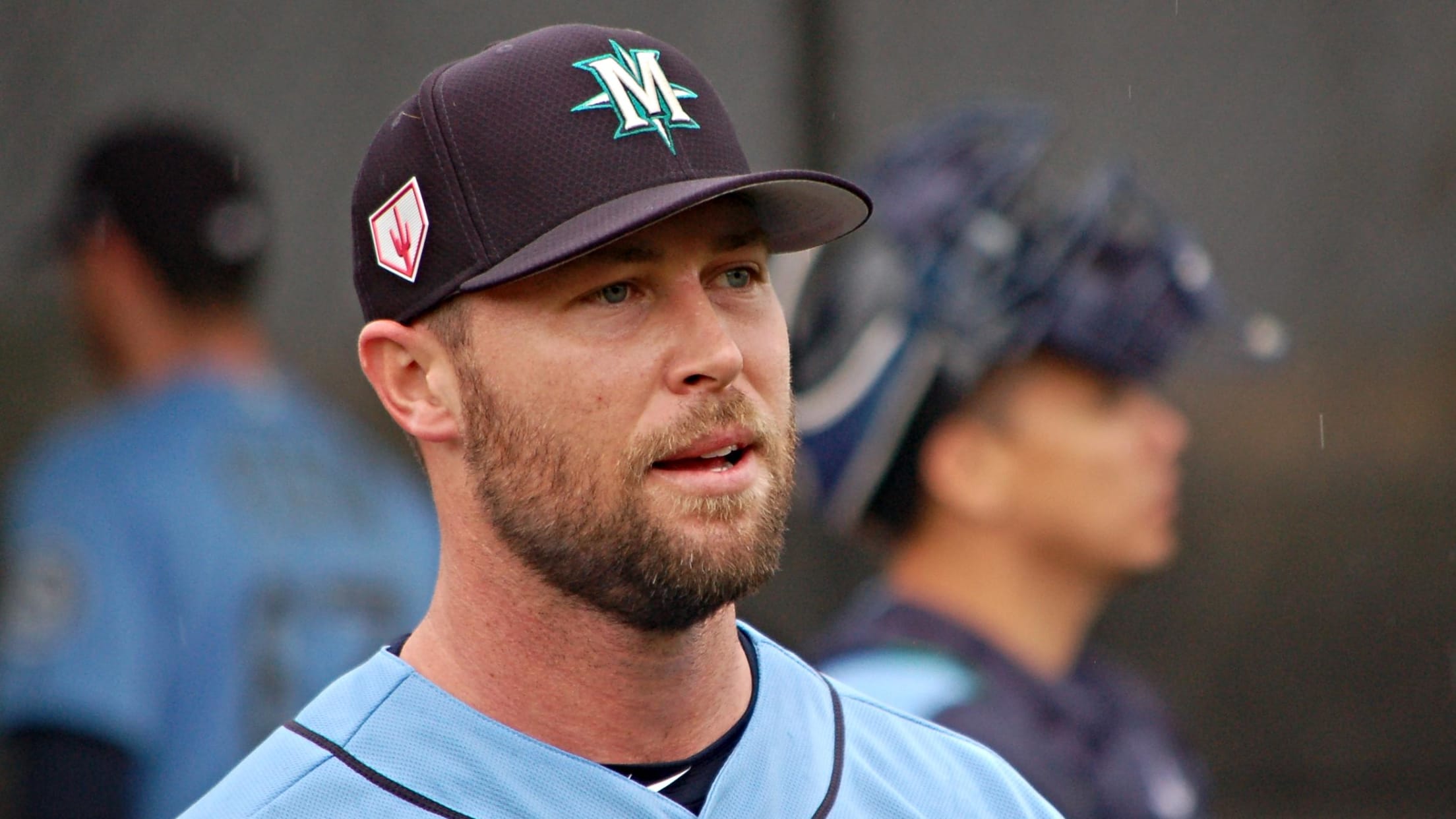 PEORIA, Ariz. -- Mother Nature played havoc with the Mariners' pitching plans on Tuesday as their Cactus League game with the White Sox was rained out, but from the wet spring afternoon emerged a ray of sunshine regarding closer Hunter Strickland. After not pitching for eight days due to a
PEORIA, Ariz. -- Mother Nature played havoc with the Mariners' pitching plans on Tuesday as their Cactus League game with the White Sox was rained out, but from the wet spring afternoon emerged a ray of sunshine regarding closer Hunter Strickland.
After not pitching for eight days due to a sore back, Strickland threw a strong bullpen session at the club's Peoria Complex and appears back on track to open the season with the club in Tokyo next week.
That is good news for a Mariners team that had one of the best closers in the game last year in Edwin Diaz, but now is piecing together a bullpen that doesn't have much in the way of experienced back-end relievers.
As the club prepares to fly to Tokyo on Thursday, Strickland's health looms large. He and fellow right-hander Anthony Swarzak are the two veterans who figured as the primary closer options, but Swarzak is just now getting up to speed after a delayed start to camp due to a lingering shoulder issue, and he'll open the season on the injured list.
Swarzak also took a big step forward Tuesday, however, as he also threw well in his latest bullpen session and could be pitching in games in Arizona by the end of the month while the Mariners are in Japan.
"Strickland looked good, throwing free and easy," manager Scott Servais said. "He might get back tomorrow and pitch in the intrasquad game, where we can control the pitches. But he looked really good today. That's a big step.
"And Swarzak really threw the ball well today, too. Both those guys had no hesitation. They were letting it go, working in all their pitches. We need him. We need both those guys to be healthy."
If all goes well, Strickland will throw in one of the exhibition games in Tokyo against the Yomiuri Giants and then be ready for Opening Day on March 20.
Swarzak's timeline is more vague since he hasn't pitched all spring, but if he returns in April or May it could be a big boost as he posted a 2.33 ERA in 70 appearances with the White Sox and Brewers in 2017 before an injury-plagued season with the Mets in '18.
Kikuchi to throw in intrasquad game
Tuesday's rainout wiped out the final Cactus League outing for Yusei Kikuchi, so the Japanese left-hander will instead throw four or five innings and about 75-85 pitches in an intrasquad game at the Mariners' practice facility at 1 p.m. PT on Wednesday.
Wade LeBlanc, who was held out of Monday night's game against the Royals because of rain concerns, also will throw in that game, as well as several relievers.
"It's not ideal, but we'll adjust," said Servais, who is trying to get all his pitchers' work in to keep them on schedule before boarding their charter on Thursday for Tokyo.
Question: What do players do during a rain delay?

Answer: pic.twitter.com/4APwcoWENT

— Seattle Mariners (@Mariners) March 12, 2019
Bautista, Smith won't go to Japan
Hard-throwing rookie reliever Gerson Bautista -- ranked by MLB Pipeline as the Mariners' No. 27 prospect -- has a Grade 1 strain in his right pectoral muscle and will miss the trip to Japan and likely open the season on the injured list.
The 23-year-old clutched his chest in pain and had to come out of his last outing on Sunday against the Angels, though initial hopes were that he'd just dealt with a cramp.
"He's going to be down for a little while," Servais said. "How long, I don't know. Grade 1 is the least severe, so hopefully we get him back as soon as possible. But he needs to rest that."
Also staying behind in Arizona will be center fielder Mallex Smith, who is just starting to take batting practice and throw after being sidelined since the start of camp with a strained right elbow. There was some thought of bringing Smith on the trip to Tokyo, but Servais said it's more important to let him get at-bats and make progress in Arizona.
"I definitely need to get my timing back," Smith said. "While you're out, you think you're so much further ahead, and then you get in there and you're like, 'Woah.' It'll take a few days of getting in there, getting some at-bats under my belt and maybe play in some Minor League games a little bit, just to get that rhythm back."
Ackley released as roster reduced to 40
Dustin Ackley, who was in camp on a Minor League deal, was released Tuesday as the club continued trimming its roster in preparation for the Tokyo trip.
Ackley, the Mariners' first-round Draft pick in 2009, hit .250 (3-for-12) with six walks in 18 plate appearances this spring, but the 31-year-old infielder didn't fit particularly well with a club looking to build around younger prospects.
Three other players were reassigned to Minor League camp, including infielder Orlando Calixte, who still hasn't arrived in the United States while dealing with visa issues getting out of the Dominican Republic. Also reassigned were infielder Tim Lopes and outfielder Tito Polo.
That leaves 40 players still in Major League camp, so more cuts will be coming Wednesday as only 30 players will fly to Tokyo and 28 will be designated for the final roster for the March 20-21 games vs. the A's.
Up next
Opening Day starter Marco Gonzales will make his final spring outing in Wednesday's 6:40 p.m. PT Cactus League contest against the Giants at Peoria Stadium in a televised game that can also be seen on MLB.TV. Servais said most of the regulars will play in the contest, as it's the final chance to play before a pair of exhibition games against the Yomiuri Giants at the Tokyo Dome on Sunday and Monday.