Crawford set to return; Fraley done for season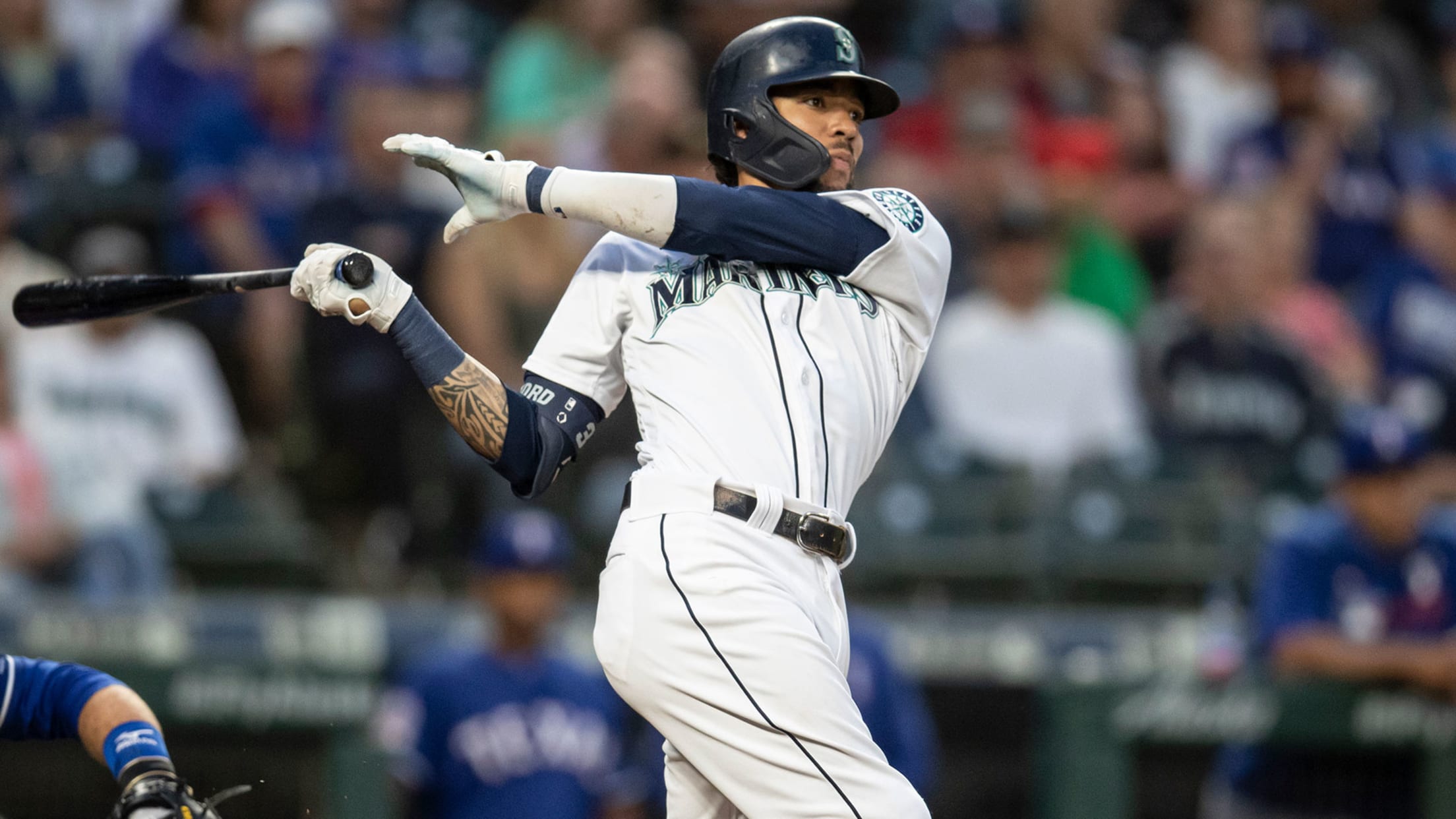 SEATTLE -- There may be only 2 1/2 weeks left in the Mariners' season, but for J.P. Crawford, those are big games to finish up his first full season in the Majors. The 24-year-old is itching to get back on the field after missing 10 days with a strained right
SEATTLE -- There may be only 2 1/2 weeks left in the Mariners' season, but for J.P. Crawford, those are big games to finish up his first full season in the Majors. The 24-year-old is itching to get back on the field after missing 10 days with a strained right hamstring, and he could be back in the lineup by Thursday or Friday.
"I definitely want to get out there and play with my teammates and finish strong," Crawford said after going through a workout with Mariners' training staff, as well as infield coach Perry Hill. "I've got a lot of games left and those are important games to me. I've got a lot to prove still. I want to get back out there and help my team."
Crawford has performed well in 79 games with the Mariners this season, solidifying their infield defense while batting .241/.322/.397 with six homers and 40 RBIs.
"I've definitely learned a lot," Crawford said. "Finally getting a chance to play every day at the Major League level, I got my feet wet a little and got comfortable out there. I feel like I belong, but still have a lot to prove. I still have to go out and work hard and prove I can be out there every day. I think this year, overall, has gone really well."
The Mariners acquired Crawford from the Phillies to be their long-term shortstop and they have seen nothing to change that opinion after calling him up from Triple-A Tacoma in mid-May.
"He's done a lot of good things this year," manager Scott Servais said. "He's really good defensively, he made a lot of strides there. We saw him get really hot with the bat for a while and then cool off. One thing he's done pretty consistently since he got here is swing decisions and controlling the strike zone. I like what I've seen."
That said, the Mariners want the 6-foot-2, 199-pounder to get physically stronger so he can better endure the rigors of a full MLB campaign.
"This is a big offseason ahead for [Crawford]," Servais said. "I say that about all the guys, some bigger than others, but he's probably right at the top of the list for what he can do to better himself and better his body to prepare to play an entire Major League season. I think he's a 150-game guy when he's right."
Fraley finished for this season
A sprained ligament in his right thumb will sideline rookie outfielder Jake Fraley for the remainder of the year as he'll be down for about four weeks, though no surgery will be required. Fraley hurt himself when he collided gloves with teammate Mallex Smith as both converged on a ball in the gap on Saturday in Houston.
The 24-year-old hit just .150 in 40 at-bats in 12 games after being called up from Tacoma, but he is the Mariners' No. 8 prospect, per MLB Pipeline, and hit .298 with 19 homers and 80 RBIs in 99 games between Arkansas and Tacoma.
"It was a good year [for Fraley], overall," Servais said. "It didn't finish up the way he hoped, but we still like the player, and he accomplished a lot this year. He needs some down time and get his body built back up. He doesn't look quite as strong as he did in Spring Training, and that happens. The wear and tear and fatigue. You don't eat and sleep right during the course of a season. It's part of the routine these guys are learning."
Mariners pay tribute to 9/11
The Mariners and all 30 MLB teams paid tribute to the memory of Sept. 11, 2001, on Wednesday, as players, coaches and umpires wore caps with a We Shall Not Forget ribbon patch on the side, and the center field flag at T-Mobile Park was flying at half staff.
The caps are on sale to the public, with all royalties going to the National September 11 Memorial & Museum, the Pentagon Memorial Fund and the Flight 93 National Memorial. Additionally, MLB and the MLB Players Association will continue to support the Families of Freedom Scholarship Fund that was endowed after 9/11 to offer academic aid to those affected.
Nearly 500 scholarships, totaling $11 million, have been awarded through the fund. More can be learned about that fund at familiesoffreedom.org.
The Mariners also held a moment of silence before their Wednesday game against the Reds, while Keith Taylor of the Marysville Fire Department sang the National Anthem and God Bless America, with Marysville Fire District providing the Color Guard.
Worth noting
• Outfielder Domingo Santana is nearly fully recovered from a strained right elbow that has sidelined him since Aug. 18. Santana could get some at-bats -- most likely at designated hitter -- by this weekend or at the start of the season's final road trip next week in Pittsburgh.
• Outfielder Mitch Haniger still remains shut down from the back injury that cropped up as he was attempting to return from his extended absence due to a ruptured testicle in June. All indications are the 28-year-old is done for the season, though the Mariners haven't made that official yet.
• Infielder/outfielder Ryan Court cleared waivers and had his contract outrighted to Tacoma, which means he'll remain in the organization after being designated for assignment on Tuesday to open a spot on the 40-man roster.