Mariners have intriguing Draft options at No. 6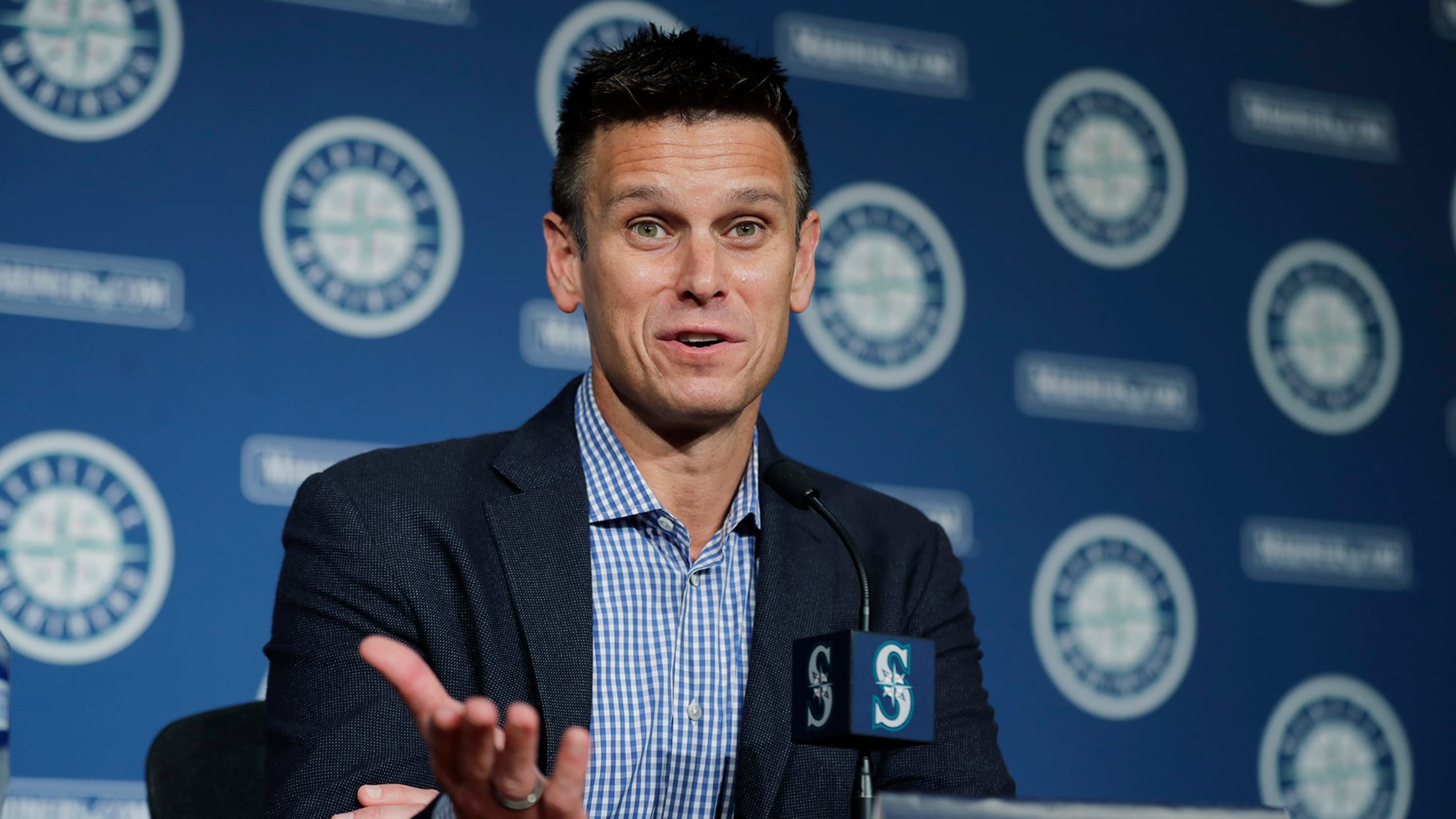 SEATTLE -- So much is different this year with Major League Baseball's June Draft. The event will take center stage in the baseball world next week while there are no games being played due to the COVID-19 pandemic. It'll be a shortened version, reduced to five rounds instead of the
SEATTLE -- So much is different this year with Major League Baseball's June Draft. The event will take center stage in the baseball world next week while there are no games being played due to the COVID-19 pandemic.
It'll be a shortened version, reduced to five rounds instead of the normal 40, and team executives will be working out of their homes -- spread individually across the country -- instead of gathered in Draft rooms at team headquarters as the process plays out virtually.
But for the Mariners, one thing is very much the same. General manager Jerry Dipoto and his crew are looking at this Draft as another key component of their rebuilding efforts, and they are in a position to add several more impact prospects with four picks among the first 78 selections.
Seattle has the sixth overall pick in the first round, No. 43 in the second and No. 78 in the third, and the club also acquired the No. 64 pick in Competitive Balance Round B from the Brewers in a trade for catcher Omar Narváez. The Mariners will also have their normal picks in the fourth and fifth rounds, giving them six selections overall in the two-day affair.
Day 1 of the 2020 Draft airs tonight on MLB Network and ESPN at 4 p.m. PT and includes the first 37 picks. Day 2 begins at 2 p.m. PT on Thursday on MLB Network and ESPN2 and spans the remainder of the 160 picks.
Comprehensive coverage will be available on MLB.com and MLB Pipeline, which will simulcast MLB Network's broadcast. Go to MLB.com/Draft to see when teams pick, the Top 200 Prospects list, mock drafts from analysts Jim Callis and Jonathan Mayo, scouting video and more. And follow @MLBDraft and @MLBDraftTracker on Twitter to see what Draft hopefuls, clubs and experts are saying and to get each pick as it's made.
Here's how the Draft is shaping up for the Mariners:
State of the system
Two years ago, the Mariners' Minor League system was widely regarded as one of the worst in the game. But Dipoto chose to redirect the organization's focus toward the future and traded away numerous Major League veterans -- Robinson Canó, James Paxton, Jean Segura and others -- to acquire quality prospects. Combined with the development of some of their own Draft picks and international signings, the Mariners now own one of the Top 10 farm systems in MLB and are looking to bolster that group with this year's Draft.
What they're saying
"With a shortened Draft, the first three picks, you go for the highest-end player. If you have a plethora of arms in your system, no one has ever been hurt by having too much pitching. So we'll take the best player available that we think has the most impact for the Seattle Mariners. Then as we get into the fourth and fifth rounds, obviously signability for some of the high school guys will take over, and we'll have to work our way through that." -- amateur scouting director Scott Hunter
Whom might they take?
With the sixth pick in the first round, the Mariners are targeting the top college talent and have been linked to Georgia right-hander Emerson Hancock by experts Callis and Mayo. Hancock is a 6-foot-4 junior with a mid-90s fastball and excellent command of four pitches, and he would fit well with the Mariners' growing collection of quality young arms.
But if New Mexico State second baseman Nick Gonzales is still on the board, the Mariners surely will be tempted by the NCAA 2019 batting champ who hit .432 last year and was off to another outstanding season before things were shut down this spring.
Minnesota right-hander Max Meyer and Louisville lefty Reid Detmers are also possible pitching options, though the Mariners are believed by Callis to be leaning toward Hancock if he's available and Gonzales goes in the first five picks.
Money matters
Each team gets an allotted bonus pool equal to the sum of the values of its selections in the Draft. The more picks a team has, and the earlier it picks, the larger the pool. This year, with a five-round Draft, all signing bonuses of drafted players will apply toward the bonus pool total.
For 2020, there is a $20,000 limit on bonuses for non-drafted free agents. There is no limit to the number of undrafted players teams may sign once that process starts the following week, but they cannot go over $20,000 per player. These bonuses do not count toward the pool total.
The Mariners have a pool of $10,265,500 to spend, including $5,742,900 to spend on their first selection.
Shopping list
While Hunter says this is the best group of college pitching talent he's seen and adding more arms remains a priority, the Mariners also figure to use several of their picks to bolster their position ranks. Catching depth is a concern, with only Cal Raleigh (No. 8) among their Top 30 prospects, per MLB Pipeline. Outfield isn't an issue, with Jarred Kelenic (No. 1), Julio Rodriguez (No. 2), Jake Fraley (No. 9) and Kyle Lewis (No. 10) on the way, but middle infield and third base are certainly areas that could use help.
Trend watch
Dipoto definitely prefers tapping the college ranks with his higher picks, as the Mariners have gone that route in the first round in each of his four Drafts in Seattle. They made just seven high school selections out of the 61 players chosen in the first 15 rounds in those four years, and they took college pitchers with their first five picks last year.
Arms of all ages were the focus in 2019 as nine of Seattle's first 11 picks were used to add pitchers, including a pair of high schoolers in the sixth and seventh rounds, though they might be more diverse in this shortened Draft.
The Mariners aren't totally averse to taking a shot at a prep player with a prominent pick. They used second-round selections on high schoolers Joe Rizzo in 2016 and Sam Carlson in '17, and with the extra compensation pick this year after the second round, could well take a prep player with high upside if they see the right fit with one of their six selections.
The recent top picks
2019: George Kirby, RHP
2018: Logan Gilbert, RHP
2017: Evan White, 1B
2016: Kyle Lewis, OF
2015: Nick Neidert, RHP