This is how Seattle's roster is shaping up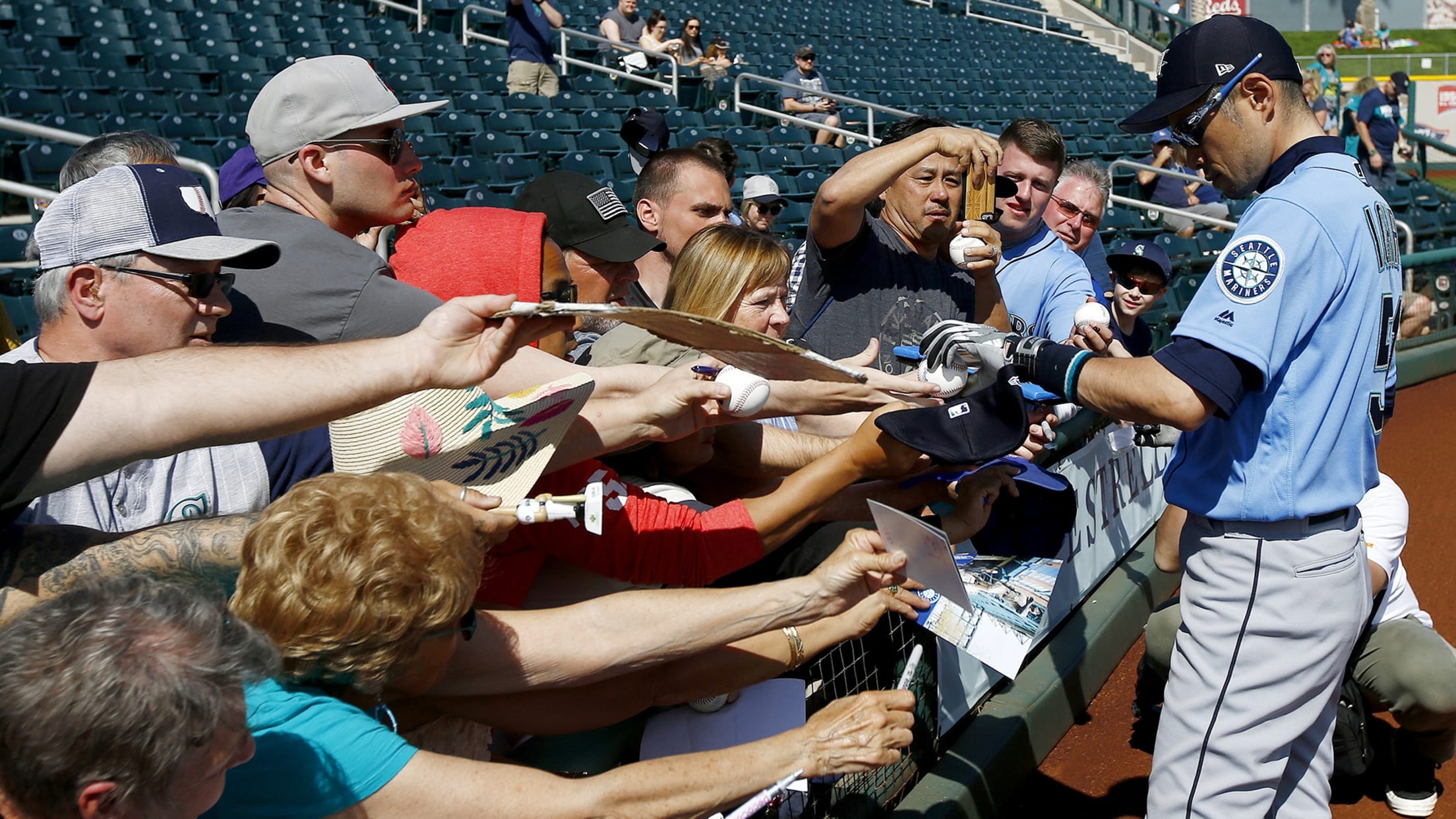 PEORIA, Ariz. -- Prior to the start of Spring Training, we took a stab at predicting the Mariners' 25-man roster that will open the season in Tokyo against the A's on March 20. With that date now looming just 13 days away, it's time to see how things stand as
PEORIA, Ariz. -- Prior to the start of Spring Training, we took a stab at predicting the Mariners' 25-man roster that will open the season in Tokyo against the A's on March 20.
With that date now looming just 13 days away, it's time to see how things stand as the club prepares to whittle its roster down for the regular season.
The Mariners' situation is a little more complicated this year, since the club can carry an extra three players for the Opening Series in the Tokyo Dome, though only 25 will be active for each game.
These are predictions only. The real decisions should be forthcoming soon as general manager Jerry Dipoto and his staff get down to business in the coming days, with the Mariners boarding their flight to Tokyo next Thursday.
Catcher (2): Omar Narváez and David Freitas
What changed? Nothing yet, though this remains an area the club would like to have bolstered to help out Narvaez, who has struggled at the plate so far this spring while trying to learn a whole new staff, as well as working to improve his pitch framing and footwork. Martin Maldonado remains a free agent of interest as a strong defender who is still without a job, though the Royals appear his likely landing spot after losing Salvador Perez to Tommy John surgery. Freitas and non-roster invitee Jose Lobaton are competing for the backup job, with Freitas seeming to have the edge given his previous experience with the club, as well as the fact someone would need to be moved off the 40-man roster to add Lobaton.
First base (2): Edwin Encarnacion and Daniel Vogelbach
What's changed? Encarnacion has played more first base than expected this spring and the 36-year-old slugger appears targeted as the Opening Day starter, which would allow Vogelbach to take the designated hitter duties and also be available to play first base at times. The odd man out in this scenario for now would be Ryon Healy, the returning starter, who has Minor League options remaining and thus could open the year in Triple-A Tacoma without being exposed to waivers. Vogelbach is out of options, but he has shown again this spring that he's an intriguing offensive weapon who needs a chance at consistent at-bats in the regular season to see if he can be part of the future. It seems only a matter of time before Encarnacion is traded for prospects, but until then, he'll provide a potent middle-of-the-order bat.
Second base (1): Dee Gordon
What's changed? Gordon has looked healthy and quick again after moving back to his natural position, which is a good sign. The only change here is that newly-acquired prospect Shed Long has been one of the bright lights of camp and provides some much-needed depth.
Third base (1): Kyle Seager
What's changed? Only Seager's physical appearance, as he arrived in camp looking slimmer and more mobile and seems intent on putting his disappointing 2018 in the rear-view mirror. This is another spot where Long provides organizational depth, though he's been primarily a second baseman in his Minor League career.
Shortstop (1): Tim Beckham
What's changed? This one seems to be playing out as expected, with the veteran Beckham in line to open the season as the starter. J.P. Crawford remains the heir apparent to Jean Segura after his acquisition from the Phillies, but he hasn't forced the Mariners' hands with an overwhelming camp and figures to get further seasoning in Tacoma to start the year.
Outfield (4): Mitch Haniger, Domingo Santana, Jay Bruce, Braden Bishop
What's changed? Mallex Smith's strained right elbow likely knocks him out of Opening Day contention, so Haniger will shift to center field for the short term and Santana and Bruce can play the corner spots. Once Smith returns, Haniger will move back to right and Santana will get the majority of time in left, with Bruce backing up both corners and also getting time at first base and DH. That all opens a spot for Bishop, who has never played above Double-A. But the former University of Washington standout has shown an improved bat and is a strong defender in center, thus providing needed backup there during Smith's absence and with Haniger dealing with some back issues of late.
Designated hitter (1): Ichiro Suzuki
What's changed? This is where one of the extra roster spots could go for the Japan games. The Mariners want to get Ichiro some at-bats in Tokyo and DH might be the perfect place to do that, though it's certainly possible they'll send him out to right field for a time or two as well. Either way, the Tokyo Dome roof might come off as the Japanese fans will be fired up for what well could be Ichiro's final games as a Major Leaguer. Long term, the Mariners will use the DH spot more on a rotating basis between Vogelbach, Encarnacion, Bruce and others.
Utility (1): Dylan Moore
What's changed? Nothing at all, as this remains a toss-up between Moore and Kristopher Negrón coming down to the wire. Negron, 33, has more experience and might seem the logical choice, but the 26-year-old Moore was acquired from the Angels because the Mariners see some long-term upside and that likely will be the difference if they stick to their approach. Long pushed his name into the conversation with a strong offensive camp, but he doesn't have the defensive versatility -- particularly at shortstop -- needed to fill the utility role yet.
Starting pitchers (5): Marco Gonzales, Yusei Kikuchi, Mike Leake, Félix Hernández, Wade LeBlanc
What's changed? The only question here was health and all five starters have been fine so far, so they will make up the rotation that starts the season, though the exact order remains to be seen. New top pitching prospect Justus Sheffield – acquired from the Yankees in the James Paxton deal – has been impressive and clearly will be in Seattle before long … and perhaps even in Tokyo if the Mariners want to bring him as an extra arm.
Relief pitchers (8): Right-handers Hunter Strickland, Shawn Armstrong, Dan Altavilla, Cory Gearrin, Gerson Bautista and Brandon Brennan. Left-handers Zac Rosscup and Roenis Elias
What's changed? Roster implications figure to go a long way toward determining the final eight here. We initially had Chasen Bradford in the group, but he has Minor League options remaining and thus could be used as a flex option between Seattle and Tacoma. Strickland appears the only one with a set role as the closer at this point, while Armstrong, Gearrin, Rosscup and Elias are all out of options and Brennan is a Rule 5 pickup who'd have to be returned to the Rockies if not on the 25-man roster. So those six are pretty much assured spots.
Altavilla seems a lock for one of the set-up roles and we'll go with Bautista and his impressive power arm for the last bullpen opening, though he could start the year in Tacoma and create an opportunity for Nick Rumbelow on the big league club. This is another area in which the club likely will bring an extra player to Japan before making the final cut to 25 prior to the March 28 home opener in Seattle.
CATCHERS
Omar Narvaez
David Freitas
INFIELDERS
1B Edwin Encarnacion
1B Daniel Vogelbach
2B Dee Gordon
SS Tim Beckham
3B Kyle Seager
OUTFIELDERS
LF Domingo Santana
CF Mitch Haniger
RF Jay Bruce
OF Braden Bishop
DESIGNATED HITTER
OF Ichiro Suzuki* -- extra player in Japan
UTILITY PLAYER
Dylan Moore
STARTING PITCHERS
Marco Gonzales
Yusei Kikuchi
Mike Leake
Felix Hernandez
Wade LeBlanc
Justus Sheffield* -- extra player in Japan
RELIEF PITCHERS
RHP Hunter Strickland
RHP Shawn Armstrong
RHP Dan Altavilla
RHP Cory Gearrin
RHP Gerson Bautista
RHP Brandon Brennan
LHP Zac Rosscup
LHP Roenis Elias
RHP Nick Rumbelow -- extra player in Japan
-- *allowed to carry 28 players for Opening Series in Tokyo
INJURED LIST
OF Mallex Smith
RP Anthony Swarzak
RP Sam Tuivailala