Key Mariners players on the mend
Dipoto, Servais get reacquainted with a familiar face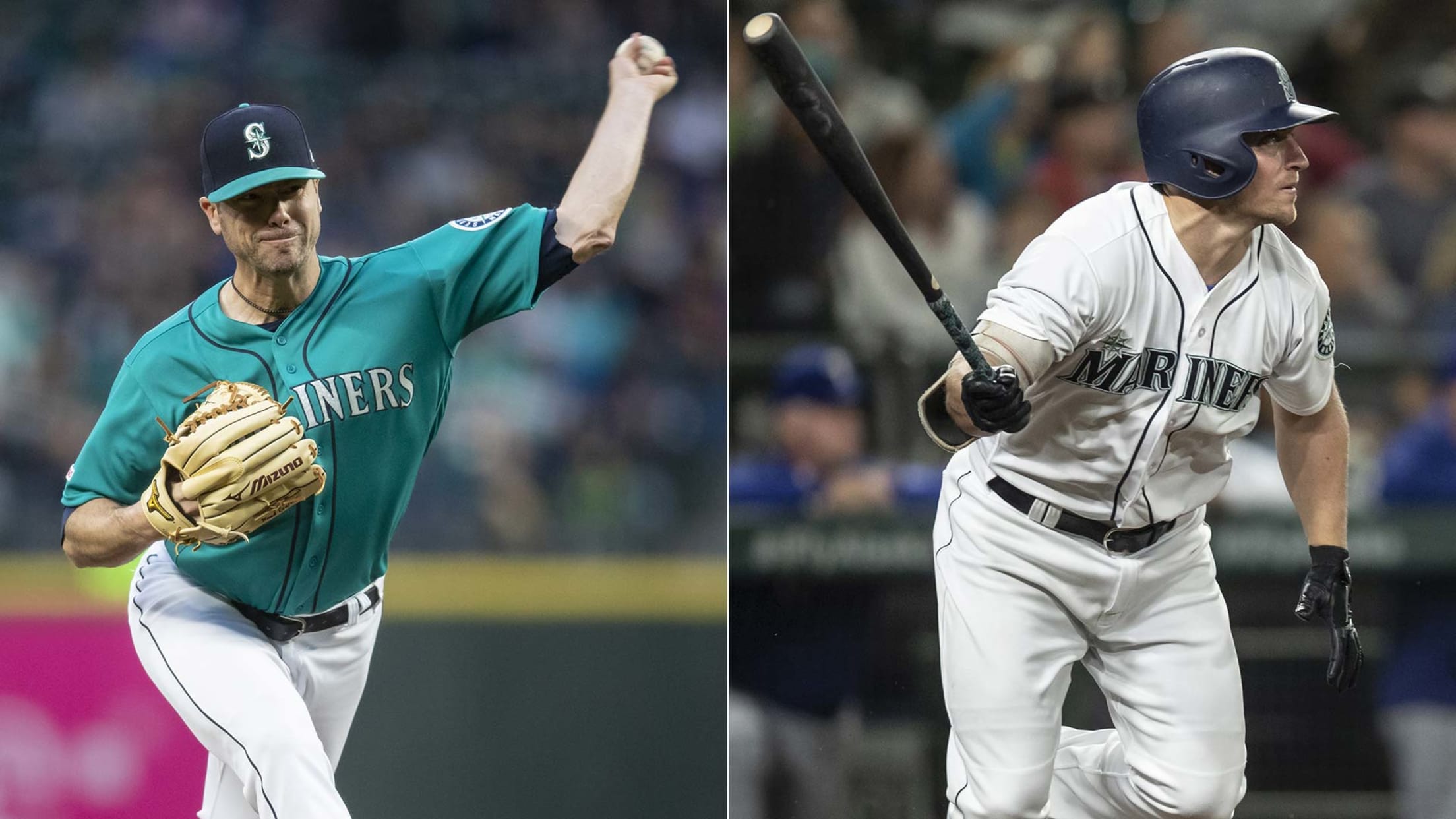 SEATTLE -- The Mariners are still awaiting word on tests regarding Felix Hernandez's sore shoulder, but a number of other positives emerged Monday on the injury front as the club returned home from a tough 10-game East Coast road trip. • Starting pitcher Wade LeBlanc was scheduled to make a
SEATTLE -- The Mariners are still awaiting word on tests regarding Felix Hernandez's sore shoulder, but a number of other positives emerged Monday on the injury front as the club returned home from a tough 10-game East Coast road trip.
• Starting pitcher Wade LeBlanc was scheduled to make a rehab start in Las Vegas for Triple-A Tacoma and could rejoin the rotation as early as this weekend against the Twins. The left-hander is recovering from a strained right oblique that has sidelined him since April 12.
• Third baseman Kyle Seager, who's been out since undergoing surgery on a torn tendon in his left hand sustained early in Spring Training, joined Tacoma on Monday as well, and took batting practice with the Rainiers. He's expected to play his first rehab game on Tuesday, and remains on target to return when he's eligible to come off the 60-day injured list on May 25.
• Second baseman Dee Gordon didn't start in Monday night's extra-innings triumph over the A's, but he did make an appearance in the 10th, pinch-running for Daniel Vogelbach, stealing his 11th base and eventually scoring the game-tying run. It's worth noting he took ground balls with the rest of the team during batting practice, and appears close to being ready after being hit by a pitch in the right wrist on Thursday in New York.
• Closer Hunter Strickland played catch on Monday for the first time since straining his right lat muscle in his third appearance of the season on March 29. Strickland said he'll likely play catch every other day at about a 60-foot distance before slowly beginning to work his way towards a midseason return from the 60-day IL.
• Utility man Dylan Moore, who went on the 10-day IL with a bruised right wrist on Friday, took about 15 swings in the cage and took full part in the pregame infield defensive work. The rookie said he fully expects to be ready when he's eligible to come off the IL next Monday.
New reliever arrives
The Mariners' bullpen shuffle continued as Austin Adams, a 28-year-old right-hander acquired last week from the Nationals, was recalled from Triple-A Tacoma, and fellow right-hander Dan Altavilla was optioned back to Double-A Arkansas. He made an appearance in the 8th inning of Monday night's game, allowing a solo home run to Khris Davis before striking out the side.
Adams pitched twice for Tacoma, allowing one hit with four strikeouts over 2 1/3 scoreless innings. He pitched once for the Nationals this year during a three-day stint with the big league club, allowing one run in one inning. Adams posted a 2.70 ERA with 20 strikeouts and three walks in 10 innings for Triple-A Fresno.
Adams was drafted by the Angels in the eighth round of the 2012 MLB Draft when Mariners general manager Jerry Dipoto was the Angels' GM, and manager Scott Servais was their director of player development. He's posted a 3.86 ERA in nine MLB appearances over the past three years.
"I had a good relationship with Servais and Dipoto. They drafted me, and it feels great to be here and to be wanted," Adams said.
Servais said Adams is the latest of a number of relievers the Mariners have acquired and offered an opportunity, hoping to see similar results to Rule 5 Draft pick Brandon Brennan and hard-throwing right-hander Connor Sadzeck, who was acquired from the Rangers in a similar situation after he'd been designated for assignment and put up a 2.70 ERA in his first 14 outings.
Adams has 13 walks and 12 strikeouts in seven innings in his brief big league career, so much like Sadzeck, consistently throwing strikes stands to be his biggest challenge.
"He has a really good slider," Servais said. "He's got wipeout stuff. When he does control the zone, he gets very good results. Again, if he was a totally finished product who was killing it, he probably wouldn't be here. There was opportunity for us to acquire him. We did, and it's a chance to bring him to the big leagues and see if he can take advantage of it."
Worth noting
• With Mallex Smith and Braden Bishop both in Triple-A Tacoma, Mitch Haniger will continue handling center-field duties. But Servais said that will likely change shortly.
"The reports on Mallex are really good, and I would assume he'll be back with us soon," Servais said.
Smith was batting .350 (14-for-40) with eight runs scored, three doubles, one home run, six RBIs, three walks and seven stolen bases in his first nine games with the Rainiers.
• The Mariners haven't set their rotation beyond Thursday's series opener against the Twins, which will be started by Erik Swanson. Hernandez would have been in line for Friday's start, but he's now on the IL. Servais said options are still being looked at, and will depend in part on how LeBlanc fares in his rehab outing with Tacoma.
• The Mariners announced Monday that the club will hold its first official fantasy camp for men and women age 30 and over on Jan. 11-18, 2020, at their Peoria Sports Complex in Arizona.
Participants will be coached on the fundamentals of pitching, hitting, fielding and baserunning by former Mariners players, and members of the organization's coaching staff, with two games also being played.
For more information or to register, go to Mariners.com/FantasyCamp.