Haniger likely out until after All-Star break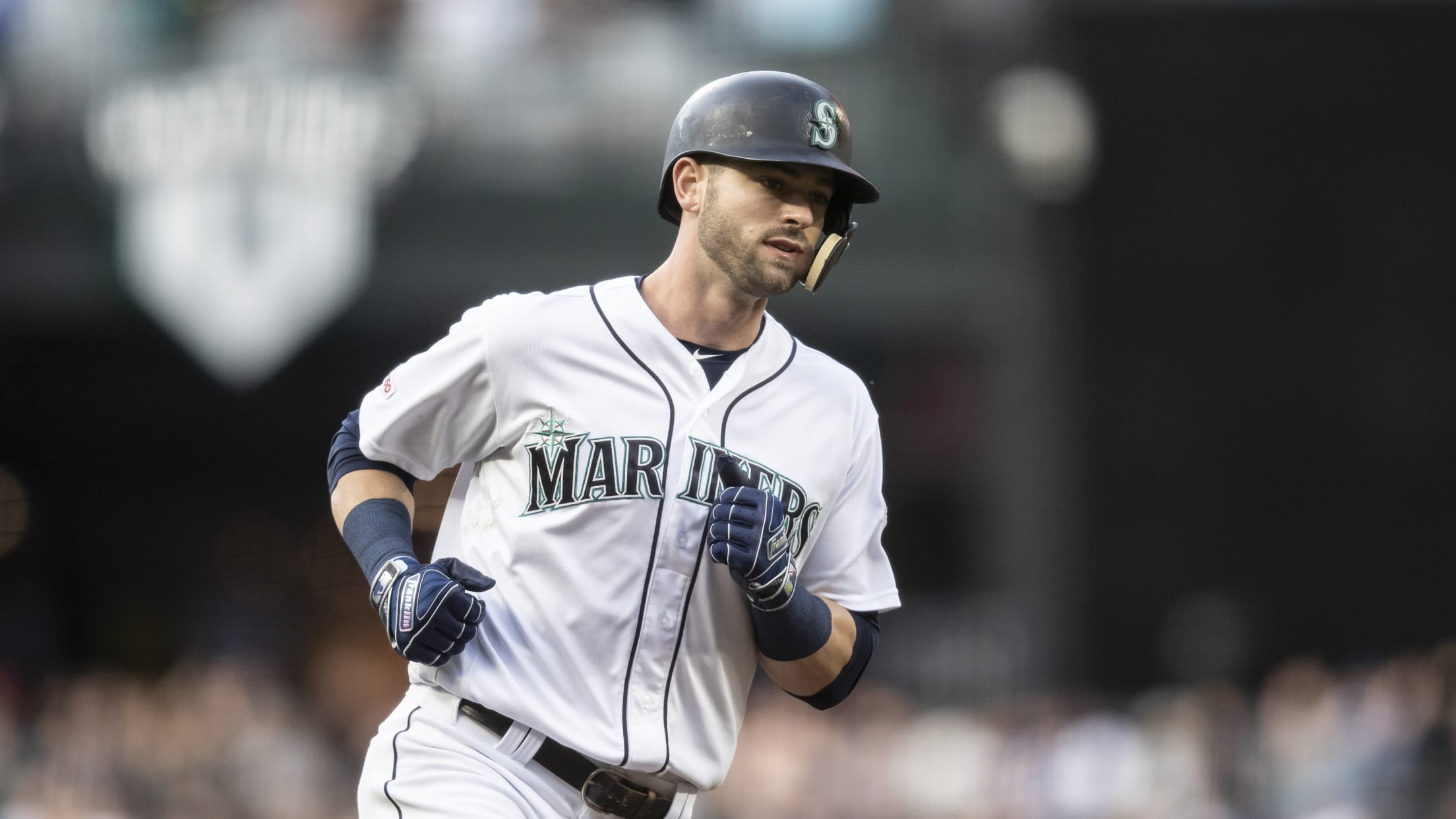 HOUSTON -- With just eight days remaining until the All-Star break, Mitch Haniger's hope of rejoining the Mariners before then appears to have given way to the reality of needing that extra time to recover from his ruptured testicle. Manager Scott Servais said Saturday that Haniger will be held back
HOUSTON -- With just eight days remaining until the All-Star break, Mitch Haniger's hope of rejoining the Mariners before then appears to have given way to the reality of needing that extra time to recover from his ruptured testicle.
Manager Scott Servais said Saturday that Haniger will be held back from the running and swinging that he'd been ramping up earlier in the week for the next few days.
"Typical Mitch, he's probably pushed it a little too much, too fast," Servais said. "We need to back him off for a couple days and see where it goes from there. I told Mitch, 'This is typically what you do.' He ramps up his rehabs and then hits a wall. He needs to slow it down a little bit."
Haniger has missed three weeks now since fouling a ball off himself on June 6 against the Astros in Seattle and undergoing surgery the following day. His initial hope was to return in four weeks, but that doesn't appear to be in the cards now.
Adrian Beltre, renowned for his toughness, missed 5 1/2 weeks with the same injury in 2009 while playing for the Mariners. With the All-Star break from July 8-11, Haniger would still have only missed five weeks if he returns for the Mariners' series against the Angels from July 12-14 in Anaheim.
He'll also need some Minor League at-bats to regain his timing once he's healthy.
"I think it's more realistic coming out of the break," Servais said. "We have to be smart. This is bigger than baseball, when you're dealing with stuff like that. You have to make sure he's totally healthy and can run around and do all the things you have to do when it isn't controlled. He's a ways away."
Haniger said he wasn't sure on a timeline, but is well aware he needs to be careful.
"I really don't know. I was told by the doctor it's typically around four weeks for non-athletes," he said. "I'm really hoping for that, but at the same time I really don't know. The final hurdles will be diving and stuff like that.
"I don't know when I'm going to be able to do those things. I know today there is zero percent chance I'm comfortable diving. In five days or a week or 10 days, I'm hopeful I'll be comfortable, but I really have no idea."
Seager coping with sore wrist
After sitting out three days with a sore right wrist, third baseman Kyle Seager was back in the lineup on Saturday against the Astros.
The 31-year-old acknowledged that it's been an odd year for him after missing the first two months with a torn tendon in his left hand, but he's eager to get into a groove after never having been on the injured list in his first eight seasons in the Majors. He said that he isn't about to let a minor wrist issue derail him now.
"It's good enough to play," Seager said. "It's just a little nagging thing, annoying, but it's good enough to go. It's a lot better than yesterday."
Seager hurt the wrist midway through Tuesday's game in Milwaukee, though he stayed in that contest and went 2-for-4 with a double before it stiffened up the following day. He'd posted a .276/.382/.414 line in his past eight games before his latest setback.
"It's been a weird year for me. I'm not used to spending much time on the shelf," he said. "I'm used to being out there every day and just going. This year has been different, getting hurt the second week of spring and then having to battle that.
"It's been a challenging year, but I feel fine. I'm starting to get into that rhythm that I wanted to be in. This [wrist] is normal stuff. This is baseball stuff. It happens."