Inbox: How will Nationals bolster bullpen?
Beat reporter Jamal Collier answers questions from DC fans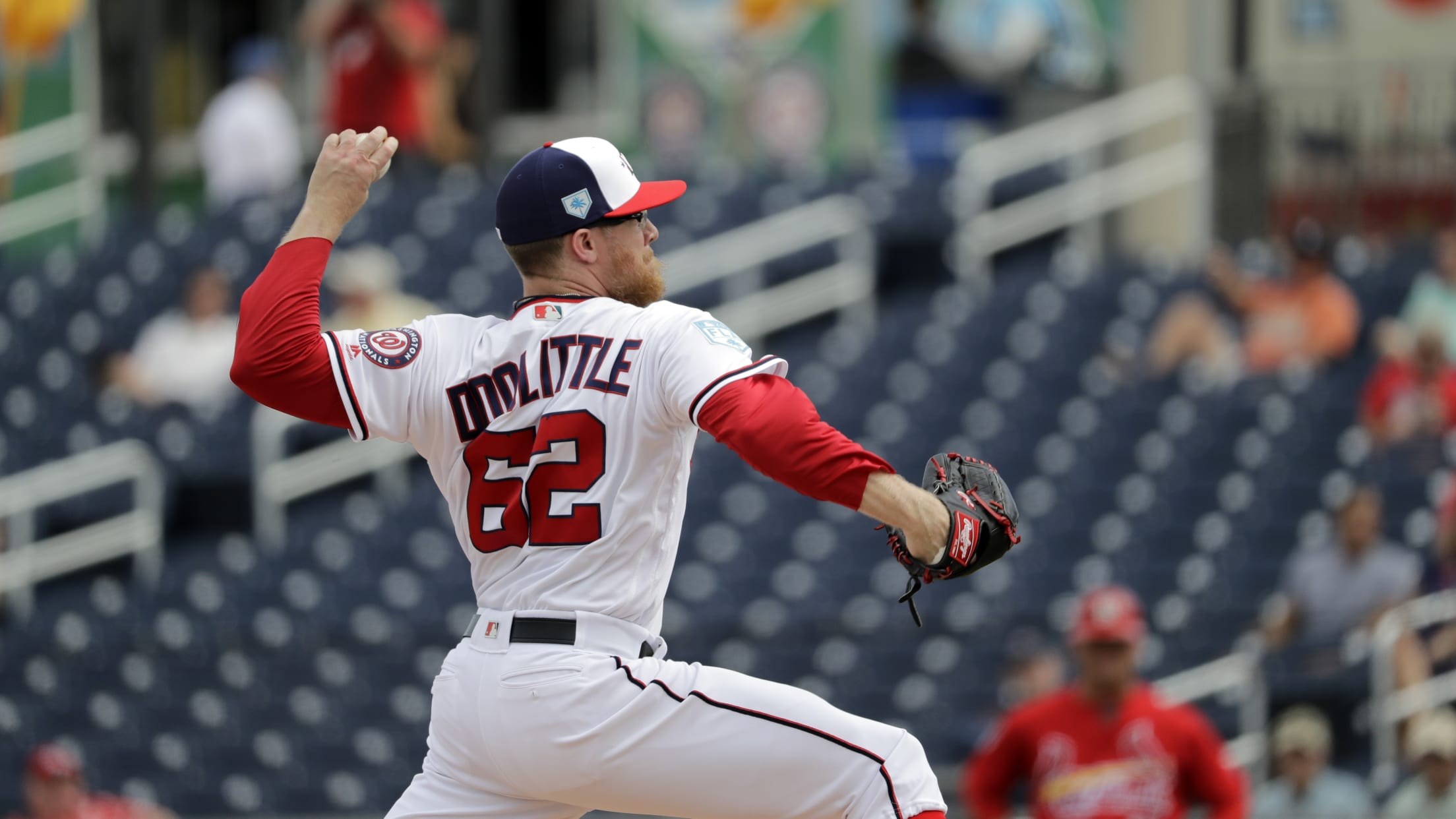 WEST PALM BEACH, Fla. -- We're at about the halfway point of Spring Training and the good news is, there's actual regular season baseball games starting at the end of this month.
WEST PALM BEACH, Fla. -- We're at about the halfway point of Spring Training and the good news is, there's actual regular season baseball games starting at the end of this month.
From the front office to the coaches and players, everyone around the Nationals seem pretty encouraged by the revamped team they constructed this offseason, a team that should contend even though Bryce Harper now plays two hours north of D.C. Even though the Harper saga is settled, there are a ton of questions still on the minds of fans anxious for the start of the season.
So, it's time for another dive into the Nationals Inbox, wondering first, whether the team's busy offseason was enough or if Washington needs to make one more splash by adding the elite closer still lingering on the free-agent market.
Could they go after Kimbrel?

— Ajay Atayee (@AjayAtayee) March 2, 2019
It's impossible to have too many good relievers, so Craig Kimbrel makes sense for all 30 teams, but I've wondered for a while whether he was a realistic possibility for the Nationals. And in recent days, they have been connected to Kimbrel, beginning Friday when MLB Network Insider Ken Rosenthal reported the Nats have maintained interest in Kimbrel. Then, ESPN's Keith Law tweeted later that night Kimbrel to the Nationals is "further down the road" than expected.
The idea of Kimbrel joining a bullpen that already includes Sean Doolittle and Trevor Rosenthal would be a huge addition for Washington, especially because two of his other potential suitors -- Atlanta and Philadelphia -- reside in the stacked National League East. The Nationals might have been the favorites in the division before, but the Phillies adding Harper is going to close that gap some, if not erase it. If the Nats want to show they are serious about winning the division this season, they should go get Kimbrel and improve a bullpen that is probably the biggest flaw left on the roster.
Signing Kimbrel would almost certainly push the Nationals over the luxury-tax threshold for the third consecutive season and the Nats have shown very little willingness to exceed that number. Right now, the front office believes it has enough payroll flexibility built in to withstand incentives and potentially add a player at the non-waiver Trade Deadline, and it wants to keep it that way. Surpassing the $206 million threshold again would require the Nationals to pay a 50 percent tax on every dollar they spend over the limit, so they have been focused on resetting those penalties by getting under this year.
But remember that luxury-tax bill was just $2.4 million in 2018. Should that be a major impediment? No. Would you rather win 93 games, the division and have paid the penalty or win 88, miss the postseason and avoid it? To me, it's a no-brainer, but it's a hurdle they have not been willing to clear.
what do you think this team needs to add right now, if anything

— ryder krauss (@krauss_ryder) March 2, 2019
I've been down on the Nationals' starting pitching depth for a while now, but this bullpen also feels at least an arm short. There are just too many question marks after Doolittle. Rosenthal has looked good on the mound, touching triple digits with ease in his first outing without any hint of arm trouble, but he is still coming off Tommy John surgery. Kyle Barraclough struggled in the second half of last season before the Marlins traded him for international slot money in October. Wander Suero and Matt Grace are going to be counted on to carry pretty big roles behind them. Any of those last three scare you against Harper or Robinson Cano or Ronald Acuna in a big spot in the sixth or seventh inning?
In the NL East of the past, perhaps the Nationals could get by with this bullpen until their now-annual midseason upgrade at the Trade Deadline. But this year's division looks less forgiving.
Who's better - 19 year old Harper, 19 year old Soto, or 19 year old Robles?

— Brett Whitney (@Brett_M_Whitney) March 2, 2019
Interesting question. Juan Soto's bat was better but Harper was definitely a better defender, and remember Soto had never even played left field before the team called him up to do so. Harper has the edge in WAR (4.4 in 2012) over Soto (3.7) and the two are tied in home runs (22), but Soto has the highest wRC+ (145) and wOBA (.392) of any teenage hitter in history. I think I'll give him a slight edge over teenage Harper, but that might just be bias because I wasn't around for it. Victor Robles had yet to advance to Double-A, so he gets third place here.
Will MAT or Robles get more playing time early in the season?

— Nats Wilander (@truk2112) March 2, 2019
The Nationals are calling this an open competition for playing time this spring technically and while I do not doubt they plan to give Michael A. Taylor plenty of playing time if he's productive, they are not going to leave Robles on the bench too often. They think he is ready. His brief slash line from the past two Septembers -- .277/.337/.506 in 93 plate appearances -- has been encouraging. But it's time to him to get a chance to prove himself.
However, the Nats also understand they need Taylor. He is the best defensive outfielder on the roster and although Adam Eaton is healthy this spring, he has still missed significant time the past few seasons. Perhaps Robles, who turns just 22 in May, is not ready to play every day. Taylor helps provide insurance. If his remade swing helps improve his numbers at the plate, manager Dave Martinez will find ways to get Taylor on the field more frequently, but I'm not betting that will come at the expense of Robles right away.
Will the Nats go after Bryce for 2032?

— KevinMc From TX (@KevinMcFromTX) March 2, 2019
Ha, fitting to get one last question about Harper's free agency. I don't think by the end that Phillies legend Bryce Harper (how weird does that sound right now??) will want to go anywhere else, but anything could happen! The Nationals might be in need of a new designated hitter that year.