Kendrick ready to go after shortened 2018
Veteran's season ended in May by ruptured Achilles tendon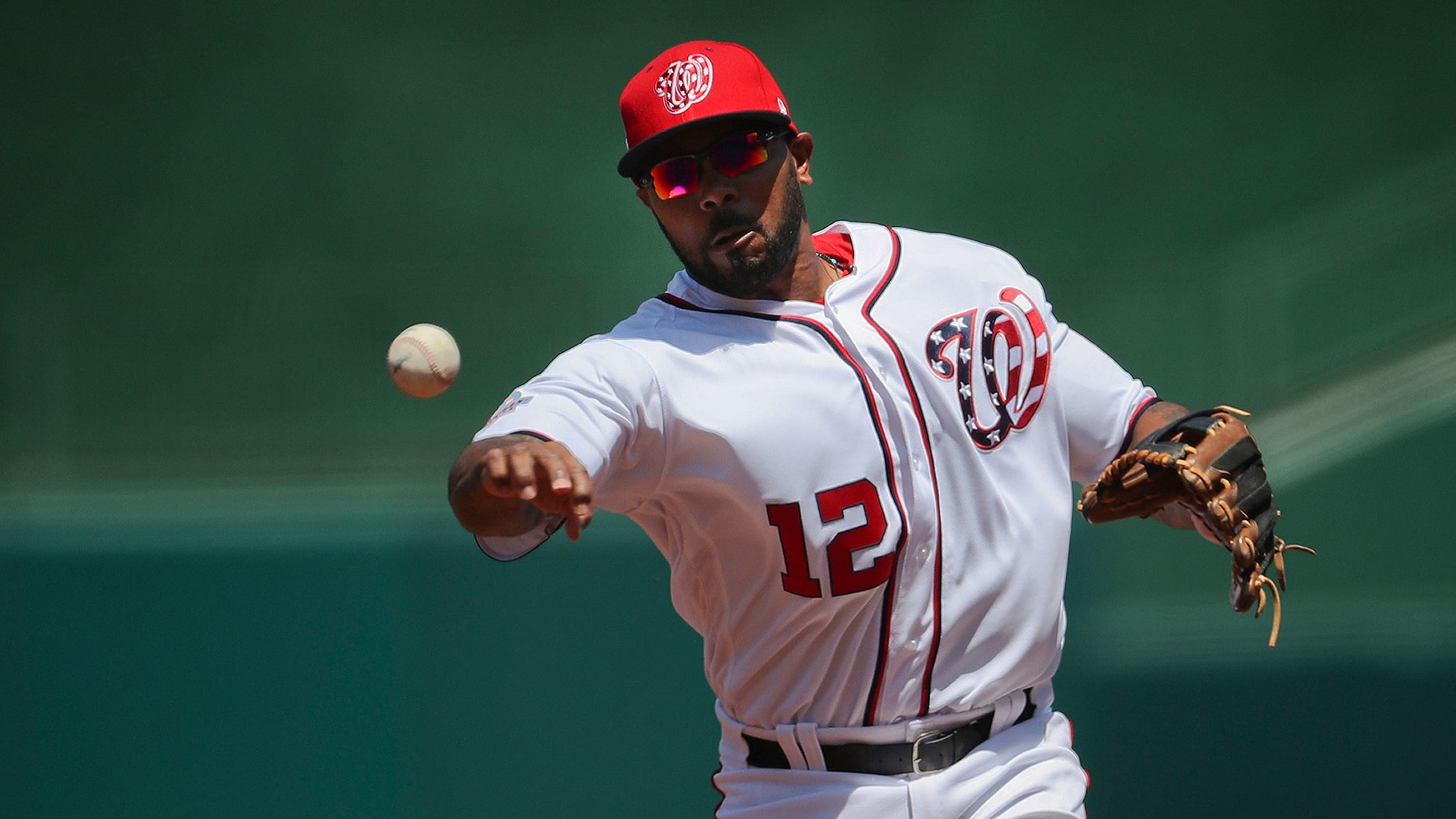 WEST PALM BEACH, Fla. -- Howie Kendrick set a goal for himself after the final day of the regular season, to work tirelessly enough this offseason to arrive at Spring Training ready to go after a ruptured right Achilles tendon ended his season in May. He spent the winter rehabbing
WEST PALM BEACH, Fla. -- Howie Kendrick set a goal for himself after the final day of the regular season, to work tirelessly enough this offseason to arrive at Spring Training ready to go after a ruptured right Achilles tendon ended his season in May. He spent the winter rehabbing the Achilles back into playing shape before a breakthrough three weeks ago, when he resumed running for the first time.
As Nationals position players reported to camp Monday, Kendrick arrived feeling no need to qualify his healthy status. He feels 100 percent, has tested out the injury by sprinting and running the bases, and declared himself ready to go.
"As of right now, I'm going to go out with the team and do everything everyone else is doing," Kendrick said. "I think they are going to modify my running a little bit, I guess. I haven't really talked much with them about it, but as far as I'm concerned, I'm able to do all baseball activities.
"I'm confident in where my Achilles is and like I said, I feel good about it."
:: Spring Training coverage presented by Camping World ::
Kendrick arrived in West Palm Beach a few days early and has already been on the field taking ground balls, tracking balls in the outfield and even taking batting practice.
While manager Dave Martinez plans to keep an eye on Kendrick's status this spring, attempting to ease him back into action and conserve some of his playing time, even he could not deny how Kendrick looked during the first few days of camp.
"I can't speak for Howie, but he looks normal," Martinez said. "I think he's in one of the best shapes he's ever been in."
To cover themselves given the seriousness of Kendrick's injury and his age, the Nationals decided to sign Brian Dozier during the offseason to play second base. They got burned a year ago when they thought Daniel Murphy, who was recovering from microfracture knee surgery, would be ready to start the season on time or shortly after and then Murphy was out until June, so they wanted more insurance this season.
And Kendrick, 35, took no issue with the signing. At this point in his career, winning is more valuable to him than entering the season as the starting second baseman and now he can continue to bounce around in the utility role he has played the past few seasons.
"My role on this team hasn't changed," Kendrick said. "I'm going to play everywhere like I did in the previous couple years, and I look at it like that. The at-bats I get are the at-bats I get, I'm not here to complain about anything. I'm here to play baseball, try to help guys get better and try to win ballgames. At the end of the day I think that's really important."
Where could Robles bat in Nats lineup?
Incorporating Victor Robles into the Nationals' lineup is going to be a challenge for Martinez. Robles has spent his Minor League career at the top of the lineup, but the Nats already have two very good leadoff hitters in Adam Eaton and Trea Turner. The middle of the order is loaded with more proven talent, such as Juan Soto, Ryan Zimmerman and Anthony Rendon.
So Robles -- the Nationals' top prospect and MLB Pipeline's No.4 overall prospect -- is likely to hit somewhere near the bottom, and Martinez considered the idea of batting him ninth at times, using him as a second leadoff hitter.
"We'll toy around with different things this spring," Martinez said. "See where we get the most value out of him."
Cage work. #CatchersWhoRake#SpringTraining // #Pursuit pic.twitter.com/Y1Yo8rBBiW

— Washington Nationals (@Nationals) February 18, 2019