AJR Postgame Concert
Presented by Jim Beam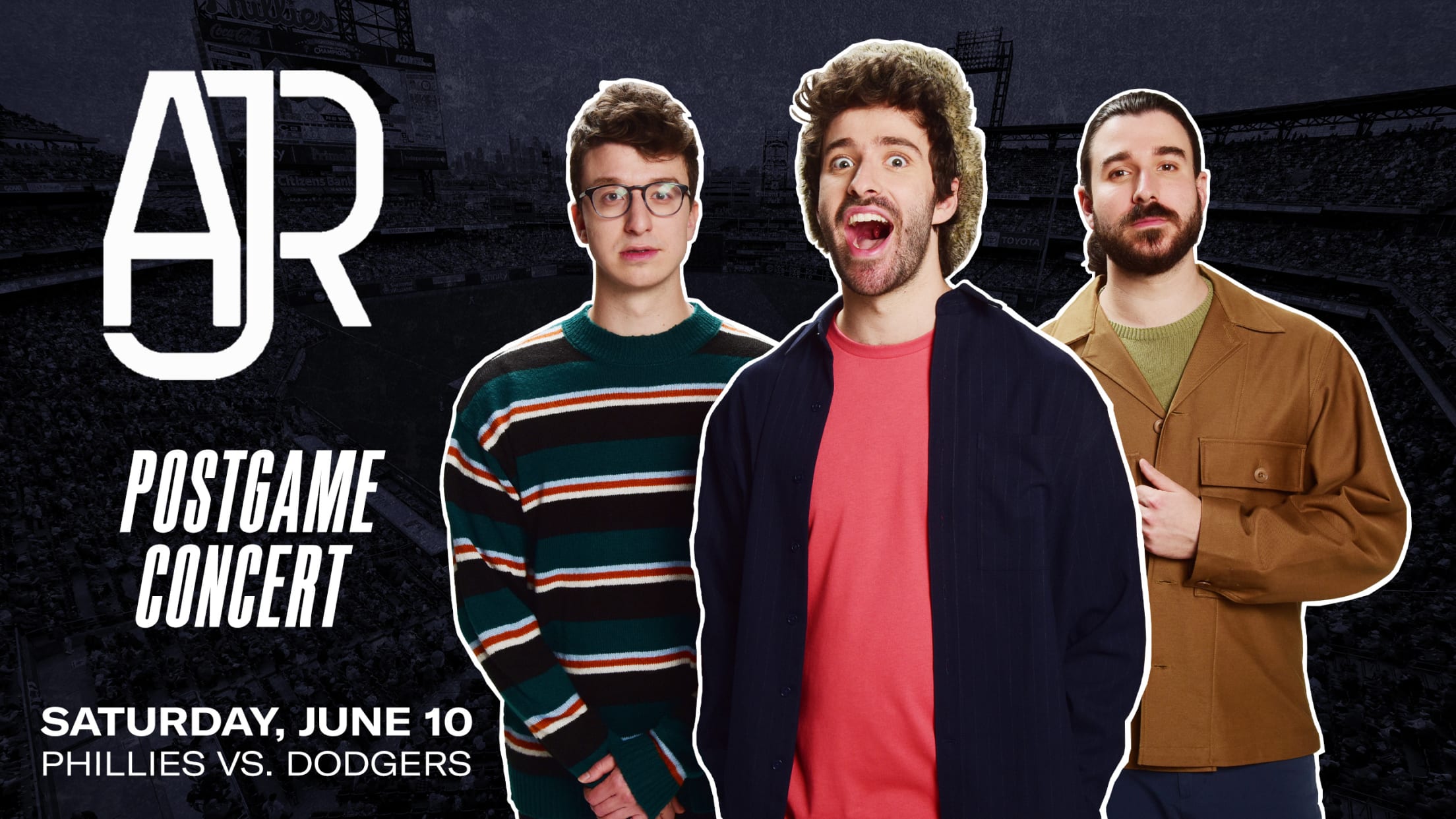 AJR will perform an on-field postgame concert at Citizens Bank Park on Saturday, June 10 after the Phillies host the Los Angeles Dodgers.
Game time is 4:05 p.m. and the concert will begin at the conclusion of the game. Your game ticket is also your concert ticket - no additional purchase is required.
Concert Field Pass Package
Enhance your experience by purchasing a field pass to enjoy the concert from the infield. There are a limited number of field passes available at a cost of $30 each, in addition to the price of your game ticket.
Please note: The Concert Field Pass Package for this event is now SOLD OUT.
Additional Details
To obtain the field pass, Theme Night ticket(s) must be purchased directly from the link above or through expressly stating your interest at the time of purchase through a Ticket Services representative at 215-463-1000. Third-party purchases will not include the field pass, and this is not a ballpark-wide promotion. 
You must pick up your field access wristband for the postgame concert at the First Base Gate any time before the end of the 5th inning day of. Please be prepared to show your Field Pass voucher in the MLB Ballpark app to pick up your item.
Guests can begin lining up near section 101 by The Yard around the 7th inning.
Limit of 8 passes, per person or entity. For questions or additional information, please contact Amirah Sharper in the Group Sales Office at 215-463-5000, ext. 5104.
Sales/payments may not be cancelled by purchaser. Game date and time subject to change. The team reserves the right to cancel any individual game order in its discretion, without notification. All cancelled orders will be refunded in full. By purchasing tickets, buyer is agreeing to the following Group Ticket Sales & Theme Night Policies & Procedures.
Please note: Theme Night tickets are subject to dynamic pricing and discounts are subject to change. This offer may end 30 days prior to the game date or earlier, at the Phillies discretion.
About AJR
Re-envisioning what pop can be in the 21st century, AJR unassumingly emerged as a ubiquitous hit-making outlier and one of the biggest indie bands in the world. Since 2012, the multiplatinum indie pop trio - Adam [bass, vocals], Jack [vocals, guitar], and Ryan [ukulele, piano, vocals] - have generated billions of streams and earned one triple-platinum single, one double-platinum single, four platinum singles, and one platinum album. 2019's Neotheater marked their biggest first-week debut, bowing at #8 on the Billboard Top 200, #1 on the Top Alternative Albums Chart, and #1 on the Top Rock Albums Chart. Cemented as part of the modern zeitgeist, Spotify touted "Sober Up" [feat. Rivers Cuomo] among the "Best Rock Songs of the 2010s," while Apple Music included "Weak" on its "Best Alt Songs of the 2010s." Not to mention, they remain one of the "500 Most-Listened to Artists" on Spotify. On the heels of Neotheater, they dropped the 2020 platinum blockbuster "BANG!" Now, the band open up their world like never before on their fourth full-length album, OK ORCHESTRA [S-Curve/BMG] introduced by the single "Way Less Sad."