Phans Feeding Families Day and Food Drive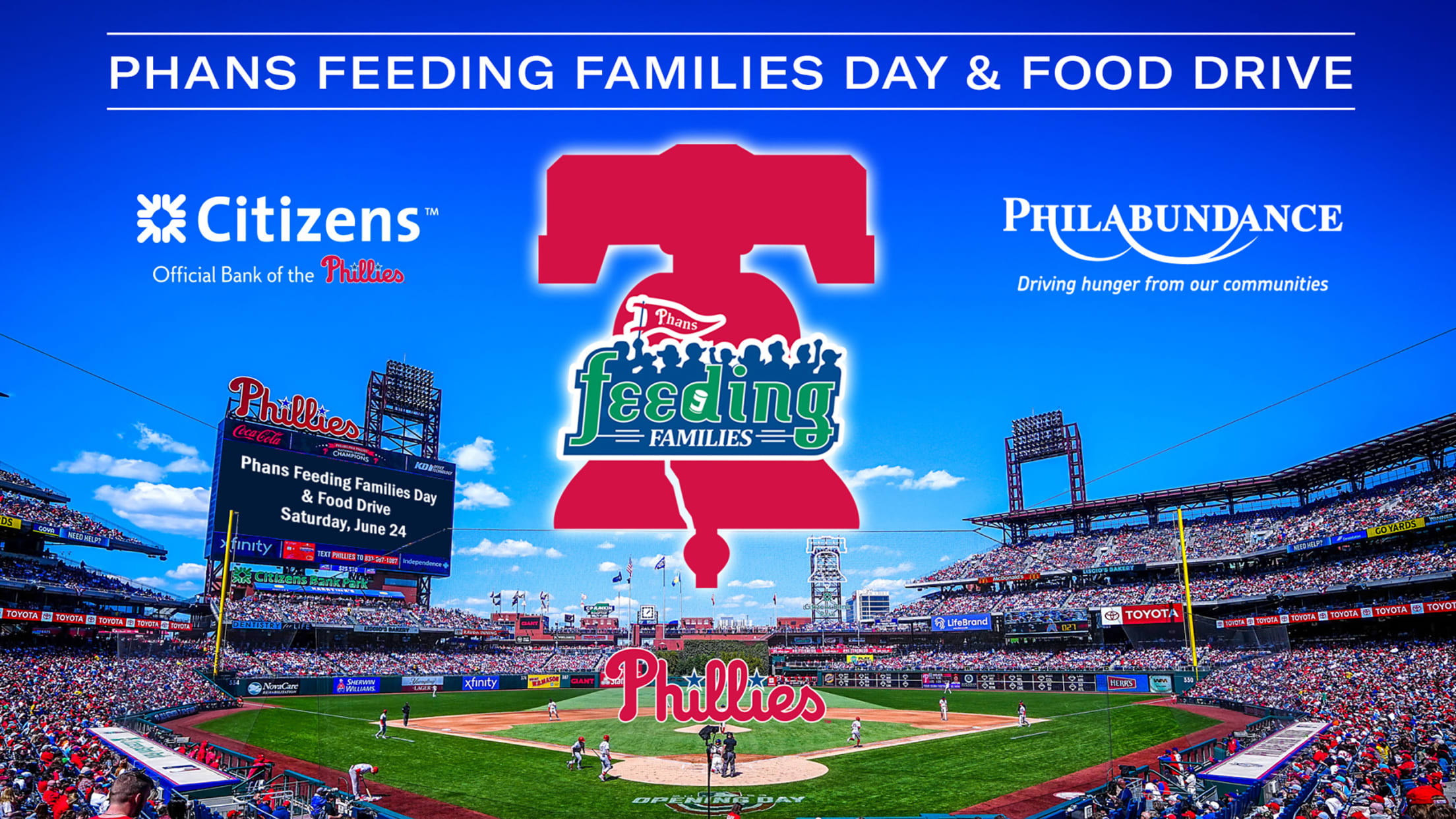 Citizens, Philabundance, and the Phillies are teaming up to help fight hunger in Greater Philadelphia! Join us on Saturday, June 24 at 4:05 p.m. for our annual Phans Feeding Families game when the Phillies host the New York Mets.
Event Details
At checkout, a $4 per ticket Group Fundraiser Rebate fee will be applied to your order, and those proceeds will benefit Philabundance.
To order tickets (subject to availability) in select seating locations, click on the "Buy Now" button below.
Additional Details
Limit of 12 tickets per person or entity. For more information on this event, or questions about group sales or fundraising opportunities, please contact Shannon Profy in the Group Sales Office at 215-463-5000 ext. 5465.
Sales/payments may not be cancelled by purchaser. Game date and time subject to change. The team reserves the right to cancel any individual game order in its discretion, without notification. All cancelled orders will be refunded in full. By purchasing tickets, buyer is agreeing to the following Group Ticket Sales & Theme Night Policies & Procedures.
Please note: Theme Night tickets are subject to dynamic pricing and discounts are subject to change. This offer may end 30 days prior to the game date or earlier, at the Phillies discretion.
More Ways to Contribute to the Cause
The Phillies-Mets game on Saturday, June 24 is dedicated to providing hunger relief. For every $1 donated, we can provide two meals to help children and their families in need! Fans can support the cause by participating in the following that day at Citizens Bank Park:
Bring a donation of non-perishable food at the entrance gates. Recommended items include plastic jars of peanut butter and jelly, canned tuna, and pasta.
Stop by the Third Base Plaza to digitally purchase food for the cause, courtesy of The GIANT Company, who will also be on site with fan giveaways. Those who donate will also have the chance to meet 1993 National League Champion Mickey Morandini.
Take part in the Phillies Charities, Inc. Online Auction: Bid here until June 26 on nearly two dozen team-issued and game-used memorabilia signed by players such as Aaron Nola, Alec Bohm, Nick Castellanos, Bryce Harper, Rhys Hoskins, J.T. Realmuto, Kyle Schwarber, Bryson Stott and Zack Wheeler and more! Benefits Philabundance.
Make an online monetary donation to the campaign through Philabundance.org.
Spread awareness to fight hunger using #PhansFeed on social media.