Diesel aka Shaquille O'Neal Postgame Concert
Presented by Jim Beam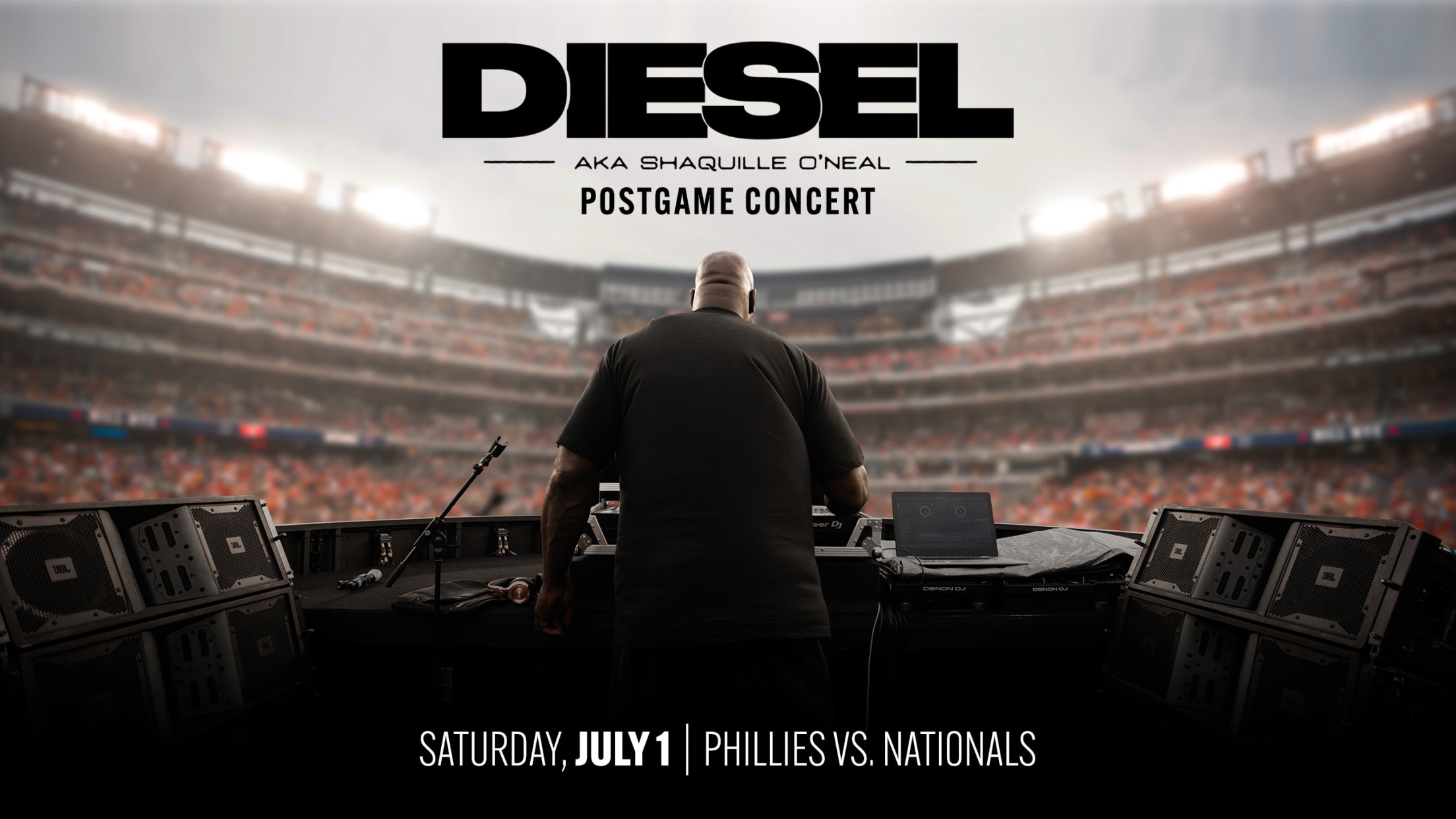 Diesel aka Shaquille O'Neal will perform an on-field postgame concert at Citizens Bank Park on Saturday, July 1 after the Phillies host the Washington Nationals.
Game time is 4:05 p.m. and the concert will begin at the conclusion of the game. Your game ticket is also your concert ticket - no additional purchase is required!
Concert Field Pass Package
Enhance your experience by purchasing a field pass to enjoy the concert from the infield. There are a limited number of field passes available at a cost of $30 each, in addition to the price of your game ticket.
To purchase the Concert Field Pass Package, please click on the "Buy Now" button below.
Please note: Tickets for this event are now SOLD OUT.
Additional Details
To obtain the field pass, Theme Night ticket(s) must be purchased directly from the link above or through expressly stating your interest at the time of purchase through a Ticket Services representative at 215-463-1000. Third-party purchases will not include the field pass, and this is not a ballpark-wide promotion.
You must pick up your field access wristband for the postgame concert at the First Base Gate any time before the end of the 5th inning day of. Please be prepared to show your Field Pass voucher in the MLB Ballpark app to pick up your item.
Guests can begin lining up near section 101 by The Yard around the 7th inning.
Limit of 8 passes, per person or entity. For questions or additional information, please contact Amirah Sharper in the Group Sales Office at 215-463-5000, ext. 5104.
Sales/payments may not be cancelled by purchaser. Game date and time subject to change. The team reserves the right to cancel any individual game order in its discretion, without notification. All cancelled orders will be refunded in full. By purchasing tickets, buyer is agreeing to the following Group Ticket Sales & Theme Night Policies & Procedures.
Please note: Theme Night tickets are subject to dynamic pricing and discounts are subject to change. This offer may end 14 days prior to the game date or earlier, at the Phillies discretion.
About Shaquille O'Neal
Shaquille O'Neal is one of the most dominant basketball players in NBA history and is now also one of the greatest entertainers on earth. At 7'1" and 325 pounds, Shaq's larger-than-life personality and powerful athleticism have resulted in worldwide admiration and one of the most passionate fan bases in sports and entertainment. The Hall of Famer first discovered electronic dance music after crashing the festival TomorrowWorld in 2014, a milestone event that changed his life forever after being exposed to DJ's such as Steve Aoki and Skrillex.
Shaquille has been passionate about music from a very young age -- at just 14 after O'Neal saw Public Enemy live for the first time, while sandwiched in a crowd of 5,000 people, he became fixated on DJ'ing. He cut his neighbors' grass, walked dogs, and scraped together any cash that he could until he saved up $200 to buy his first set of turntables at a local pawn shop. Fast forward to 1993, Shaquille's rap album, 'Shaq Diesel,' did the unthinkable of selling over a million copies and peaked at No. 25 on the Billboard 100 cementing O'Neal as the only athlete ever with a platinum-selling album. SHAQ aka DJ Diesel's dance music debut was at TomorrowWorld 2015, as the Hall of Famer took the stage for the first time in front of tens of thousands of fans mixing the best of Trap, EDM, and Hip-Hop. From there DJ Diesel's career was born as he cemented the title of 'the biggest DJ in the world.' DJ Diesel recently embarked on a 15+ date 'Summer of SHAQ' tour, has graced main stages around the globe from Tomorrowland, Lost Lands, Life in Color, and even launched his own festival series -- Shaq's Fun House.